Where can you find the best shopping destinations in the US? Opinions vary because America has so many exceptional shopping destinations for which it's renowned worldwide. Whether you're into designer clothes or action figures (or anything in between,) there's a mall that has it in your color, brand and size.
Americans have always enjoyed a special relationship with shopping and luxury holiday destinations and this is reflected in the number of incredible flagship stores and historically-significant brands. 
But variety is the spice of life and we love to provide our guests with as many options as possible. Borgata's shopping collection caters to all your luxury needs, including custom jewelry, boutique fashion houses and bespoke luggage. And you don't need to hit it big at one of our casino table games to enjoy a high-end retail experience with us. 
We encourage everyone who visits to have the best of both worlds and to take in everything that Borgata has to offer. As for the rest of the country, here's our list of the 13 best shopping destinations.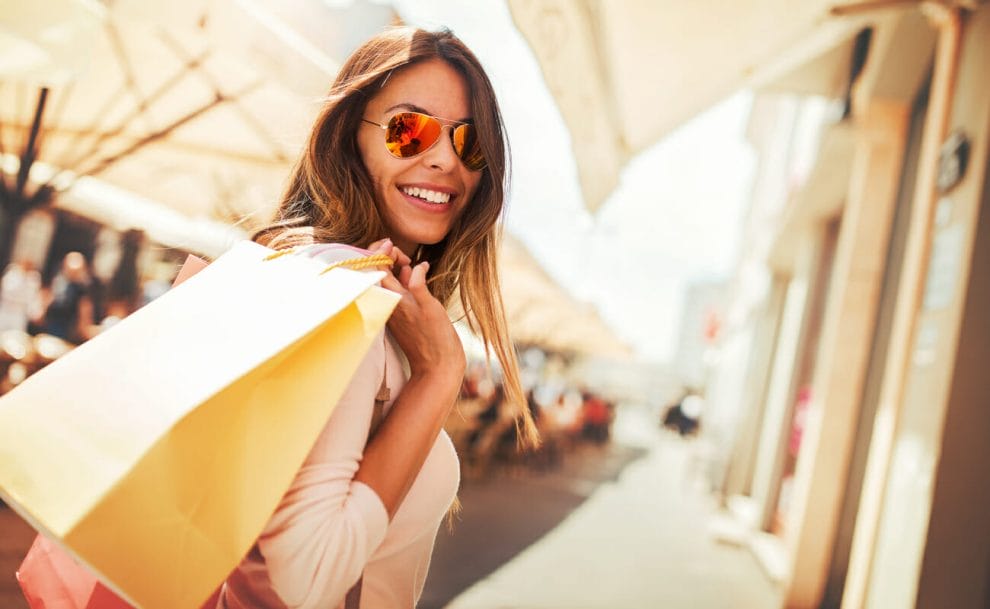 1. Minneapolis-St. Paul, Minnesota
While it may not be the most glamorous entry into our list, Minneapolis-St. Paul will always qualify as a shopping destination because it's where you'll find the Mall of America, the largest mall in the country. Totaling some five million square feet, you could fit a baseball stadium inside it seven times over! It's so vast it even includes a four-story Lego store in its catalog of around 520 retailers. Aside from being home to some of the best shopping in the USA, its sheer size makes it perfect for day trips and exploring its many hidden gems.
2. Seattle, Washington
It may come as a surprise to some, but Seattle is as good a place for shopping as you could hope to find and in one of the most strikingly beautiful settings to boot. Nestled between mountain peaks and lakes, Seattle offers so much more than puffer jackets and hiking boots. You can shop designer labels in Rainier Square if outdoor wear isn't your thing and Pike Place Market is a must for any self-respecting foodie (arguably the city's biggest drawcard.)
3. Orlando, Florida
Orlando is home to one of the most iconic shopping destinations, perhaps of all time. Disney World has lived up to its reputation as a bucket-list shopping trip for kids and grown-ups alike and is especially popular among European travelers who often make the pilgrimage across the pond.
If the best shopping in the USA were judged on pure adoration and nostalgia, Orlando would win, hands down. But that's not the only thing it has going for it. International Drive offers a host of premium brands at discounted prices and Winter Park hosts additional boutique and trendy, high-end retailers for those with particular tastes.
4. Miami, Florida
The Miami Design District is a captivating destination for art, design and fashion enthusiasts. What sets the Miami Design District apart is its seamless integration of art and design. The neighborhood is dotted with contemporary art galleries featuring captivating exhibitions and thought-provoking installations.
Stunning architectural designs serve as a backdrop to the luxury shopping experience. Cutting-edge buildings, modern sculptures and artistic installations harmoniously blend with luxury branded stores.
5. Charleston, South Carolina
King Street in Charleston, South Carolina, is a charming and vibrant shopping destination that offers a unique blend of history, culture and style.
As you stroll along King Street, you'll be captivated by its historic charm and beautiful architecture. The street is lined with well-preserved buildings that showcase the rich history of Charleston. From elegant storefronts to quaint boutiques, King Street seamlessly combines old-world charm with modern shopping offerings.
Soak up the southern hospitality and rich history as store owners regale you with their intriguing tales. They are often eager to share the stories behind their products and offer recommendations for exploring the city further.
6. Chicago, Illinois
The Windy City is home to "The Magnificent Mile," a 13-block monument to retail therapy that runs all the way from the bridge over the Chicago River to Oak Street in the North and includes almost 500 stores. It's a modern marvel of shopping and a walk up or down its expanse is punctuated by landmarks, art galleries and museums that add a splash of culture to its appeal. Chicago is also a well-known hotspot for food and there are tons of great places to try out some signature dishes.
7. Houston, Texas
What Texas lacks in casino retail options it makes up for in style. The Galleria in Uptown Park is packed with more than 400 retailers, including brands like Jimmy Choo, Louis Vuitton and Macy's, in line with Houston's reputation as the fashion capital of the South. There are resale shops and vintage boutiques dotted around for something out of the ordinary. The city also offers a string of bustling restaurants and bars around the major shopping areas once you've worked up an appetite.
8. Boston, Massachusetts
Known as the "Rodeo Drive of the East," Newbury Street in Boston's Back Bay area was underwater not too long ago before becoming synonymous with the best shopping in the USA. Having redeveloped the stately former residences of the city's well-heeled into a collection of boutiques, galleries and cafes, it's as scenic as it is impressive, stretching a total of eight blocks across the old Boston harbor. The public gardens are worth seeing too when you take a quick break from your browsing.
9. Waikiki, Honolulu
Waikiki, with its white sandy beaches, is a wonderful holiday destination but the beating heart of Waikiki is Kalakaua Avenue. Named after King David Kalakaua, a big supporter of Hawaiian arts, culture and tourism, this bustling shopping district offers a blend of international luxury brands, local Hawaiian designers and specialty stores.
Walk along the palm tree-lined avenue while shopping at world-renowned brands like Prada, Vera Wang, Gucci, Tiffany & Co. and Chanel offering the latest in fashion and luxury. Stop for Kona Coffee grown in the volcanic soil of the islands and indulge in local jewelry and bookstores.
10. San Francisco, California
The Mission District in San Francisco is the standard-bearer for all things trendy, attracting locals and visitors in equal measure to its eclectic vibe. Valencia Street is the hub around which most of the activity takes place. It abounds with art installations, handcrafted clothes, and a personal touch that makes it a unique shopping experience. Get up early to check out the farmers' markets and be sure to try a dish from any food trucks you may spot. If it sounds too energetic, remember you can always take it easy in the evening with some online casino games.
11. Los Angeles, California
As California shopping destinations go, you can't get better than Los Angeles. LA lays claim to the real Rodeo Drive and one of the most easily recognizable shopping landmarks in America. It's flanked on both sides by every major fashion house imaginable and celebrities can be seen regularly flitting in and out of its stores, spending hundreds of thousands of dollars on a daily basis. If you prefer something a little edgier and understated, then York Boulevard is well worth a visit.
12.Las Vegas, Nevada
Unlike many other places on this list, you won't struggle to find a casino retail store in Las Vegas. And as you would imagine, the shopping there can get exciting. The stores are indicative of the flashing lights and easy money associated with Vegas and you'll find all the major brands here. If you like cars, browse the many rarified dealerships like the Penske-Wynn Ferrari-Maserati showroom before hitting the city's legendary selection of restaurants.
13. New York City, New York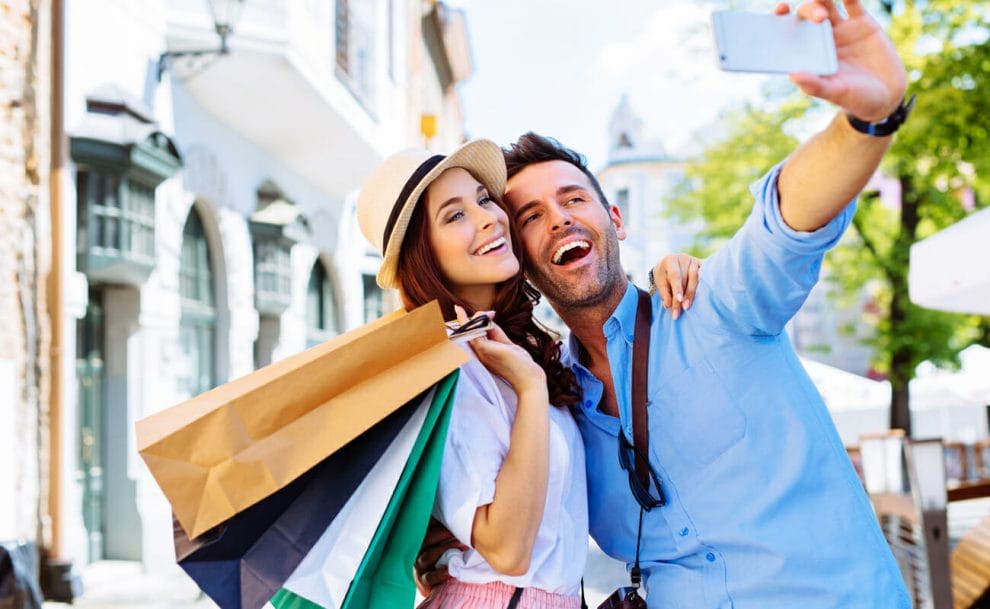 New York is one of the world's fashion capitals and that heritage is on show everywhere you look, from Fifth Avenue to the East Village, and is undoubtedly at the top of many people's lists. But New York isn't only home to the biggest names in fashion; there is something for everyone in the city that never sleeps. The Brooklyn Flea Market is the city's worst-kept secret and perfectly encapsulates New York's entrepreneurial spirit, with food, jewelry and clothes available at reasonable prices.
Join us at Borgata For Some of the Best Shopping in New Jersey
Shop to your heart's content before trying out one of our live dealer casino games and turn a memorable day into an unforgettable evening. Everyone who comes to see our exquisite selection of boutique and designer brands should have the pleasure of trying their luck on the hallowed Borgata felt. 
For those with a slightly more adventurous taste, take a break from the shopping and gambling delights with a tour of Asbury Park Casino, one of the world's most beautiful abandoned casinos. 
If you can't join us in person or prefer to relax at home, sign up here to enjoy our online game casino, where you can find all your favorite games from jackpot slots to roulette.