As tattoo culture continues to grow in popularity, now is the time to take a look at one of the best online slots on the market – Ultimate Ink. This fantastic online slot takes place in a tattoo studio setting, and there is plenty of action to get caught up in. Roll up your sleeves, and let's get started on what to expect from Ultimate Ink. 
Game overview
Ultimate Ink is a 5×4 online slot with 1,024 ways to win. Developed by WMS, this online casino game presents you with rather unusual tattoo-themed gameplay. So if you're playing slots online and are looking for something other than traditional Ancient Egyptian, jungle adventure or pirate slot games, you will likely enjoy Ultimate Ink. You can expect a great selection of features such as multipliers, progressive jackpots and phenomenal graphics when you play this interestingly themed slot game. With an RTP (return to player) of around 96%, you can expect decent payouts on this 5×4 grid online gambling slot. 
How to play
Once the game loads, you will see that all the controls are located beneath the reels. The paytable can be found when you click on the "?" icon. It will serve you well to read up on what all the symbols are capable of paying out. Next, you should place your wager using the "Bet Per Reel" located at the top of the screen. After you confirm the bet amount, use the "Reel Cost" slider to select the number of active reels you want to play with. Remember, when you limit the number of active reels, it will reduce the available paylines, which will also lower the wager and the possible reward. Now that you're ready to start spinning, click the large green "Spin" button located at the bottom-middle of the screen. You can also opt to choose the Auto Play function.
Graphics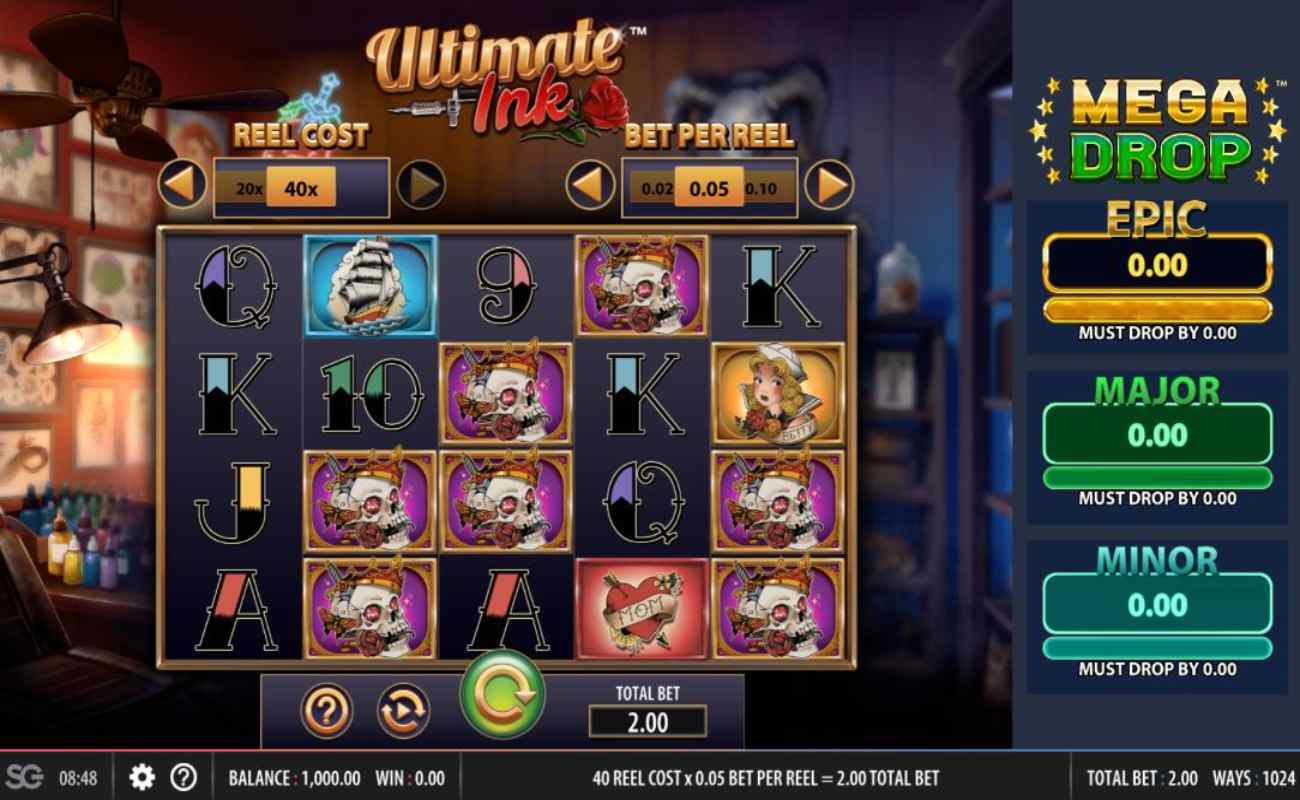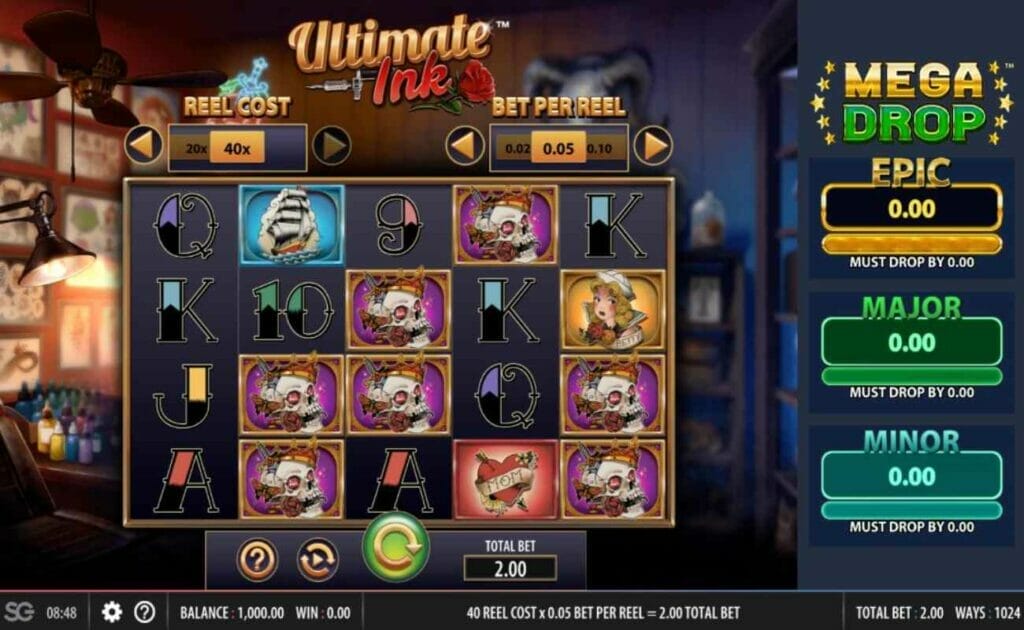 Get ready for a neon display with smooth animations which look great on both desktop and mobile platforms. You'll also see shelves stacked with items such as bird skeletons, model boats and old books to provide inspiration to the tattoo artist. You'll certainly be impressed by the level of detail, which includes an animated ceiling fan, and a title design to mimic a tattoo with the traditional rose between the letters. It doesn't get more tattoo parlor than a rose, right? All in all, the visuals create a cozy atmosphere that will make you feel as if you're about to get a tattoo. There's also a bluesy soundtrack that plays in the background to make the atmosphere even more appealing.
Features
As mentioned above, Ultimate Ink allows you to set your bet size with a combination of the Reel Cost and Bet Per Reel buttons. This means that your total bet will be the cost of a reel multiplied by the bet per reel. Symbols on the reels include playing cards (9, 10, J, Q, K and A) in the style of traditional knuckle letters. There is also a selection of classic tattoo motifs such as anchors, hearts, sailing ships, anchors, betty girls and skulls. If you're lucky, you can unlock free spins.
Bonuses and jackpots
Ultimate Ink features some decent bonuses that will keep you entertained. When you land three, four or five scatter symbols on the reels, you will trigger the Free Spins Bonus. This bonus will award eight, 15 or 20 free spins, respectively. During this bonus, if you land at least two scatter symbols on the reel set, you will also be awarded additional free spins. These free spins are added to the number of free spins remaining.
Then there's the Mega Drop that contains three progressive jackpots known as the Minor, Major and Epic jackpots. The Mega Drop jackpots each have payout values. These values are located on the right side of the reels. You'll need to win a progressive jackpot before they reach specific values. When you play Ultimate Ink, any jackpot can land during any spin.
Our Ultimate Ink verdict
In addition to the mouthwatering progressive jackpots, Ultimate Ink is capable of delivering quite significant wins with the combined strength of the impressive wild multipliers and stacked skull symbols. If you're looking to add to your list of online slot themes, you will appreciate this slot game.
Similar games
Playing casino games at an online casino means that you'll be exposed to a variety of great online slot titles. If you're looking for slot games similar to Ultimate Ink, here are some games to play:
Hot Joker 4-Ways
Wild Hot Wasabi
Luminous Life
Vault Cracker
Play new casino games at Borgata Online
Come along and play the best new casino games at Borgata Online. Sign up and experience what we have to offer when it comes to our online slots, table games and live dealer games. There's so much for you to experience!