A captivating fantasyland, The Wild Hatter — developed by Red Tiger Gaming — wonderfully showcases an Alice in Wonderland-inspired utopia, from magic dust floating across the reels and colorful mushrooms bordering the screen to an array of Wonderland-inspired symbols like top hats, teapots, watches, and chess pieces.
Although the payout opportunities aren't as big as jackpot slots, there are enough bonuses and features to compensate for it. Check out this overview of The Wild Hatter and discover why it's one of the most exciting online slot machines. 
Game Overview
The game boasts 30 paylines, five reels, and four rows and has an RTP of 95.79%. And akin to big jackpot slots, it has a high volatility slot. For gambling and Alice in Wonderland fans, The Wild Hatter combines the best of both worlds.
In the reels, you'll notice several iconic characters like the Cheshire Cat and Alice, adding to the game's authentic appeal. Regarding the slot's bonus and rewards, there's a re-spin feature and the possibility to activate the game's mouthwatering maximum payout of 3,333x. But there are other avenues to win big. Land three or more Cheshire Cats, and your stake will be multiplied by 300.
The minimum bet allowed is $0.10, while the maximum is $20.
How To Play
After you've loaded up the game, it's time to decide on the amount you will stake. This can be altered on the bottom left of the screen by using the '-' and '+' buttons to adjust your stakes value. Once this is settled, it's time to spin the reels.
The game features an auto-play function, which can be utilized for up to 100 spins. Additionally, the "Turbo" button on the bottom right can speed up the spins and allow you to power through rounds quickly; it's excellent for those in a rush who want to maximize their time at the reels.
Now that you know how to play, you need to find the best time to play slots. Many experts believe the most optimal moments to play online slots for real money are during the busiest times of the day (and year,) like after work (5 pm) and during the holidays. <h2>Graphics</h2>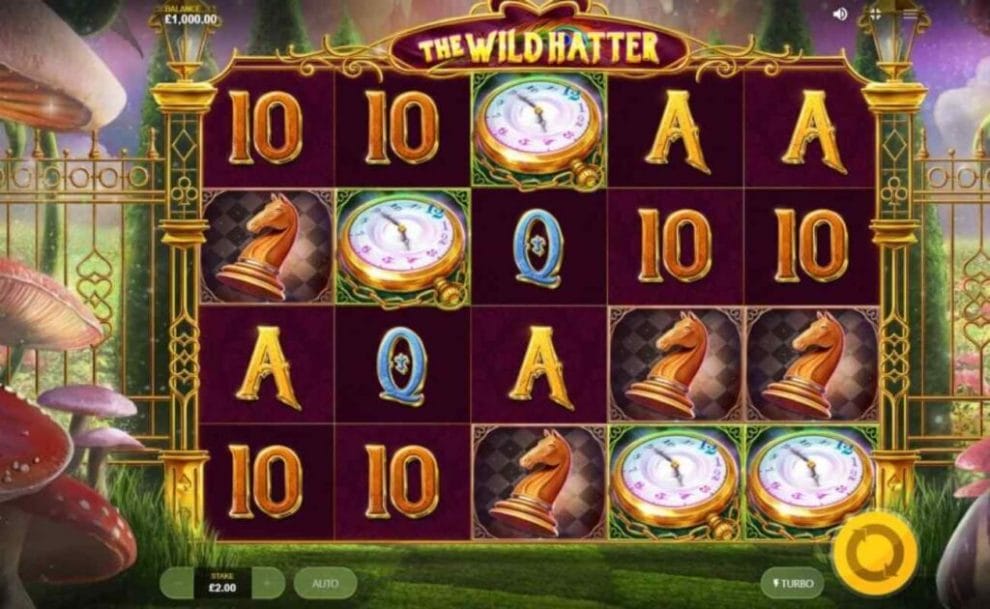 When it comes to online casino games, few can replicate online slots level of imagery, and The Wild Hatter only fuels this statement. The game includes spectacular graphics and detailed designs, helping bring the wonderland to life.
As you enter the game, you'll notice the reels nestled between a whimsical golden gate, a purple sky, giant mushrooms, and intricate fantasy-inspired colors. This game truly is a work of art.
The Wild Hatter is also supported by the latest technology, so whether you're registering your stake or pressing the "Spin" button, each move is seamless.
Features
In terms of the game's features, it's limited to Re-Spin multipliers. Although it offers no bonuses, activating the re-spin feature is common and can prove fruitful.
So, even though the game lacks bonuses, there are enough free-spin multipliers to make up for it. The re-spin feature is activated once the player lands a wild symbol. Following this, a Re-Spin Multiplier is introduced. To add further excitement, the multiplier increases after additional wild symbols are landed within the free spins.
When deciding on an online slot machine to play, understanding the importance of multipliers is vital. Whether it's a slot jackpot or not, there are several multipliers a game can include, like multiplier wilds, random, and avalanche multipliers. By dissecting the most valuable options, you're better positioned to choose the most potentially fruitful game. 
Bonuses and Jackpots
So, if the bonus offering is limited to the re-spin feature, why should you play? Well, the multipliers help gamblers achieve jackpot-level figures. And with a maximum payout of 3,300x, there is an opportunity to win big. That means if you staked the full amount ($20) and activated the max payout, you'd walk home with an impressive $66,000.
Similar Games
Remarkably, there's no shortage of Alice in Wonderland-inspired slots. Some of the best include:
Alice in Dreamland (Arrow's Edge.)
Mad Scatters Tea Party (Slingo Originals.)
White Rabbit (Big Time Gaming.)
Adventures Beyond Wonderland (Playtech.)
Alice and The Mad Tea Party (Poppin Games.)
Play Themed Slots at Borgata Online
From The Wild Hatter to a host of themed slot titles, Borgata Online proudly hosts a wide variety of action-packed and themed online casino games with fantastic slots bonus opportunities. Register today and get in on the action.
And when you've had your fill of slots, explore Borgata Online's extensive range of casino table games, including poker, craps, bingo, roulette, blackjack, and more — most of which can be played as a live dealer casino game.