Having only been released in May 2023, Taco Fury XXXtreme is one of NetEnt's latest online slot machines. Once the game's loaded, you'll spot a Mad-Max-like food truck offering tacos and burritos with a twist. A zombie chef is running the kitchen and there's a variety of unusual and alarming ingredients, like the chef's specialty: ground hoomin brainz.
In contrast to casino table games like poker and roulette, online slots allow developers to test their imagination and create captivating worlds — Taco Fury XXXtreme is a prime example of this freedom. From its graphics and features to bonuses and jackpots, this article discusses the ins and outs of Taco Fury.
Game Overview
In front of the zombie-inspired food truck, you'll notice nine paylines, five reels, and three rows. And although it offers a relatively low maximum payout (533x,) gamblers can stake up to $200, while the minimum amount is $0.10. Traditionally, the most one can stake on a slot is around $20. So, if you activated the max multiplier while betting $200, your winnings would be $106,600.
Historically, both traditional and jackpot slots have played a part in several inspiring casino success stories. Some of the most famous examples include a 74-year-old retired flight attendant winning $22.6 million in 2002, John Tippin's $12 million win in 1996, and Elmer Sherwin taking home $4.6 million in 1989 on a slot jackpot. Playing Taco Fury XXXtreme, with its low volatility, means the chances of winning are pretty good and it could be your name on a list of gambling success stories.
Within the reels are several fruitful symbols, such as spiky rollers, eye-balled bottles, toothy drinks, and the main character, the zombie chef. And while the wheel is spinning, you'll notice wild multiplier symbols like the taco, x2, x3, and x5 whizzing across your screen.
Tthe RTP (return to player) varies across casinos — 96.05%, 94.03%, or 88.04%. You'll usually find most casinos, such as Borgata Online, for instance, opting for 94.03%. Combined with its low volatility, this RTP is possibly one of the safest options when playing online slots for real money.
How To Play
Unlike online casino games, which entail facing opposition and implementing a strategy to win, slots like Taco Fury XXXtreme are simple and easy to learn. After loading the game, you need to decide on the value of your stake, which can range from $0.10–$200.
Once you're happy with your bet, it's time to spin the wheel and let the slot do the rest. During the round, keep an eye on the bottom of the page, as the black shadowed bar informs you of your balance, multiplier, and what's left of your stake.
Now that you know how to initiate a round, it's time to identify the best times to play slots. The most optimal time to play slots is during peak hours, like after work, on the weekends, and during the holidays. 
Graphics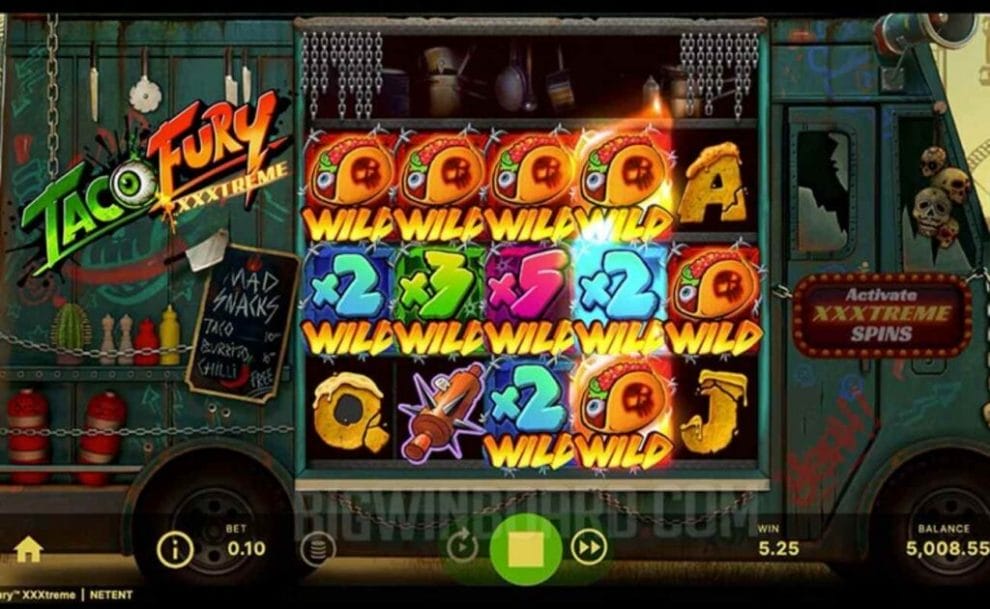 Another NetEnt masterpiece, the game boasts thrilling spins, detailed symbols, and zombie-inspired sounds, creating a captivating and exciting experience. From the truck's smashed window to the fire hydrants strapped to the side, Taco Fury XXXtreme is stacked with detailed imagery and fascinating colors.
Regarding its user experience, from setting your stake to spinning the wheel, it's a seamless and quick procedure. The innovative NetEnt has become known for its fast processes and high-quality graphics.
Features
Good news for gamblers: the game offers multiple exciting features, such as XXXtreme Spins, Wild Explosions, and Re-Spins.
XXXtreme Spins
Unlike the other two features, to activate XXXtreme spins, one must buy in. Your two options are 20x the bet for one Wild Explosion or 60x the stake for two Wild Explosions.
While many might perceive this as a high-risk, low-reward option, Wild Explosions can result in valuable winnings and many multipliers.
Wild Explosions
As the name suggests, this feature focuses on the wild symbols. Above reels 2, 3, and 4, Chef Zombie's Special Sauce Explosion symbols are often flicking within the reels. If a Taco symbol lands beneath one of the Wild Explosion symbols, a special symbol will reveal itself and activate one of three multipliers.
Red Wild
The win multiplier is increased by 1. A Taco Wild is placed above and below the special symbol, increasing the chances of it triggering again.
Purple Wild
The win multiplier is increased by 1, and 2–3 Taco Wilds are placed randomly on the grid.
Orange Wild
The win multiplier is increased by 1, and a Taco Wild is positioned on each reel.
Re-Spins
Re-spins can only be activated after a Wild Explosion. When triggered, all the non-Taco Wild symbols are re-spun in a bid to reward the gambler with additional Wild Explosions.
Bonuses and Jackpots
Concerning the slot's bonus and jackpot opportunities, the most fruitful avenues of winning lie within the game's features. The game's jackpot feel comes with the ability to stake up to $200 and activate a 533x payout.
Overall, for big wins, it's the Wild Explosions, Re-spins, and XXXtreme spins you want to hunt.
Similar Games
The online casino game sphere is packed with zombie-inspired slots, including:
Zombie Invasion.
Zombie Carnival.
Cabin Crashers.
Zombie aPOPalypse.
Spooky Graves.
Play Themed Slots at Borgata Online
Want to play at a casino online? With an extensive selection of themed slot games, Borgata Online proudly hosts many action-packed and themed casino games with fantastic slot bonus opportunities. Register today and get in on the action.And if you want to freshen things up, explore live dealer casino games like blackjack, poker, and roulette.