Packed with progressive jackpots and huge multipliers, Super Jackpot Wild Gems presents players with the opportunity to win life-changing money. And with diamonds, rubies, and emeralds dominating the reels, the possibility of walking away with millions seems only fitting.
Backed by the latest technology and high-quality graphics, it's one of the most exciting and seamless jackpot slots. Read on to learn about the ins and outs of Super Jackpot Wild Gems.
Game Overview
Created by innovative game developers Everi, Super Jackpot Wild Gems boasts an enticing RTP of 95.95% and the opportunity for jackpot-sized winnings. Another perk is its low volatility nature, meaning the chances of success are considerably higher than most big jackpot slots, which tend to be highly volatile.
The grid includes 3 reels and rows filled with glistening jewels along with gambling's luckiest combination: 777. Land these high-paying symbols, and your multiplier could reach a lucrative 40x.
Contrary to most online slot machines, Super Jackpot Wild Gems only allows a maximum bet of $5 and a minimum of $0.50, meaning you need progressive jackpots to come into play to win big.
Everi's use of iconic symbols like 777, bar, diamonds, emeralds, and other jewels gives it an authentic retro look and feel, which, through its exceptional graphics and enhanced processes, has been adapted with a modern touch, ensuring a seamless and thrilling user experience.
How To Play
Once you've uploaded the game, it's time to place your stake, which is positioned on the bottom left of your screen. After this is done, it's time to spin the reel, sit back, and watch the spectacle of jewels, wild symbols, and numbers flick from reel to reel.
Monitor the bottom row of your screen as it keeps you updated with your balance, what's left of your stake, and the multiplier's value.
Graphics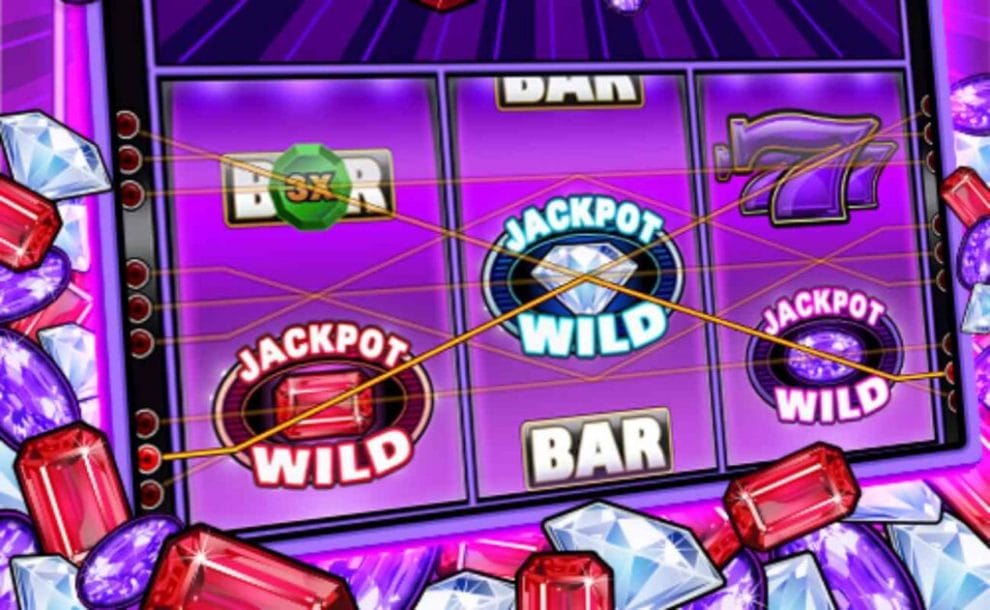 As previously mentioned, it has a retro aesthetic supported by modern features. It brings back the nostalgia of playing offline slots while offering gamblers a smooth, colorful, and exciting game.
Although having simple designs, each symbol glistens off the screen; it's as if they're dancing between the three rows, creating a captivating and lively scene that proves hard to take your eyes off, which seems only fitting for a slot jackpot.
A significant difference between online slots and casino table games is that the former allows developers to create fascinating worlds, characters, symbols, multipliers, and jackpots, making each release fresh and exciting. Although plenty of themed poker tables exist, the rules, including a 52-card deck, always remain the same.
Features
The nature of Super Jackpot Wild Gems means there are a number of fruitful features available. The Win Multiplier feature is the most valuable and can elevate your multiplier to 40x. Utilizing the bars and Lucky 7 symbols, whose multipliers range from 2x to 5x, this feature absorbs the multipliers on the reels, combining each to an overall total.
While choosing a game, the slots bonus, RTP, jackpots, and buy-in amounts should influence your decision-making — an excellent guideline for beginners entering the sphere of slots. Why? Because it's vital to be smart when playing slots and ensure you always have a good chance of winning. For instance, you'll have a higher probability of success when a slot's RTP is 97% rather than 88%. 
Bonuses and Jackpots
To initiate one of the five progressive jackpots in this game, you must land three gems on a payline.
Jackpot Diamond Wild: The most valuable jackpot on the list and only activated on payline 9, it provides eligibility for the Grand Progressive Jackpot.
Jackpot Diamond Wild: While the above diamond jackpot focuses on payline 9, this one covers all the rest, namely paylines 1–8. If you land three diamonds, you qualify for the Mega Progressive Jackpot.
Jackpot Ruby Wild: Land three rubies, and you're entered into the Ultra Progressive Jackpot.
Jackpot Amethyst Wild: Landing three Amethyst Wilds is the gateway to the Major Progressive Jackpot.
Mixed Gems: The most common jackpot to appear; land any three gems, and you'll find yourself reaping the rewards of a Minor Progressive Jackpot.
The Lucky 7s is another symbol that can prove valuable. Land three, and your stake will be 50x, while two results in 30x, and one gets you 20x.
Similar Games
There's an impressive number of jackpot slots available online, with the most popular being:
Reels and Wheels
Double Jackpot
Hot Drop Jackpots
Mega Moolah
Major Millions
Play Themed Slots at Borgata Online
The beauty of playing in an online casino for real money is the variety available. There's a vast choice of online casino games, variety games, and online slots like Super Jackpot Wild Gems at your fingertips.Borgata Online proudly hosts an extensive selection of exciting games with fantastic jackpot opportunities accessible on any device, whether it be mobile, tablet, or laptop. Outside of slots, there are various live dealer casino games to choose from, including poker, blackjack, craps, and roulette. Register today and get in on the action.