New Jersey is known for many things, such as its scenic boardwalks, alluring coastlines, and thriving entertainment scene that includes a rich gambling history, but not many know the state has produced culinary delights that continue to tantalize the palates of locals and visitors alike. 
New Jersey's rich culture has translated into the state, producing unconventional flavors that appeal to food lovers with the promise of taking them on a culinary adventure. These New Jersey foods range from simple treats you can indulge in while playing online casino games to complex dishes. To learn more, take a deep dive into some of the most famous New Jersey foods.
What Makes New Jersey Foods Special?
New Jersey's food stands in a class of its own, but what sets it apart? For starters, the Garden State's history as a haven for immigrants and a melting pot of cultures has brought in an eclectic fusion of foods. From Italian pizzas to Cuban sandwiches, New Jersey shows how much it welcomes new cultures and draws inspiration from them while adding its own local touch.
Another reason food from the Garden State is unique is how much it prizes convenience and simplicity. Many of these dishes are simple but filling meals you can get on the go or eat at any of the many diners dotting the state. These diners offer food at any time of the day and anywhere you go.
The vast farmlands in the Garden State also help to bring freshness to its culinary scene. New Jersey residents enjoy farm-to-table meals from restaurants and chefs who source their produce locally.
5 Most Famous New Jersey Foods and Why You Should Try Them
So, just what does New Jersey offer that might catch the attention of your tastebuds? Read on to find out more about five local favorites.
1. Pork Roll, Egg, and Cheese Sandwich
This sandwich is a comfort food that also happens to be a breakfast staple. Made with spiced pork roll, also known as Taylor ham, the sandwich packs a flavor punch. A pork roll sandwich is made by packing pork into a Kaiser bread roll, followed by fried or scrambled egg, and topping it all with melted American cheese. Imagine having this in your hand as you play your favorite online slots. 
2. Tomato Pie
This is the Garden State's unique take on pizza. Originally from Trenton, the tomato pie is a delectable dish in which cheese is placed on a pizza crust, followed by toppings, and then finished with hand-crushed tomatoes over the top instead of used as a base, as in traditional pizza.
3. Saltwater Taffy
Spoiler alert: no salt water is used to produce this treat, nor does it taste salty. Saltwater taffy is a chewy, sweet, and colorful candy made from sugar, corn syrup, and cornstarch, and it is native to Atlantic City. Legend has it that the candy got its name after a candy maker's shop was flooded with saltwater. For many, a visit to the Jersey Shore is not complete without indulging in this symbol of seaside fun.
4. Disco Fries
Disco fries are crisp French fries covered in melted mozzarella cheese with a generous helping of rich, delicious beef gravy drizzled on top. This dish is similar to Canada's Poutine — except for some minor changes. Disco fries are usually eaten as a snack, so if you're looking for the right accompaniment as you enjoy playing online slot machines such as jackpot slots, these fries might fit the bill.
5. Blueberries
New Jersey is not called the Garden State for nothing. Its abundance of blueberries has it ranking among the top 10 states with the largest production of blueberries every year. In many baking shops across the state, you will find blueberries infused into muffins, pies, and cakes, which have become firm favorites among foodies.
Food Tours To Try in New Jersey
It goes without saying that New Jersey is a treasure trove of culinary delights, but some of the best places are well-kept secrets among locals. So, if you're a non-Jerseyan looking to try the mouth-watering foods New Jersey is famous for, you should consider going on a food tour.
A food tour is a guided tour designed to help you discover and enjoy the foods and drinks unique to a specific region. With food tours, you get the taste of a place, so to speak, through the help of locals. This way, you can avoid tourist-frequented sites that might not give you the local feel some of these hole-in-the-wall diners, bars, and restaurants would.
In New Jersey, there are several food tours available with varying themes to take you on a tasting adventure across the state.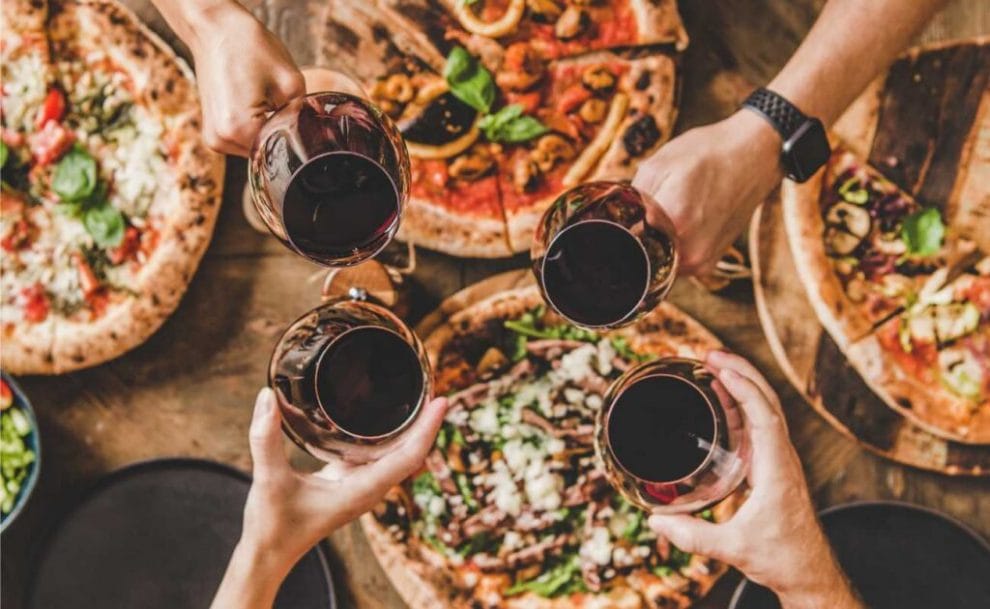 1. Beyond the Plate Food Tours
If you want to enjoy the foods of New Jersey while taking in the rich history of the state, then this food tour is a must for you. It features tours of restaurants and bars in Jersey City, Somerville, and Redbank. You get to talk to chefs and restaurateurs while savoring the foods they offer.
2. Nom Nom Newark
Discover the taste of Newark in this guided food experience that will take you across the town.
3. Savor and Stroll
Follow registered nutritionist Kathleen Carozza across Morristown as you eat your way through the street food of the famous New Jersey town. 
4. Taste of Asbury
Walk, eat, and tour Asbury Park as you explore this unique and historic seaside city.
5. Sister-Cities Food Tours
This food tour takes you through five locations across the state lines shared by the neighboring cities of Lambertville, New Jersey, and New Hope, Pennsylvania. You will not just eat, but you will get to know the rich history of the cities.
Experience the Best Food-Themed Online Slots With Borgata Online
If this article has made you hungry for a taste of New Jersey, then be sure to pay a visit to the state to savor its many flavors. If you're keen to enjoy one of these on-the-go meals while you play at a casino online, register with Borgata Online to experience the vast array of online slots and casino table games available there. You can even play food-themed slots such as Hell's Kitchen by NetEnt, Pizza Pizza Pizza by Pragmatic Play, Extra Chili by Big Time Gaming, and many more.