Many components make a successful relationship. Things like trust, honesty and communication come to mind. But an equally important element of a solid relationship that's usually neglected is the element of fun. Thankfully, we have a solution. We're sharing some incredibly fun game recommendations to play at home with your favorite person. Our games will help you diversify your game night with selections of board games, video games and even exclusive casino games. 
The importance of play in relationships
At the beginning of a relationship, engaging in fun activities is how couples start to get to know each other. And even though you might plan to keep fun in the center of your relationship forever, things like work, conflicting schedules and day-to-day challenges and priorities get in the way. 
But having fun together as a couple is more meaningful than you might think. Playing together helps couples bond and it also teaches them how to communicate and resolve conflicts better. Spontaneity in fun activities has been shown to increase relationship satisfaction, enhance intimacy and improve emotional well-being. Playing board games with your partner might seem silly, but it's a significant investment in your future happiness. 
The most entertaining games for couples
Now that you know that play should be a top priority in your relationship, it's time to let the fun and games commence. Here are entertaining games to play at home with your significant other. 
Off Topic
If you enjoy playing Scattergories, you're going to absolutely love the board game Off Topic. To play, you roll a 20-sided dice with letters of the alphabet and then pick a card with relationship-building prompts like "terrible baby names" or "bad ideas for a tattoo." Players have to come up with genius answers that start with the alphabet letter you rolled until their allotted time runs out.
At the end of the round, you'll compare answers and reward the most unique responses. The game is an excellent ice-breaker and conversation starter. Plus, if you ever have friends over or a double date, the game conveniently accommodates up to eight players. 
Mario Party Superstars
Mario Party Superstars is an incredibly fun and addictive video game with the immersive Mario universe we've grown to love over the years. Playable on Nintendo, the game lets you explore and play the Superstar collection of minigames. Minigames include titles like Bumper Balls and Dungeon Duo. With 100 minigame options, you and your partner can enjoy the game for hours without getting bored. If you're looking for a nostalgia-inducing date night game, the classic boards from the old-school N64 and Gamecube era will bring the glory days of gaming into modern times.
Poker for Couples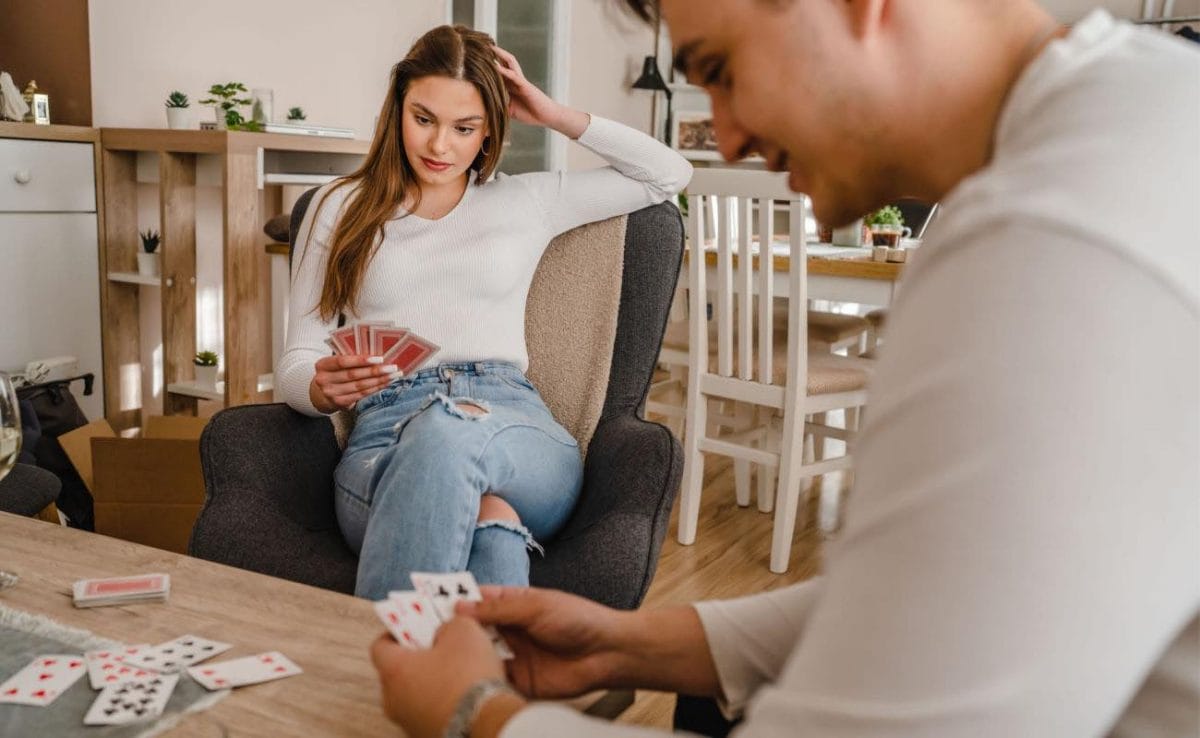 Playing poker at home or at an online casino is a great relationship-building activity. Playing poker with your partner lets you see their strategic and cunning skills. It gives you a peek into intellectual strengths you might not have seen before. If you're looking for a game of poker that's tailored specifically for couples, look no further than the Poker for Couples game. 
In Poker for Couples, two players try to score the most points by creating the highest poker hand or by winning tricks. The game is a casino and board game hybrid. When you score points you'll move a pawn up the board game track and collect unique sexy rewards cards. The game has a quick and simple version as well as a complex and strategic version to really put your partner to the test. 
Portal 2
In this futuristic game, you and your partner can work together as two robot characters to solve mind-bending puzzles and obstacles. Portal 2 is one of the best games for couples who enjoy a challenge. This two-person co-op video game is not a new release, but it's certainly stood the test of time. Couples will enjoy the engrossing stories and settings and the increasing mental challenge. The game can be played on Xbox, Windows, Mac and Linux. 
Two Truths and a Lie
You don't need a game board or any equipment or tools to have fun at home with a loved one. Two Truths and a Lie requires zero prep or equipment. It's perfect for new relationships. To play the game, you and your partner will have to take turns saying three things, with only two being true statements. The opponent has to guess which statement is a lie. This easy game is a great way to get to know each other in the early stages of a relationship. 
Bingo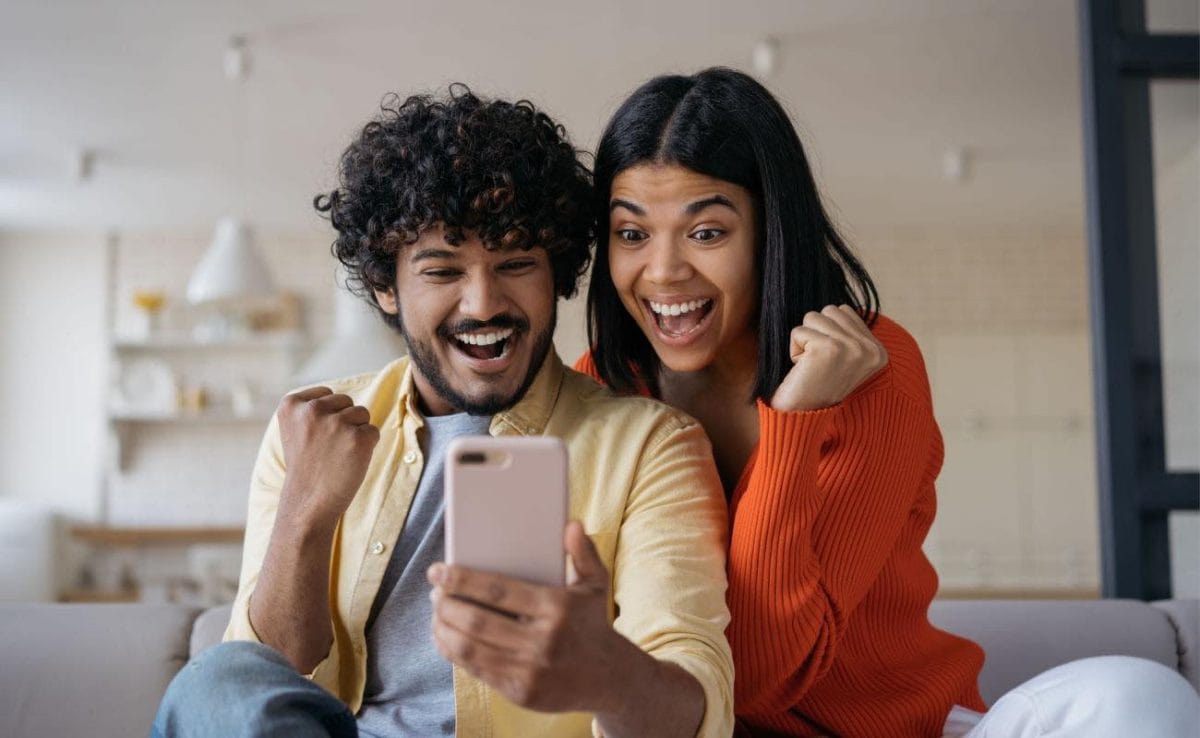 There's a reason bingo has been loved for millennia. Not only is the game easy to play and learn, but it's also easily customizable. Shake things up and try a unique or cheeky game with variations like death bingo, musical bingo and backwards bingo. For even more fun and real prizes, play bingo online with Borgata Bingo. You can play on separate devices, challenge each other or huddle together and enjoy Borgata Online's bingo trivia games and chat rooms. 
If you want to kill two birds with one stone, play a Slingo Originals title. Slingo merges slots and bingo games into one fun game. There are many exclusive Slingo Originals titles to choose from at Borgata Online, from Slingo New York Jets to Slingo Deal Or No Deal. 
Play the most romantic slots online 
Borgata Online has hundreds of online slots for real money. With many unique and immersive themes, we know there's a slot game that you and your partner will love. A popular romantic pick on our platform is Microgaming's Immortal Romance slot. The game takes couples through a dark and supernatural love story featuring thrilling bonus rounds, free spins and multipliers. With an RTP of 96.86% and a maximum win of 12,000x, we know this slot will make you swoon. Did we mention the 3,645,000 coin jackpot? Create an account to play this slot online and many more romantic titles. 
Bring out your competitive side with Borgata Online
At Borgata Online, we welcome enthusiastic and competitive players. Our casino has a game for every kind of player to love and get lost in. You can enjoy betting on sports, playing classic table games or spinning the latest slots from top developers. We have one of the biggest catalogs in the industry, with mobile-optimized software so you can play anytime and anywhere. Why not register and start your online gaming adventure with us?