Long-distance relationships are tough for a lot of reasons. The biggest one is obviously the distance – it can be hard to see each other in person or do things together like you would in a normal relationship. This can make it tough to feel emotionally connected.
Another big challenge is that you don't have a regular routine or shared experiences. When you're living in different places, it can be hard to establish a schedule or do things that you both enjoy – unless, of course, it's online casino games.
Long-distance relationships can also be really stressful and emotional. It can be tough to communicate and trust each other when you're not together – you might even worry about things like cheating or growing apart.
That said, if you're willing to put in the effort, long-distance relationships can also be really rewarding! By staying in touch, finding fun ways to connect and trusting each other, you can build a strong, meaningful relationship, no matter how far apart you are.
From nights "out" playing online casino games to care packages, here are a bunch of long-distance date ideas for those of you who choose to love from afar.
Dating in the Metaverse
You may not be in the same physical place, but the advent of the metaverse (virtual online worlds) has made it possible for us to share experiences in real-time. Here are a few virtual date ideas to bring long-distance couples closer together in cyberspace.
Virtual Tours
Many museums, cities, famous destinations and landmarks offer virtual tours where you and your partner can meet and explore exhibits and sights.
Experience new cultures in strange lands together or travel into the past. Whatever your shared interest, take the time to meet in the virtual spaces created for exactly this kind of experience.
Use it as a planning tool for the real thing when you see each other in person again.
Virtual Movie or Series Binge Night
Pick a movie or TV show to watch together and sync up your screens so you can watch it at the same time. Many streaming services and third-party services like Rave allow you to watch movies and shows simultaneously on your virtual date night.
Online Classes
Take an online class, workshop or webinar and learn something new together. Think of all the times you promised to learn origami or join a cooking class together but never managed to get it together. Here's the opportunity to do it online together.
Online Games
Here's one that the millennials and Gen Zs will relate to. Online games are among the most social metaverses you will encounter. Whether you're into first-person shoot 'em ups or fantasy role-playing games, going on a quest with your better half is sure to keep things fresh.
For the rest of us, we can go back to the old favorites like Scrabble, chess, Monopoly, Clue (and, for the geeks among us,) Dungeons and Dragons or Settlers of Catan.
Wine or Beer Tasting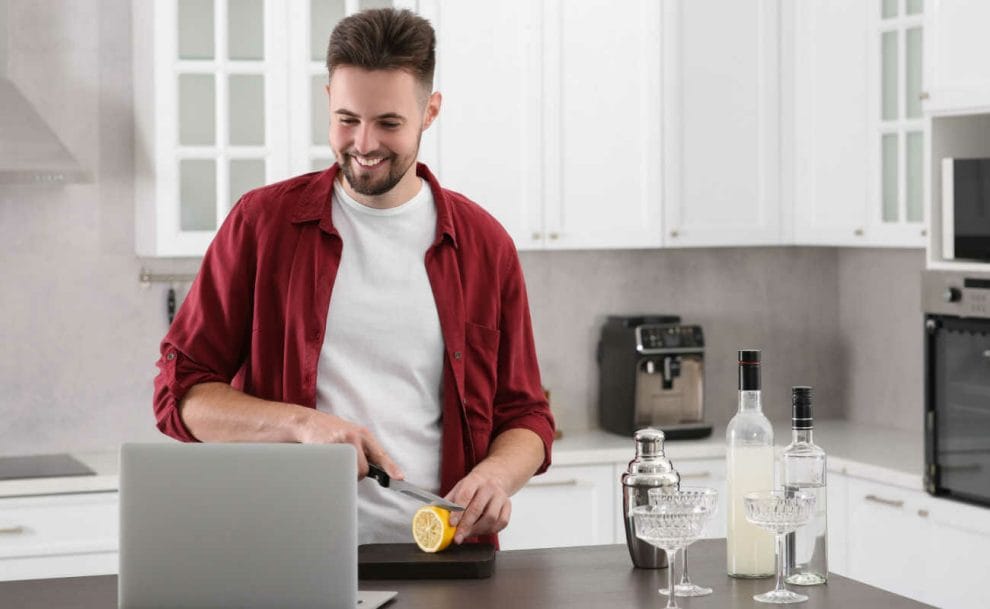 Create your own tasting club. Order the same bottle of wine or beer and have a virtual tasting together. Compare notes and facial expressions as you get progressively tipsy. This could easily turn into a party.
Virtual Escape Room
These are as fun online as they are in real life. It's basically a game you can play online where you have to solve puzzles and riddles to escape a virtual room within a certain amount of time. It's like a video game version of an actual escape room.
You can communicate with your partner and work together to solve the puzzles and progress through the game.
Watch a Live-Stream Concert
Check out the schedules of your favorite artists and attend a live-stream concert together. Rock out to your favorite bands, artists or DJs. Be sure to build up to the hype and even coordinate your dress code. Dim the lights, join the stream and have a blast.
Couple Health Apps
This is a bit like virtual couple counseling but without the counselor. There are several apps that you can both use that range from silly quizzes to more in-depth thought-provoking questions to ensure that you're both on the same relationship page.
Take Quizzes
So many of us love going down to the local pub on quiz night. Yet it is also something you can recreate in a virtual setting. Why not schedule a quiz date night, head to the "local" online quiz master and test your mettle against each other?
A Night at the Tables
Why not recreate a glamorous night out at a world-class casino? Many online casino games are great for couples. Dress up, put on your heels and tuxedos and drive to the fanciest casino near you. Find a secluded table and log on with your partner. Challenge them to online slots or a high-stakes poker game as you sip on your cocktail. There are even virtual casinos these days where you can meet and play with your avatars. 
Off-Screen Collabs
If you're more old school and prefer to look into your partner's eyes on a date, then why not try a few of these FaceTime date ideas where you both engage in real-life activities while on a video call?
Cook a Meal Together
This is an obvious one. What could be more fun than choosing a recipe you enjoy and cooking simultaneously while video chatting? Planning the menu and getting the ingredients adds to the excitement and anticipation, while the cooking can get competitive, too. All in good fun to keep the spark alive.
Dinner Date
Another obvious one. You could convert your cooking collab into a date or you could both choose a favorite cuisine and head out to a local restaurant while on a video call. Compare notes and promise to take them there when you next meet.
Read a Book Together
For the more intellectually inclined, this can be a very intimate video call date. Choose a book you both have been dying to read and take turns reading chapters to each other. This is a wonderful bedtime activity to stay close while afar.
Couples' Book Club
Create your own little intimate book club. Choose your books, read them (apart or together) and then set aside a date to sip coffee, put your feet up and discuss the merits of your chosen tome.
Online Workouts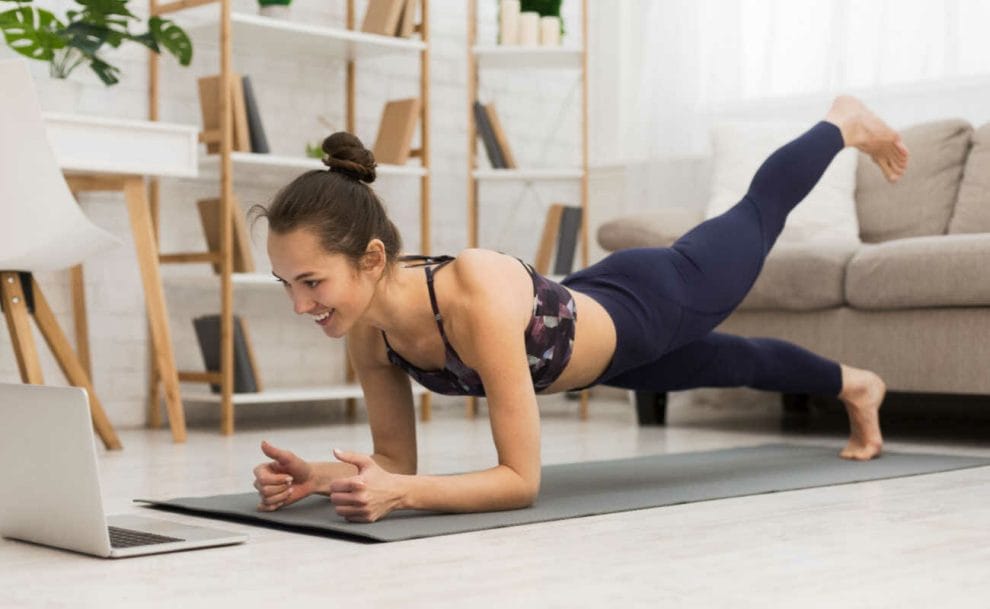 So many of us had to live-stream our workouts with our trainers, instructors and teachers during lockdown. Why not share that experience with your partner? Find a workout video or live stream and work out together over video call. As the endorphins kick in, the shared experience will amplify the bond.
Take a Bath Together
After a long exhausting day, there's nothing like a hot bath to relax your muscles and calm your mind. Hop on a video call with your other half and share the quiet time. As you both sink into the warm water together, get ready for an intimate exchange away from the frenetic daily hustle.
Video Dance Party
Remember what it was like when you both headed out to a club or a house party together? Recreate those moments when a favorite song came on and you both simultaneously jumped to your feet and headed to the dancefloor. Create a playlist of your favorite songs and bounce along with each other on a video call.
Paint or Draw Together
If you're more artistically inclined, a painting or drawing session is a wonderful way to share an experience and also create a lasting memory that you both can enjoy at your next meeting. It is also a truly intimate, wordless expression that lets your partner into your emotional world.
Karaoke
If singing is more your thing, why not line up your favorite karaoke duets, grab a drink and sing your hearts out over a video call? It is a fantastic way to reconnect and create new memories with a fabulous soundtrack.
Take a "Walk"
Share your world with your partner by taking a "walk" with them while on a video or audio call. Try facing the camera away from you and immerse them in what you're seeing as you chat with each other. It's a great way to reminisce about shared walks before you had to live apart.
Learn a New Language
Apps like Duolingo provide an opportunity to learn a new language and share that experience with others. Even better is trying to stumble over your broken attempts to speak to each other in a foreign language while on a call. Turn it into a competition or just laugh about how badly you both pronounce the words. Or you could make it a way to plan a trip together and keep the excitement going as you wait for the trip.
Laugh Together
Laughter is one of the most powerful ways for couples to bond. Hop on YouTube and watch your favorite funnies from fails to challenges; sharing a belly-aching laugh session is a great date.
While I'm Away
Video calls and virtual meetups are wonderful, but it's always great to remind each other that you are still together as a couple.
Plan a Trip
Planning a future trip is a great way to keep the idea of physical connection alive. Anticipating a visit or reunion evokes the physical dimension of your relationship and reminds us that we still need to be together.
Send Surprise Care Packages
Send each other care packages filled with favorite treats or things you might need to keep the tactile reminders going. Try sending more than just fragrances or chocolates. Throw in a favorite item of clothing and let your other half know it won't be long before you'll be there to claim it and put it on again in front of them.
Write Letters
There is nothing more romantic than writing letters to one another while you're apart. It evokes visceral feelings of anticipation and allows you to put thought into the communication that you just don't get with video chats and instant messaging. It is an ancient form of communication that reminds us that long-distance love was never stronger than when we spent ages anticipating the next letter.
Let Borgata Keep the Love Alive
Register with Borgata Online to treat yourself and your partner to a night of fun and thrilling excitement. Join a live dealer game where you can take on your other half at roulette or poker and even baccarat. Whatever you enjoy, enjoy it with your partner and Borgata Online.