There was a time when you couldn't interact with entertainers unless you were watching them live. But that's all changed thanks to the internet and streaming. In fact, many people now aspire to be a popular online video creator as a passion or hobby. Whether you're interested in streaming online casino slots and online poker (including live dealer poker) games for fun, or online streaming as a profession, you'll need certain hardware and software before you can begin. Also, you'll need to know how to play poker! Join us as we take you through the key items you'll need to start streaming video online.
Put together the right streaming computer setup
The first item on our list is, of course, a decent computer designed with video streaming in mind. This may get a bit technical, but rest assured, there are many resources you can find to help you better understand what each of these components does. Also, please note that you could build a comparable PC using your preferred brands while we've looked for the most cost-effective and trustworthy parts that we could find at the time of writing. But for now, here is our list of components that you can use to build a streaming-ready PC.
CPU
AMD CPU – Ryzen 5 7600X: Yes, AMD recently released its 7000 series Ryzen GPUs, and if you've got the cash to spare, then by all means, consider picking up a Ryzen 5 7600X. But if all you want is a processor that does the job, or have an older computer with an AM4 motherboard, then a 5600 will meet your needs. All of these processors are six-core, 12-thread processors that will run most of the latest gaming experiences really well while having more than enough horsepower to handle any "work-related" tasks (such as streaming).
Intel CPU – Core i7-12700K: Intel may have taken a bit of a beating in the past by AMD's Ryzen processors, but they're back in the game thanks to the updates they made with their 12th and 13th generation of processors, which now include efficiency cores, or e-cores, which are designed for simpler tasks that your computer may need to handle while drawing far less power than traditional CPU cores, also known as performance or p-cores. That being said, if you're interested in something for streaming, Intel's Core i7-12700K offers 8 p-cores and 4 e-cores, and will be more than enough horsepower for most streamers.
Motherboard
AMD AM4 motherboard – MSI MAG B550 Tomahawk Gaming Motherboard: The B550 series of motherboards don't carry all the latest features but offer some nice perks (such as faster PCIe 4.0 support) without breaking the bank. These motherboards support the Ryzen 1000 to Ryzen 5000 series of processors.
AMD AM5 motherboard – ASUS TUF GAMING X670E-PLUS WiFi: AMD's latest technology does not come cheap, which is why we've chosen to go with a more cost-effective option that will support all of the latest Ryzen 7000 processors. Sure, you're giving up some of the bells and whistles, but you'll still get a whole lot of performance and the most important new features, such as PCI-E 5, from this option.
Intel LGA 1700 motherboard – ASUS ROG Strix Z690-F: Definitely not the cheapest option, the ASUS ROG Strix Z690-F will give you the best overall bang for your buck while still giving you the latest features such as DDR5, PCI-E 5, WiFi 6E, and more.
RAM
For our AM4 option – 16-32GB Patriot Viper Steel 3200 MHz DDR4: While you can get by with 16GB of RAM, if you're someone who wants to do any other video work, such as editing your video clips for YouTube, we'd recommend going for at least 32GB. And these days, as long as you stick to a recognizable brand, you're likely to get reasonable quality RAM that performs as expected and doesn't die a few days after its warranty expires. Finally, it's worth noting that while there are faster RAM sticks available, the performance increase is often not worth the price. The sweet spot tends to be 3200 MHz.
For our AM5 and LGA 1700 options – 16-32GB G.Skill Flare X5: DDR5 RAM can be very expensive, but thankfully the G.Skill Flare X5 is not. It may not look very fancy, and it may not have any flashy RGB lighting, but this no-nonsense RAM offers good performance at an affordable price.
Graphics card
Low-end – Nvidia GeForce GTX 1650 4GB or Radeon AMD RX 570 8GB: If you're interested in streaming more than casino games, then you'd probably need to shop around for something a bit faster than our recommended graphics cards from Nvidia or AMD. Both of these options are a few years old now, but if you are only interested in casino games, maybe with some light casual gaming on the side, either of these two cards will do the job.
Mid-range – Radeon RX 6750 XT/GeForce RTX 3060 Ti: These two cards may be one generation old now, but they're still more than enough for most streamers. Even if you decide to dabble with more modern games that will push your PC to the limit, these graphics cards will have enough oomph to let you stream and play at the same time.
High-end – Nvidia's RTX 4090: If you must have the best, the king is undoubtedly Nvidia's RTX 4090. It has great performance for games, including when ray tracing is turned on, and all of the latest features, including AI-enhanced image scaling, but it also comes with a beastly price of $1,599.
SSD
WD Black SN750 1TB: M.2 is the new form-factor standard for SSD, and this storage device connects directly to your motherboard. When purchasing fast storage, it should be your first choice unless you absolutely cannot afford the slight price increase over older SATA SSDs.
Hard drive
WD Gold Enterprise Class Hard Drive: While an NVME SSD will meet your storage needs when it comes to speed, if you're interested in large volumes of space where you can store all your video files, our recommended drive will have you covered. These mechanical hard drives offer up to 22 TB (that's terabytes) of storage, so you're unlikely to run out of space any time soon.
Case
Whichever ATX case suits your budget and style: ATX is the standard-size case that will fit any motherboard that is rated ATX or below, which is the majority of motherboards. Also, when it comes to the case style, this can be very subjective, so we'll leave this open for you to decide. If you're someone who likes all the fancy RGB lights and perspex windows, then you just need to find a case that will fit an ATX motherboard. If you plan to tuck your PC under your table and forget it exists, then a simple black case would work perfectly well, too.
PSU
Corsair RM750x: This is a high-quality power supply that will meet all the needs of a mid-range computer while not costing an arm and a leg.
Seasonic Prime Titanium TX-1000: If you're putting together an absolute monster of a machine, you'll need an absolute monster of a power supply. The Seasonic Prime Titanium TX-1000 won't come cheap, but it will handle virtually anything you throw at it.
Monitors
Minimum of two 24-inch, 60Hz screens: If you're going to start streaming, you will need two monitors, each one dedicated to its own unique purpose. The first screen will be the monitor you actually play your games on. The second will be necessary for your digital streaming tools that you use to manage your stream (which we cover in greater detail later) and, of course, the people who are chatting with you on stream. Also, while we do say 60Hz is the minimum, we honestly recommend looking for 144Hz or higher, as this will reduce the amount of eyestrain you'll get if you spend hours streaming in front of your computer.
Webcam
For beginners – Logitech C922 Pro Stream or Razer Kiyo: There was once a time that you could get away without a webcam, and some streamers do manage to grow an audience without showing their face. However, the majority of people use a webcam as it really helps audiences connect with you. If you're looking for a solution that's affordable, either the Logitech C922 Pro Stream or Razer Kiyo will do.
For serious streamers – Elgato Cam Link 4K: If you're looking for the best in video quality, you'll find it with the Elgato Cam Link 4K. This webcam can record 4K video at 30fps or 1080p at 60fps, depending on your needs.
Microphone
Logitech G733 Lightspeed: While any headset with a microphone will do, you definitely want good-quality sound and, more importantly, a good-quality microphone. Many headsets fulfill this criterion, but our first recommendation is the Logitech G733 Lightspeed, a wireless headset that offers great sound quality, as well as some bling (RGB lighting) if that's your thing. However, being a wireless option, the sound quality on the mic is not so great, so you may want to get a standalone solution to go with it.
Elgato Wave 3: If you need a standalone mic to go with your fancy Logitech headset, we recommend going with the Elgato Wave 3. This mic produces good-quality sound, is simple to set up and can also be hooked up to many desk boom arms.
Keyboard and mouse
Again, personal preference applies here. While some streamers like to go all out and purchase some stylish-looking peripherals, others don't mind keeping it simple. Take a look online or at your local computer store to see what's on offer.
It's important to note that computer hardware prices for many items (such as graphics cards) are higher than normal due to global shortages at the time of writing. This is why we have chosen not to publish any pricing on any of these items.
How fast must my internet be to stream good-quality video?
Most people stream at a resolution of 1080p these days, but if you're just starting out, it's better to run a smooth and stable 720p stream than one that's higher resolution but looks like a PowerPoint slide show.
The bare minimum upload speed (which is separate from your download speed) to stream at 30fps (frames per second) at 720p is 3.5Mbps or higher, depending on the video bitrate (how much video data you want to stream in a given time frame) that you set the stream at. The lowest video bit rate we'd recommend is 1,500Kbps, which may look like a blocky mess if there's a lot of activity on-screen. We recommend a higher bit rate at 720p if your connection can handle it.
What software do I need to be able to stream?
While there are tools you can buy, most people use a free tool called Open Broadcaster Software, or OBS. Its app is called OBS Studio; it will not only allow you to stream whatever it is you're playing on your computer but also configure or manage other elements of your stream, such as the layout, transitions, and even your stream chat!
Just a word of advice regarding this part of the process: you are likely to encounter some hiccups when setting up this part of your stream, but don't worry. There are thousands of free resources available online and chat rooms and forums where you can get help.
Extras to take your streaming setup from "reasonable" to "excellent"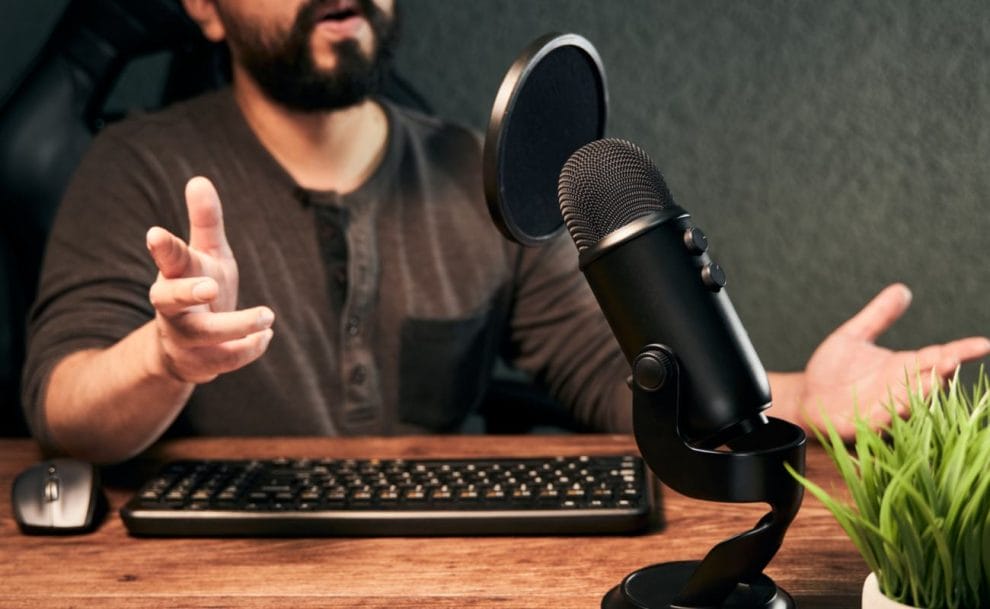 If you're planning to go all-in on your streaming setup, these extras can take you from average to professional.
A portable green screen
While some graphics cards and apps can blur out your background or replace it entirely, these solutions don't often look very good. A green screen can help you spice up your stream by changing your background to whatever you want. There are dozens of solutions on the market, and if you've got the time and energy, you can even make your own.
A set of studio lights
If you want to be looking your best, you're going to need a decent set of lights. These can vary in quality, size, and price, which is why we haven't recommended any here. Be sure to shop around and see what works for you.
A dedicated microphone
While you can undoubtedly get some great mics on a gaming headset, a standalone solution will often give you better quality. If you're starting, we recommend the HyperX SoloCast. Just don't forget to purchase a microphone pop filter to dull down the "puh" sound that the microphone picks up when you say certain words with the letter "p" in them.
Could I use this setup to stream live dealer poker or other casino games to people?
While we'd love to say that this is enough to get you on the road to live dealer poker or live dealer casino games stardom, the reality is that a lot of time, resources, and energy go into setting up a good live dealer game.
At a bare minimum, you'll need space for everything, whether that's the poker table itself or another casino table game, a good set of lights, and a boom mic. And that's even before you get into the production design of the set and the clothes that you'll be wearing on stream. Sure, you could go low-budget and just wing it, but major companies are investing big money into live dealer platforms, so an amateurish setup is unlikely to bring you any viewers.
Then there's also all the back-end software that you'll need to allow players to place bets, place financial transactions, not to mention licensing and many other requirements.
If you're interested in streaming digital games you play to others, be it online slot machines, poker, or other digital casino games, then the elements we've described earlier in this piece will be more than enough. If you're interested in starting your own live dealer poker or live dealer casino game service, you're going to need a lot more to get off the ground.
Get ready for fun with Borgata Online
There's no doubt that technology has changed how we entertain ourselves. There was even a time not so long ago when we had to go to a casino in person to play our favorite gambling games. While that's still an option, if you're looking to play slots or (regular or live dealer) poker online at home alone, with friends, or streaming to hundreds of people around the world, you can have a great time playing casino games at Borgata Online.
At our online casino, you can play the best online slots for real money, but there's much more for you to enjoy, too. From table and live dealer to variety and virtual sports games and online poker tournaments, we offer a huge variety of online casino games to suit all tastes and playing styles! If you've been scouring the internet for the best online poker sites, our site also offers players a safe and exciting space to play online poker for real money.
To join in the fun, register with Borgata Online.