Have you ever wondered how to get into investing in cryptocurrencies, but you're afraid of getting off to a bad start? It's easy to get caught up in all the hype about something new, but it seems as though the novelty of cryptocurrencies hasn't worn off. If you're a recreational or professional poker player who regularly goes as far as to compete in online poker tournaments, then you could draw on your poker abilities to help you invest in a cryptocurrency. 
Here we'll be taking a closer look at the similarities between playing online poker and investing in cryptocurrency. We'll also look at some expert tips from seasoned poker players who invest in crypto. Keep reading to find out more.
The similarities between poker and cryptocurrency
Like playing traditional or online poker, investing in cryptocurrency requires skill and judgment. But any professional or experienced player will also mention an element of luck that's needed to yield massive profits at the felt, and the same can be applied to crypto. The outcome of either one is unpredictable, and this is what makes both of them very exciting. 
Both poker and crypto require a few essential skills, the majority of them stemming from poker, but you don't need to regularly play poker online or at a casino to become a successful crypto trader. Many of the first players who adopted online poker and participated in online poker tournaments to make some extra cash were among the few that got into crypto shortly after it became available.
While these games were played on a shady backroom site that could easily run off with your poker winnings, there was a strange element of trust. Fortunately, these were merely players who wanted to be the pioneers of what would become one of the largest online communities in the world, and the same can be said for crypto.
Similar skills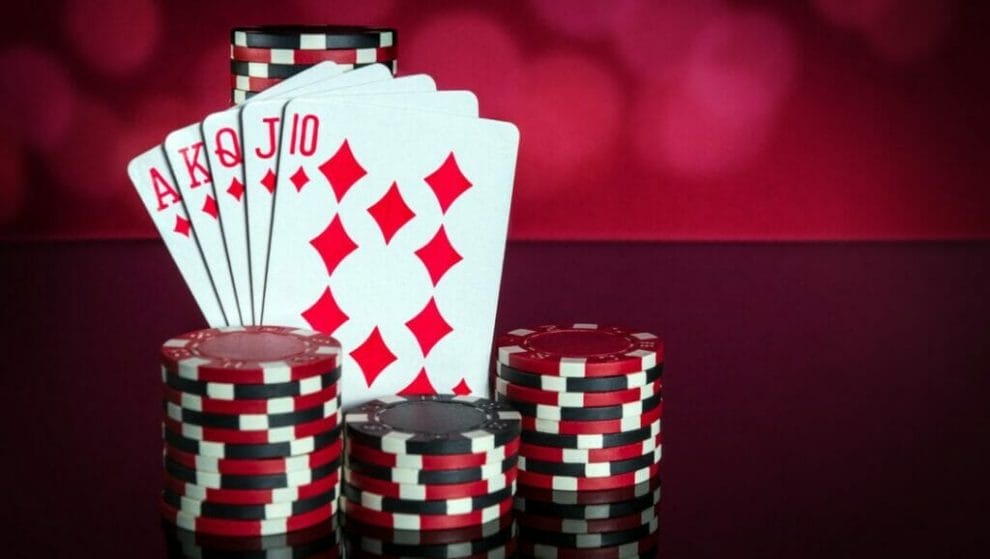 A handful of skills can easily be transferred from playing Omaha poker or any variation of a Texas Hold'em poker game to the world of crypto investment. Most of them relate to decision-making and not actual gameplay, but they can help you make vital moves when investing.
Focus on the present
You wouldn't think about last week's poker game when playing today unless you're using it as an indicator of what not to do. It's generally not a wise choice to use your previous trades or poker games to determine how well you'd do in the future. History rarely repeats itself in poker or the crypto world and so you're better off focusing on what's happening in front of you.
Take and manage risks
With crypto and poker, you're going to need to be comfortable with taking risks as your key priority is to maximize your profits. Playing it safe will result in smaller losses, but the rewards aren't worth it. With crypto, you'll be going up against the market itself, and this is notoriously volatile, so you'll need to be on top of things all the time. This goes hand in hand with effective risk management, which is an important part of not burning through all of your money.
Differentiate luck from skill
If you got lucky on your first poker game, you shouldn't let this get to your head. This is why it's important to learn the difference between luck and skill. This is evident when it concerns those who got rich quickly when crypto initially burst onto the scene. Most people had no idea what they were doing, and this caused a bad feedback loop that prevented many of them from learning the essentials.
Essential poker skills that will help you with crypto trading
As we've already mentioned, there are plenty of tips that can be transferred from poker to crypto trading. And much like you'd implement an online poker tournament strategy to ensure that you'll reap the maximum rewards, a similar approach should be taken with crypto trading.
Work on your math skills
We're not expecting you to count cards, which is extremely difficult for most of us, but having strong math skills in poker will help when you need to calculate the probabilities of certain hands quickly. When investing in crypto, using complex formulas to try and predict phases in the currency should be done quickly. This will allow you to pounce on any opportunity without blindly heading in that direction.
Be disciplined
Discipline goes a long way, especially when money's involved. If you allow your emotions to run wild, you could quickly find yourself in a very difficult financial position. Regardless of the pressure or the stakes, you'll need to learn how to maintain calm and focus on your goal. Both crypto trading and poker require mental toughness, self-control and a lot of patience.
Doing research on various poker strategies and crypto tactics is also a good idea while tracking the movement of the crypto market. It takes a lot of time and effort to ensure that you're capable of making the right decisions in poker and crypto. Watching the best poker players and tracking the most successful investors is a good way to learn too.
Know how to set limits
This is easily the most important aspect of online gaming and investing. Whether you're playing live poker online or buying a few fragments of Ethereum, you must set yourself a limit on how much you're able to spend. Your limit will allow you to lose without being in a bad financial position, and it teaches you to never chase losses. There might be a time when you experience a streak of bad luck, so always ensure that you're in a position to lose your investment or your wager without it affecting your overall financial health.
Join Borgata Online for the best poker experience
If you're eager to develop your poker skills at one of the best online poker sites around, then it's a no-brainer that you should register at Borgata Online. This site also features an incredible inventory of other casino games that range from slots to live dealer and table games, so you're guaranteed to find something that you enjoy!