There's no greater honor for a chef than to be awarded a Michelin star. While Michelin stars used to be reserved for the highest-quality dining experiences in Europe, there has globally been increased recognition of this important award over the past decade.
So whether you're on a jungle adventure in Peru, on a tour down under in Australia or even playing online casino games in the US, there's a Michelin-starred restaurant near you waiting to be discovered. 
How does the Michelin star system work
What does a tire manufacturing company have to do with fine dining, you may well ask. The answer is as simple as it is interesting. In 1900, the Michelin tire company created the Michelin guide to inspire drivers to travel more. After 26 years, the first star rating was released. Even though the guide subsequently came to enjoy worldwide acclaim, some regions and countries are not yet covered – for instance, despite being a culinary hotspot, New York was only included in the guide's ratings in 2005.
To uncover the best culinary experiences, the guide employs thousands of experts and inspectors to travel around the world, sampling top dishes. This is no small undertaking and inspectors literally visit hundreds of restaurants every year. To ensure they judge every establishment equally, the Michelin guide takes the anonymity of their inspectors very seriously. They have to behave like regular patrons and are discouraged from telling even their closest friends and family what they do.
Once inspections have been performed, the director meets with the various global teams for "star sessions". These sessions can take days, with each restaurant being carefully evaluated in turn. Once a decision has been reached, results are published and the lives of a few chefs and restaurateurs around the world will never be the same again.
What do Michelin stars mean?
Every star is a noteworthy achievement. But, the more stars you receive, the more impressive your restaurant is. This is how the Michelin team explains the value of each rating:
One star – The restaurant has "high-quality cooking" and is "worth a stop".
Two stars – This restaurant has "excellent cooking" and is "worth a detour".
Three stars – "Exceptional cuisine" and the establishment is "worth a special journey".
High-ranking Michelin-star restaurants around the world
Playing live dealer casino games and slots is always fun and convenient, but some things need to be experienced in person. Though you may have already visited one of the celebrity chef restaurants in Vegas, there are many more incredible restaurants to try all over the world. Let's see which ones have mastered the culinary arts and received the high honor of one or more Michelin stars. While it goes without saying that even receiving one Michelin star is an achievement, the highest possible accolade – receiving three stars – makes the restaurant one of the best in the whole world. Here are our favorite Michelin-starred restaurants from around the world.
Central
Where: Lima, Peru
Michelin stars: 2
Central is the brainchild of chef Virgilio Martínez Véliz. Located in the Peruvian capital, Lima, this dining experience is an absolute delight for the senses. Martínez is as passionate about the rainforest and Peru as he is about food and that much is evident from every dish.
The restaurant has a 17-course taster menu and each dish is as unique as every region in Peru. Martínez only uses fresh, local ingredients in his dishes. Through his menu, he takes diners on a journey across the country's incredible and varied landscapes. Delicious flavors, innovative methods and a true love for Peruvian food create a memorable dining experience.
The Fat Duck
Where: Bray, Berkshire, UK
Michelin stars: 3
Heston Blumenthal is a household name in the culinary world. This celebrity chef is known for turning something that is simply "eaten" into a thought-provoking journey. And this is precisely what he does at The Fat Duck, near Maidenhead in the UK, where your taste buds take you down memory lane to revisit childhood holidays and whimsical daydreams – all under the roof of a 16th-century cottage.
The Fat Duck was established in 1995 and rose to prominence in no time at all. It's one of only five restaurants in the UK to have received three Michelin stars. Guests can choose between a 14- and 17-course tasting menu, both of which involve fanciful delights that seem to come straight from a fairy tale. Dishes such as hay-smoked veal sweetbread and the mushroom truffle log along with treats from the custom-built dollhouse, transport diners to a fantastical realm of forgotten and, sometimes seemingly impossible, delights. If you want to increase your chances of getting a coveted reservation at The Fat Duck, try a midweek lunchtime booking.
Den
Where: Tokyo, Japan
Michelin stars: 2
Japan has gone through somewhat of a culinary revolution over the past decade. Once mostly known for its sushi, the country has emerged as one of the most popular culinary destinations in the world. While there are many exceptional restaurants in Tokyo, Den is a cut above the rest.
Award-winning Zaiyu Hasegawa is the chef who runs this two Michelin-starred restaurant. When asked what his aim was with the creation of Den, he said it was "to deviate from the refined but often repetitive Japanese stereotypes" and to cook more personal creations.
Hasegawa has managed to do just that and you can expect to find truly mind-blowing dishes that you won't find anywhere else: pork with root vegetables and lin, stuffed ant salad, sardines with liver paste and sesame pork – to name but a few.
L'Atelier De Joël Robuchon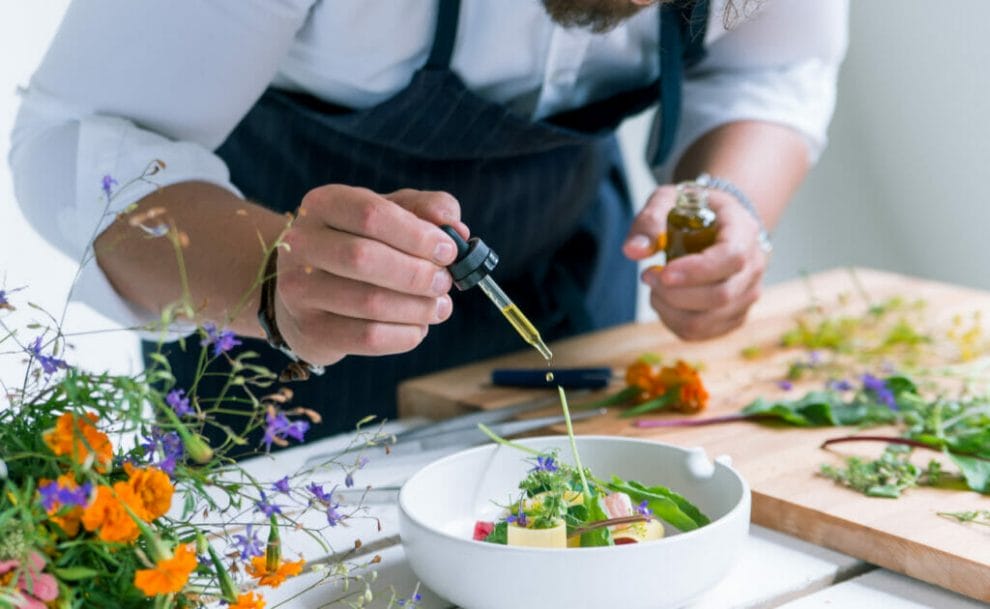 Where: Las Vegas, USA
Michelin stars: 3
If you're a fan of casino table games and you suspect that Las Vegas is the perfect place to practice those online poker skills in person, you may well be onto something. What you might not know, however, is that you can combine your casino experience with a visit to one of the world's best three-Michelin-starred restaurants.
Located at the MGM Grand in Las Vegas, L'Atelier De Joël Robuchon is the signature restaurant of an unforgettable chef, Joël Robuchon, who, in true MGM style, combines style and aesthetics. The French-themed restaurant has been designed to resemble a resplendent art deco townhouse with marble floors and a garden terrace galore. The food here is absolutely luxurious and designed to cater to a sophisticated palate. Specialties such as Le Caviar – a trio dish of thin couscous and Oscietra caviar, smooth cauliflower cream and delicate gelée of green asparagus – have established this restaurant's well-deserved fame.
L'Atelier De Joël Robuchon has also won the Forbes Five Star, AAA Five Diamond as well as the Wine Spectator's Grand Award.
Noma
Where: Copenhagen, Denmark
Michelin stars: 3
Being named the best restaurant in the world certainly earns you a place on our list. But achieving that four times sets you apart from the rest. Chef René Redzepi's Noma is a trailblazer in the world of fine dining and her Danish eatery boasts "one of the most advanced" test kitchens in the world – and you can tell.
Redzepi's dishes are never conventional. She forages the local countryside to find unique ingredients such as ants and edible mold. No matter how crazy a dish might sound, trust the process and trust her expertise. Noma has a seasonal menu that is never short of delectable. The year is divided into four-month periods, with every period focusing on one food group, such as seafood, vegetables, wild game, and so on. As the Michelin guide states, Noma is worth a detour. Word to the wise, you'll have to plan that detour long in advance to get a booking.
Sample irresistible promotions and bonuses
While you're on your culinary detour, why not celebrate your love for gaming and visit one of the most beautiful abandoned casinos in the world? If you're staying home, you can still bring the casino fun to you. Borgata Online brings the finest real online slots and table games to your mobile devices. Our website has a dedicated support team, handy game guides and casino card game rules for beginners. 
To sweeten the deal, visit the Borgata Promotions page and browse through our menu of ongoing bonuses, promotions and offers. Take advantage of our referral and sign-up bonuses or boost your bankroll with free spins and extras.
Enjoy the best casino games with Borgata Online
If a world-class entertainment experience is what you are after, look no further than Borgata Online. Learn how to play casino games in the best online casino, with thousands of slots, table games and much more. With new releases and exclusive titles, Borgata Online has the best slots to play at a casino. Register to start spinning.