Steak in New Jersey
New Jersey's cuisine is a product of its long and rich immigrant history, as well as its closeness to New York City and Philadelphia. These two states have strongly impacted the cuisine of New Jersey. Where the northern and central parts of the state are influenced by New York City cuisine, the southern parts are influenced by Philadelphia cuisine.
The Garden State is renowned for its vast number of diners, having around 525 establishments, the highest in any state. It's no surprise that it has many steakhouses that are among the best in the country. Some casinos, like Borgata Online, have even taken inspiration from cuisines all over the country to develop many food-themed online slots such as Ninja Chef, Sushi Bar, So Much Candy and Big Chef. Since New Jersey is gambling-friendly, you can play at a casino online and indulge in these games, although it's always wise to practice responsible gambling and adhere to the gambling laws in the state.
The following list showcases steakhouses across the state that combine charm and gourmet cuisine for an unforgettable experience.
1. PH Steakhouse
If you're exploring Chester, NJ, pay a visit to PH Steakhouse for one of the most amazing steak experiences. PH Steakhouse offers a delectable selection of cuts, such as Filet Mignon, Tomahawk Chop, NY Strip, and Porterhouse for Two. Other offerings include Bone-in Ribeye, Delmonico, and Kansas City Steak.
Beyond the menu, the steakhouse is attached to the Publick House Hotel, a 10-suite hotel that dates back to 1810. The hotel offers a serene stay while you enjoy Chester's rich history, after which you will likely be raring to try your luck at some online casino games.
2. 1776 By David Burke
You may be drawn to Morristown for its scenic beaches, but you should also visit 1776 by David Burke. Under the ownership and operation of the renowned celebrity chef himself, the menu boasts a selection of "salt-aged beef" and cuts. With a portfolio of multiple New Jersey restaurants, David Burke's culinary experience is no doubt the reason NJ-Monthly recognized this restaurant as one of the premier dining destinations in the Garden State.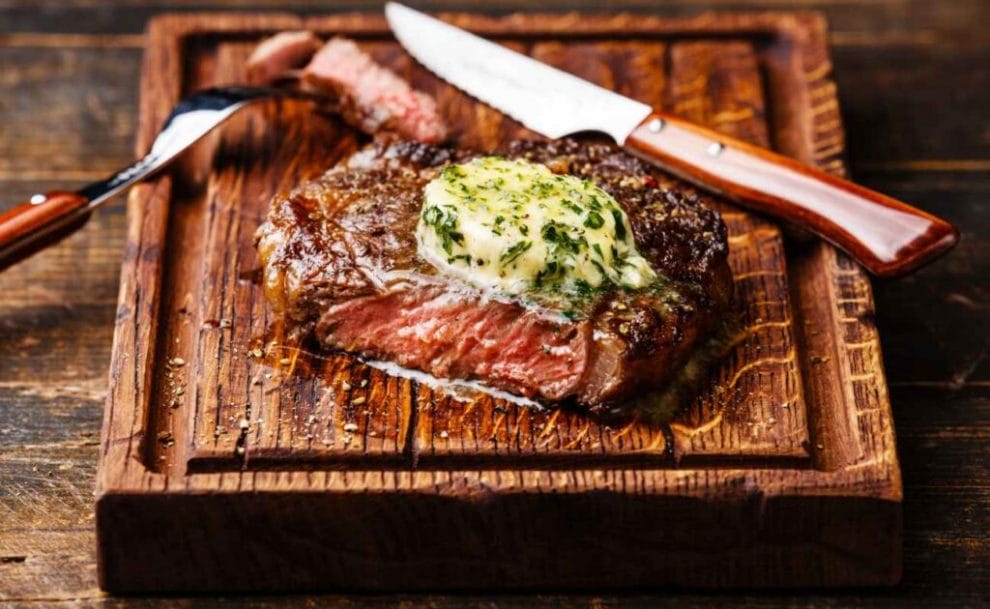 3. Dino & Harry's
If you're a history buff, this is perhaps the right place to wind down after a session of online slots. Dino and Harry's in Hoboken, NJ, dates back to the late 1800s when it served as a saloon for dockers. Its architectural features and charm endure to this day, including a 150-year-old clock. This historical heritage creates an atmosphere like no other anywhere in the state. But beyond the ambiance, the locals love the diverse steaks on offer at this New Jersey steakhouse that offers porterhouse, ribeye, filet mignon, and sirloin.
4. Don Pepe
Don Pepe prides itself on the finest porterhouse steak in Newark, although it also offers various steak and meat options. This certainly makes Don Pepe one of the best steakhouses in New Jersey. They also serve favorites like queen- and king-size sirloins along with veal chops and Surf and Turf. Other offerings include T-bone steak, filet mignon, and boneless shell steak. Locals say Don Pepe is an excellent choice for date nights, likely influenced by their comprehensive wine selection encompassing Spanish and Californian choices.
5. The Feathered Fox
The Feathered Fox, in the Westminster Hotel in Livingston, NJ, is a distinctive steakhouse that pays homage to the culinary excellence of executive chef Chris Siversen. This steakhouse has an innovative approach to sourcing local and seasonal ingredients, resulting in a superb array of charred steak cuts and chops. The tender and exquisite 36-ounce prime porterhouse, ideal for sharing, is enhanced by the fresh assortment of raw bar and seafood offerings. Each meal at The Feathered Fox, complemented by exceptional cocktails, makes this steakhouse one of the best steakhouses in New Jersey.
6. Mohawk House
Mohawk House is one of the few steakhouses that delivers an authentic farm-to-table encounter, thanks to the proprietors who also oversee Mohawk Meadows Farm in Lafayette, NJ. The restaurant is situated on a vast three-acre country estate. Mohawk House's cuts come courtesy of Pat LaFrieda and include choices like Prime New York Strip and prime filet. Their menu includes a dry-aged tomahawk for two, a dry-aged porterhouse, and a dry-aged cowboy steak. They offer desserts like warm apple tart, New Jersey cheesecake, and many more.
7. Rare the Steak House
At Rare the Steak House, you can select prime beef cuts tailored to your specific taste preferences, accompanied by delectable side dishes that accompany each bite. The interior exudes a strong yet inviting atmosphere, enhanced by the dark décor. The extensive wine list perfectly complements the rare steaks and chops, like the tomahawk rib chop for two. Rare the Steak House offers a refined culinary journey and promises impeccable hospitality throughout your upscale dining experience.
Enjoy Various Online Games With Borgata Online
Many people visit New Jersey for the many beachfronts, but end up discovering its renowned steakhouses. The fun is endless, whether you're enjoying a steak or indulging in online casino games. To start enjoying the thrill of gaming, register at Borgata Online.