There are many reasons why you should spend your next vacation in New Jersey. New Jersey has it all. Gorgeous waterfalls, historic villages and farms, the largest theme park in the world and kite and balloon festivals. And when you're in the Garden State, it's a no-brainer to play your favorite real money casino games, since the state makes online casino games more accessible than ever. But of course, New Jersey is also known for its breathtaking beaches. Here are the most scenic beaches nestled in Jersey's 130-mile shoreline. Ready to dive in?
Asbury Park
If you visited Asbury Park before the 2000s, then you need to revisit the park to witness its glow-up. The previously abandoned Victorian homes and streets of Asbury have been revamped into a beachy Brooklyn look-alike. The beach boardwalk is a haven for art and culture lovers, with live music events and unique murals created by local artists. Asbury might be famed for being in the title of Bruce Springsteen's first iconic album, Greetings from Asbury Park, N.J., but it's certainly not stuck in the past. 
Features and activities
Live summer music events such as the See.Hear.Now Festival in September
High-end food trucks and stalls 
Dog-friendly beaches 
Salvation Rooftop Bar at the Asbury Hotel
R Bar New Orleans eatery
Playgrounds and water fountain
Long Beach Island
LBI, as it's known by locals, is an 18-mile-long barrier island in the center of the Jersey Shore. The island is a collection of townships known for incredible beaches and world-class surfing. LBI has a beach for every kind of traveler. For a more buzzing environment, head south to Beach Haven or Long Beach. Beaches with a more relaxed atmosphere include the classy Surf City, Barnegat Light and Harvey Cedars. Long Beach Island is perfect for beach bums, but it also has an array of water sports for adventurers and a few museums for history buffs.
Features and activities
Amusement park at Beach Haven
Barnegat Lighthouse
Delicious fresh donuts from Marvel's Bakery
New Jersey Maritime Museum
Long Beach Island Historical Museum
Barnegat Light Museum
Thundering Surf Waterpark
Viking Village
Black Pearl Pirate Excursion
South Jetty walkway
Sandy Hook
In Sandy Hook, you can enjoy the NYC skyline from the comfort of your beach blanket. This beach is part of the Sandy Hook Gateway National Recreation Area, which borders the New York Harbor entrance. Sandy Hook's gentle cerulean waters are the safest for kids and families. Visitors can also enjoy bike rides on the trails, kayaking, bird-watching and fishing on the bay-side. The Sandy Hook stretch of beaches includes New Jersey's only legal nude beach, Gunnison, and a gay beach in Area G. 
Features and activities
Kitesurfing, fishing, kayaking, bike trails and bird-watching
Sunset tours with Sandy Hook Kayaks
Rent an inflatable island
Nude beach and gay beach
Fort Hancock Nike Missile Base
Sandy Hook dog beach
Sandy Hook Lighthouse
Scuba diving
Windsurfing
Wildwood
Wildwood Beach delivers everything you'd expect from a beach located in a resort town. It's known for its water parks and seaside amusement parks. Families will love the Splash Zone water park, packed with rip-roaring water slides and a lazy river. The SpringShot ride promises a surge of adrenalin. But there's more to Wildwood than rides. The town looks like a tribute to the 1950s, with retro hotels and colorful neon signage. How does a sky-high breakfast sound on a Ferris wheel? At Wildwood, this is just another Saturday.
Features and activities
More than 100 rides and attractions
SpringShot ride
The Doo Wop Preservation League Museum 
Breakfast In The Sky
Splash Zone 
Sightseers Trams
Seaport Aquarium
Wildwood Historical Society – George F. Boyer Museum
Hippo water slide
Cape May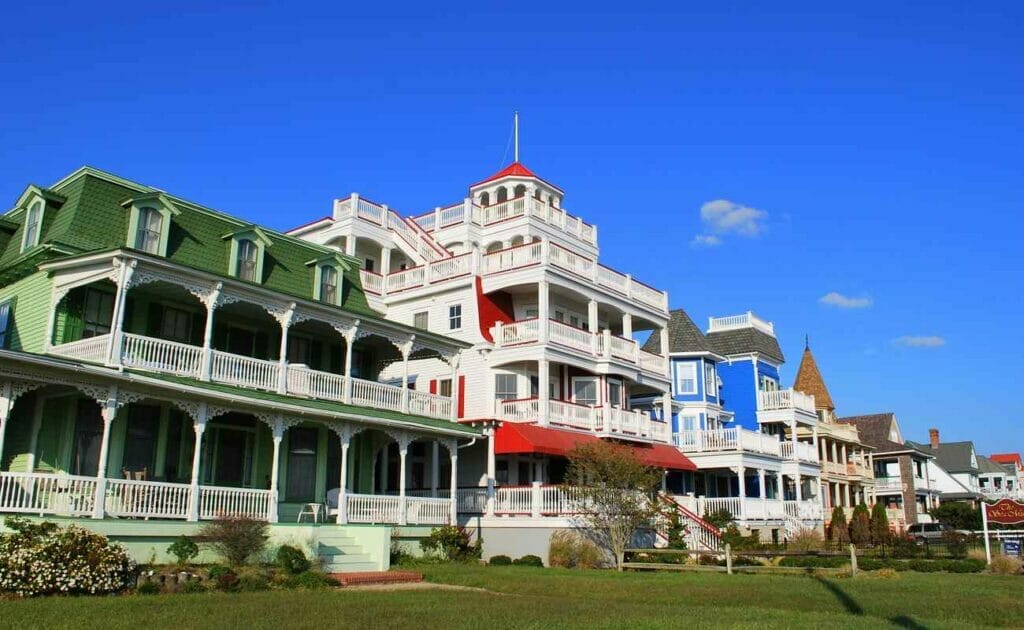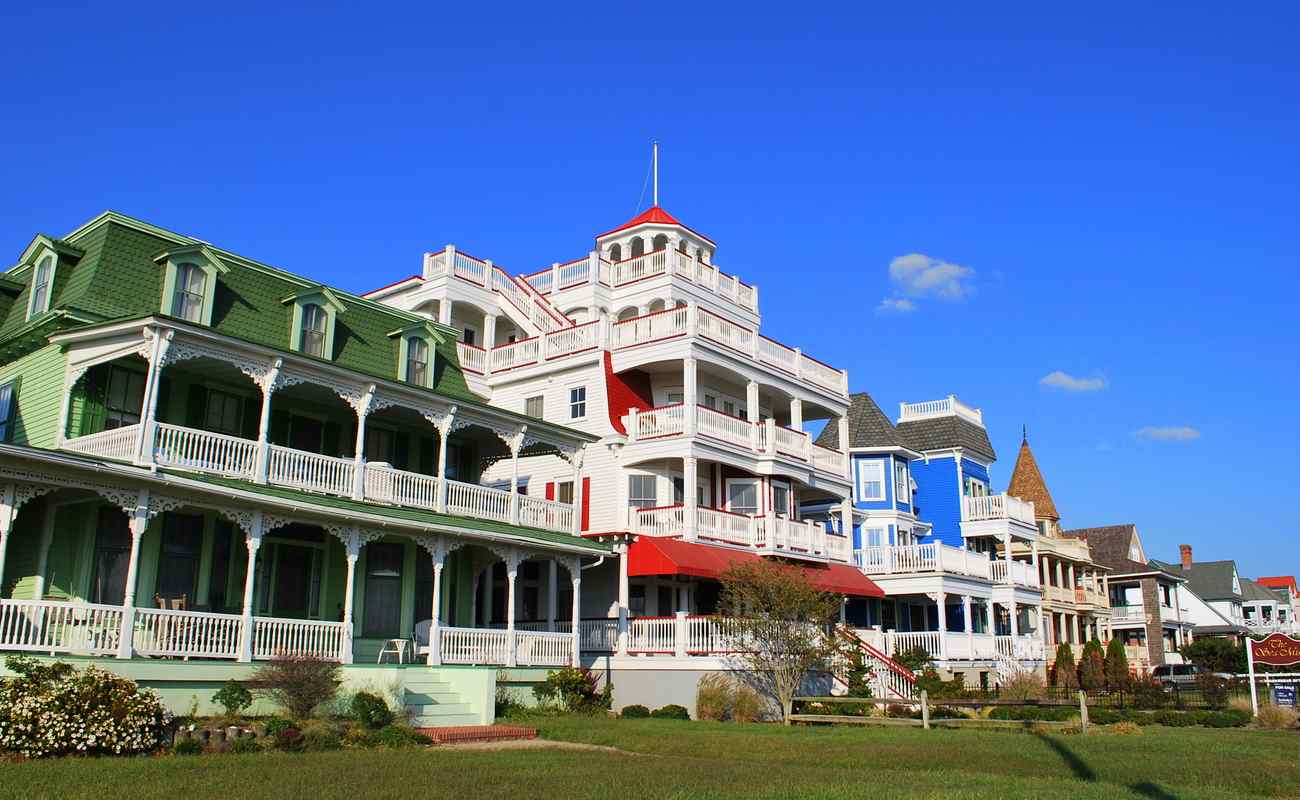 Cape May is New Jersey's most picturesque beach and the oldest seaside resort city in the US. The town dates all the way back to the early 1600s, and the beautiful Victorian buildings throughout prove it. Animal lovers will adore Cape May. Not only are there migratory birds to see at the bird observatory, but guests can spot whales and dolphins too. The history of the town has also been preserved for you to view. Take a look at the 1879 Emlen Physick Estate mansion. For a more compelling historical tour, book a haunted house or a murder mystery tour. If you're after a classic beach experience, visit the gorgeous white sand beaches of Avalon and Stone Harbor. 
Features and activities
Vintage wineries
Alpaca farm
1800s lighthouse
Cape May Bird Observatory
Whale and dolphin watching
Avalon and Stone Harbor white sand beaches
Emlen Physick Estate
Washington Street Mall
The best time for New Jersey beach days
Because of the wide assortment of outdoor activities that New Jersey has to offer, it makes sense that summer would be the optimal time for a beach vacation. Even though warm waves are the most pleasant, New Jersey beaches are more than sand and water, and have a lot to offer even in the fall. A fall visit gives your group decent weather while helping you avoid tourists and large crowds. Jersey beaches host entertaining events in the spring and fall seasons. You should let your favorite festival determine when you should book your next trip to New Jersey. 
New Jersey: The ultimate casino destination
Home to Atlantic City, New Jersey is the top gambling destination in the world. It's the only state in the US that has been open to legalized gambling since 1844. While you're spending your days at the beach, why not spend your night at some of NJ's most exciting casinos, like the Borgata Casino? But you don't have to be inside our building to access our live dealer online casino. Now you can play games like live blackjack in an online casino. 
Soak up the sun and place your bets with Borgata Online
Completely exhausted after your eventful beach days? Skip the trip to the casino and play at a casino online with the best online casino in the USA. With a Borgata Online account, the best online slots and casino games are just a click away. Register with us to choose from our endless range of casino favorites. Now you can bring Atlantic City with you wherever you go.