Blazing Planets is a captivating online slot game developed by Spinberry that transports players into the depths of the cosmos. This slot game offers an enticing fusion of stunning visuals, immersive gameplay, and the promise of cosmic rewards.
Here's a closer look at what this interstellar slot has to offer for fans of online casino games.
Game Overview
At its core, Blazing Planets is a space-themed slot game that revolves around the wonders of the universe. The game's background sets the stage with a backdrop of twinkling stars, swirling galaxies, and distant celestial bodies. The slot reels themselves are adorned with a variety of cosmic symbols, including planets of various colors and mysterious celestial objects. This thematic cohesion creates an immersive gaming experience that resonates with fans of space exploration and celestial wonders.
It features a classic slot machine setup with 5 reels and 10 paylines. This familiar structure ensures that both novice players and seasoned slot enthusiasts can easily navigate the game and understand its mechanics. The 10 paylines offer numerous opportunities for players to form winning combinations, enhancing the overall excitement.
One of the factors that make Blazing Planets particularly attractive to players is its competitive Return to Player (RTP) rate. With an RTP of 95.14%, the game promises a favorable return over the long term. This means that, on average, players can expect to receive back 95.14% of their wagers in the form of winnings. While individual results may vary, this RTP rate positions Blazing Planets as a game that offers a fair chance at winning, with it being only slightly below the average RTP of 96%.
How To Play
Blazing Planets is an excellent choice for both newcomers and seasoned slot enthusiasts. This comprehensive tutorial will guide you through the steps to play this cosmic slot adventure when you play at a casino online.
Step 1: Choose Your Gaming Platform
Before you can play Blazing Planets, you need to decide whether you want to play on a desktop computer, laptop, or mobile device. The game is optimized for both desktop and mobile play, so you can enjoy it on your preferred platform.
Step 2: Select Your Betting Options
Once you've chosen your platform, it's time to set your betting options. In this online slot, you can set a minimum stake of $0.10 and a maximum wager of $250.
Step 3: Spin the Reels
With your betting options set, you're ready to spin the reels and begin your cosmic adventure. Click the Spin button to start the game. The reels will spin, and you'll see various celestial symbols cascade before your eyes. You can use the Auto feature to spin the reels automatically if you wish.
Step 4: Winning Combinations
Get the winning combinations that are shared on the paytable to win. To access the paytable, click on the dropdown menu and tap or click on the information button to find the paytable.
Step 5: Collect Your Winnings
If you land winning combinations during your spins, your winnings will be automatically credited to your balance. You can see your total winnings displayed on the game screen.
Graphics and Sound Effects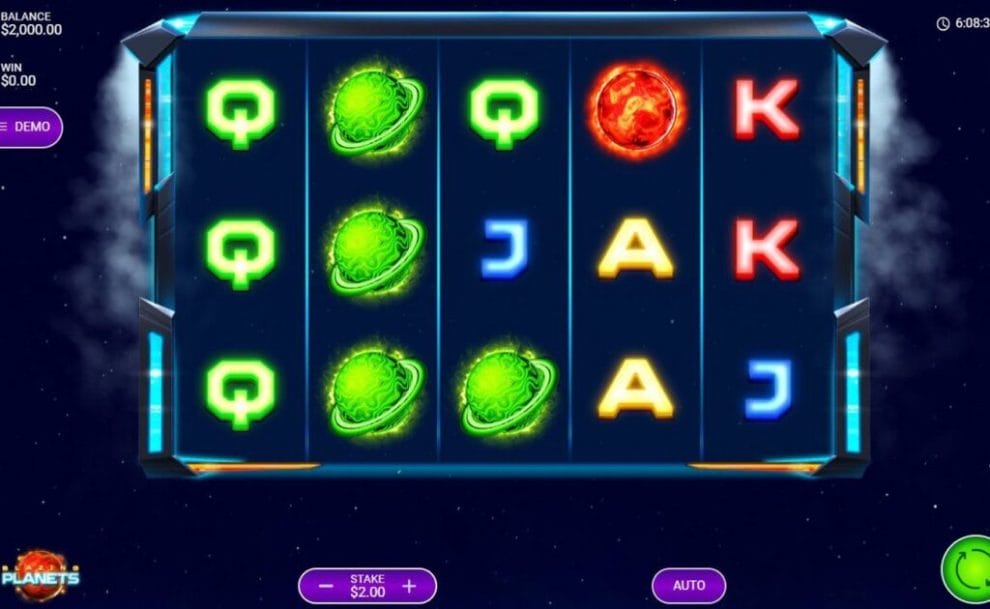 Blazing Planets delivers a visually and aurally captivating gaming experience that transports players into the heart of a cosmic adventure. Here are some major details of the game's graphics and sound effects.
Graphics
Slots have come a long way since the first fruit machines, and the graphics in Blazing Planets are a testament to Spinberry's commitment to creating a visually stunning and immersive gaming environment. The game's simple but visually appealing high-resolution images feature a background of deep space replete with twinkling stars. 
The reels are a science-fiction board with bright blue and orange lights, as well as smoke slowly billowing from each of the top edges of the reels. On the reels themselves, players encounter a rich assortment of celestial symbols, each meticulously designed to capture the essence of space exploration. These symbols include vibrant planets of varying colors and the standard A, K, Q, J, and 10 symbols. The symbols may not be mind-blowing, but they add to the atmosphere and theme of the game with a sci-fi touch.
The animations in Blazing Planets further enhance the visual experience. When winning combinations are formed, the symbols shift from left to right, creating a sense of dynamic energy on the reels. The way the reels spin and the symbols align feels seamless and fluid, contributing to the overall visual appeal.
The user interface is clean and intuitive, allowing players to navigate the game effortlessly. Important information like the bet size, win, and balance are clearly displayed, ensuring players can stay informed while enjoying the cosmic spectacle.
Sound Effects
The sound effects in Blazing Planets complement the cosmic theme, creating an immersive audio-visual synergy. The music that accompanies the gameplay is science fiction-inspired, featuring ethereal and otherworldly electronic melodies that evoke a sense of wonder and exploration. As the reels spin and symbols land, players are treated to a symphony of sound effects. Winning combinations trigger celebratory sounds, enhancing the thrill of landing a cosmic win. This audio feedback adds an extra layer of engagement and excitement to the gameplay.
While the sound effects and music are well-aligned with the cosmic theme, they are designed to be immersive without overwhelming the player.
Features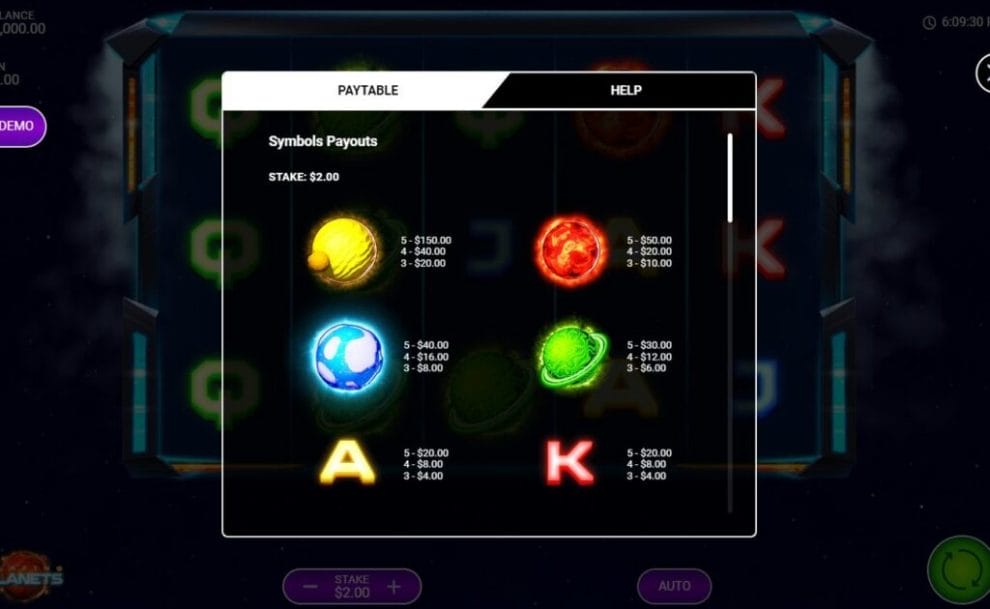 Blazing Planets is a slot game that doesn't just rely on its cosmic theme and visuals to captivate players. It also has exciting features that enhance the overall gameplay experience. Here's a comprehensive description of the features that make Blazing Planets a cosmic adventure worth exploring.
AutoPlay Option
For those who prefer a more hands-off approach, Blazing Planets offers an AutoPlay feature. This feature allows you to set the number of spins you want the game to complete automatically, making it convenient if you wish to sit back and enjoy the cosmic spectacle without manually spinning the reels. You can set the Total Spins, Loss Limit, Stop on Win Above, and Stop on Bonus feature settings.
Bet Chance
Bet chance offers players whose balance becomes lower than their last bet the opportunity to try again at the value of the last spin. When you reach this threshold, a new dial will appear. You can then hit Spin, and if it lands on green, you get a free spin at the last spin value, even if you don't have the credits left. If you land on red, then your remaining credit is taken. This feature can be enabled or disabled in the settings options.
Super Spins
If you trigger a win of 4x or more, the super spins mode will activate this slot's bonus mode. In this mode, the reels will multiply, with four more appearing on the screen. You use the amount you won to spin, although the minimum wager is 4x the previous base game wager. If your winnings drop below the minimum value in this mode, it will automatically end and return any remaining winnings. It will also end after you have completed 50 spins, regardless of how much you have remaining. If you don't wish to play this mode, you can simply press Collect at any time to take your winnings.

Mystery symbols appear during this mode, which is essentially a type of wild symbol. If a mystery symbol appears on a single board, it will appear in the same position on the other three boards. It will turn into a random symbol once the reels stop spinning. This is not a traditional slot jackpot, but it does open up the potential for some very big wins.
Bonuses and Jackpots
If you're interested in jackpot slots, it's important to note that Blazing Planets does not feature a progressive jackpot. Progressive jackpots are typically linked across multiple machines and offer the potential for life-changing wins. If you enjoy online slots for real money, this slot focuses on providing a balanced gaming experience with other rewarding features.
If you love all the types of jackpots that slots have to offer, be sure to learn more about all the different types of jackpots that you can try out.
Similar Games
If you find Blazing Planets captivating, you might also enjoy other space-themed online slot machines:
Crystal Sun
Moonlit Diamonds
Slingo Starburst
Space Wars 2
Stargate Megaways
Spin Reels Across the Cosmos with Borgata Online
If you're awed by the endless potential of space, you'll also be in awe of the endless potential offered by Borgata Online. Borgata Online's virtual casino has an incredible range of space-themed and other online slots, including games that transport you to Ancient Egypt, unexplored jungles, the home of mythical creatures and gods, and much more.
Interested in more than just online slots? Try your hand at other exciting gambling experiences, including casino table games, live dealer casino games, virtual sports, and other games of chance.
Register at Borgata Online to discover all that this virtual casino has to offer.