If you hanker after promenades, sea breezes, entertainment and yes, even more entertainment, head to one of the most famous seaside resorts in the US — Atlantic City, New Jersey, where the lights never go out. Celebrated for its loud and lively atmosphere, you're right on the money if you assume that there must be a practically never-ending list of things to do in Atlantic City. So, where do you start when it comes to drawing up that fun itinerary? Worry not, as the heavy lifting was done for you by narrowing down the best activities, must-sees and attractions in Atlantic City from a comprehensive guide that will ensure a truly unforgettable experience.
As for the casinos in Atlantic City? People who are wise to the joys of online casino games will already know that land-based gambling has been legal in Atlantic City since 1976, so, once again, you're pretty spoiled for choice. This famous city on the Jersey Shore is now one of the entertainment capitals of the USA, with more games to play and casinos to explore than you could ever fit into one trip. Have a look at a collection of the good stuff.
Get the All-in-One Atlantic City Experience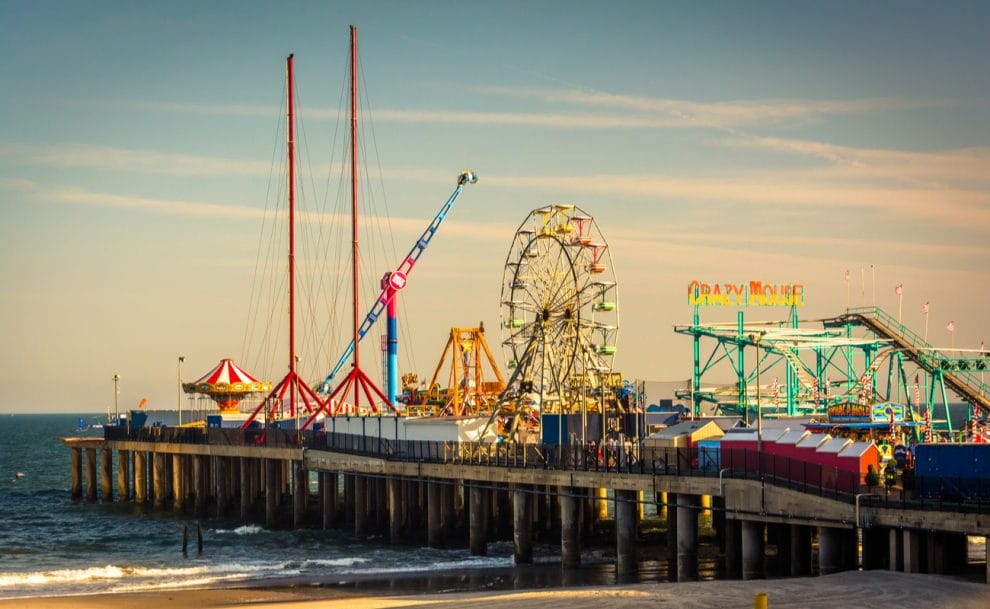 If you're flying in for a weekend or have limited vacation time, book into the Borgata Hotel, Casino & Spa on 1 Borgata Way in the Marina District for the quintessential Atlantic City experience. When this opulent venue opened in 2003, it was the first brand-new hotel complex to open in the city for 13 years and is often credited for kick-starting the city's revival.
Apart from 2,000 luxury rooms, a spa, nightclub and retail outlets (including the Borgata Retail Piazza and The Shoppes at The Water Club,) you'll be spoiled for choice on the dining front, with 18 restaurants and eateries to satisfy the most discerning taste buds, including the iconic Bobby Flay Steaks and, for Japanese cuisine, Izakaya by Michael Schulson (more about this, below.)
Looking for the best Atlantic City events? The Borgata is where you'll find them. Take your pick from comedy shows, concerts and everything in between. Rest assured, your vacation's entertainment is covered.
You also won't want to miss a visit to Borgata's famous 161,000-square-foot casino. If you usually play online slots, why not use the opportunity of your visit to indulge in some spinning in the flesh, with 4,100 slot machines at your disposal? What's more, the poker room is the largest in the whole of Atlantic City and is home to daily tournaments, as well as high-stakes world poker tournaments. 
For fans of casino table games, this huge brick-and-mortar casino has 200 table games, including blackjack, roulette, baccarat, novelty games, Pai Gow and Sic Bo. And whether you're into boxing, golf or baseball, the 8,000 square-foot BetMGM Sportsbook & Bar offers the best off- and online sports betting with a 40-foot-wide LED video wall and six betting windows, as well as several high-top tables with self-charging stations. Visitors will also get to enjoy plush booths with banquette seating in the VIP lounge, together with a superb bar experience, where they can sample a selection of over 20 craft beers while nibbling on specialty bar bites.
Just keep in mind that since its opening, this casino-hotel and resort has enjoyed constant near-capacity occupation, so book early if you can.
Tread the Boardwalk
The standout, must-see tourist attraction in Atlantic City is the boardwalk. It's one of the most famous in the world, having featured in more movies than any other — from "Ocean's Eleven," "Warrior" and "The Bounty Hunter" to "Bruised" and "The Pick-Up Artist." A walk along the boardwalk is a 4-mile stroll through the history and current flavor of Atlantic City.
Jutting out from the boardwalk are a number of piers, each with its own unique collection of attractions and shopping experiences. Garden Pier, which includes the Historical Museum and Art Center, is the boardwalk's beating heart of arts and culture, while shoppers have access to countless swipe-ready retail outlets that sell everything from famous saltwater taffy to souvenirs and luxury branded goods. Strap in for the ride of your life at the Steel Pier, which stretches out 1,000 feet into the sea and offers rides for all ages, including teacups and tiny trains for the little ones and roller coasters and the Slingshot for those with a strong stomach.
Take in a Beach or Two
A day at the beach deserves a place at the top of the list of fun things to do in Atlantic City because you'll certainly always have the right weather for it. Whether you're on honeymoon or looking for something that the whole family can enjoy, pack a towel, a hat and some sunscreen and head for one of AC's magnificent sandy beaches.
The Downtown Beach at Raleigh Avenue, Crystal Beach at New Hampshire Avenue, or Delaware Avenue Beach are perfect if you're a surfer or want to rent gear and take a few surfing lessons. Kayakers and windsurfers can head for the Jackson Avenue beach. Of course, any of the beaches will do if you simply want to lay your towel down on the warm sand, read a paperback and take a cooling dip now and then.
If you're more interested in what lurks below the surface of the ocean, The Atlantic City Aquarium, situated in the charming Gardner's Basin, is a treasure trove of marine biodiversity. It provides a home to an array of aquatic creatures, from delicate seahorses and vibrant tropical fish to intriguing sharks and playful stingrays. Interactive exhibits, including touch tanks, allow visitors to engage directly with certain species. The aquarium also hosts educational programs aimed at promoting conservation.
Appreciate the Natural Beauty
For a taste of the area's incredible landscapes and wildlife reserves, drive out to Atlantic County Park at Weymouth Furnace on Route 559 (Weymouth Road) just north of Route 322. Here, you'll find 11 acres of natural vegetation and more than 100 bird species. You can also explore the original site of an iron furnace and paper mill that was active in the 1800s. 
If you're an avid birdwatcher, you shouldn't miss the Edwin B. Forsythe National Wildlife Refuge, located just north of Atlantic City. Covering 47,000 acres of coastal habitat, it's a haven for many migratory birds. Visitors can spot a myriad of species, from herons and egrets to peregrine falcons and ospreys. The refuge also offers an 8-mile wildlife drive and several walking trails, which provide excellent vantage points for observation.
But if you want a more active experience, take along a canoe, kayak or stand-up paddleboard and head out on the calm waters of the Great Egg Harbor River. You'll find some great spots along its banks to picnic or just take a break.
For the hikers, Wharton State Forest, a short drive from Atlantic City, offers a rich nature experience with numerous hiking trails and campsites. It's a haven for outdoor enthusiasts, where you can explore diverse landscapes, including forests, rivers and wetlands. A night under the stars here provides a peaceful retreat from city life.
Whale-watching tours offer another natural escape. Departing from the city's vibrant coastline, these tours sail into the Atlantic, providing a rare chance to witness the marine giants in their natural environment. Sightings can include awe-inspiring humpbacks, graceful minke whales and playful pods of dolphins. Depending on the season, you might also spot sea turtles and various bird species.
Enjoy a 360-Degree View of Atlantic City
If you can manage to climb 228 steps, Absecon Lighthouse offers visitors breathtaking views of Atlantic City. The structure, built in 1857, still has its original first-order Fresnel lens and, at 171 feet, has the distinction of being the tallest lighthouse in New Jersey and the third tallest in the country. You can also get a fascinating glimpse into the world of lighthouse keeping at the museum in the keeper's quarters, which includes information and artifacts that tell of a bygone era of keepers, shipwrecks and drama on the high seas.
Constructed from granite blocks, brick and iron, you'll be pleased to know the structure is well maintained and underwent a complete renovation to commemorate New Jersey's 300th anniversary in 1964.
Wine and Dine
Along with gamblers, sunseekers and nature lovers, Atlantic City, New Jersey, is also a firm favorite among serious foodies. They flock to "America's Playground" from far and wide for an exclusive taste of the many mouth-watering meals dished out by the smorgasbord of restaurants across this popular coastal resort city. Here are a few of the most revered restaurants at which to book a table during your stay.
Angeline by Michael Symon
Known for satisfying guests with its simple yet bold flavors, Angeline by Michael Symon is award-winning chef Michael Symon's ode to classic Italian food. Along with a traditional menu, the restaurant, located at the Borgata Hotel Casino & Spa, also offers a gluten-free menu and a menu for vegetarian and vegan guests.
Izakaya by Michael Schulson
Also found inside the Borgata Hotel Casino & Spa and named in honor of Japan's traditional casual pubs, Izakaya by Michael Schulson is chef Michael Schulson's passion project. It proudly serves the finest fare from the Far East, allowing guests to choose between nibbling on a selection of small plates or diving headfirst into the critically acclaimed full-tasting menu.
Knife and Fork Inn
Looking for a meal with an interesting story behind it? Then you'll love tucking into your order at Knife and Fork Inn, one of the oldest restaurants in Atlantic City. Established in 1912 by Mayor William Riddle, it's an upscale eatery that's sure to go down a treat with both history buffs and meat lovers. There's also an extensive wine list to ensure a perfect pairing.
Chef Vola's
When you're in the mood for no-frills comfort food, head over to Chef Vola's homestyle hideaway. This restaurant also specializes in Italian cuisine and is celebrated for its signature veal chop, sure to hit the spot every single time.
American Bar & Grille
A relatively new addition to the ever-growing list of fun places to go with your family when it's time to satisfy those hunger pangs, the American Bar & Grille is quickly becoming a gastronomic go-to for locals and tourists alike. The menu makes the most of New Jersey's favorite ingredients, including juicy tomatoes, corn and a local selection of fresh seafood.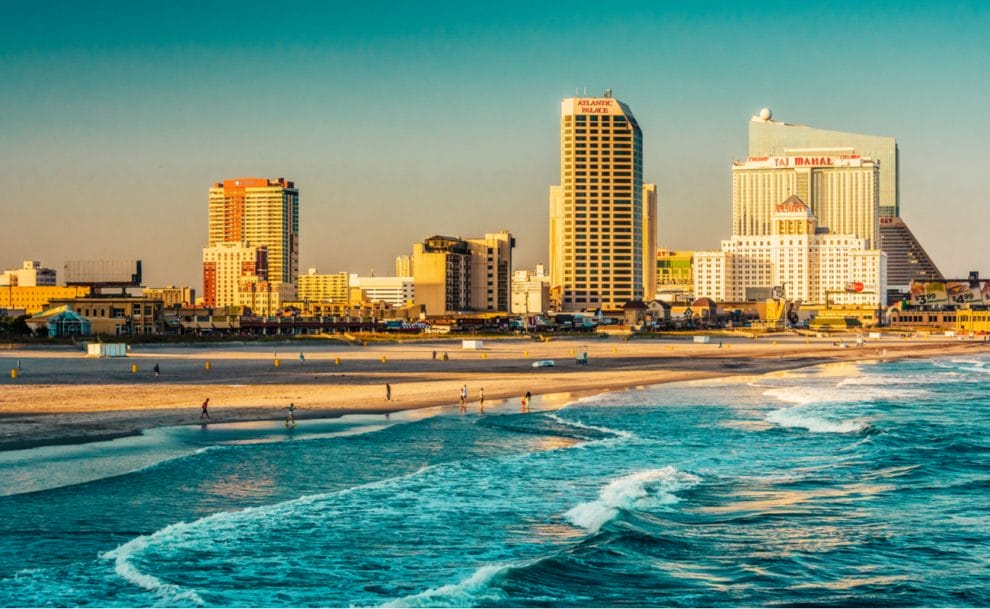 Play Your Favorite Casino Games at Borgata Online
There's no doubt that the Borgata is known as one of the best casinos Atlantic City has to offer. But don't worry, you don't have to go to AC to enjoy your favorite casino games. Borgata Online offers all kinds of online casino games that you can enjoy in the comfort of your home, from online poker and online slots to your choice of live dealer casino games and casino table games. Simply register with Borgata Online to get the most out of your gaming experience.