You can't call yourself one of the best casino restaurants in Atlantic City without having a top-notch buffet. At Borgata, we know how important it is to treat our guests to the finest selection of meals every day of the week. Playing casino table games on an empty stomach isn't recommended, so we've pulled out all the stops to make sure your appetite is taken care of whenever hunger strikes. 
As a part of our continued dedication to service excellence in all our Borgata restaurants, our buffet offers an abundance of delicious options. Whether you're joining us for breakfast, lunch, dinner or just to satisfy a craving, you can be sure there'll be something with your name on it. Take your pick from Asian cuisines, assorted pasta selections, carving stations, eye-wateringly good desserts and so much more. The Borgata Buffet stands as a beacon for players and visitors to the casino, a safe haven where you'll always have a seat at the table.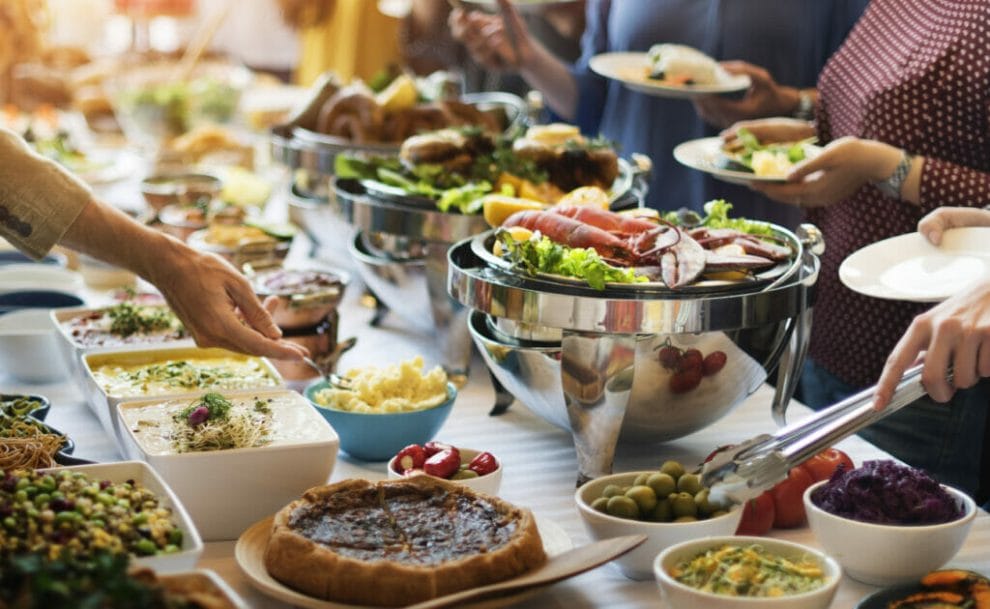 A brief history of buffets
America's love affair with the buffet has become a cultural symbol linked to the ebbs and flows of the nation's prospects since its arrival on our shores. Some may call it decadent and perhaps it is, but the buffet has a special place in the hearts and stomachs of the general public dating all the way back to the 12th century. The term "buffet" comes from the French word "bufet," meaning stool or bench, but it was typically tweaked in the 19th century by the English to mean a dish served on a sideboard. Spare a thought for the gamers of the time who never had access to a buffet or casino restaurant and might have lost a few cents due to rash calls brought on by hunger.
It also has very strong ties to Scandinavia, where the "Smörgåsbord" in Sweden and "Brännvinsbord" in Finland were popularized in the 16th century. These were usually smaller side tables decked with schnapps and aperitifs as a preamble to the sit-down portion of the meal. Once again, it was mostly the domain of merchants and the well-heeled who would no doubt have loved to close out the evening with some online casino games if the internet had been around. 
In a fascinating turn of events, the novelty of self-service had also caught on with the well-to-do English and French elite in the 18th century after they grew weary of being doted on all day long. By the time the 1900s rolled around, the buffet lunch had evolved again, and this time it was agreed that they were best enjoyed standing upright despite all logical suggestions to the contrary. Hospitality guidelines given to the serving staff at these luncheons explained the need to serve only foods that could be eaten with a fork and required no knives or cutting. Thankfully, the trend didn't last very long because we refuse to imagine a world where guests take their meals standing up at a Borgata Buffet.
But it was actually the Swedes who were responsible for the American variation of the buffet when they introduced the smorgasbord to the World's Fair in 1939. Those in attendance liked what they saw and ran with it. By 1940, the first documented buffet was offered by Herb Mcdonald. He called it the "Buckaroo Buffet" and it consisted of three simple items – salad, seafood and cold cuts. Pandora's Box was opened and it wasn't long before all 50 states had their own Swedish-inspired dining experiences, from the best casino restaurants in Atlantic City to the dives and diners in the South.
A brave new buffet world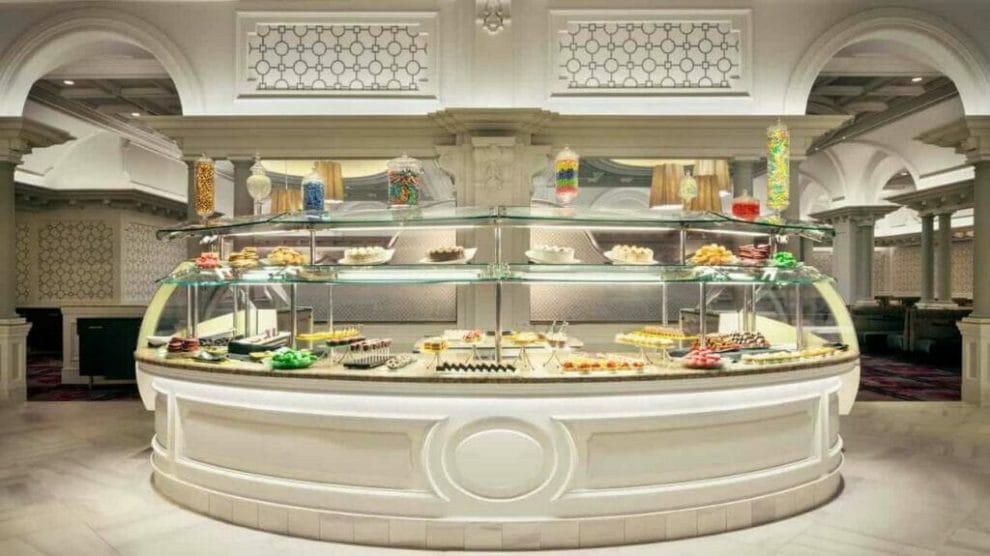 By the 1980s, buffets were big business, with almost every single restaurant across the country trying to get in on the action. Cruise ships, holiday resorts and hotels were at it too. Before long, buffets had made it to the silver screen, advertized at every turn with imagery of neighbors and families sharing infinite amounts of food.
Diners in places with no buffet were suddenly presented with the existential crisis of having only one meal. This was particularly true at the breakfast table, where the buffet smashed preconceptions of having just cereal, coffee and a kiss on the cheek to sustain you until lunchtime. A whole new world of fresh fruits, yogurts, granola, waffles and fry ups had opened our eyes to what was possible.
The modern incarnation is a far more civilized affair, and the Borgata Buffet menu celebrates diversity in food using a variety of cooking styles to make sure there's something for everyone. Buffets like ours now provide a classy, beautifully presented dining experience where your buck goes infinitely further than any 19th-century French aristocrat could imagine. Gone are the days of sacrificing quality for quantity and frantically scrambling for a seat while you battle hordes of fellow diners.
Join us at the Borgata Buffet for a culinary kaleidoscope
As one of the best casino restaurants in Atlantic City, it's our pleasure to be able to offer you a plethora of styles and flavor combinations to delight your tastebuds and leave you totally satisfied. Take your time sampling each carefully crafted dish in a relaxed environment before taking your place at one of our many live dealer tables. Prefer to stay in? We've got you covered there, too! Simply click here to sign up for our online casino and take the action wherever you go.