As well as relying partly on luck, poker is a game of skill, with players outwitting their opponents using logic and math. But did you know that poker players – even some of the pros – are actually quite superstitious? From lucky chip stacking to preferring a certain position at the table, there's no shortage of rituals and good-fortune trinkets on the felt, even in online poker.
Most players, whether they play poker online or any other online casino games, enjoy feeling as though they're able to control and influence random events by bringing some extra luck with them to the table, in whichever way they think will work. Some take a special lucky charm to the game to place on or near their cards, while others have rituals and traditions they can't skip when preparing for an online poker tournament. If they don't stick to these rituals, they believe the cards won't fall the way they need to for a good run. 
Let's take a look at some of the more common – and some of the most bizarre – poker superstitions ever to exist with this casino table game.
Lucky card protectors
By far the most common superstition, or lucky charm, in poker is the "lucky card protector." Online poker players might not have come across this superstition, since there are no physical cards to protect, but take a seat at any poker table in a casino and you'll likely see some strange and wonderful little trinkets resting on (or "protecting") your opponents' cards.
Having a card protector isn't always a sign of being superstitious, though: Some players simply feel more confident when they have a little charm with them, which is usually good for their state of mind at the table. Some players, of course, tend to take their luck quite seriously and may even refuse to sit down at the table if they've forgotten to bring their card protector.
Doyle "Texas Dolly" Brunson, a poker legend, author, and two-time WSOP (World Series of Poker) champion, carries a card protector to every poker game he plays. Brunson's trinket of choice is a small rectangular stone with a Ghostbusters logo printed on it, and "Dolly" written underneath. He has even been known to rent it out to other players, who are either running bad or feel their luck needs a bit of a boost… for $200 for 30 minutes. That may seem like a steep price, but considering the amount of "luck" it has brought Doyle in the form of poker tournament winnings, it's likely worth every penny. (One wonders just how "transferable" luck can be, though!)
Lucky chip stacking
Every player at a real-life poker table fiddles with or riffles their chips, one way or another. Whether they roll them in their fingers, or stack and restack them in one hand on the table, the casino atmosphere is constantly buzzing with the sound of chips being stacked. It's safe to say that poker players can't get enough of playing with their chip stacks, and some of them even need them to be ordered a certain way if they want them to be lucky.
Some players have very specific rules for their chip stacking, such as never stacking more than 10 or 20 in a single pile, or even building stacks on top of others. Other players like to keep mixed stacks, which might work for them but can be problematic for the table, as it makes counting their chips much more difficult than neatly ordered stacks. (And remember that it's never socially acceptable to "splash the pot" by throwing in a load of chips together with everyone else's because the croupier will have real trouble counting what you've added to the total!)
Poker players online have it easy, of course, since the software stacks and displays your chips automatically, but it wouldn't surprise anyone if most players taking part in online poker tournaments have a physical stack of lucky chips nearby to fiddle with while they play and grant them that bit of luck they need to suck out when a bluff goes bad.
Wearing your luck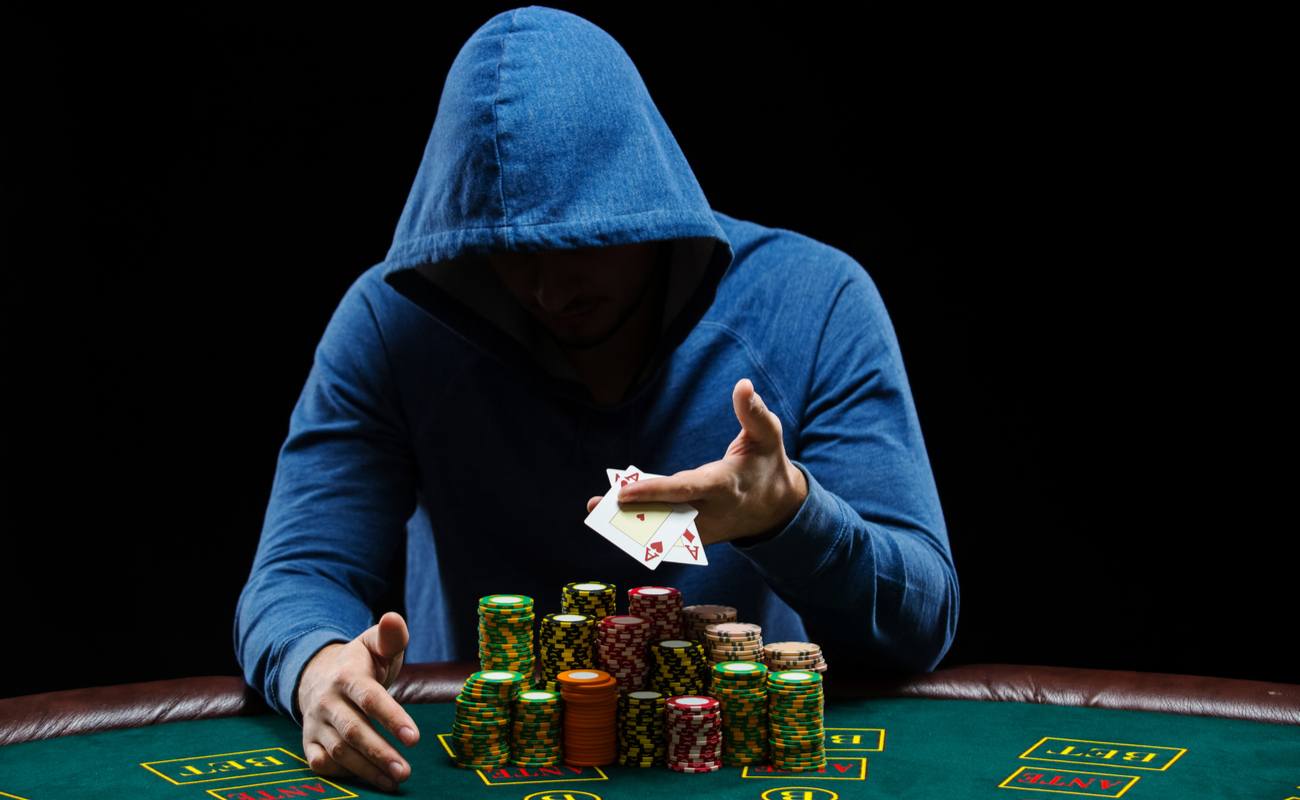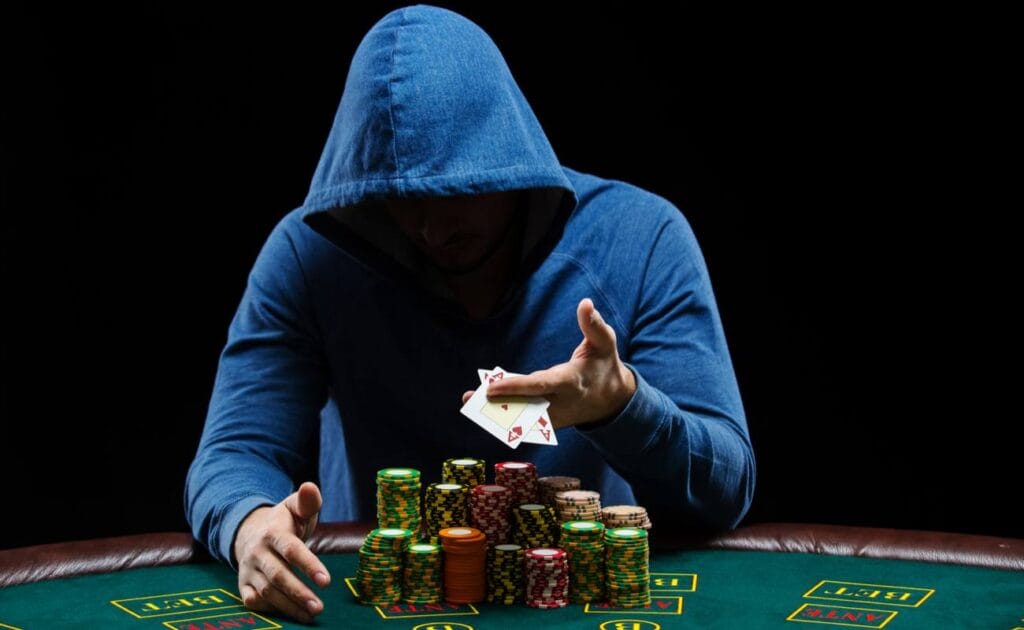 Another massively popular superstition among poker players, including those playing poker online, is having lucky clothes. It could be a hat, a hoodie, sunglasses or a pair of lucky socks, but whatever it is, it'll be worn to every game – no doubt about it! In case you didn't know, there is even a whole list of unusual poker terms that you can learn too. As far as superstitions go, this one isn't the most bizarre, and can likely be chalked up to players feeling confident in their favorite piece of clothing; but some players take it to the extreme.
Pius Heinz, winner of the 2011 WSOP Main event, wore the same (filthy) white hoodie for his entire seven-day run to the title. Even his fans and family who were watching from the rails wore white to show their support for his superstition, though his mother had to leave the venue either due to the stress of the game, or because she couldn't stand the sight of her son in such a filthy hoodie! Hopefully, Heinz has put a portion of his $8.7 million poker tournament winnings towards buying a few spare hoodies for the next time he plays this casino game.
Lucky rituals
When it comes to superstitions, these rituals, traditions or behaviors that players exhibit can be a bit more far-fetched than simply wearing a lucky white hoodie for a week straight. A lot of poker professionals have got their own little rituals and behaviors that they believe bring them the lucky edge they need, even when playing poker games online. Daniel "Kid Poker" Negreanu, six-time WSOP bracelet winner and two-time WPT (World Poker Tour) champion, watches Rocky movies prior to sitting down at games, even when he's playing online poker tournaments. While Negreanu isn't quite the size of Rocky Balboa, and is likely not as handy in a fight, opponents are still intimidated by him at the tables. The success of his career along with his massive lifetime poker tournament winnings can't all be chalked up to his skill at the table, can it?
Test your luck at Borgata Online
Whatever you use to get a lucky edge on the sharks at the felt, bring it along to Borgata Online! Register with us to gain access to some of the most exciting online poker games available, as well as seats at our daily and weekly online poker tournaments. Our online casino also hosts a wide range of other online casino games such as online slots, roulette and blackjack, plus a great selection of live dealer casino games. So come along and play some of the best online casino games and have a wonderful time!