Created by Konami Gaming, this Ancient Roman-themed slot game takes you into the heart of the Coliseum in Rome. Packed with amazing bonuses and features, it's one of the market's most highly regarded online casino slots.
Shield of Power should be at the top of your list if you're looking for thrilling online slots with high earning potential. We talk about the game's features, bonuses and exciting symbols.
Game overview
With so many online casino games to choose from, it's hard to find a game with high-quality graphics and big bonuses. Luckily for you, we've found one of them. Shield of Power takes you back in time to a world of sword fights, warriors and battles.
Played on five reels, three rows and 30 paylines, the game's specialized symbols help to unlock rewards. Your mission? Fighting your way through and connecting symbols displaying armor, weapons, gladiators and card symbols (ace, queen, king, jack, 10 and 9.) Your reward? Big prizes, free spins and multipliers. It's important to remember that each symbol comes with its own payout amount, meaning each win is valued differently.
How to play
To play slots online effectively, it's important to understand the key symbols and tokens to look out for. Shield of Power is available on all devices and encompasses a Fade Away Feature, strike zone and 50 free games.
The game's special symbols are the Coliseum scatter, wild and wild multiplier. So, place your bet and choose the number of lines to play.
The aim of the game is to get the wild symbols in the middle three reels while eradicating the valueless symbols, such as a 10. You will see five rows with three symbols on the screen when playing. The rows will be full of symbols and multipliers. Be sure to look out for the Fade Away Feature, which causes the multipliers to stack. Place a bet for as low as $1 and enjoy the adventure of Shield of Power.
Graphics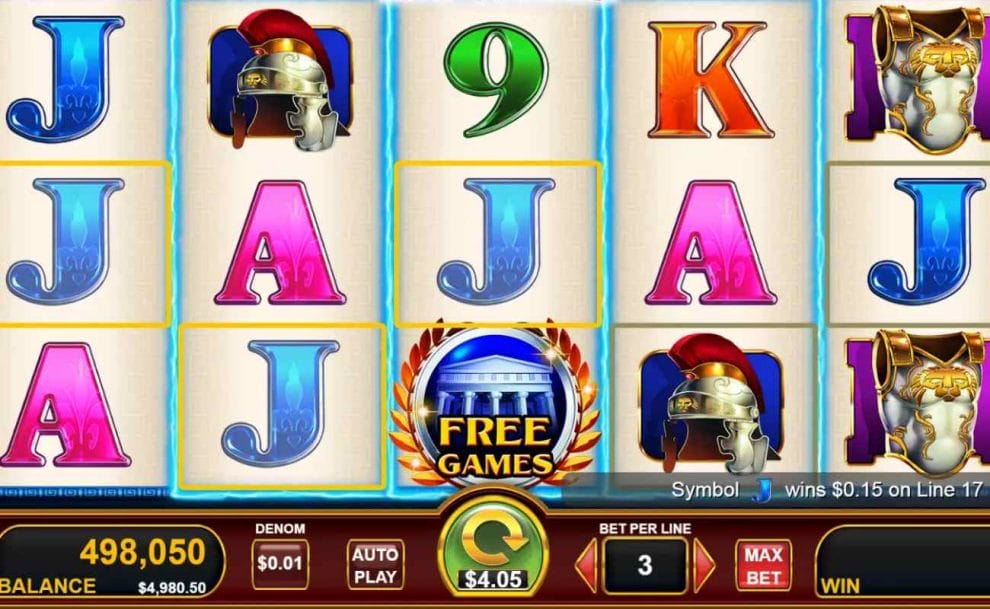 Shield of Power maintains a traditional online slot look while giving it a modern, engaging and high-quality feel. Graphics of Roman Empire armor and weaponry straight from the battlefield are found jumping across the paylines surrounded by poker symbols. With its electric blue border, it's the type of game you can't take your eye off.
Features
One of the many selling points of this game is its embedded features. In between the 5×3 reel and 30 paylines, there are wild symbols, free spin bonuses, scatter pays, multiplier symbols and more. A reward is gained if the player lines up three, four or five matching symbols – five being the highest return of profit.
An exciting feature of the game is the Fade Away. This occurs randomly and can happen after any spin. Once this feature is activated, it will replace the poker symbols with an array of high-paying symbols, scatter symbols, wild multipliers and wilds. If all the poker symbols are replaced, you will receive a reward.
The Coliseum scatter symbol is where it gets really interesting. If you land three, four or five in a row, you'll multiply your stake by 2x, 10x or 50x. It also gives you an added bonus of 15 or 50 free games.
Furthermore, it's important to focus on wild symbols when they pop up. They replace ordinary symbols with high-paying symbols – increasing your chance of receiving a winning combination. When playing in the Strike Zone, reels two, three and four change to wild multipliers. If more than one appears, your return will be multiplied by the product's combined value.
Bonuses and jackpots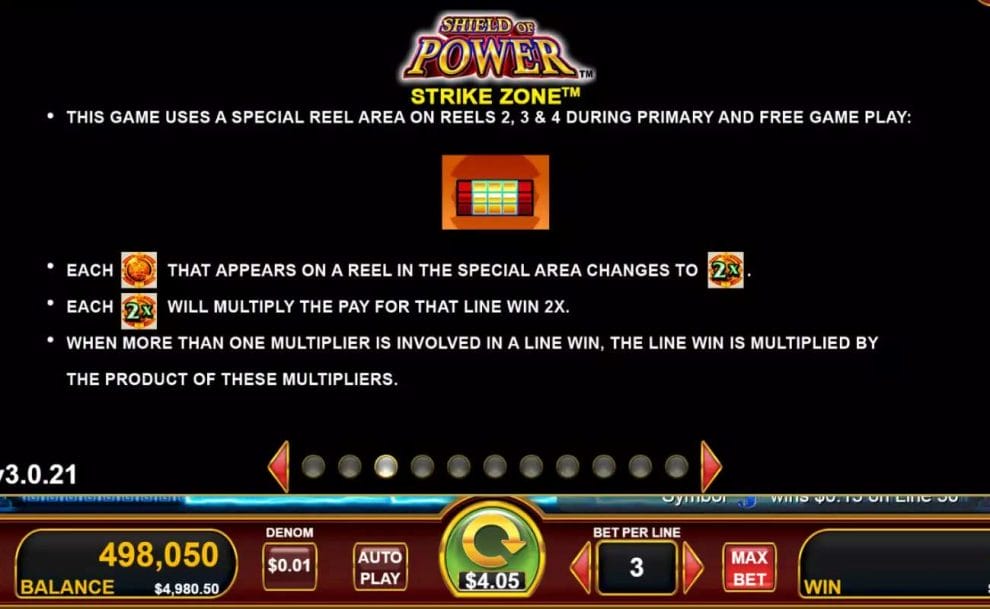 When learning how to play casino games, it's important to know the value of each symbol in order to manage your expectations when winning. The Coliseum scatter symbol is the most coveted and can win you up to 50x your stake and grant 50 free games. Next on the list is the gladiator symbol. With a combination of five, you can win up to $200. Then there is armor, which can add up to $250. Helmet and weapons are $100, whilst aces, kings and queens are $30. Last on the list are jacks, tens and nines which can win you up to $20.
Similar games
It's always good to mix up the games you play to keep online casino games fun and thrilling. There are several alternatives to Shield of Power. The Viking-themed slot Thunder Shields is also great to play. And with 40 paylines and an RTP (return to player) of 96%, it's hard to ignore.
Another popular slot is 300 Shields Extreme. This highly-volatile game has a daring 300x multiplier and with the right symbols, it can increase to 17,700x in the free spins round. It was created by NextGen and includes intricate graphics with stunning attention to detail.
Play Shields of Power on Borgata Online
Want to play at a casino online? With hundreds of online slots to choose from, enjoy Borgata Online's array of high-quality, thrilling slots that can be played anytime, anywhere on mobile, tablet and computer.
Register today and unlock our endless range of casino table games, live dealer casino games, online slots and so much more.