Ah, the luck of the Irish! The land of the Emerald Isles seems to have their hands full of lucky charms. And what could possibly be luckier than a Leprechaun tempting you with a pot of gold in the form of ever-growing progressive jackpots?
If you're looking for online slots with a promise of five different levels of progressive jackpots, then Luck O' the Jackpot should be your lucky destination. Let's take a look at everything you need to know about this game based on the Land of Saints and Scholars.
Game overview
When you think of Ireland, you probably think of green grassy slopes and four leaf clovers — and that's exactly what you get with Luck O' the Jackpot! Distinctly Irish, with vivid graphics to boot, you can expect a beautifully colorful green screen with a ginger-haired leprechaun to the left of your reels.
When it comes to the reels, you can expect the standard video slot 5 reel set up, however, expect them to be arranged differently. The first two reels are two symbols high and go up to four symbols high for the last two. This distinctive appearance lends itself to an exciting game. Due to this unique layout, you'll get 192 possible paylines.
Luck O' the Jackpot has a slightly lower RTP when compared to other online slot machines at 95%, but it's also one of the few slots that offers you a chance to win one of five incredible jackpots. Remember that this is a progressive jackpot slots casino game and the amount you can win is continually growing.
How to Play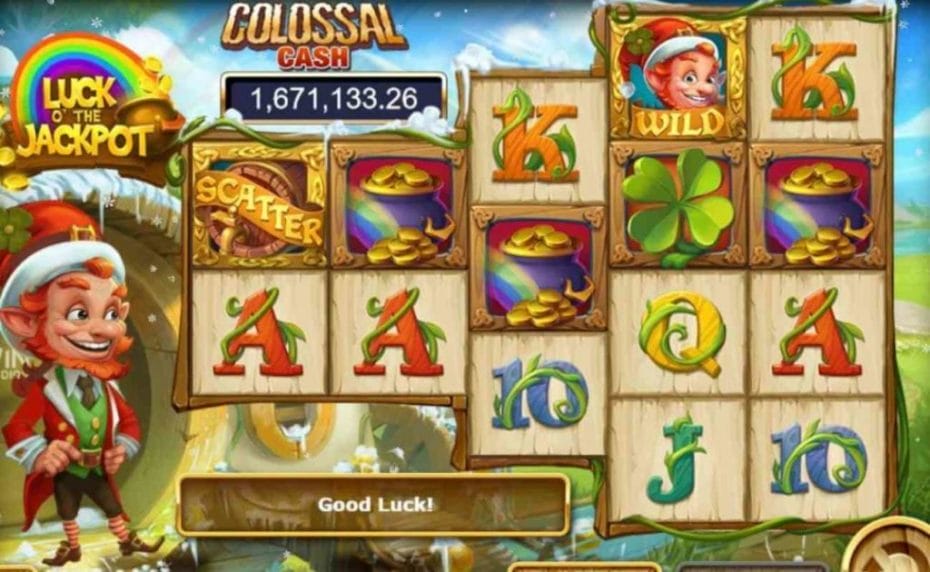 As mentioned, there are 192 possible paylines that you can win money off. All you have to do is match three or more symbols in adjacent positions in any direction and you'll trigger a win. The value of your win is determined by the value of the symbols you have combined.
This is one of the few casino games where there are a number of huge prizes to be won, which we will cover in a later section. However, it's important to remember that to win any of these prizes, you must bet at least $1.35 per spin. All you have to do is press the spin button on a random spin. If Lady Luck is on your side then you'll be presented with a prize wheel of the five different jackpots. They are represented by colors on the prize wheel and once you press spin it's time to hold your breath and see if you're going to win one of the more modest jackpots of the huge Colossal Cash Jackpot.
Graphics
The graphics for this online casino game are simply outstanding. The modern, stylish look is clean and the colors are resplendent. The game itself is set in a relaxing green Irish meadow, with a friendly leprechaun in front of his tiny house to the left of your screen. You can expect symbols like four leaf clovers, a pot of gold, the leprechaun's hat, and a lucky horseshoe.
To make the graphics even more exciting, the leprechaun breaks out into his well-polished Irish jig whenever you win.
Features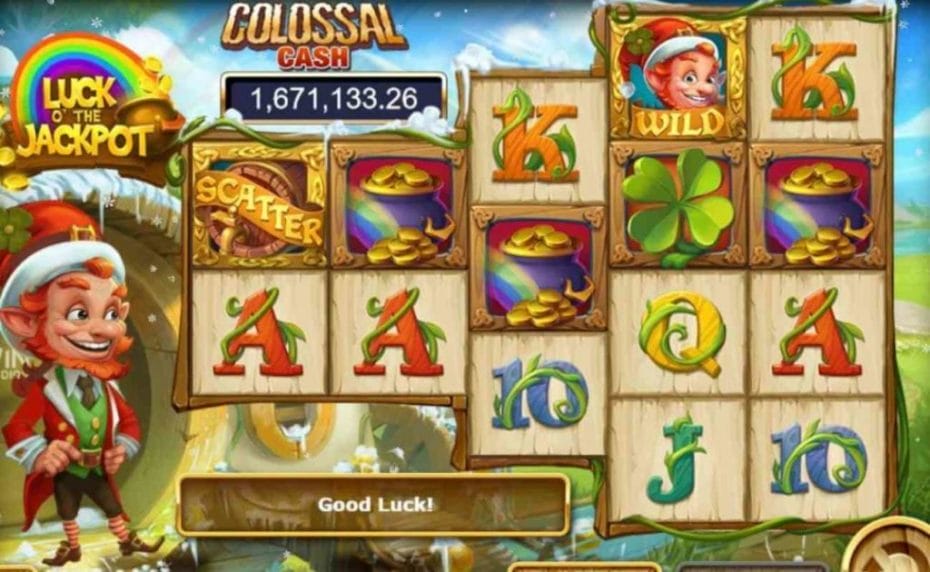 When it comes to the special symbols, you can look forward to a whole host of Irish-based lucky charms. The leprechaun himself is the wild symbol, while the scatter is obviously as Irish as it comes—a beer keg. You can also expect to see the pot of gold, horseshoe, a bottle of whiskey, the leprechaun's hat, and a four leaf clover.
The leprechaun wild can pop up on reels 2, 3, 4, and 5. Whenever the leprechaun falls, he'll be treated as a matching symbol to help you get a combination of three or more symbols or to extend an already winning combination.
Keep in mind that the bonus symbol cannot be substituted with a wild, so you have to land three or more true symbols to trigger the scatter pay bonus to take advantage of free spins and multipliers.
Bonuses & Jackpots
As with most casino games, landing the multimillion-dollar jackpot isn't always straight forward and takes a whole lot of luck. But Luck O' the Jackpot provides other side hustles to give you a bit of cash while you chase the big pot of gold.
The Wine Cave bonus is triggered when three or more scatter symbols fall. You'll be taken to a brand-new screen, which is a barrel-filled wine cellar. You'll get to pick three of the nine barrels and you'll be awarded a certain amount of free games and a multiplier to use in your next round. If you hit three more scatters during the next round, you'll trigger an additional amount of free games that will equal the original amount you were awarded.
The biggest jackpot of this game is undoubtedly the Big Series marquee prize: the Colossal Cash Jackpot. However, you'll also have the opportunity to win smaller, but still substantial jackpots in the Blitz Cash Jackpot, Quick Cash Jackpot, Super Cash Jackpot, and the Mega Cash Jackpot.
Similar Games
If you love Luck O' the Jackpot, then these are some of the other games you should check out:
Play online casino games with Borgata
At Borgata Casino, we have hundreds of opportunities for you to play online casino games and win big! Choose from our selection of online slot machines and progressive slots to see if today is your lucky day. With our casino games app, you can play whenever, from wherever. Get lucky from anywhere with Borgata Casino!