If you're an online casino games fan who dreams of adventuring on the seven seas, then grab your compass, cutlass, and rum, and join us for our review of Pirate's Booty, an exciting online slot from developer Ruby Play!
Game overview
In Pirate's Booty, you'll join the brave and beautiful pirate Captain Red as you search for hidden treasures in unknown lands. This is a game that offers a stylized, more realistic take on the pirate genre, which is no stranger to the world of online slot machines.
Pirate's Booty features a 5×3 reel with 30 paylines, has an excellent RTP of 96.49%, and is considered a medium volatility game.
How to play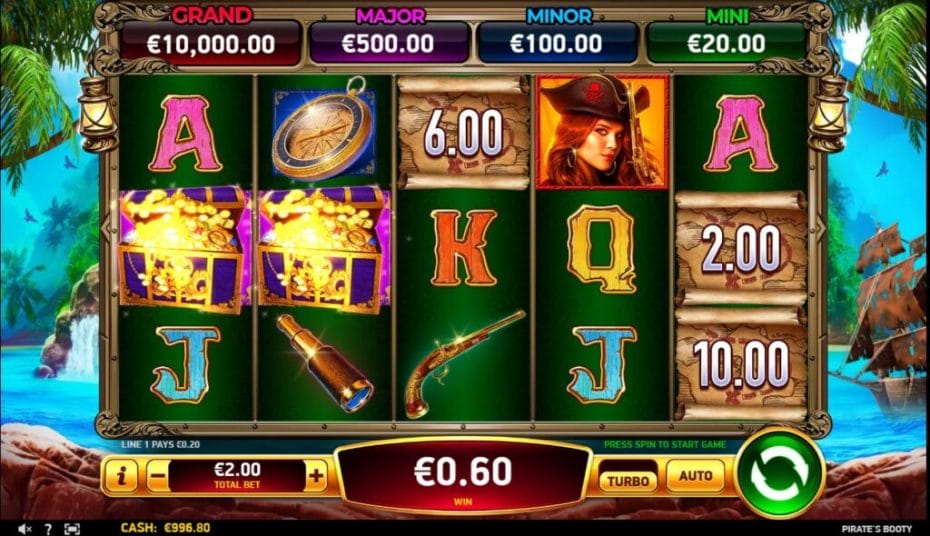 The developers have kept it simple in Pirate's Booty, with the player only needing to set a Total Bet value for their wager. This bet is clearly visible on-screen as a cash value.
If you like your games a bit more fast-paced, you can use the Turbo switch to speed up the spinning of the reels. Where typically you would have to wait a few seconds for each reel to stop spinning, the Turbo button speeds up the spin animation so you don't have to wait as long. A great addition if you are short on time, or simply want a faster game.
Before you hit the spin button, there's also the autoplay options that many games feature. In Pirate's Booty, you can also control three additional settings: your single win value, win limit value, and loss limit value. This gives you even more control over the money you spend. You can also enable the Turbo mode on your automatic spins here.
Captain Red is the wild symbol in Pirate's Booty, and can substitute for any symbol in the game. If you win, Captain Red will fill the entire reel and give you a sexy wink. The scatter symbol is the golden skull coin, and can help you win free spins.
Graphics
The first thing players will undoubtedly notice about Pirate's Booty is the beautiful graphics. As mentioned before, the game avoids a cartoon aesthetic in favor of images that would easily look at place in a Hollywood movie. The animations are all smooth and highly detailed, adding a greater layer of immersion to the game.
The color palette makes use of deep greens, blues, and browns for most of the elements on screen, with the most important or highest value symbols taking advantage of red and gold.
The action takes place on an ornate wooden reel, which is set against the backdrop of a pirate's cove on a luscious jungle island. The game's symbols are highly detailed and include the standard ace, king, queen, and jack, as well as a variety of unique pirate-themed icons, including a chest of gold, a chalice, and a compass.
Features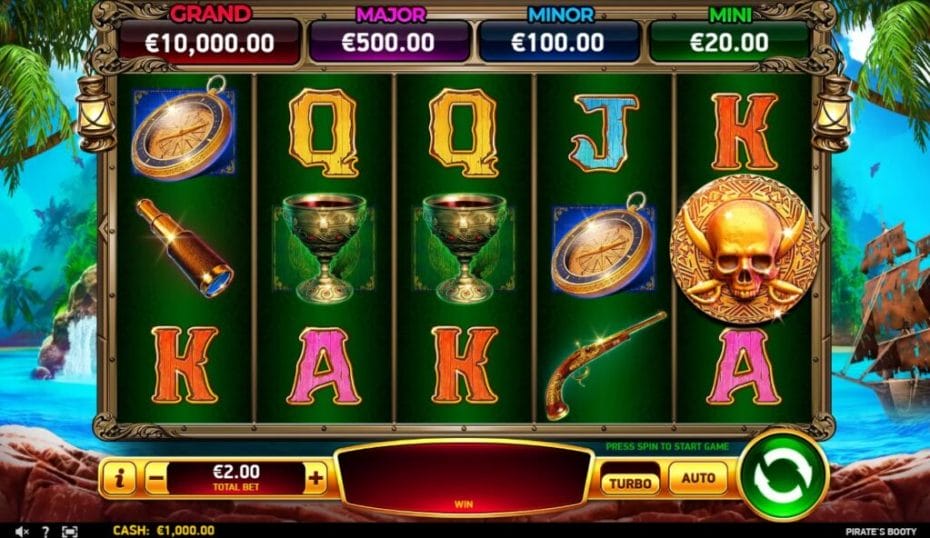 The game has three features, the first being free spins. In order to trigger the free spins, you need to land three or more scatter symbols. This will trigger between 10 and 25 free spins, as well as a multiplier between 1x and 100x your total bet!
But the free spins don't stop there. If you land two more scatter symbols during your free spins, you'll get another five free spins. If you're lucky enough to land four scatter symbols, you'll get an additional 15 free spins as well as a 10x multiplier on your total bet.
The second feature is the Random Reel feature. If you are lucky, the second to fifth reel might transform into a reel of Map symbols. Land six or more Map symbols, and you'll unlock the Winners Fortune feature. If you don't unlock the Winners Fortune feature, you still have a chance to win one to 250 times your total bet.
The final feature, the Winners Fortune, sees the Map symbols lock in place on the reel, while the remaining reels can still spin freely. You start this feature with three free spins. If you land one or more Map symbols, they lock in place and your free spins reset back to three. The Winners Fortune ends when you run out of free spins or you fill all 15 reels with Map symbols.
Bonuses & jackpots
Connected to the features above, the player has a number of ways to win bonuses, mini-jackpots, or the Grand Jackpot.
The Map symbols themselves award the player with a prize, but can also award the player with a MINI bonus (10x their total bet), MINOR bonus (50x their total bet), or MAJOR bonus (250x their total bet).
The biggest prize you can win is the Grand Jackpot, which is triggered when you fill all 15 reels with Map symbols during Winners Fortune. If you're lucky enough to do this, you can win 5000x your total bet.
Similar games
If you're looking for more adventure or jackpot slots at our casino, be sure to take a look at these exciting games:
Whether you prefer your online casino games with a pirate, nautical, game show, or any other theme, Borgata Online Casino has a wide variety of online slots for you to enjoy.
But the excitement doesn't stop there! We also have other casino games, including live dealer, table, variety and virtual sports games for you to play. All of this fun is easily accessible through our casino games app, so you can play on the go. Visit our full catalog at Borgata Online Casino to find out more about what you can play!