Lightning Gorilla is a jungle-themed online slot game that features five reels and three rows, played across 40 paylines. Despite the abundance of online slots on the market, Lightning Gorilla has been one of the standout ones for anyone looking to play slots online while being exposed to nature and wildlife.
If you're ready to find out what this mysterious animal-filled game is all about, you've come to the right place. Let's unpack what Lightning Gorilla offers in terms of graphics, features, bonuses and more in this game review.
Game overview
Lightning Gorilla is the brainchild of Lightning Box. Because of its high variance, it's a good pick for experienced players, risk takers and those pursuing big wins. This jungle-themed game offers an RTP (return to player) of 96%, with a minimum bet of 0.4 credits and a maximum bet of 100. You stand a chance of winning 2,500x your stake.
In Lightning Gorilla you are immersed in a world dominated by jungle animals such as gorillas, leopards and sloths. If that sounds like it's right up your alley, keep reading!
How to play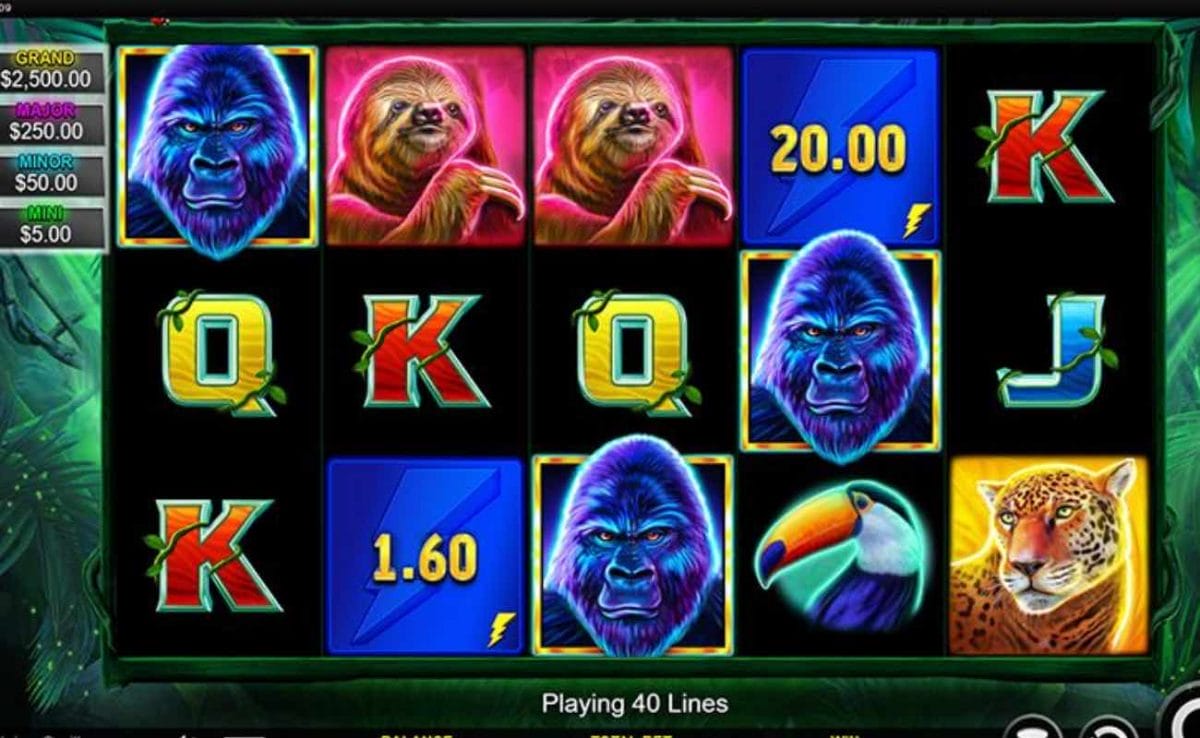 Unlike other online casino games and live dealer casino games, online slots are quite similar in gameplay and have the same goal.
To get started in Lightning Gorilla, you need to click on the three-line burger icon in the bottom left corner of the reels to access the menu with the rules. Thereafter, you can set your stake and start playing. You can also create the desired environment throughout gameplay by clicking on the speaker.
If you prefer quiet gameplay, you can reduce the audio volume. On the other hand, if the background music is what keeps you going when you play casino games and gives you the complete casino and slot machine thrill, then we suggest you turn the volume up to the desired level.
Graphics
Although it's a jungle-themed slot, Lightning Gorilla doesn't necessarily have a childlike feel to it. As the backdrop, this slot game makes use of greenery to create a nature-inspired look and feel. There's also a ladybird that crawls above the reels for an added level of cuteness!
Visually, Lightning Gorilla is truly a feast for the eyes. A bright palette of neon colors and animated fireflies keep you engaged throughout gameplay. Lightning Gorilla also has a fitting soundtrack of animal sounds. For the purists, there are classic slot machine sound effects that play when the stake is adjusted or the spin button is selected.
Features
Lightning Gorilla's features are the wild symbol, scatter symbol, lighting respins, colossal symbols and lightning jackpots. Given that the premise is generally the same, the wild and scatter symbols are features that are common in all slot machine games, but what they unlock differs from title to title.
Bonuses and jackpots
Wild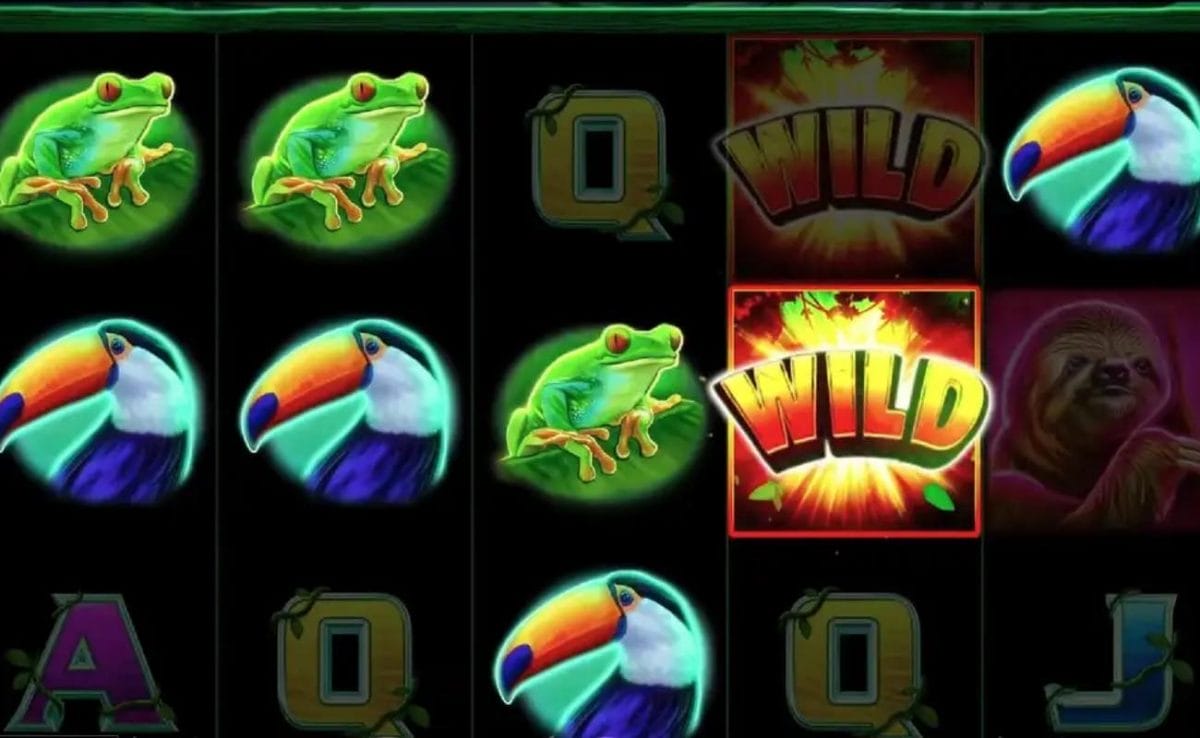 As is the norm with online slots, the wild symbol can replace any other symbol on the paytable with typically one exception. In Lightning Gorilla, the exception is the blue lightning scatter. The wild symbol can also trigger its own prizes.
Respins
Everybody loves a second (or third) chance, right? That's possibly why respins continue to draw people back to try their luck. If you manage to get at least six blue lightning bolt scatters, the lightning respin round is unlocked. In Lightning Gorilla, the good news is you start off with three respins.
Colossal Symbols
Colossal symbols can reward you with instant win prizes and jackpot wins.
Lightning Jackpot
In Lightning Gorilla, there are four potential jackpot rewards: mini, minor, major and grand. Jackpot prizes are unlocked when any of these lightning bolt symbols land on an active reel during a lightning respin.
Just as jackpot slots promise big wins, the lightning jackpot is one of the most sought-after bonuses in Lightning Gorilla, mostly because it can pay up to 125x the bet.
Similar games
While slot game titles may be different, there are bound to be similarities. This is especially true when it comes to themes and motifs. So, if you're interested in other jungle-themed slots like Lightning Gorilla, you can explore the ones below.
Frogs N Flies
Also developed by Lightning Box, Frogs N Flies is an animal-themed slot played across five reels and four rows. Offering more than 1,000 paylines, Frogs N Flies has an RTP of 97%. If you're a cautious player, then this might be the game for you because of its medium variance.
Gorilla Go Wild
It's quite clear from the title that this is yet another gorilla-centered online slot. While it only offers 25 paylines, the main similarity between it and Lightning Gorilla is the theme and, to an extent, the graphics.
King Kong Cash Jackpot
Developed by Blueprint Gaming, King Kong Cash Jackpot is an excellent choice if you're looking for a riveting jungle-themed online slot, much like Lightning Gorilla. Also played across five reels and three rows, King Kong Cash Jackpot has medium volatility.
Discover the best online slots at Borgata Online
At Borgata Online, you're truly spoilt for choice. From a variety of casino table games to a wide selection of online slots, you can settle on one or give them all a try. Immerse yourself in a complete online casino experience when you sign up at Borgata Online.