The king of the online casino slot machine jungle is here! Welcome to Sovereign Lion, where your bet is the "mane" event in this online casino game! Make yourself a "cub" sandwich, put your "felines" to the test and roar into the excitement of the online slots world.
Sovereign Lion is another great digital jackpot slots game from the tech gurus at Konami, one of the giants in the Japanese gaming, video and technical industry. And, we're going to unpack all the aspects of this animal-themed real online slots game just for you. Remember, Sovereign Lion is available at Borgata Online, which is also home to a host of casino table games that you can play online or onsite.  
Game overview
Available to play on mobile devices, tablets and desktops (the sign-up process is quick and easy), the Sovereign Lion online casino game calls for you to fill three reels with lions, bars and wild symbols to win. This game promises some good payout ratios with 5x wild multipliers and a Fortune Spinner.
How to play
Before deciding on your bet, take a moment to check out the odds. With Sovereign Lion, you can place a bet on any amount between nine and 5,400 credits. The more you bet, the bigger your payout across the winning combos on nine paylines. Remember to check your budget and stay within that limit.
The red lions are the ones you can bank on to give you higher payouts with high-paying combinations when you play slots online. The wild cards are the diamond and the ruby, with both jewels substituting for the game's base symbols. This translates into more winning combos and greater possible payouts for you! As for the multiplier, that's in the ruby and adds 5x the amount to your winning bet.
Bets can be placed anywhere from the smallest amount to the max bet. When the wilds come out to play, your bet is increased and your winning combinations are even more impactful. We suggest you start off slow and easy, with lower bets, before going all out. In fact, before you even play the real Sovereign Lion in an online casino, give the demo a whirl to find out all you need to know about the game. This will help you determine strategies and tactics to ensure that you enjoy every aspect of the game.
Graphics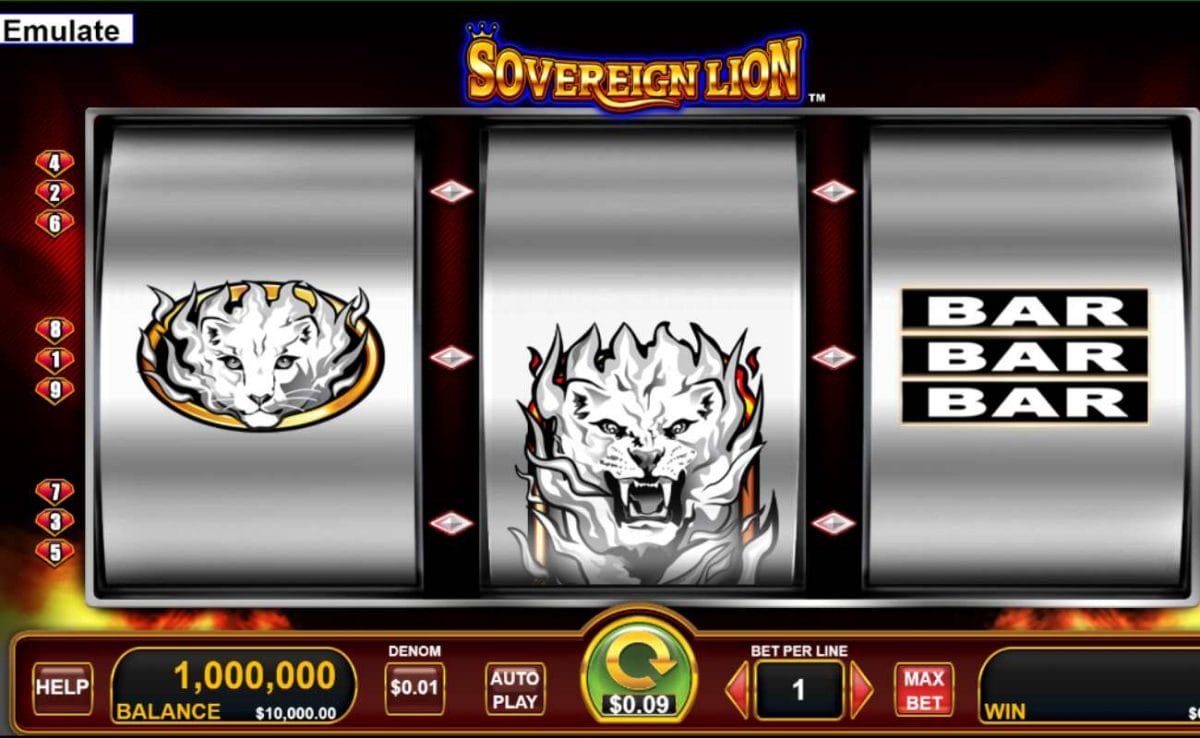 While it's not a flashy slot crammed with digital bells and whistles, Sovereign Lion is still a fun-filled game that delivers cool graphics and fairly immersive online playtime. The backlit symbols take multi-tasking to a new level as they fulfill multiple roles depending on where the spin lands. Lions, of course, do duty as winning symbols, but there are scatters and wilds that ensure your time in this digital world is fun, exciting and fulfilling.  
Features
In terms of features, simplicity is the order of the day. Sovereign Lion lives up to the expectation of being a game that is easy to play and keeps the newbie or easy-going player involved. Scatters and wilds appear when least expected, ensuring that every spin of the wheel is different and you never know when the big one will hit.
Bonuses and jackpots
Sovereign Lion features a free spin bonus game that puts the money back into your pocket, making gameplay even more exciting as you wait for the bonus that may come at any time. Remember, scatters and wilds make this feature even more rewarding, so the more you put in, the more you're likely to get out.
Similar games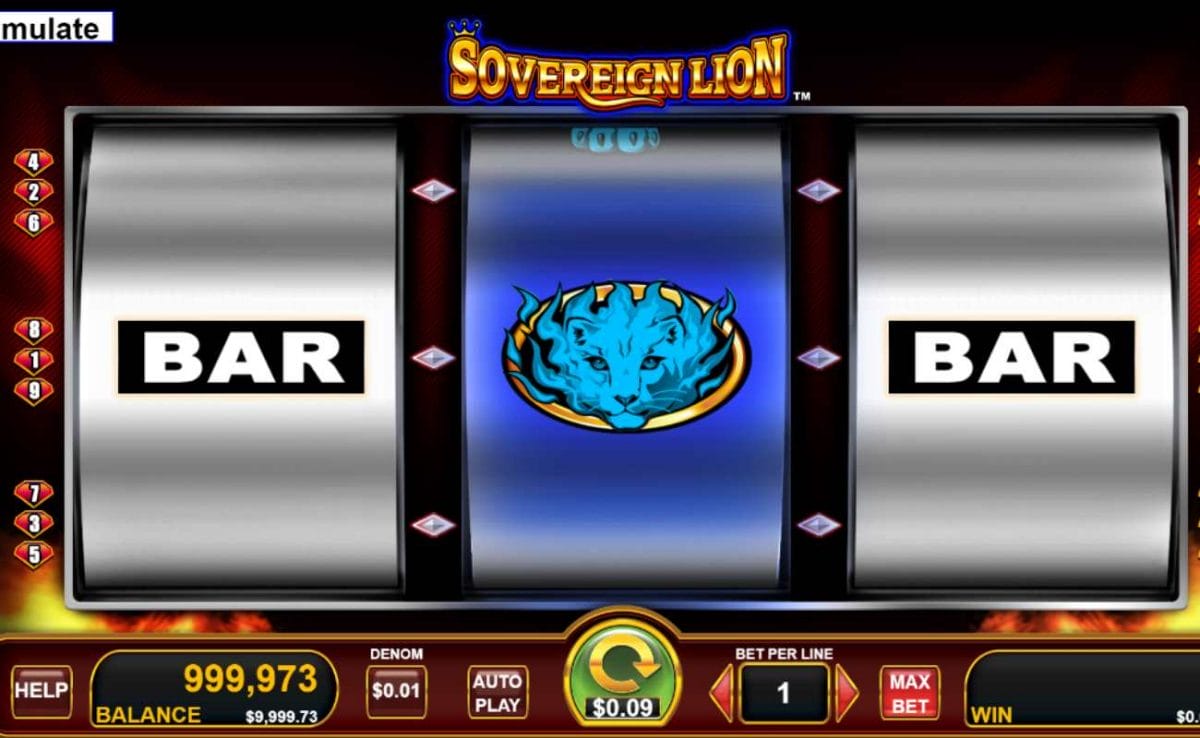 Lightning Gorilla
Stay in the online casino jungle with Lightning Gorilla and his gang of wild animals that include sloths, jaguars and lightning bolts, all designed to ensure your gameplay is as wild and exhilarating as a ride through the Amazon. Lightning Gorilla is a five-reel game with respins, giant symbols and incredible jackpots of up to 2,500 credits on the reels. 
There's a volcano wild and some awesome gorilla animation that ensure you celebrate your big wins as only a primate can. The exotic jungle feel, which includes thick leaves and the sound of the jungle, will keep you immersed in the game while you pick up exciting rewards. The betting range of this five-reel game is from 0.40 to 100 credits. In the base games you need to match symbols across any of the 40 paylines from the left.
Animal Antics
If you're into furries, then look no further than Animal Antics, also available on the Borgata Online platform. A pet-themed slots game, you get to enjoy the thrills on a 6×4 reel with 50 paylines. Triggering the Big Spin feature could release an avalanche of up to 12,500x your original stake. With its irresistibly cute, cartoon-like graphics, there's no doubt you'll soon be wholly involved in the world of these animals.
The online gaming universe at your fingertips
Whether you enjoy live online slots or live dealer casino games, Borgata Online is the place for you. And they've made it really safe and easy too. Just click here, register and you can play almost any slot game online from anywhere in the world, at any time. Safe and secure, Borgata Online is ready to meet you wherever you are!