If Egyptian-themed online slots are your favorite go-to reels to spin, you'll instantly fall in love with Ainsworth's Enchanted Eyes Big Hit Bonanza online slot machine. Let's find out what this online casino game has to offer, including the graphics, features, bonuses, and jackpots!
Game overview
Enchanted Eyes Big Hit Bonanza is a 5-reel, 3-row, and 25-payline ancient Egyptian-themed slot. It offers some incredible bonus features that should make players extremely happy as they spin the reel to unlock jackpot prizes. With an RTP (return to player) of 94.31%, Enchanted Eyes Big Hit Bonanza will ensure some pretty regular action and decent payouts throughout the game.
How to play
This online casino slot is easy to play! Once you've set your wager, you'll know what you're playing for, as it'll be displayed on the RTP paytable. Look out for the maximum payout during free spins of 400x the wager, which is due to the 16x spread between the 25 paylines. You can adjust your bet size by clicking on the "-" or "+" sign located at the bottom of the screen. All that's left to do is hit the spin button to get those reels going.
Graphics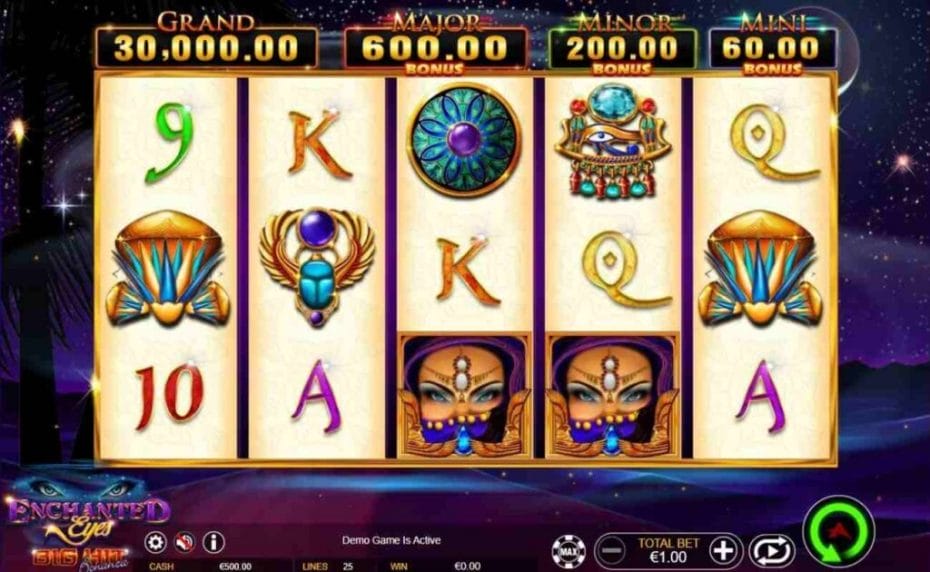 True to the game's name, the graphics bewitch players with their mesmerizing game features and aesthetic. One constant is the pair of enchanted eyes in the background, which stare at you while you're spinning the reels. For its nighttime charm, sultry eyes, and a beautiful sky filled with stars and the moon, Enchanted Eyes Big Hit Bonanza is the perfect video slot to play. Symbols on the reels include the lower-value card symbols (9, 10, J, Q, K, and A), and some ancient Egyptian objects and hieroglyphs. Accompanying the serene aesthetic is Egyptian-themed music that will keep you motivated to spin the reels for great winning combinations. The Grand, Major, Minor, and Mini jackpot prizes are located above the reels, which makes the game all the more exciting to play, because you have the chance of winning big!
Features
Enchanted Eyes Big Hit Bonanza has some incredible features and bonuses which will help your chances to win big throughout the game. Some of the exciting features to look out for are stacked wilds, free spins, multipliers, and random payouts. Whenever you land at least 6 scatters on the reels, the free-spin round will be activated. During the free-spins stage, you'll be given 3 free spins to try your luck. The Extra Big Hit feature can also be randomly activated during this round: it can potentially unlock the Mini, Minor, or Major jackpot prize to the value of what is shown on the screen.
Bonuses and jackpots
As mentioned above, there are four jackpots displayed above the reels while you play. To potentially land the Grand Prize jackpot, you'll need to trigger the Big Hit feature with at least 6 pyramid scatter symbols on the reels. By filling the reels with the pyramids, you'll be awarded the Grand Prize, shown above the reels.
There's also the Extra Big Hit feature, which is similar to the Big Hit round. However, during the Extra Big Hit round while the free spins are underway, the princess symbol appears. Landing 4 or 5, 6 or 7, or 8 or 9 princesses will earn you the Mini, Minor, or Major prizes respectively.
Overall, we think Enchanted Eyes Big Hit Bonanza offers a thrilling journey into ancient Egypt while providing a great video slot experience, and we hope you'll have fun giving it a go.
Similar games
For the best online slots, Borgata Online ensures we have every game available for you to choose from. You can experience a wide variety of classic games as well as play more Egyptian-themed slots. Take a look at what we have to offer:
If you enjoy Enchanted Eyes Big Hit Bonanza and would like to continue playing online slots with a similar theme, then try these amazing slot games!
Play more scintillating casino games at Borgata Online
At Borgata Online, you'll have access to the best online casino games, including poker, blackjack, and craps. For a variety of slots, you've come to the right place! Join Borgata Online and start playing an endless array of fun games. If you download our casino games app then you'll be able to experience thrilling slots, live casino, and classic table games on the go as well!