If you're looking for the best of both bingo and slots, then Bingo Staxx Amazon Fury is one of the online casino games you can turn to. Combining the simplistic gameplay of online slots with the timeless appeal of bingo, this casino game is suitable for beginners and experienced players in search of big wins. What's more, there are several unique features to look forward to and make your experience even more exciting. This Amazon-themed slot is bursting with color and packs a punch when it comes to captivating visuals.
Game Overview
Played on a 5×5 reel, Bingo Staxx Amazon Fury is an adventure through the Amazon Forest that offers 50 paylines. Although the volatility of this slot is unknown, online slot machines are categorized as either low, medium, or high volatility, so you should brace yourself for any one of these variances if Bingo Staxx Amazon Fury is on your list of slots to play.
The volatility doesn't take anything away from the ease of gameplay. However, it does have an impact on the frequency of wins. High-volatility slots have less frequent but considerably higher wins, while the adverse is true for low-volatility slots. Medium-volatility slots are a more balanced alternative. The return to player (RTP) of this slot is 95.13%, and it has minimum and maximum bets of $0.75 and $150, respectively. The wide betting range makes this slot highly appealing.
How To Play
Whether you've just discovered penny slots to play or are trying your hand at more modern ones, the approach to all slot games is relatively similar. All you have to do is set your wager and press the play button to start spinning the reels and potentially land some winning combinations.
All the functions appear at the bottom of the screen, and there's also the option to activate the autoplay function. This allows you to set a predetermined number of automatic spins for your convenience.
Graphics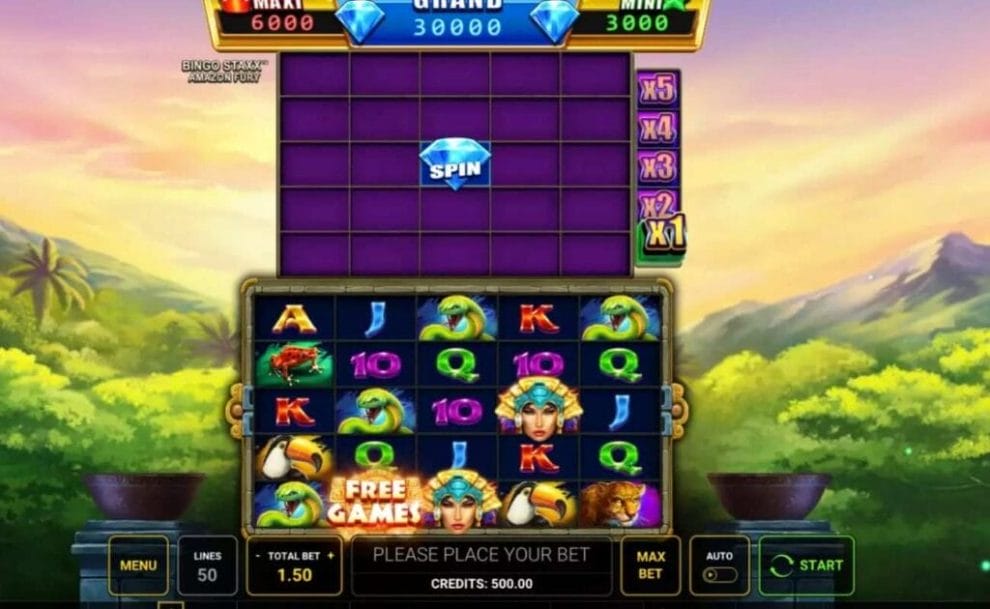 The visual appeal of this slot can't be denied. Not only does it have vibrant and eye-grabbing elements, but it also has seamless and clear graphics that make you want to discover what else it has to offer. The beautiful Amazon greenery forms the backdrop of this slot, with golden and purple reels that perfectly complement it. The colorful symbols include animals you'd typically find in the Amazon, like frogs and snakes, as well as a woman donning an elaborate outfit fit for an adventure through this famed rainforest.
Features
Special features are an added incentive to continue playing slots, as they increase your winning potential. This is one of the reasons why slots have become a popular form of entertainment, so much so that the rise of live streaming them may cause others to question whether slot streamers are fake. Bingo Staxx Amazon Fury offers free games that are triggered by landing five or more scatter symbols. During the free games, there's also a multiplier effect where all line wins are multiplied by three.
Unique to this slot is the bingo staxx feature, triggered by landing five coins vertically, horizontally, or diagonally. This results in you securing up to 16x your bet. Completing a bingo staxx line with the coveted diamond symbols unlocks a wheel spin.
Bonuses and Jackpots
Any slots bonus or slot jackpot is always welcomed by players, and Bingo Staxx Amazon Fury doesn't disappoint. Here, you can win the grand, major, or mini jackpot, or up to 35x your bet in the bingo staxx feature. The grand jackpot is the most pursued because it promises the biggest win. The values of each of these jackpots are indicated above the reels during gameplay.
Similar Games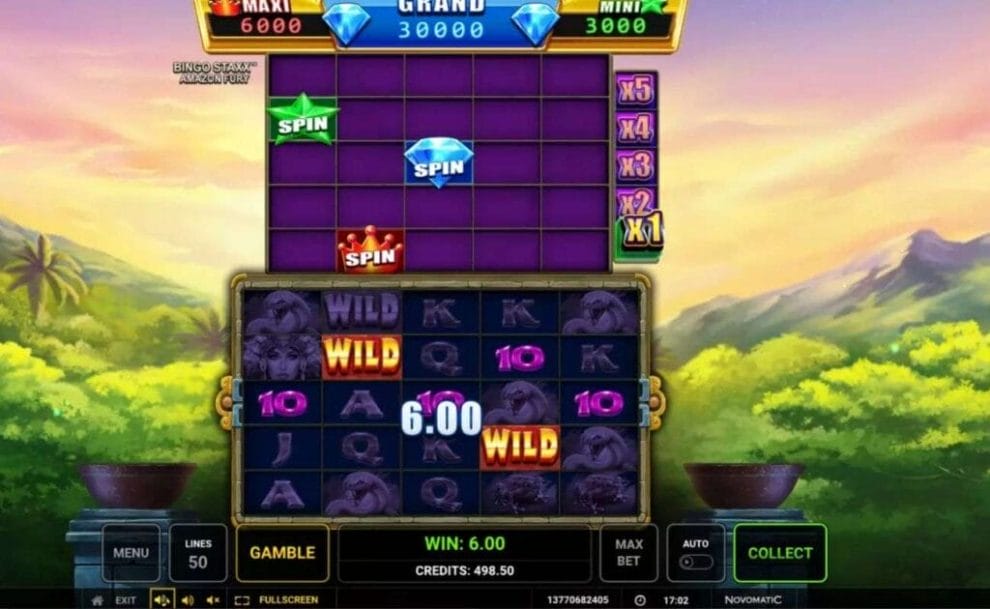 Making up more than half of the earth's remaining rainforests, it's no wonder that this famed forest has inspired several online slots. If Bingo Staxx Amazon Fury is your type of game, then you'll find the ones equally enjoyable.
Secrets of the Amazon (Playtech)
Played on a 5×3 reel with 20 fixed paylines, Secrets of the Amazon has a way of drawing you in through the use of sounds and visuals inspired by the forest. It's categorized as a medium-volatility slot and has an RTP of 95.28%. Visually, Playtech didn't cut corners. It's so well-designed that it makes for quite an immersive experience, one that takes you from the comfort of your own home and puts you right in the heart of the Amazon Forest. Some of the features you can look forward to include wilds, scatters, and free spins.
Princess of the Amazon (IGT)
Start playing online slots for real money with this 5×4 reel that offers 40 paylines. As can be expected, an Amazonian princess is front and center in this game. Set against a backdrop of luscious greenery in the nighttime, there's an unmissable charm and intrigue about this slot that makes it worth playing. The minimum and maximum bets are $0.01 and $12, respectively. If you're actively searching for jackpot slots, then Princess of the Amazon should be on your list of slots to play.
Amazon Queen (WMS Gaming)
Upping the ante from princess to queen is this offering from WMS Gaming. Played on a 5×3 reel with 20 paylines, this online slot has a minimum and maximum bet of $0.01 and $60, respectively. It goes without saying that it's set in the Amazon Forest, meaning you can expect greenery, snakes, and gorillas while you venture through the depths of the Amazon. Amazon Queen is categorized as a medium-volatility slot and has an RTP of 95.90%.
Explore a Variety of Games at Borgata Online
Casino table games, slots, and live dealer casino games aren't all you can expect to find at Borgata Online. As a reputable and trusted platform, there are several other casino online betting options available to you when you're ready to start playing. Register to gain unlimited access to a thrilling and captivating world of responsible gambling.