If you're a foodie and even if you're not, you might be pleased to know that April 7 is National Burrito Day! Whether you eagerly wait every year for this day to come around or you've never heard of it before, now's the time to get on board with easy recipes and ways to celebrate – because who doesn't love a burrito? They're the ultimate on-the-go food, a scrumptious Friday-night celebratory snack and the final word in convenience food – making it easy to get in your nutrients and fill your stomach while you play online casino games. So, let's get the burritos rolling!
What's up with National Burrito Day?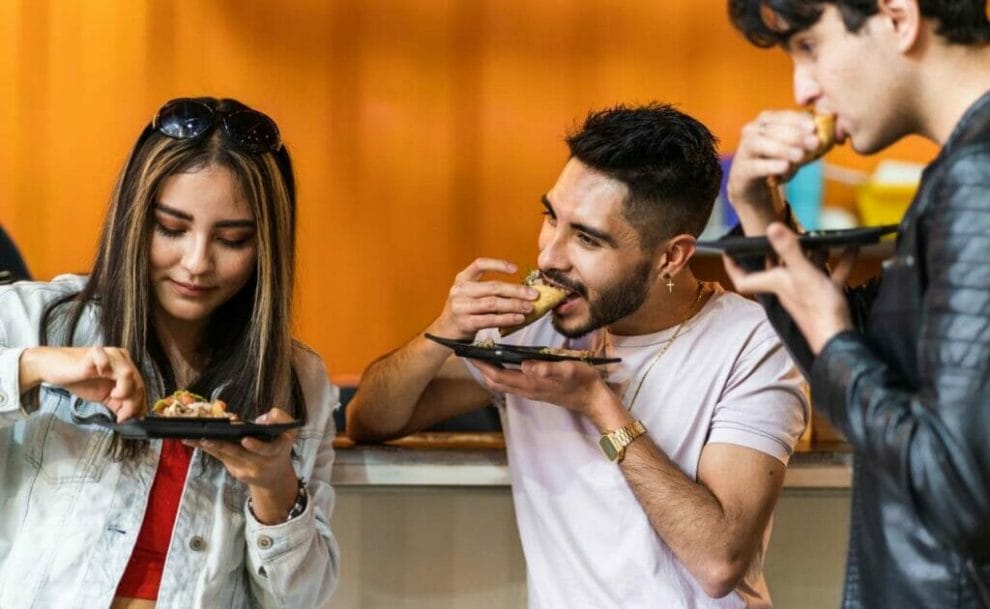 National Burrito Day is celebrated on the first Thursday of April every year. While there's no public record that gives any clues about who started the day, we do know it's been celebrated since 2017 and every year, as an increasing number of people around the world fall in love with the burrito, there's more reason to celebrate than ever!
The popular Mexican dish has been around for well over 100 years. The first official mention of a burrito was in the "Dictionary of Mexicanisms" back in 1895, and it's thought that the word, which means "little donkey" in Spanish, was chosen because the burrito looks a bit like the packs and bedrolls that donkeys once carried.
The burrito as we know it today first popped up near Fresno and Stockton in California, before making it onto restaurant tables in the 1930s, originally at the El Cholo Spanish Café in Los Angeles.
To qualify as a burrito, a tortilla must be stuffed with meat or a vegan replacement and several other ingredients, possibly including hot sauce, and rolled into the distinctive burrito shape. To wake up your taste buds, we've found two easy burrito recipes for you to try.
Easy burrito recipes
In the same way online casinos in the USA have continued to evolve and now offer live dealer casino games to bring brick-and-mortar games to your couch, the burrito has also changed over time to keep up with our modern tastes and lifestyles. So, have fun with the recipes and feel free to add your personal touches (keep a note of what you tweaked if it came out great!)
Traditional beef burrito
Serves: 6
Ingredients:
1lb ground beef
1 cup finely chopped onion
2 garlic cloves, minced
2 tsp chili powder
1 tsp ground cumin
1/2 cup taco sauce
1/3 cup refried black beans
6 10-inch flour tortillas
3/4 cup sour cream
1 1/2 cups finely shredded Mexican cheese
Instructions:
Preheat the oven to 190C (375F.)
Cook the ground beef on medium to high heat until cooked through, then drain.
Add the onion, garlic, chili powder, cumin and taco sauce, and cook until the onions are tender, stirring often.
Place the refried beans on the bottom third of each tortilla, leaving an inch around the edges. Spoon roughly one-sixth of the beef mixture on top of the beans and top with 1 tablespoon of sour cream and some of the cheese.
Roll the tortilla over once from the bottom, enveloping the filling, then fold in the sides and continue to roll up to make your first burrito.
Do the same for the other five.
Spray or brush the burritos with cooking spray and place them on a baking tray, seam side down. Bake in the preheated oven for around 12 minutes, or until browned and heated through, turning over once.
Finish with a dollop of sour cream and serve.
Vegan burritos
Serves: 6
Ingredients:
2 tbsp olive oil
1 red onion, chopped
1 red bell pepper, finely chopped
3 cloves garlic, minced
15-oz can black beans, drained and rinsed
1 1/2 cups short-grain brown rice
1 1/2 cups corn
1 cup kale, finely chopped
12 oz medium-style salsa
2 cups water
1 tsp ground cumin
2 tsp chili powder
1 tsp smoked paprika
1 tsp salt or to taste
8 flour tortillas
2-3 cups chopped lettuce
Vegan sour cream
Vegan cheese shreds
Avocado or guacamole
Hot sauce
To garnish:
Chopped cilantro, diced tomatoes, chopped green onions, jalapeño slices
Instructions:
Add olive oil to a large pot along with the onion, red pepper and garlic, and sauté at medium heat for 2-3 minutes, stirring constantly.
Mix in the beans, rice, corn, kale, salsa, water, spices and salt, turn the heat to high and bring to a boil.
Reduce the heat and simmer for around 45 minutes until the rice is cooked, then remove from the heat and leave the mixture to cool for 10 minutes.
Spoon the mixture into the tortillas, add the vegan sour cream, cheese shreds, lettuce, avocado and hot sauce before folding.
Garnish with cilantro, diced tomatoes, chopped green onions and jalapeño slices, or your preferred toppings.
Mexican-inspired food at Borgata
When next you're in Atlantic City, New Jersey, head over to the Borgata Hotel Casino & Spa in the Marina District. The Marketplace Eatery, which you'll find below the Borgata Poker Room and BetMGM Race & Sportsbook, is the ultimate in casual dining, and you're in for a treat if you're looking for delicious Mexican-inspired food.
You can stop by The Marketplace Eatery's Casa Taco Express to sample the burrito menu – there are at least six different kinds to try (the food stall also delivers in the area.) Then when you've had your fill of burrito magic, head for the 161,000sq ft casino that offers all the best casino games including classic casino table games that you can experience for real, plus the chance for slot fans to play a selection of more than 4,000 slot machines.
Get a taste for all Borgata Online has to offer
We hope our recipes have inspired you to celebrate National Burrito Day in your own way! Remember to play casino games with a delicious burrito clutched in your hand on the first Thursday in April – both activities will give you lots of variety and plenty of entertainment. Simply register to find a game that's to your taste.