Roulette is one of the most beloved games in land-based casinos. But it's also stealing the spotlight in online casinos. The game is timeless, with simple instructions and enticing stakes. And now real dealers bring the magic of roulette games to players at home with suspenseful live online games. But how has this traditional game stood the test of time and remained a fast-growing casino favorite? Let's go back to the beginning to uncover what makes the classic game so special. 
A brief history of the roulette casino game
Roulette has a mysterious origin. Before the French 'invented' it, many versions of the game were played all over the world by ancient civilizations. One possible origin of the game is Ancient China. The ancient Chinese played a board game where 37 animals were arranged into a magic square with numbers totaling 666. The game was discovered by Dominican Monks, who modified it and introduced it to Europe. Modifications included changing the square into a circle and adding a space for the number zero.
Others believe the game must have been invented by ancient Roman soldiers to keep them entertained and boost their morale during the war. Both Greek and Roman soldiers particularly enjoyed gambling games, and usually placed bets on games that involved spinning a shield or a chariot wheel, similar to modern roulette.
Even though all these stories might hold some weight, the most commonly-accepted origin dates back to 17th-century France. Roulette began as Roly-Poly, a game created by Blaise Pascal, a math wizard and genius. He discovered the game while trying to create a perpetual motion machine. The game may have gotten its name from the French word "rouler," which means to roll. Once it was popular in France, the game spread to other parts of Europe and soon arrived in America. The true origins of the game may be a mystery, and roulette was likely born from a collaboration between multiple countries and civilizations. One thing we do know is that the game found an audience and a fanbase wherever it went.
Roulette finds a home in casinos
After gambling started getting a bad rap in the 18th century, roulette and other games became illegal in many parts of Europe. Still, its popularity continued to rise. Roulette was introduced to casinos by Prince Charles of Monaco. The Prince saw popular gambling games as a possible fix for his financial troubles. He decided to open several gambling establishments in Monaco, and roulette was a key feature. The game soon became a favorite among aristocrats and royalty. To this day, a casino is incomplete without a roulette table.
The gameplay from Monaco casino roulette is almost identical to how we play roulette today. Numbers ran from one to 36, with a zero and a double zero pocket. The most popular roulette numbers are lucky 7, usually red, 17, 23 and 24.
What makes roulette so popular?
If you prefer luck-based games, you probably struggle to choose between roulette or slots. It's easy to understand why slots are popular, with innovative titles and immersive themes and stories. But what makes roulette such a casino staple despite its ancient origins? 
Simplicity
Roulette is one of the easiest games to understand in the casino. You don't need to spend time studying a roulette betting guide to understand roulette odds and gameplay. All you have to do is look at the wheel. There are 36 numbers split into two colors. Once you've chosen a number and color to bet on, the dealer releases the wheel to see where it will land. Even if you've never set foot inside a casino, you can start playing in seconds. 
The only thing you need is luck
The game of roulette is all about chance. While it might not be the ideal fit for strategic gamblers, it does level the playing field for new players and people who just want to have a fun time at a casino. You can step up to a roulette table without feeling inferior because you have an equal shot at winning. Even if it's your first game, you have the same chance of winning as a veteran player.
A strong social element
The roulette table is the first place you're drawn to at a casino. It's the joyous noise and the sense of camaraderie and togetherness in the crowd that people can't resist. There's a sense of unity and hope as people cheer each other on each time the wheel is spun. Roulette encourages unity, it doesn't pit players against each other. Players can even join forces and bet on the same number to boost the communal spirit of the game. You might be a fish at the poker table, but at the roulette table, you always fit in.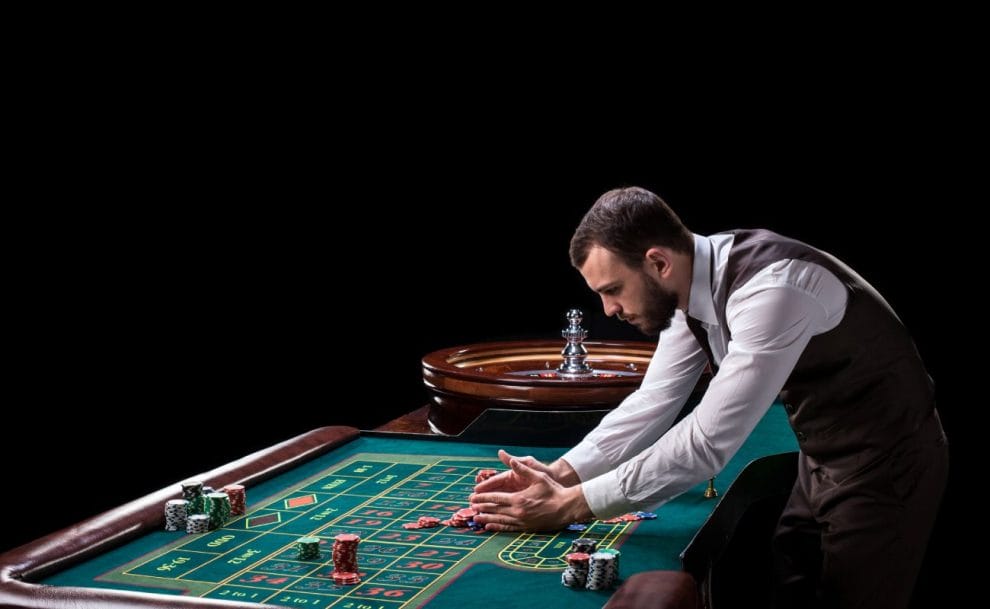 You are your only opponent
Unlike other casino games where you have to make better decisions than other people at your table, you're only up against yourself at the roulette table. There's no need to feel pressure from another player's bet or to feel intimidated by their wins and losses. As long as you're feeling lucky and playing responsibly, you're in a great position.
Added suspense and exhilaration
The fact that roulette relies so much on chance or fate only increases the exhilaration and excitement. If you think other games are adrenaline-pumping or suspenseful, roulette takes this to another level. It's as if time slows down as the ball is released and it glides over pockets before slowing down and settling on a number. Even if you play an online casino roulette game, the game is just as unpredictable and thrilling. In other games, you're constantly thinking about your strategy or trying to read your opponents. In roulette, you can relax and watch as fate takes over.
It's truly no surprise that roulette is still a popular casino staple. It's the best introduction to the world of odds and betting. Roulette gives up the complexity and mastery required in other games without sacrificing the excitement and delight. The best part is, the game is open to everyone. Even if you walked into a casino asking, what is roulette, you could be playing a game with onlookers cheering you on in no time.
The convenience of playing roulette online
At Borgata Online, we keep online roulette interesting with exciting themes and variations. Join a game of New York Jets or NHL roulette, or switch it up with Evolution roulette games like Lightning Auto Roulette or First Person American Roulette. Are you looking for roulette with a twist? Try Space Invaders Roulette or Double Bonus Spin Roulette. If you want a classic variation, joining a Borgata Online Roulette Pro table will never disappoint. All these games and more are available to play anytime on your mobile devices. 
Bring the thrills of roulette to you with Borgata Online
Let's be honest, there's something special about playing a live table game at a casino. But you don't have to feel left out if you play online. With the Borgata Online live dealer casino, you can play all your favorite table games live with real professional dealers. Not only that, but you get access to exciting casino promotions and a slot catalog with thousands of options. Play casino your way, register with Borgata Online.