When faced with the games catalog at an online casino, it can be a daunting task for someone unfamiliar with online casino games to choose one that suits them and their play style, as well as one they think they can win at. Do you go for the game you love or the one with the best odds?
The choice for most punters is to play casino games that you like and hope for some wins along the way, but for more serious gamblers, the point is to chase the best odds for a win. Let's take a look at a trio of the most popular online table games – namely craps, blackjack, and baccarat – and determine which of these offers players the best odds.
Craps
Online craps might not be the most popular casino game to play online, but if you're looking to test how lucky you are, or just enjoy casino dice games, then head to the craps table.
Now, if you're looking for the best odds at the online craps table, then forget what anyone told you about the complex side bets – you only need to remember two words: "Pass Line." That's it: just remember these two golden words of craps, and your odds will always be good.
The house edge on the Pass Line is just 1.4%, meaning for every dollar you spend on the game, you'll lose about a penny on average. This isn't bad, considering you can fire the dice with just the click of a button – so get ready for some rapid-fire betting (within your available budget, of course!) If luck's in your favor, and you're increasing your bet incrementally as you win, then you could extend your bankroll quite a bit while you play.
Another approach, though it can be met with some dirty looks, is to play the "Don't Pass Line." Now, the odds are even better here than on the Pass Line (the house edge is a measly 1.36%,) but remember that everyone else at the table is likely going to be playing the Pass Line, and if you win on the Don't Pass Line, then everyone else loses. So, celebrate quietly to yourself if you do win, because nobody else will be.
Baccarat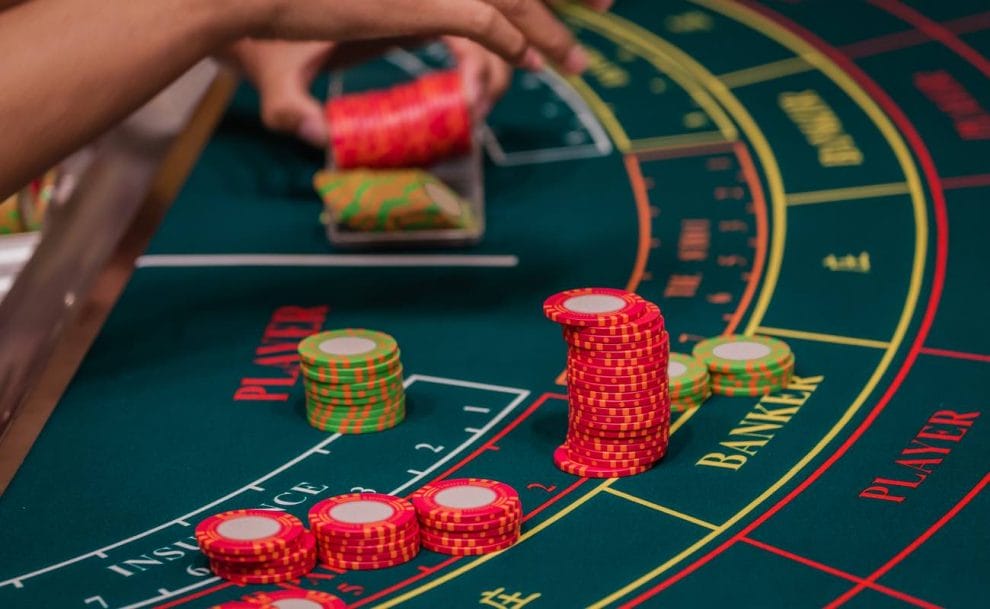 Online baccarat is a game that's easy to understand, boasts solid betting odds for players, and is incredibly popular at both online and brick-and-mortar casinos. The rules are simple – you bet on the player or the banker; both sides draw cards from a deck, and whoever ends up closer to 9 is the winner. On a regular online baccarat table, the house edge sits somewhere between 1.01% to 1.24% on player and banker bets, which is pretty modest compared to most other games, and great for you if you're playing at tables with decent stakes. 
Now, baccarat casino games have higher betting limits than other casino table games, but don't let that deter you from playing them. Players can sometimes be scared off by a $50 minimum bet at a table, particularly those who don't have enormous bankrolls backing them. But think about it like this: It's better to play at a high-stakes table where the odds are good for a win than to play at a low-stakes game where the odds of winning are almost non-existent.
Blackjack
Of the casino table games we're covering here, online blackjack is by far the most popular. It offers the best odds, but it's also going to take the most work compared to craps and baccarat – so if you were planning on having some mindless fun, you're better off deciding between the other two for the best odds with the least amount of cerebral input.
Now, when we say online blackjack has the best odds, we're talking in the ballpark of a 0.5% house edge. But note that this depends on the table you're sitting at, and the amount of work you're willing to put into studying (or whether you play with a cheat sheet next to you). This means that for every dollar you bet, you stand to lose about half a penny on average – sound appealing? Well, let's talk about that "work" we mentioned earlier.
You'll need to do a bit of learning to make the kinds of decisions in-game that will secure you a shot at some great odds. For example, do you "hit" on a 12 against the dealer holding a 2? (Yes, you do.) When is it a good idea to split 4s? (Only when the dealer is showing a 5 or 6.) When is it a good idea to split 8s? (ALWAYS!) These are the kinds of things you'll just need to know off the top of your head, so some study is likely required to get it all coming naturally.
Beat the odds at Borgata Online
Now that you're armed with a little knowledge of how to secure some solid odds in your favorite online casino table games, why not put your knowledge to the test at our tables at Borgata Online? We feature some of the best table games available and live dealer games that put you face-to-face with the dealer in real-time for the best online casino experience. Register with us to gain access to some of the most exciting and fun casino table games with the best odds around, and don't forget to split those 8s!