As a country, Japan isn't exactly known for its online casino and offline gambling culture. Only in 2018 did laws change to allow casinos to operate legally. Before that, almost all forms of gambling were illegal. But there's always been one game that the Japanese government made an exception for and which, legally, was never classified as gambling. That game is pachinko. 
Let's take a look at what pachinko is, its importance in Japanese history, and how to play this beloved game of chance.
What Is Pachinko?
Part pinball machine, part reminiscent of slot games, pachinko is a unique game in which players launch metal balls into the game's play area with the aim of sinking them into various pockets. When you're done playing, the balls that fell into these pockets can be claimed and redeemed for special prizes.
While pachinko machines can be found all over Japan, there are dedicated pachinko parlors, which are something between a video arcade and a casino. These gaming houses are a cacophony of bright lights, noises, and of course, dozens of colorful pachinko machines.
A Brief History of Pachinko
Considering the fact that pachinko is played mostly by adults, it may come as a surprise that the game originated in a children's game called Corinthian Bagatelle. An even greater surprise may be the fact that Corinthian Bagatelle was originally an American game – which is definitely unusual considering how distinctly Japanese modern pachinko games are.
The original Corinthian Bagatelle was brought to Japan in the early 20th century and, at a glance, looks like a wooden version of pinball. The game was played on a wooden board with wooden pegs that protected special pockets. Just as in modern pachinko, the goal was to get a ball to land in one of these pockets. But unlike modern pachinko and pinball, this game used a wooden stick, much like a pool cue, to launch the balls into the play area.
According to the Medium article "A Brief History of Pachinko: The Children's Game That Became a Billion-Dollar Industry in Japan," pachinko became incredibly popular in the 1930s, although the war with China and Japan's entry into World War II put a damper on its popularity for a while. After the conclusion of both wars, the game once again continued its meteoric rise in popularity as pachinko parlors soon started to appear all over the country.
The article highlights just how popular this game was: "To put it into perspective, there are only about 125,500 square kilometers habitable in Japan. This means there were about three parlors per square kilometer in 1953."
The game is still much loved in Japan, but if statistics are anything to go by, its popularity is in decline. According to Statista's graph "Number of pachinko players in Japan from 2012 to 2021," the number of people who play the game has declined from 11.5 million in 2014 to just 7.2 million in 2021. That said, the dramatic drop in 2020 and 2021 is likely a result of the COVID-19 pandemic, so it's possible that numbers have recovered somewhat given that most countries in the world have lifted COVID-19 restrictions.
How To Play Pachinko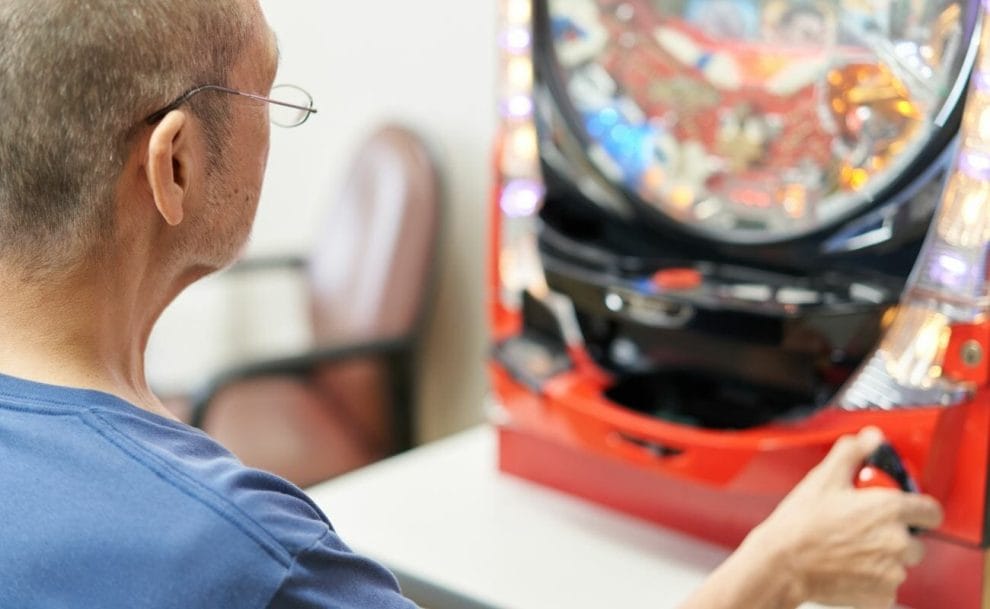 Pachinko is a relatively straightforward game. All you need to do is pay for some pachinko balls using cash, a card or money you've deposited into your online casino account, and then the action starts.
Whether you're playing a digital or physical version of the game, it always begins with the balls being loaded into the play tray. A single ball enters the machine every time you hit the play lever. And this is where there is some degree of skill involved. The lever will react according to the amount of force placed on it, which gives the player some degree of control over the speed at which the pachinko ball enters the machine. In that sense, it is similar to pinball where, the further back you pull the launcher, the harder you launch the ball.
Once the ball is launched into the play area, luck determines whether the ball will land in any of the game's pockets. Again, as with pinball, it's not as straightforward as that because there are various obstacles in the play area, such as metal pins, which cause the pachinko ball to move in unpredictable ways.
In modern versions of pachinko, if you manage to sink a certain number of balls, additional pockets may open up or players may get access to minigames that look and play more like video games than pachinko.
Once you're done playing, you can redeem your pachinko balls in order to claim your prize, which varies depending on the number of balls you have since each ball is worth a specific amount.
What Can I Win When I Play Pachinko?
Any pachinko player who hopes to earn cash for their time and effort will at first glance be a little disappointed because when you redeem your pachinko balls, you'll receive a prize such as electronics, trinkets, cosmetics or special pachinko tokens.
But don't despair because these can in turn be exchanged or sold at a separate store – which gives players a convenient legal loophole through which they can get cash for whatever prizes they've won.
When playing pachinko outside of Japan, you'll be able to cash out your winnings or claim any prizes just as you would when playing other casino games.
Can You Play Pachinko Online?
Yes, many online gambling sites offer a variety of casino games, including pachinko. But before you hand over any personal information or money to an online casino, make sure it's fully licensed to operate in your country – otherwise you run the risk of falling prey to scam artists and online criminals who are out to steal your personal details and money.
Enjoy a Range of Exciting Online Casino Games at Borgata Online
If you're looking for classic gambling games, we have an exciting selection of games for you to play at Borgata Online. From classic table games such as blackjack and roulette to thrilling online slots such as Gonzo's Quest and Cleopatra, and live dealer games like Lightning Blackjack and Three Card Poker, we have an incredible library of gambling titles for you to choose from.
All this and more is waiting for you when you register with Borgata Online.