Have you ever wondered what the world of gambling looks like from the other side of the table? If you love all the glamour of Las Vegas and Atlantic City, there is something alluring about being a casino croupier. The house side is also fun and there are so many people who make a casino floor run successfully. One of the most important people at a casino is the croupier. At the casino tables, it is the croupier who creates the ambience and provides entertainment during gameplay. From their pulpit, they command the action of the table. In some cases, people go to casinos to enjoy the interaction with the croupiers while they play their favorite table games. Borgata Online takes a look at what it's like to be a croupier.
What does a croupier do?
So, you've seen croupiers at brick-and-mortar casinos and while you're playing live casino online games, but what does their job entail? A croupier is a person who works at the various casino games tables. They are responsible for controlling the game's progress. Croupiers are trained to explain the game rules to a beginner while maintaining gameplay effortlessly for all players at the table. So, how can you find a croupier on a casino floor? They are the ones dealing the cards at a poker and blackjack table, throwing the roulette ball and dice, and they make the payouts in casino chips. It is also the responsibility of the croupier to look out for any players who might be cheating. If this happens, they will alert their supervisor or casino security.
What are the requirements and qualifications needed to become a croupier?
There are no specific qualifications required to become a casino dealer. However, you will need a good knowledge of basic mathematics. A lot of games have fixed casino odds, so you will be memorizing and practicing a lot to keep up-to-date with the various games the casino offers. Other skills that will be beneficial include being a good team-player, strong communication skills, and great customer service etiquette. Many casinos provide on-the-job training. In most cases, you'll be given practical and technical training which will help you understand the table games you'll be dealing.
An average day in the life of a croupier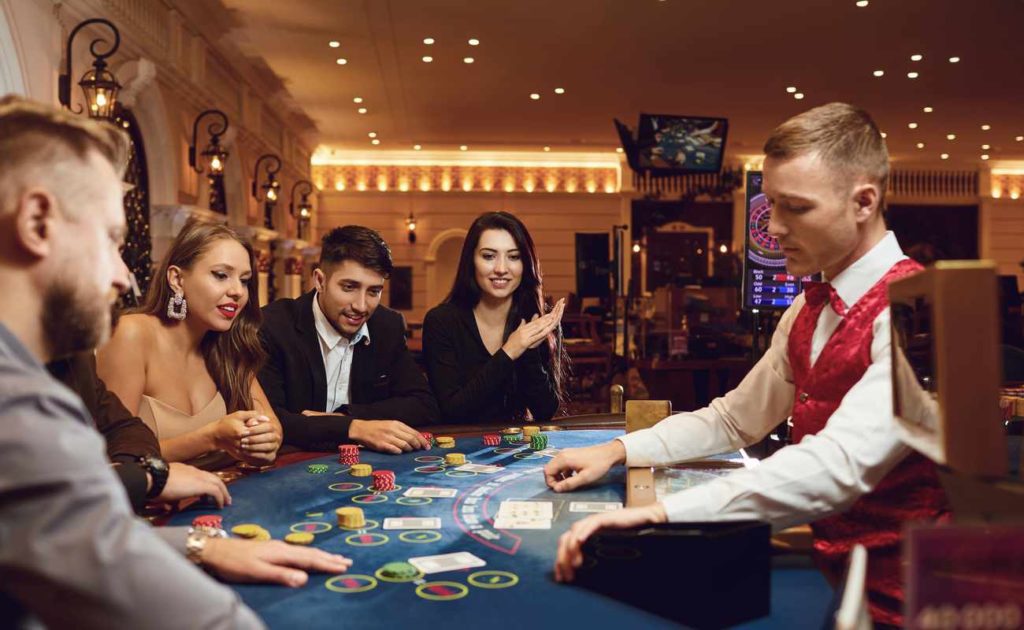 Croupiers are considered the backbone of land-based casinos. Their role is to help facilitate the gameplay on the casino floor and to make it a fun experience for players. Being a casino dealer is a high-speed life with long hours. It can also bring many exciting challenges as you learn and practice new games such as craps and blackjack. With new casinos opening in New Jersey, there is plenty of opportunity for croupier positions in the state. On a good night, with tips, dealers can make up to $25 an hour. To be good at your job, you have to be accurate, fast, and of course, have the ability to talk to people. Remember, people are there to be entertained. Casino dealers set the atmosphere of the casino floor.
Croupiers need to watch out for customer-cheating
One of the most important aspects of being a croupier is looking out for customer-cheating. Unfortunately, cheating in casinos is a common occurrence. When dealing at table games and facing customers, croupiers are expected to remain alert of possible cheating amongst players at their table. Knowing what to look for is part of the job and you are expected to report any suspicious behavior when necessary.
It can be hard to notice players cheating when the casino floor is busy, especially on Saturday nights. For example, roulette croupiers will have their hands full when there are 10+ people at the table. Some players who are looking to cheat might place their bets down after the ball has landed on a certain number. Many players who cheat will try and lure the croupier into a false sense of security by being over-friendly and talking a lot. This is how they try to gain the croupier's trust and mitigate any suspicion of their actions. Poker croupiers will look out for two players who might be colluding. The signs to watch out for include the player's body language, poker-playing pattern, and if they're talking in a different language. Croupiers are taught what to look out for and how to catch a cheat in their training.
Benefits of being a croupier
If you're interested in the gambling industry, being a casino dealer can have many benefits. Here are some of them:
The opportunity to travel: For many, becoming a casino dealer opens the opportunity to travel the world with the chance of working overseas.
Play casino games without spending your own money: The great thing about representing the house is the fact that you'll never lose your own money, and if you beat the player, you still feel a great sense of accomplishment. It's a win-win situation.
Socializing: You'll get to meet all kinds of people at a casino and the camaraderie between casino dealers is something to be cherished.
Sharpen your playing skills: The fact that you're getting paid to play is a bonus and you will get to practice and learn new playing skills on the job.
The tips: The best part of the job has to be the tips that players give when they're feeling generous after winning a game.
The downside of being a croupier
What are some of the not-so-great aspects of being a casino dealer?
At the beginning of your career as a croupier, learning and remembering the different variations of each casino game can be overwhelming.
If you're not that confident with your mathematics skills, it can be a bit challenging when you need to apply it to the casino odds.
Having to deal with people who are trying to cheat can affect your gameplay in the moment.
There can be very long and irregular working hours.
What is the average wage for a croupier?
The role of a casino dealer falls into the service industry category. Therefore, when you calculate how much you could potentially earn, you can compare it to what waitresses and bartenders earn. As a casino dealer, you will make more from the tips than your base hourly wage. The better you serve and interact with your customers, the more they will tip you. Your wages are not determined by the type of casino games — essentially, poker dealers will earn the same amount as a roulette croupier.
The starting pay for an average croupier is between $8 and $10 per hour. For some, it will be based on your experience, too. You will start as a trainee which could last between 12 and 18 months. Casino dealers can make a lot of money from gambler's tips. Of course, the size of these tips will depend on the casino and the stakes of the game. Tips can range from $15 to $50 per hour on average.
Poker tables are where you'll earn the biggest tips, as poker dealers receive tips more consistently. People skills play a crucial role in how well you're tipped at the poker table. In some casinos, croupiers must pool their tips.
Is there a difference depending on where croupiers are employed?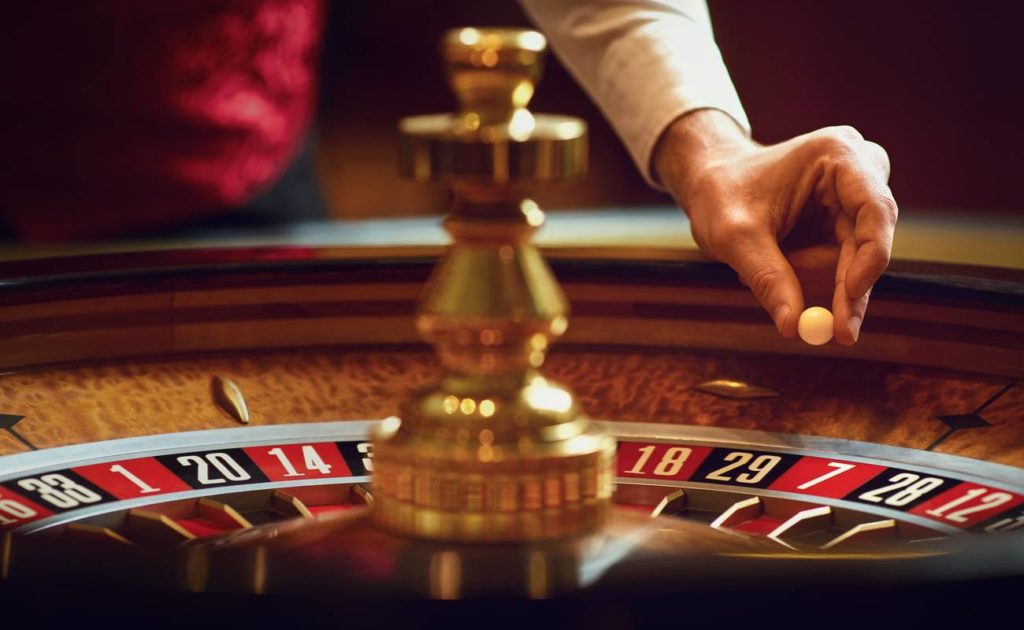 There are many options available when it comes to where you can work as a croupier. Consider working for a casino group if you would like to work in different casinos around the world. This way, it will be easier to move around and experience different people in various cities and countries. If you're employed by a casino that is part of a group, your details will be on their records which means applying for a croupier position at a different casino will be much easier. Here are the different types of croupier jobs for you to choose from:
Cruise ship dealers: If you'd like to travel the world while getting paid, becoming a cruise ship dealer is the ideal job for you. It is also one of the highest paying jobs on a cruise ship. Think about all those big tips that holidaymakers will be spending!
Specific games croupiers: It's also possible to focus on one casino game, particularly if you're more interested in one game over others. You might find a job listing for a blackjack dealer or roulette croupier. The major games are poker, roulette, blackjack, and baccarat.
Live dealers: As online casino games gain popularity so does the need for live dealers. The best online casinos offer real dealers shown on video to enhance the experience of playing poker online and many other table games. The advantage of being an online croupier is the fact that winnings are computerized. You will not be responsible for payouts. However, you will need to be comfortable with multiple cameras filming you while you work. 
Play online casino games at Borgata Online
Now that you have the behind-the-scenes scoop of what it's like to be a croupier, you can head to Borgata Online and play poker with our live dealers. Maybe you're interested in jackpot slots casino games? At Borgata Online, you'll have access to a range of fun and exciting games. Register today and play the best online casino games.