One of the best parts about playing online slots is that there is quite a variety of themes to choose from. You'll never run out of slot games to play as game developers are always looking at innovative ways to produce the best online slots. One of the most popular slot themes to play is arcade-style slot machines as well as more modern video games. If you're a big fan of video games and would like to play these as online slot games, you've come to the right place.
The evolution of video games
The video games we know and love today started as a technological oddity at a science fair in the 1950s. Since then, gaming has grown into one of the most profitable entertainment industries in the world. MIT's Spacewar! was designed in 1962 and is considered to be one of the first games to be played with a video display. Things took off in the 1970s, as consumer-ready video game hardware such as the home video game console Magnavox Odyssey, and arcade video games from Atari Computer Space and Pong took the world by surprise. Fast forward to the mobile technology boom in the early 2000s, the industry experienced significant growth and attracted a new generation of gamers.
Let's find out more about the most exciting video games and arcade-style games that can be enjoyed in a slot game format at online casinos.
1. Street Fighter II: The World Warrior Slot – NetEnt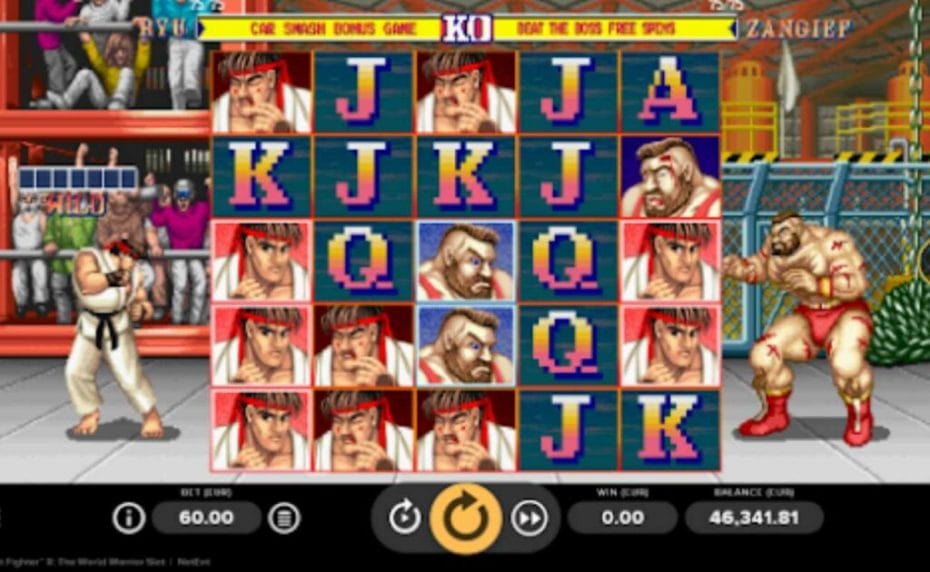 Based on the legendary Street Fighter video game, Street Fighter II: The World Warrior Slot is a 5-reel and 3-row slot game with a Cluster Pays mechanic. Fans of the original video game will thoroughly enjoy this video slot format as it still exudes elements of fighting on screen as you spin the reels for prizes. The gameplay is quite unusual and definitely redefines what we think a slot game should look like. In 1991, the first Street Fighter was released and became a hit. However, the sequel definitely took things to the next level and made an immediate impression with arcade fans.
NetEnt made sure to include the original game's eight characters in the slot version, and each one brings a different modifier with them. In addition to spinning the reels, there is also a street fighter battle that takes place. The epic bonuses are reason enough to give this game a spin. Before spinning the reels, you must choose the fighter you want to play with. As mentioned before, each of the eight fighters gives you something slightly different in terms of the wilds, and each fighter can affect the volatility of your wins. You will need to land seven clusters in a row before you can add these incredible extras and stacked wilds. Above your fighter, you will see a wild meter as well as two health bars over the reels.
Symbols on the reels include playing cards (J, Q, K and A) and the classic characters from the Street Fighter video game. The RTP (return to player) sits around 96% and varies depending on which fighter you pick. This slot game is the perfect example of how much fun it can be to take an iconic video game and reintroduce it in a different format.
2. Conan – IGT
Although this online slot has its roots in a popular and legendary cinema character called Conan, there have also been many video games that preceded this slot game. The Conan slot features six reels, four rows, and 24 paylines with "Win Both Ways" technology. Developed by NetEnt and based on Conan the Barbarian, this slot game has some epic features that will keep you thoroughly entertained. The Thoth-Amon feature provides players with a choice between three different free spins. Look out for Tower Wilds, Mystery Symbols, Mystery Multiplier, Linked Reels and Battle Wilds. The game is set against the backdrop of a snow-capped village with symbols such as snakes, falcons, lions, swords and grappling hooks on the reels. The RTP of the Conan slot is 96.28%, with a hit frequency of 24.9%. NetEnt's Conan will spur you on as if you're in a real-life quest and certainly does give the feeling like you're playing one of the best video games of all time.
3. Space Wars – NetEnt
This non-progressive slot game has five reels and 40 paylines with some neat features to keep you on the edge of your seat. You can look out for features such as wilds, stacked symbols and re-spins to help you enhance your winning chances. It is an action-packed video slot that provides wonderful engagement. The game's Cloning Pod Re-Spins element provides loose payouts. This is triggered when a winning payline is formed. The winning symbol is transported to the Cloning Pod, where the symbol is cloned and thrown back onto the reels. This element results in a free re-spin which results in additional payouts. Space Wars offers fast gameplay with in-depth animations, which makes it feel like you're playing a video game. Along with the phenomenal graphics and sound effects, it's hard to pass on such a great game.
Unbeatable arcade-style slot machines
The gaming evolution truly has given us so much entertainment over the years. As the online casino industry continues to rise, it makes perfect sense that these two forms of gaming would collide. The best part of playing slots online is that variety games such as Wheel of Fortune: Winning Word Games and Ancient Thunder Keno are just one click away. Arcade-style slot machines will always have a special place in many people's lives as they take them back to their carefree days playing at a real-life arcade.
Play online casino games at Borgata Online
At Borgata Online, you will have access to an incredible array of online slots, casino table games and so much more. Sign up and start playing your favorite themed online slots and video poker. A world of fun awaits!