If you're a fan of slots but are looking for something to spice things up a little, you may want to try out multiplayer slots. These provide an exciting twist on the classic slot game experience that you can find at an offline or online casino. 
Let's take a closer look at what these unique slots have to offer.
What Are Multiplayer Slots?
When you sit down to play a slot at a casino or log online to spin the reels on a virtual slot machine, you know it's just you and the game. Multiplayer slots mix things up by adding other players to what is considered a typically solitary casino gaming experience, making them an ideal casino game to play with your partner or friends.
How Do Multiplayer Slots Work?
Multiplayer slots add a new dimension by allowing up to six players to join forces to try to claim a win. These multiplayer slot games only factor in the multiplayer element when one player triggers a bonus round, allowing all the players to join in with their own spins to try to boost each other's wins. Otherwise, each player spins the reels as normal until one of these bonus rounds is activated. Players then get to enjoy the bonus rounds together, and if a player gets lucky, they all receive a payout based on their original wager.
When it comes to the core game mechanics, multiplayer slots work using the same science as a regular slot machine, regardless of whether you are playing offline or online. Players place a bet, spin the reels and hope that Lady Luck is on their side. 
In regards to how the symbols are generated, the output for most modern digital slots uses random number generators (RNG). These systems use a variety of different methods to create completely random results. For example, a software algorithm that's designed to mimic random behavior could be used, or a hardware-based random number generator that works using a physical element, such as airwave static, could be used to generate truly random results.
To cater to the social element of multiplayer slots, these games also have a chat function so that you can enjoy talking to the other players you are playing with.
Why People Enjoy Multiplayer Slots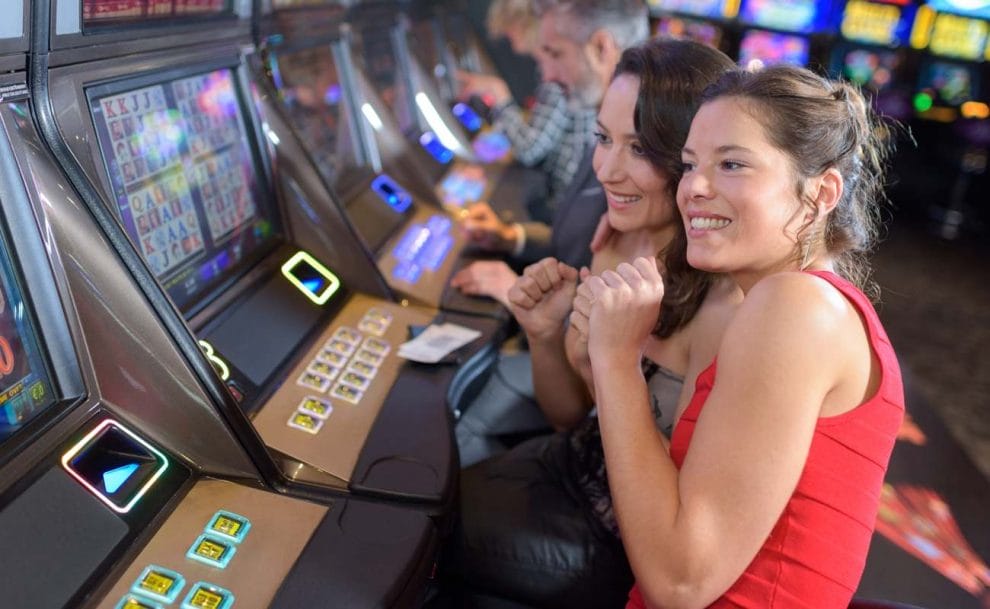 Multiplayer slots offer players a mix of familiar and new, making them appealing to slots fans who want to enjoy something a little bit different without having to jump through the hoops of learning a new game.
They also add a social element, making them more appealing to those who are also looking for a little bit of chatter or in-game banter. Plus, you get to share the highs and lows of your time playing slots with a group of other people, making them even more fun as a cooperative as opposed to a completely solo experience.
Some Exciting Multiplayer Slots
With these titles being as niche as they are, you may struggle to find these games. However, your favorite online casino may offer some of these multiplayer slot games. If they do, here are a couple of titles that you should keep an eye out for.
Wheel of Wealth Multiplayer: This game was originally released in 2013 and offers players a truly unique multiplayer experience as you get to see the results of everyone's spins as they play! This is a 5-reel slot with 25 paylines that was originally developed by Microgaming. It features classic fruit symbols as well as other symbols of wealth, including a Lear jet, sports car, gold bars and more.
No Worries Multiplayer: This is another slot game from Microgaming that adds a multiplayer element. This is a 5-reel slot with 20 paylines that draws on a chilled and laid-back Australian outback setting. It features various Aussie animals lazing about, including kangaroos, koalas and kookaburras, as well as classic Australian symbols like boomerangs.
Range of Single and Multiplayer Casino Games at Borgata Online
If you're looking for the best single and multiplayer games of chance, you'll find them at Borgata Online. At our online casino, you'll find hundreds of exciting online slots, as well as casino table games like craps, poker and roulette, depending on whether you want to dance alone with Lady Luck or invite some friends in to join you. 
No matter what you prefer, all you need to do is register at Borgata Online to take part in the fun!