Learning how to play poker is something that can be quite challenging. Most newcomers to the game opt for one of the more common variations, such as Texas Hold'em or Omaha. Not many players mention or even acknowledge Pai Gow Poker, which is a shame because it is arguably one of the most underrated poker variations out there. 
Here we'll be taking an in-depth look at Pai Gow Poker and why you should give it a shot. We'll also be looking at the history of the game and how it's played.
The history of Pai Gow Poker
Pai Pow Poker, also known as double-hand poker, is a variation of the Chinese domino game that uses playing cards instead of dominoes. It was created in 1985 in the US by the owner of the Bell Card Club, Sam Torosian, as a way of bringing in new customers to compete with start-up card clubs that were being built around Los Angeles.
After speaking to many players about new concepts that could potentially be introduced to his card club, one of his regulars, a Filipino, explained the rules of "Pusoy," a popular card game in China. Pusoy is a game that requires four players, and the goal is to rearrange their hands into three specific poker hands. Thirteen cards are randomly dealt to each player, and by the end of the round, each player should have two five-card hands and a three-card hand.
Torosian quickly realized that having a four-way game wouldn't work, so he modified the concept by creating a game that uses seven cards and two poker hands. This consisted of a two-card low hand and a five-card high hand. With elements taken from Pusoy, he also looked at Pai Gow, and that is how Pai Gow Poker was created.
How to play
Pai Gow Poker starts with an ante bet, and unlike most land-based and online poker variants, this game is played against the dealer. Each player is dealt seven cards from a 53-card deck (a standard 52-card deck with a joker,) and with these cards in hand, you'll have a simple task of trying to outrank the dealer's five-card hand with your own. The remaining cards will form your two-card low hand, but the catch is that your five-card hand must outrank your two-card hand. 
For instance, if you were dealt a hand of A-A-K-K-9-7-2, you could form the best possible two-pair by putting A-A-K-K-2 as your high hand, leaving 9-7 as your low hand. However, this low hand is unlikely to beat other low hands. So, a better option would be to have a high hand of A-A-9-7-2 and a low hand of K-K. This approach is much more balanced, and you'll have a better chance of beating both hands of the dealer.
If the dealer were to show a high hand of Q-Q-J-5-4 and a low hand of 6-6, then you'll have beaten both of the hands. However, if the dealer throws down a high hand of Q-Q-J-J-5 and a low hand of 6-6, then you would "push" or "chop" with the dealer, which means that the wager ends in a draw.
Why should you play Pai Gow Poker?
There are many reasons why you should give Pai Gow Poker a shot; not only is it one of the best live and online poker variations, but it's easier for beginners to get started if they understand how poker hands work when compared to common variations such as Omaha or Texas Hold'em. Below are five great reasons to play Pai Gow Poker.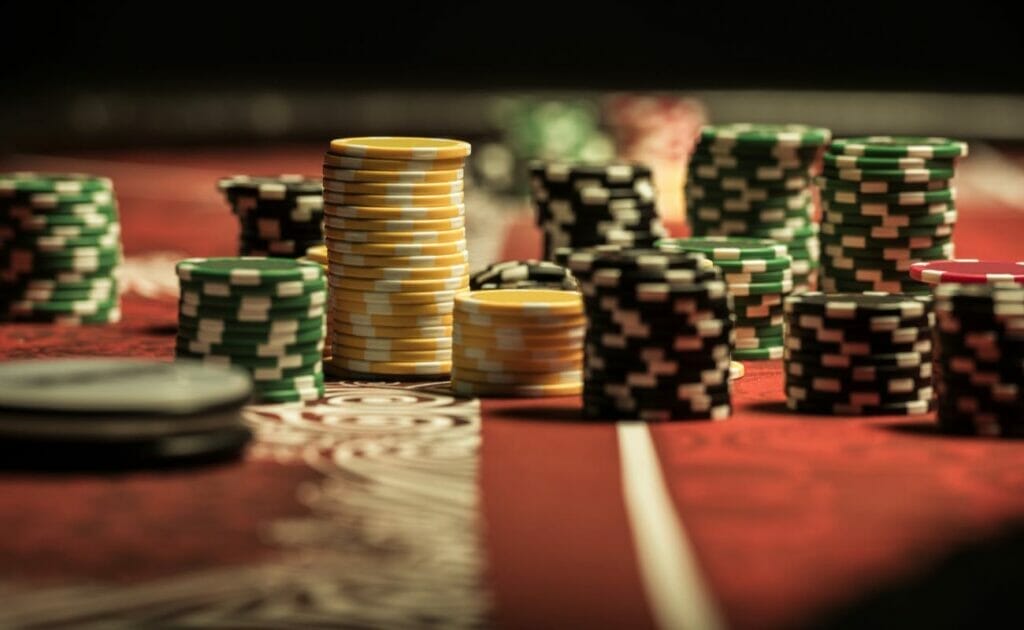 It's more relaxed
If you're the type of player who's looking to play poker online but doesn't want to compete in online poker tournaments or get caught in an intense high-stakes game, then Pai Gow Poker is perfect for you. The slow nature of the game means there's less pressure on players when sitting out a hand. You can take as much time as you need to arrange your hand, and you can ask other players for advice if you're unsure. The leisurely pace of the game allows you to really kick back and enjoy your time at the table.
There's a sense of camaraderie
Unlike playing high-stakes live or online poker tournaments based on Omaha or Texas Hold'em, Pai Gow Poker has you going up against the dealer. It's a genuinely pleasant, social atmosphere, and it's also a great game to play with your friends or to meet new people because you're not pitched against each other.
An extended bankroll
Pai Gow Poker has a low house edge of 2.5%, with 40% of all hands resulting in a "push" – a tie. If 30 hands are dealt in the span of an hour, 18 of them will end up winning or losing, with the rest being ties. If you're betting $25 a hand, your expected loss rate will be $11.25 per hour, which isn't bad.
It's a good game for poker beginners
If you're eager to play online poker tournaments with friends, or you'd like to learn how to play poker for the purpose of competing in more serious games, Pai Gow Poker is a great place to start. You'll learn how to understand poker hands, which is an important fundamental of the game, and if you're confident, you can also participate in Pai Gow Poker live.
It's very underrated
Many seasoned poker players overlook Pai Gow Poker because of how slow it is and how many of the games end in a tie. But this is a variant that can prolong your game time, and it's a great way to unwind if you're playing online, either on your own or with friends. There's no doubt that this is one of the best poker variations around. But of course, you'll have to play a few rounds for you to decide whether you agree!
Flex your Pai Gow Poker skills with Borgata Online
Whether you want to play live poker online or dabble in a few games of Pai Gow Poker, Borgata Online has you covered with a great selection of poker titles. Not only is this one of the best online poker sites around, but when you register with Borgata Online, you'll unlock access to world-class sports betting, live casino games, jackpot slots and much more!