The year 2021 is nearly done. The next is fast approaching, and the Chinese Lunar New Year is just around the bend, with all its bright red banners and signs. These are times when people traditionally wish for good fortune in the days ahead. This could manifest as any kind of good luck, or it could take the form of money. Should any kind of fortune come your way, big or small, be grateful and celebrate! Good luck is always a bonus, not something you can plan for. This quality of chance is why the theme of fortune is perfect for online casino games – especially online slots. Somehow it's much more satisfying to play casino games when the concept of good fortune is baked into the design! Let's take a look at four of the most popular fortune-themed slots out there at the moment.
1. Fortune Coin
If you're looking for online slots that capture the essence of the Chinese New Year, Fortune Coin is a good place to start. It's fast, festive and fun, and it comes with bonuses and jackpots that could just change your fortune, under the right circumstances. Deep in a mysterious midnight-blue forest of bamboo, the reels spin with beautifully designed traditional Chinese good-luck symbols such as golden statues, bells, turtles, fish and lions. Fiery dragon scatters writhe and zoom out from the reels as they unlock free spins to a pulsating Chinese soundtrack. Then there's the Fortune Coin symbol itself. Round with a square hole in the middle, like a traditional Chinese coin, this symbol has the power to unlock multipliers, free spins and the Jackpot Bonus round. That's when a grid of coins appears for you to click on in the hopes of revealing the Mini, Minor, Major or Maxi jackpot symbols, for a potential maximum payout of 10,000 coins. If fortune favors you in particular, the special Award All coin will appear to award all four jackpots at once! All things considered, from the quality of its graphics and soundtrack to its winning potential, Fortune Coin is a gem of a game to play.
2. Plenty O'Fortune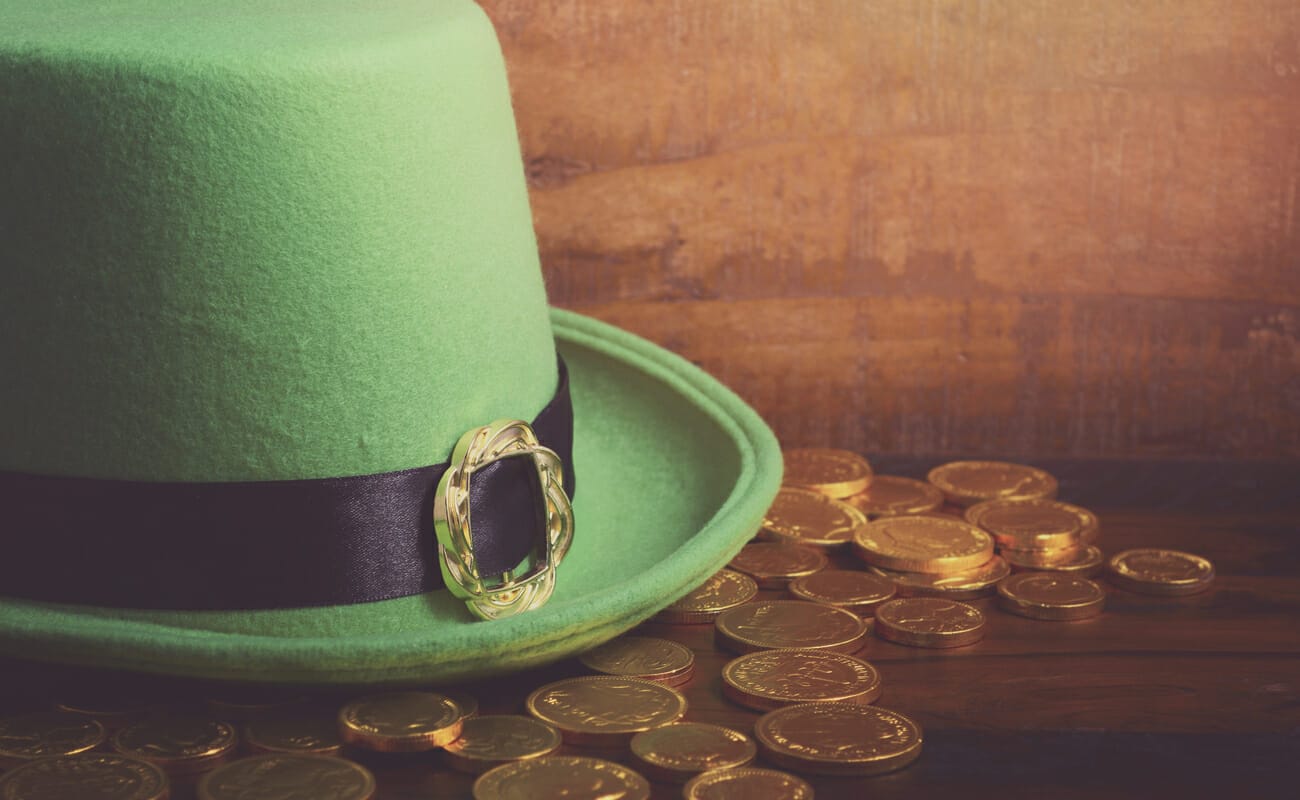 "The luck of the Irish" is a phrase suggesting that good fortune follows the good folk of the Emerald Isle wherever they may go. Whether it's true is hard to say (especially if you're not Irish,) but there's no doubt that the Irish-themed Plenty O'Fortune slot has the potential to make a person's day if everything comes together. Keep an eye out for the leaping, winking leprechaun, for he's the scatter symbol with the power to grant 12 free spins with multipliers of up to 5x your bet, to be sure. Landing five Rainbow wilds will trigger a jackpot, while three or more wishing well symbols will send coins flying out of the well and cause the leprechaun to dance with glee to the sound of Celtic music. The End of the Rainbow bonus game will take you on a trip through six levels towards the proverbial pot of gold, provided that you can trigger it by landing three, four or five pot-of-gold symbols. If you're looking for a game that can make you smile, Plenty O'Fortune may be the best casino game for you!
3. Fortune House
For a different take on the Chinese theme of good fortune, Fortune House takes us to a traditional Chinese household filled with candles, incense, beautiful carvings and a massive 8×6 grid. Magic, mystery and glamor are the order of the day as the reels spin with playing cards, fish, dragons, elephants and a smiling character holding out a big gold coin. In addition to these, there are four special symbols that launch the bonus features of this potentially lucrative slot. A super-sized 2×2 red, black and gold Dragon Wheel spins on landing to award a multiplier of up to 33x, then turns into a wild that substitutes for all paying symbols as the multiplier kicks in. When 2×2 Fortune Tree symbols appear, they launch wild symbols from their branches onto random reel positions. One Fortune Tree can activate up to five times. Then there are the frog-like 2×2 Mystery Symbols. They trigger when they land, summoning multiple further win-revealing Mystery Symbols to the reels. Finally, the 2×2 Fortune Respin symbol triggers a respin where only premium symbols appear on the reels, for up to five activations. As the cherry on the cake, all this winning potential is backed up by choice graphics and exquisite Chinese classical music.
4. Wheel of Fortune Megaways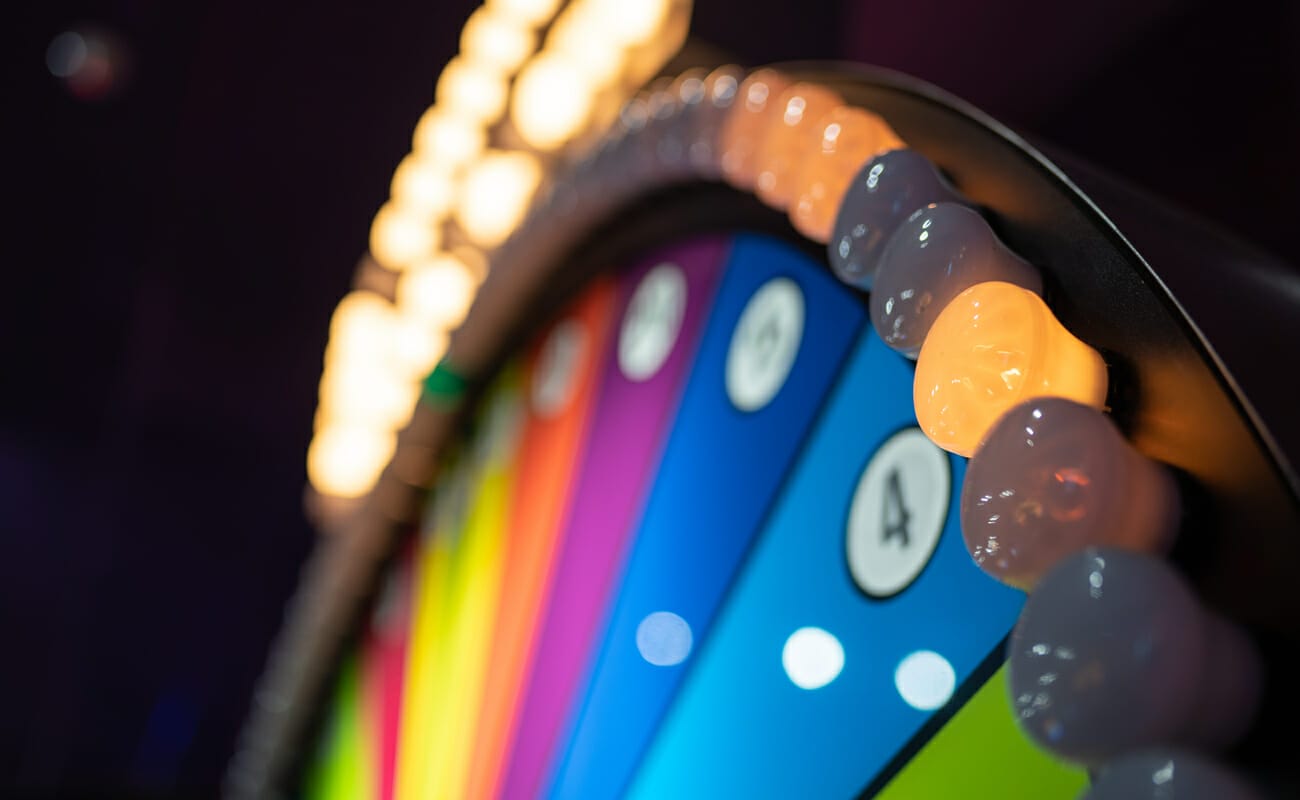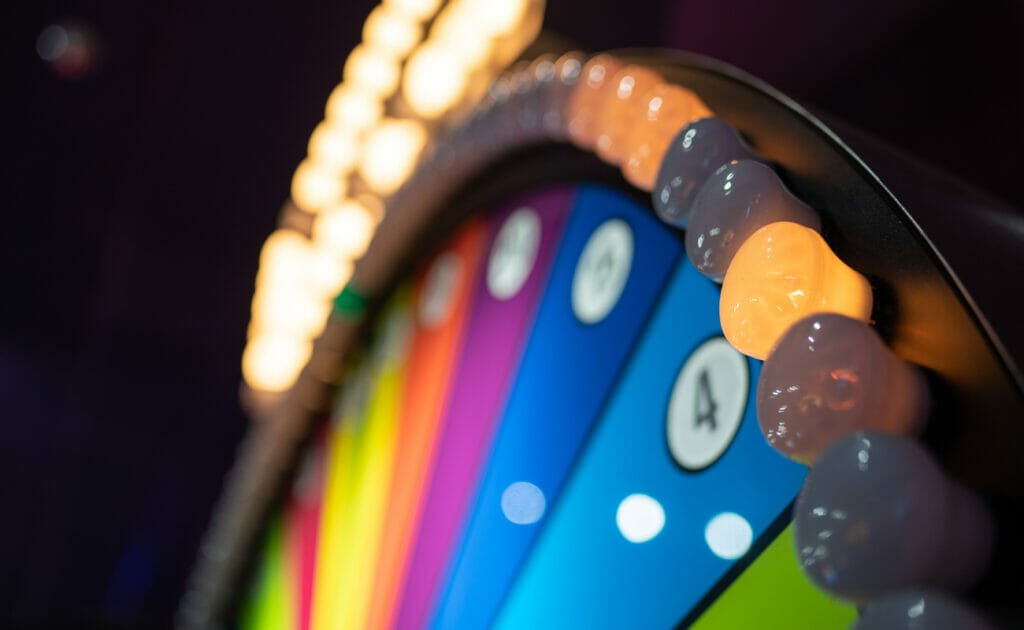 For as long as anyone can remember, wheels have been associated with fortune. In fact, people once believed that the Roman goddess Fortuna influenced fate by spinning her wheel, which doled out good and luck at random. We may no longer believe that Fortuna is a goddess, but the wheel of fortune lives on in many guises, from roulette table games to live casino money-wheel games of chance such as Dream Catcher. Then there's Wheel of Fortune Megaways. This slot offers a more modern take on the concept of good fortune. Based on the famous game show, Wheel of Fortune Megaways offers you up to a million ways to win up to 80,150x your bet. That's thanks to the Megaways mechanic. This random reel modifier changes how many symbols land on any given spin, which results in many more ways to win than online slots usually offer.
During the Wheel of Fortune base game, wild symbols transform into an attractive game-show host, who welcomes you to (potentially) the good life, symbolized by diamond rings, golden planes, golden yachts and yellow Ferraris. Look out for scatter symbols – land three, four, five or six of them to receive 12, 14, 16 or 18 free spins. At the start of this feature, the iconic wheel of fortune spins to reveal how many Megaways you start with, to a maximum of 117,649. During free spins, Expansion Symbols will land on the reels. Each time one does, the reels expand, multiplying your ways to win. If the reels expand to the maximum of 10 symbols high, the Free Spin Retrigger wheel will appear to award you up to 12 more games. At that point, wilds may expand into a Wild Megastack – 10 wilds that fill the reels to enhance your winning chances to the maximum. If big potential wins float your boat, Wheel of Fortune Megaways is hands down one of the best slots to play at the casino.
Seek fun and (maybe) fortune with online slots at Borgata Online
There's no doubt that you can have tremendous fun when you sign up to play online slots at Borgata Online. Fortune may even favor you, although you should never count on that. Recreational gambling is all about recreation, after all. Speaking of which, you're most welcome to enjoy the full spectrum of premium entertainment our online casino has to offer: Live dealer games, casino table games, variety games – the works, served with a side order of hospitality and good cheer. Here's to a fortunate New Year for all!