For better or worse, the casino world has always drawn attention. So, what better way to get a dose of all the casino action than by watching the top casino movies ever made?
Here's our pick of the best casino movies, including intense dramas, light-hearted films and scandalous documentaries. Watching these spectacular movies after playing your favorite online casino games will be so much fun – you'll have so much to compare!
Our list is organized primarily by IMDB scores, but don't be afraid to check out some of the "lower"-rated films on our list — you may get more out of those than some of the higher-scoring films. After all, it's a question of personal taste!
1. Casino (1995)
IMDB Score: 8.2/10
Rotten Tomatoes Rating: 80%
Starring: Robert De Niro, Sharon Stone, Joe Pesci
Directed by: Martin Scorsese
This is a classic from director Martin Scorsese ("Taxi Driver," "Goodfellas," "The Departed"). In fact, "Casino" is considered one of the best casino films ever made. It traces the story of handicapper and casino executive Sam "Ace" Rothstein (De Niro,) his encounters with the mob, including friend Nicky Santoro (Pesci,) and his love for hustler Ginger McKenna (Stone). We follow Sam as he tries to manage his relationships, the demands of the mob and how, even though he's managed to reach the top, it all comes crashing down around him.
This movie was based on the real-life story of Frank Rosenthal, who operated four of the biggest casinos in Las Vegas in the 1970s: the Stardust, Fremont, Marino and Hacienda. His story was told in the book "Casino: Love and Honor in Las Vegas" by Nicholas Pileggi.
A Quote About Casino
"Martin Scorsese's intimate epic about money, sex, and brute force is a grandly conceived study of what happens to Goodfellas from the Mean Streets when they outstrip their wildest dreams and achieve the pinnacle of wealth and power." – Todd McCarthy, Variety
2. Croupier (1998)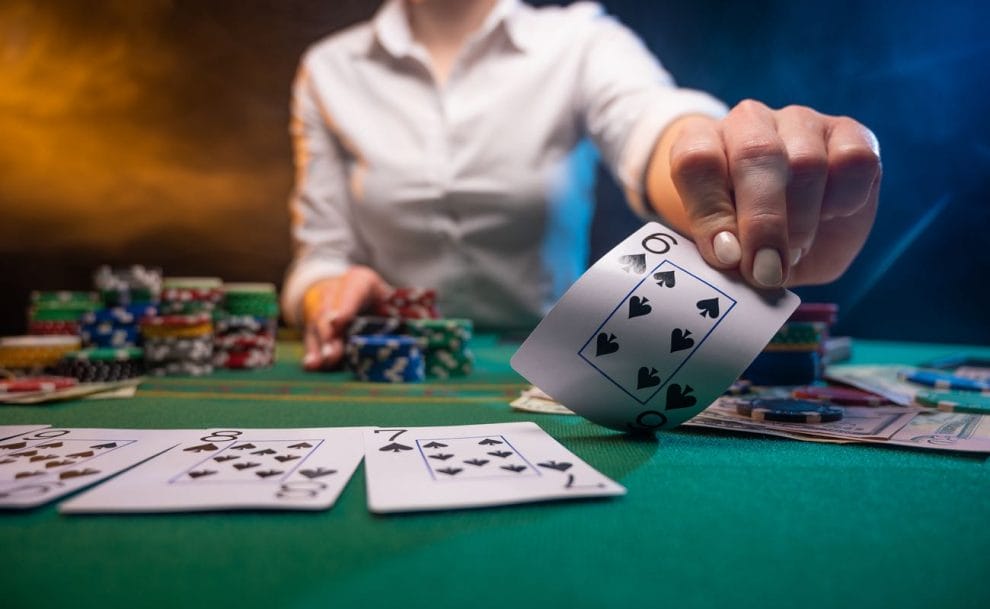 IMDB Score: 7.1/10
Rotten Tomatoes Rating: 96%
Starring: Clive Owen, Nick Reding, Nicholas Ball
Directed by: Mike Hodges
Jack Manfred (Owen), an aspiring writer, begins working as a croupier in a casino to pay the bills, but soon finds himself drawn into a world of money, sex and danger. He breaks the rules after he agrees to help an out-of-luck gambler pull off an inside job. Will his bets pay off or will he be unable to escape the choices he's made?
A Quote About Croupier
"For once, here is a British film that is both tough and intelligent, and so well-researched that it will probably tell you more about how casinos work than had it been a documentary." – George Perry, BBC.com
3. Ocean's Eleven (2001)
IMDB Score: 7.7/10
Rotten Tomatoes Rating: 82%
Starring: George Clooney, Matt Damon, Andy Garcia, Brad Pitt, Julia Roberts, Don Cheadle
Directed by: Steven Soderbergh
Danny Ocean (Clooney) is out on parole when he decides to pull off one large heist. Okay, technically it's three large heists, but he wants to hit a trio of the biggest casinos in Vegas at the same time. To get it done and get out cleanly, he's going to need a band of thieves and con artists crazy enough to pull it off. The "Ocean's" franchise has given us some of the best heist movies and "Ocean's Eleven" is definitely a firm favorite!
A Quote About Ocean's Eleven
"[Steven] Soderbergh's crisp, funny heist flick makes out like a bandit. George Clooney and Elliott Gould steal the show." – Stephanie Zacharek, Salon.com
4. Hard Eight (1996)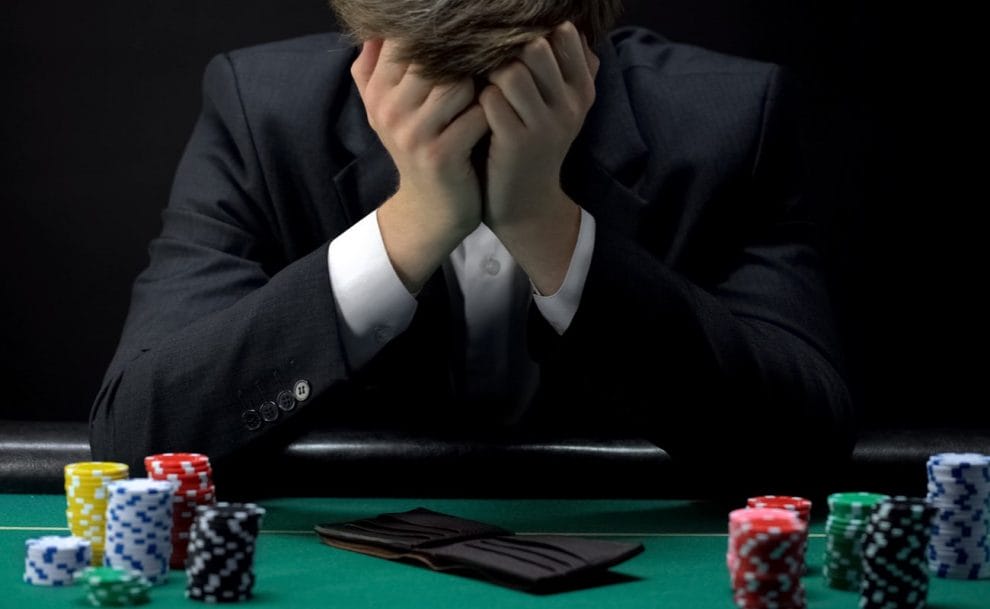 IMDB Score: 7.2/10
Rotten Tomatoes Rating: 80%
Starring: Philip Baker Hall, John C. Reilly, Gwyneth Paltrow, Samuel L. Jackson
Directed by: Paul Thomas Anderson
Many of us know John C. Reilly for his more serious roles, but in "Hard Eight," Reilly plays John, a simple man who needs money to pay for his mother's funeral. While he sits at a diner, wondering what to do, Sydney (Hall,) a gambler and hustler, notices the young man. John explains his situation and Sydney offers to teach him everything he knows. Soon John's doing pretty well for himself, but things go awry after he meets Clementine (Paltrow.)
A Quote About Hard Eight
"This first feature by writer-director Paul Thomas Anderson is impressive for its lean and unblemished storytelling, but even more so for its performances." – Jonathan Rosenbaum, Chicago Reader.
5. California Split (1974)
IMDB Score: 7.2/10
Rotten Tomatoes Rating: 88%
Starring: George Segal, Elliot Gould, Ann Prentiss
Directed by: Robert Altman
When Bill Denny (Segal) meets Charlie Waters (Gould,) the two quickly become friends because of a shared passion for gambling. However, things get a bit out of control when Bill soon finds himself deep in debt and has only one way of getting out, to sell what little he has left and bet it all on a high-stakes poker game in Reno.
A Quote About California Split
"A fascinating, vivid movie, not quite comparable to any other movie that I can immediately think of. Nor is it easily categorized." – Vincent Canby, New York Times
6. Owning Mahowny (2003)
IMDB Score: 7.1/10
Rotten Tomatoes Rating: 79%
Starring: Philip Seymour Hoffman, Minnie Driver, John Hurt
Directed by: Richard Kwietniowski
This film is based on the true story of Brian Molony, a Toronto bank employee who became addicted to gambling and stole millions of dollars from the bank he worked at to fund his addiction (not recommended, people!)
"Owning Mahowny" follows the same basic storyline, with Dan Mahowny (Hoffman) going about his regular life working at a bank. To all those who know him, he's a nice enough guy who is quiet but reliable. Little do they know about Dan's out-of-control habit that will eventually destroy his life.
A Quote About Owning Mahowny
"Whether or not you think of gambling as a vice, you can bet on Owning Mahowny."
– Jay Boyar, Orlando Sentinel
7. The Cooler (2003)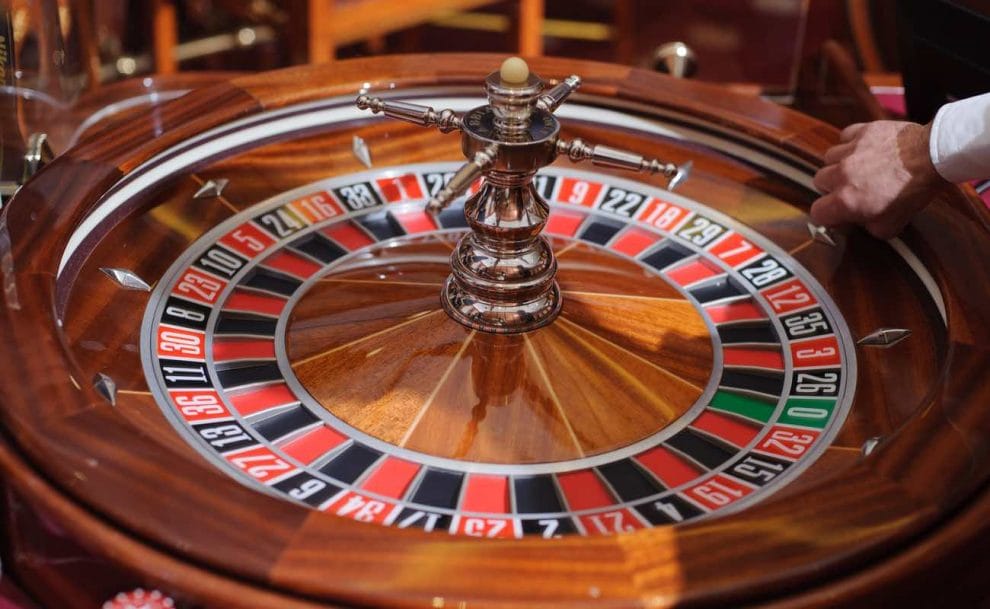 IMDB Score: 6.9/10
Rotten Tomatoes Rating: 77%
Starring: William H. Macy, Maria Bello, Alec Baldwin
Directed by: Wayne Kramer
"The Cooler" is a story about Bernie Lootz (Macy,) a guy so unlucky that his bad luck spreads to those around him. That's why he works at a casino, where his only job is to make sure that gamblers on a hot streak suddenly go cold. It's a simple life for Bernie, until he meets and falls in love with cocktail waitress Natalie (Bello). He soon finds his bad luck and his ability as a "cooler" to be fading, which can only end badly for Bernie in the long run.
A Quote About The Cooler
"A B-movie in the best sense: Unpretentious. Raffish. Just trashy enough to be six kinds of fun without making you hate yourself in the morning." – Jay Boyar, Orlando Sentinel
8. 21 (2008)
IMDB Score: 6.8/10
Rotten Tomatoes Rating: 35%
Starring: Jim Sturgess, Kate Bosworth
Directed by: Robert Luketic
Based on the exploits of the MIT Blackjack Team, "21" is a true story of students from the celebrated institute who managed to beat blackjack and get rich in the process. In the movie, Ben Campbell (Sturgess,) is drawn into an unusual situation thanks to his math professor, Micky Rosa. Rosa has decided to teach his students how to count cards and for Ben, who needs money to complete his studies, it could be the ticket.
Although the real story is told by Ben Mezrich in the book "Bringing Down the House," much of the book is believed to be exaggerated. Even though the film itself got less than stellar reviews from critics, audiences enjoyed it and it became a box office hit. Don't be surprised if you feel inspired to play blackjack at a casino after watching this movie!
A Quote About 21
"Although it's definitely a fictionalization of a true story, they get the essence of this insanely crazy double life that these kids led as they were breaking the bank in Vegas." – Richard Roeper, Expert & Roeper.
9. Casino Jack and the United States of Money (2010)
IMDB Score: 7.1/10
Rotten Tomatoes Rating: 82%
Starring: Jack Abramoff, Tom DeLay, William Branner
Directed by: Alex Gibney
Unlike the other films on this list, this is a documentary about one of the greatest con artists and truly corrupt people to ever find themselves connected to the American government — Jack Abramoff. It details how the Washington lobbyist led one of the greatest corruption scandals and how it eventually led to him being convicted of fraud, conspiracy and tax evasion. The title of the film alludes to the role Abramoff had in the looting of the tribal treasury.
A Quote About Casino Jack and the United States of Money
"The narrative trots all over the globe, including stops for labor exploitation in the Marianas Islands, dealings with Russian mobsters, ripping off Indian tribes in the desert southwest, and jetting to Scotland to golf with impressionable politicians." – Ian Buckwalter, NPR
10. The House (2017)
IMDB Score: 5.6/10
Rotten Tomatoes Rating: 20%
Starring: Will Ferrell, Amy Poehler, Jason Mantzoukas
Directed by: Andrew Jay Cohen
"The House" is a 2017 comedy starring the ever-hilarious Will Ferrell, alongside Amy Poehler, and is a wild ride from start to finish. Ferrell and Poehler portray a couple who, in a desperate attempt to fund their daughter's college tuition, transform their suburban home into an illegal casino. As you can imagine, chaos ensues.
The plot is somewhat absurd, but it's the kind of absurdity you sign up for when watching a Ferrell movie. It's brimming with physical humor, slapstick comedy and a fair amount of ridiculousness that keeps you entertained throughout. The script is peppered with clever quips and ludicrous situations that will have you laughing out loud.
Ferrell and Poehler are comedic powerhouses, with a chemistry that truly carries the film. Their ability to bounce off each other and the ludicrous situations they find themselves in provide non-stop hilarity.
The movie is not without its downsides. The plot is somewhat disjointed, the comedy occasionally veers into the overly outrageous and character development falls by the wayside.
Yet, fans of Ferrell will likely embrace the film's silliness. Despite its flaws, "The House" delivers a solid dose of laughs, making it a great choice for a light-hearted movie night.
A quote about The House
"Old School with added poker chips? Perhaps. But this Ferrell and Poehler-powered comedy blockbuster has big laughs, an enjoyably grisly streak, and a film-stealing turn from Jason Mantzoukas." – Jimi Famurewa, Empire
Get All Your Betting Action With Borgata Online
If you're done watching casino movies and are in the mood for some casino games, you can join in the fun at the best online casino, Borgata Online! Tap into the vast archive of resources, from beginner's guides to casino slots and poker strategies for intermediates to fun trivia like why casino tables are green.
Borgata Online also has a ton of games for you to enjoy, regardless of whether you like online poker or other online casino games, such as blackjack, roulette or online slots. Play at our casino online or get into the action via our casino games app.
If you enjoy playing at New Jersey casinos but occasionally also want to play online, simply register.