Blackjack is undoubtedly one of the greatest casino games online and it has become even greater thanks to live dealer versions of this beloved game of chance. If you're new to live dealer blackjack and are looking to make the most of your experience, you've come to the right place. We're going to share all the tips, tricks and rules of etiquette that you need to know to have a good time when playing live dealer blackjack games (and you can also find out more on how to improve your experience by learning how to scout for the best blackjack tables in a casino here.)
Tips and Tricks for Live Dealer Blackjack
While you may have heard of the MIT students who made millions counting cards when playing blackjack, the reality is that card counting is beyond the reach of most players and it doesn't offer the advantage many people expect it would (it's reportedly in the region of 1-1.5%.) Not only that, but certain venues may frown upon card counting and might even ban you from playing if they catch you doing it, despite it being a skill and not illegal at all. So, even if you can count cards, certain venues may decide they no longer want your business.
That being said, there are other tips (don't worry, these aren't blackjack tricks that break any rules) that you can take advantage of to elevate your game, particularly if you're a beginner. Here are seven of our best tips for blackjack that are useful for beginners.
1. Place Smaller Bets as You Warm Up
In gambling games that involve an element of skill, it's recommended that you place a few smaller bets to "warm up" and assess what the situation at the table is like. A dealer that's on a winning streak can ruin your night, so be sure to feel things out before you dive into bigger bets.
2. Make Sure You Take Into Account the Dealer's Up Card
While you can't predict what the dealer's other card contains, it's important to work with the information that you have from the visible up card. If a dealer has an up-card from two to six, it's considered a weak start. If the dealer has an up-card between seven and 10, it's considered a strong start. The strongest start possible for the dealer is having an ace for their up card since this can be used as either a one or an eleven.
3. Don't Place an Insurance Bet
You can place this unique bet when you think the dealer has blackjack, but the odds aren't in your favor. Don't waste your money unless you're sure the dealer has 21. If you do want to explore the different types of wagers, take a look at how to beat the 21+3 blackjack side bet.
4. Always Split Pairs of Eights and Aces
Splitting eights and aces is done for different reasons. A pair of eights is considered a fairly weak hand in blackjack, which is why many players recommend that you split them (you'll effectively turn your hand into two and get dealt another card for each.) Since cards with a value of 10 are standard in blackjack, it's a good idea to split a pair of aces to maximize your chances of getting 21.
5. Never Split 10s, Fours and Fives
A pair of 10s is fairly self-explanatory. It's pretty much the second-strongest hand after blackjack, so you wouldn't want to split it. Splitting a pair of fours is considered a bad idea because you'll never go bust with them. A pair of fives means you have 10, which means the only thing you should be worried about is if the dealer has a nine, 10 or ace.
6. There are Specific Circumstances When You Should Split Your Cards, Depending on the Dealer's Up Card
There are three conditions under which splitting is influenced by the dealer's up card (the card the dealer receives that's facing up and visible to all players):
First, if you have twos, threes or sevens and the dealer's up card is two to seven.
Second, if you have a pair of nines while the dealer has an up card from two to six or eight or nine.
Finally, if you have a pair of sixes while the dealer has an upcard between two and six.
While it's possible to find more detail as to how this works, at the end of the day, it comes down to you improving your chances of putting together a winning hand.
7.  Don't Get Distracted by Other Player's Decisions
Even when there are other people in the game, it's important to not let their decisions influence you. It's always up to you to assess the current state of the cards and then make the best decision based on what is being played.
Rules of Etiquette for Live Dealer Games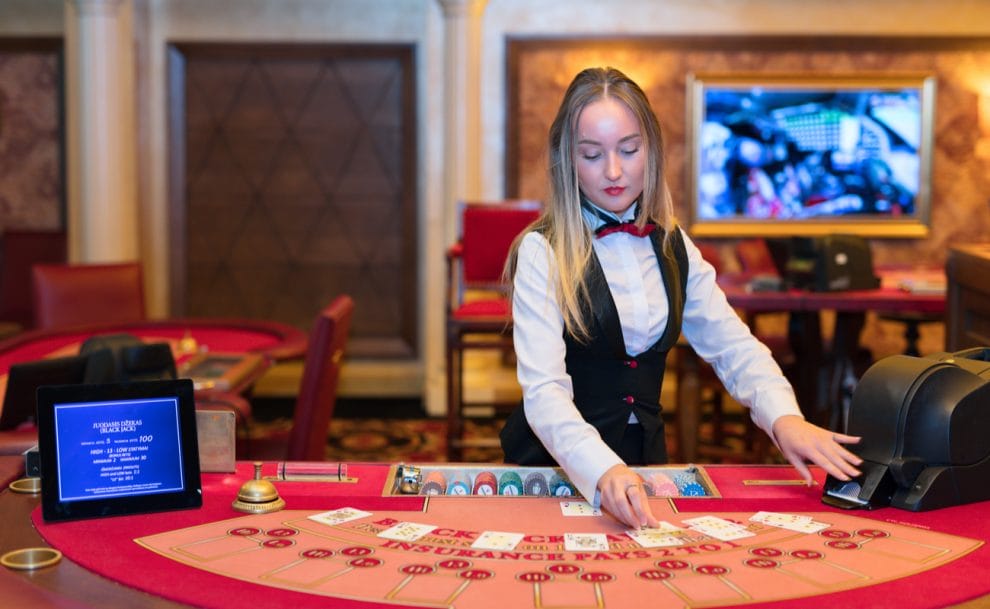 Just like playing at a real blackjack table or in blackjack tournaments, there are rules of etiquette for when you play live dealer games online. Here are some you should keep in mind:
Greet the Dealer
Even if you're not in the mood to chat, it's polite to at least say hello, just like you would when sitting at a blackjack table at a brick-and-mortar casino.
Be Polite
Carrying on from our previous point, just because you're interacting with someone online, it doesn't give you the right to be rude to them. Always engage with them as if they were someone you were speaking to in real life.
Know the Basic Rules of the Game
No one expects you to be an expert at a particular game, but it's generally considered good manners to know the rules of a game before you sit down to play. While the dealer can help you understand how a game works, it slows down the action and can ruin the fun for the other players at your table.
Avoid Sharing Personal Information
Don't forget that you're playing with other people and sharing your name or contact information may result in undesirable communication from complete strangers you had no interest in connecting with. You should also not request such information from the dealer or other players – respect their privacy, just as they should respect yours.
Small-Talk Topics Are Best
When engaging with the dealer or other players, it's best to keep the topics lighthearted. While you may be really passionate about politics or religion, these are topics that can upset people if you have a different view, completely ruining the fun atmosphere of a game. Try to keep it light and friendly.
Don't Take Up a Spot at a Table Unnecessarily
If you're going to "sit down" at a table, it's recommended that you do actually play, since you are effectively taking a spot from someone who might want to place a few bets.
Enjoy Live Dealer Blackjack and More at Borgata Online
With the right tips, tricks and etiquette to ensure you have a good time playing live dealer blackjack, it's now time to start playing at a great online casino – such as Borgata Online.
At Borgata Online, we offer some of the best live dealer blackjack games, not least Live Blackjack and Infinite Blackjack. You can also enjoy other great live games, including Lightning Roulette, Ultimate Texas Hold'em and Dream Catcher!
And if you'd like to try other online casino games, you can also play slots online with us, including great titles like Gonzo's Quest, Starburst and Cleopatra! When you're done with the best online slots the internet has to offer, you can also try out our wide range of casino table games, jackpot slots and more.
Whatever you enjoy playing, register at Borgata Online for the best online casino experience!