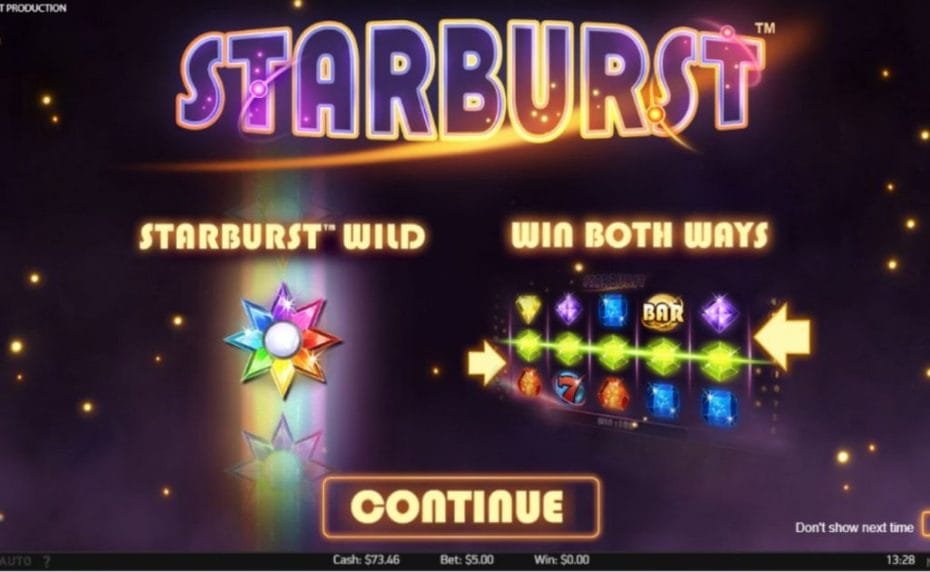 Starburst is the smash 2012 hit from NetEnt (an online slots developer known for their high-quality games) that has remained among the most popular slots games today. What is it about this game that has kept players coming back for almost a decade? Let's find out.
Game overview
Starburst is an online slots game that uses a sci-fi theme to engage with players. However, this is not a sci-fi setting that relies on an existing movie or television franchise. Prepare for a space adventure while winning big with the Starburst slot, which awards up to 5000 coins!
Players should know that no deposit is necessary to try this game out — it's available to play for fun before you commit to playing for real money.
How to play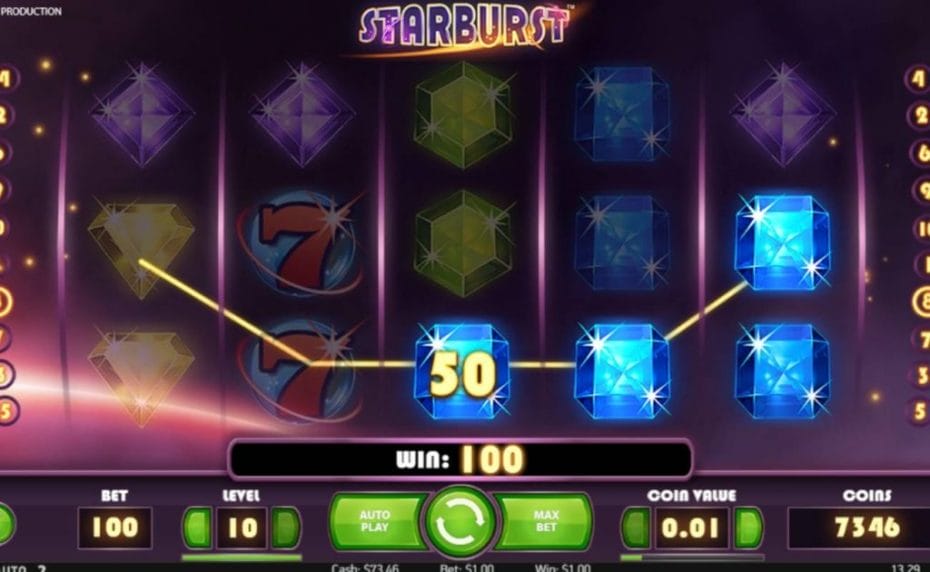 Starburst is a slot experience in the purest and most traditional sense. It has the standard 5 reels, 3 rows and 10 paylines setup. The bet levels and coin values can be changed, depending on what the player is willing to spend. As with other online slot games, the larger the wager on a Starburst slot, the higher the payout if the player wins. Betting the maximum can leave you with the max win.
There are 10 default betting levels which can be set as low as a few cents, or as much as $100. The betting level depends on which casino you are playing at. This simple system means players can adapt their wagers to whatever suits their budget.
Graphics
Starburst isn't exactly photo-realistic, but it avoids the animated or cartoonish design of many other science fiction slot games. The best way to describe the graphics would be to label it as stylized futuristic space imagery, with a dash of the game show flash that was characteristic of many games released at the time.
Starburst's color palette consists of shades of purple for the background galaxy imagery, title, aspects of the reel, and interface. This is contrasted with a light yellow for the text and light green for the buttons. The range of colors is not only clean and easy to read, but in combination with the space imagery, it really reinforces the science fiction theme.
The game's music makes extensive use of electronic sounds that feel alien-like while still pleasing to the ear. The upbeat rhythm — reminiscent of 1980s classic science fiction movies — evokes a feeling of the unknown. When you hit a Combo or Super Combo, laser-like sounds play as the game tallies up your takings.
Features
The game presents the player with a wide variety of colors for each of the symbols, which are gems on the reel. From a golden amber, to bright green and blue, this contrast of colors makes the reel a visual delight for the player. From the Combos to the Super Combos and Big Wins, the effects also make use of bright, complementary colors. These colors offer the player an electric experience every time they appear on the screen.
The game primarily uses gem symbols on the reels, replacing the Ace, King, Queen, and Jack of many traditional and digital slot machines. In addition to this, there are the Bar and Seven symbols, which pay out more coins than the gems. The Wild symbol functions as it does in other slots games, by substituting for other symbols and allowing you to land a winning combination.
Bonuses & jackpots
Starburst is a casino slot that is easy to understand. It doesn't have the same types of bonus rounds, be it in the form of mini-games or free spins, that more modern online slots do. But while Starburst doesn't offer players another game of chance, either to increase their potential payout or to win additional coins, it does feature the Starburst Wild bonus, which is triggered when a Wild appears on a reel. When this occurs, an additional respin happens for the other reels. If the player manages to land another Wild, another respin will take place. However, it's important to remember that Wilds can only appear in the second, third, and fourth reels in this game, which means players can only land a maximum of three respins.
The game doesn't feature a progressive jackpot. As a low volatility game, Starburst pays out lower amounts more frequently. In fact, the game has a hit frequency of 22.65%, and players would be pleased to know that the Return To Player (RTP) is a respectable 96.1%.
This is unsurprising, as the game doesn't only track winning combinations from left to right, but also right to left, which adds more reasons for its lower volatility and variance.
If players do strike it lucky with this game, they can win the top fixed jackpot, which is 5,000 coins by default.
Similar games
If you're a fan of this type of sci-fi experience and would like to try similar casino or jackpot slots, take a look at this list of games:
The huge range of slots games available at Borgata's online casino means there's a game to suit everyone's tastes. If the mood strikes, you can also try out a wide variety of other casino games, including our live casino table games and more. Simply browse through our site and play the best casino games online now!