Mentally compare slots and roulette and you'll probably come up with totally different associations. If you go to a land-based casino, you'll notice that slot machines are fast, noisy and visually thrilling, while roulette is a sophisticated table game with its own traditions and playing etiquette. Slots and casino table games are usually hosted in different areas of the casino floor, so slot players and roulette players may not even mix.
As online casino games, however, roulette and slots have quite a lot in common. They're both fun, accessible (very often on the same casino site,) easy to play and potentially rewarding, so how to choose between them? It can be difficult, as slot fans and roulette lovers cross over online. Ultimately, which one you choose depends on your personal style and the mood you're in. Let's take a look at how online slots and roulette compare.
Easy Rules
The most obvious thing that slots and roulette have in common is how accessible they are. It's simple and straightforward to learn how to play these casino games! All you have to do to play online slots is choose a game, select your betting level and press Spin. Then it's time to sit back and enjoy the spectacular visuals as the reels revolve. Of course, there's more science behind slots – the understanding of which will certainly improve your gameplay – but when it comes to how to play, it really is that straightforward.
Roulette isn't much more complicated, which is why it's so popular. You simply place your bets on the table before the dealer calls out "No more bets!" Then the dealer spins the roulette wheel one way, spins the little ball the other way, and everybody waits in suspense until the ball lands in one of the colored, numbered pockets on the wheel (which correspond with the grid of bets on the table.) If your number comes up, you win! There is one key difference between roulette and slots: You have to place your bets between each spin of the roulette wheel whereas the auto-spin feature on most slots takes care of that for you (if you so wish.)  
Mobile Gameplay
Another thing slots and roulette share is that you can play them both on your mobile. In fact, virtual slot games and online roulette have been around for quite some time. Adding to these gaming possibilities are live dealer games. That's right – these days, it's possible to play authentic casino table games such as roulette, poker, blackjack and more without traveling to a land-based casino. The gameplay is streamed in HD from a studio or real casino with a dealer hosting the action – it's as if you're playing at a live casino but online! Again, online slots vs. real slots is a matter of preference, but fortunately, both slots and roulette play exceptionally well both on and offline.
Betting Options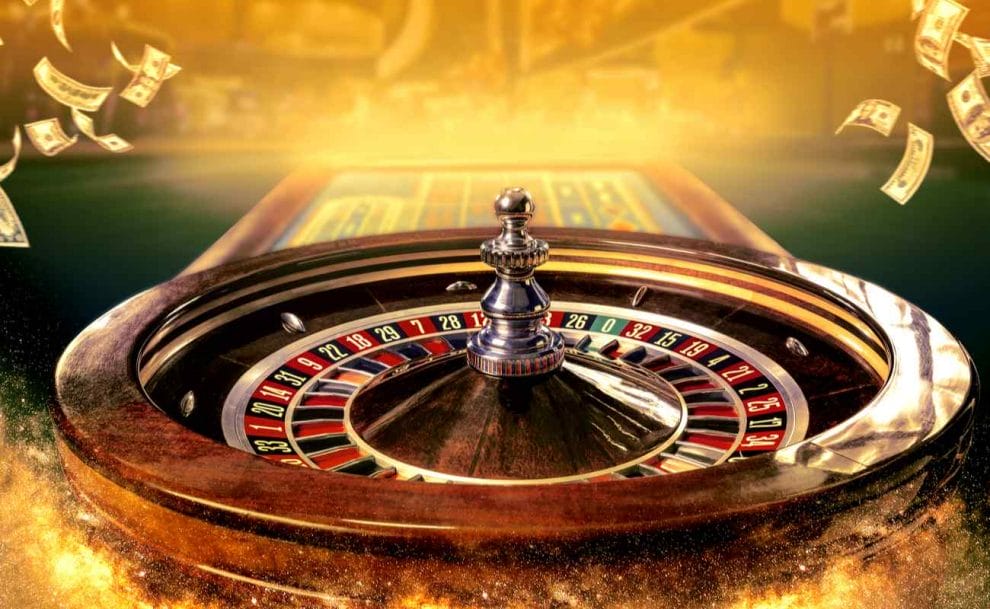 One of the attractions of roulette as a casino game is the tremendous variety of betting options it has to offer. The table layout is divided into 37 numbered spaces – 38 for American roulette – which generates a broad spectrum of possibilities. You can bet "straight up" on one or more single numbers or you can wager on combinations of numbers – thirds, dozens, columns, highs or lows, odd or even and so on. You can even bet on whether the ball lands on red or black, without specifying numbers. You can also make so-called "inside bets," which cover different patterns. Split bets, street bets, snake bets and basket bets are just a few of the options. Then there are call bets, which cover a series of numbers in specific sections of the wheel. Two examples are neighbors (numbers closest to zero) and Zero Game (two adjacent numbers on either side of the specific number.)
By comparison, slots have far fewer betting options – or do they? Well, it's true that slot players don't have to make as many choices. Some slots do have adjustable paylines (meaning it's up to you to decide how many of them to activate,) but on the whole, the only betting decision you have to make is your betting level  – this is especially important when playing jackpot slots, as you might only be eligible for the grand jackpot when playing at maximum bet. Once you hit Spin, the game does the thinking for you. 
At the same time, slots may offer more ways to win than roulette. The table game only has 37 or 38 possible outcomes, but the latest slots such as Bonanza Megaways offer up to 117,649 potential ways to win.
Odds
If online slots offer more ways to win, roulette games typically come with slightly better odds, depending on what bets you make. In French roulette, for example, the house edge is as low as 1.35%, thanks to the La Partage rule, which halves your loss if you make an even bet (red or black, high or low, odd or even) and the ball lands on zero. That translates into an RTP (return to player) of 98.65%.
The odds of winning online slots, on the other hand, depend on the title's RTP. Virtual slots typically have an RTP of 94–97%, as determined by their RNGs (random number generators.) That means you can expect a house edge ranging from 3–6%.
Clearly, the odds of winning at roulette are slightly more in favor of the player. If you're looking to minimize risk when you play casino games, roulette may have the edge, but it depends on your betting strategy. (Note too, that land-based slot machines tend to have lower RTPs than their online equivalents.)
Number of Variants/Available Titles to Play
If variety is the spice of life, then slots might just win the day. There are literally hundreds of online slots out there, with more titles appearing every month. That's not to say that roulette doesn't have different variants. In addition to classic French roulette, there's European roulette (like French but without La Partage) and American roulette, which has a second zero pocket, giving a slightly higher house edge. On top of that, there are some interesting variations that you can play live at a casino online. One of the most intriguing is Double Ball roulette, where the dealer uses a special device to spin two balls at once. Then there's Lighting Roulette, which is a game-show-style version of European roulette that comes with randomly generated prize multipliers.
But nothing can compare with slots for sheer variety. Ancient Egypt, Norse mythology, horror, movies, music, adventure, aliens, animals, sports – these are just a few of the slot themes available and every theme has dozens of games, all jostling for your attention. If you're looking for straight-up entertainment that comes with chances to win real money, slots may be the best casino games for you.
Payouts
One area where slots and roulette games part company is payouts. Roulette payouts can reach up to 35x your stake – and that's if you win a straight-up bet at 37/1! Slots tend to be much more generous when it comes to payouts. Special features such as bonus rounds, free spins, multipliers and jackpots can make for huge potential wins. Take a slot like Wheel of Fortune Megaways with a maximum win of 80,150x your stake. Then there are the progressive jackpot slots, with potentially life-changing payouts in the millions (although these massive wins happen very rarely.) The plain truth is that potential slot payouts put roulette in the shade. But don't forget there's never any guarantee you'll win and always keep the house-edge difference between slots and roulette in mind. Ultimately if you put the "will-I-won't-I-win" question to one side and concentrate on pure enjoyment, you should choose the game that gives you the most pleasure, regardless of the outcome.
Consider Your Options
Everything we've discussed here should help in your decision on what game to play. Both games offer plenty of fun and are easy to get started with. If you're looking for something engaging, a game of roulette provides the perfect amount of thrill and excitement. You can also experience a certain sense of luck at the wheel. Slots, on the other hand, offer a more straightforward approach that could result in a more substantial payout. They're great when you need to zone out after a long day or need a quick dose of color and excitement.
Ultimately, it all comes down to player preference and those who are undecided should try both options to find their favorite.
Get the Best of Both Worlds: Play Slots and Roulette at Borgata Online
Still not sure which game is best for you? Register with Borgata Online to find out! Membership gains you instant access to our vast range of feature-rich slots and casino table games, from roulette to poker, baccarat and blackjack and beyond!