Poker may be just a card game, but there's no doubt it can be an emotionally loaded game packed with mystery, intrigue and even romance. With the possibility of such intensity, it should come as no surprise that some of Hollywood's best directors can't resist the game and the stories involving it. 
Looking for good poker movies for your next family or romantic movie night? Then be sure to take a look at our list of the top 10 poker movies of all time (in no particular order,) including some of the best poker movies on Netflix. These are the films that have captured the drama and intrigue of the game and highlight what it is about poker that makes it one of the most famous offline and online casino games in the world.
10. Bet Raise Fold
IMDB rating: 7.4/10
Rotten Tomatoes score: 64% (Audience rating)
One of the better-known documentary movies on poker, Bet Raise Fold: The Story of Online Poker (2013) follows the origin and the development of the online poker industry during the 2000s, how many players saw the opportunity to get rich playing online poker for real money and how certain companies went head-to-head with the FBI. The documentary follows a generation of new online poker professionals and the sudden impact of the FBI prosecution on the poker community (a day that would become known as "Black Friday" to many players.) If you remember the earlier years of playing poker online, then this documentary can be an emotional ride at times.
Bet Raise Fold, directed by Ryan Firpo, puts its attention on a few of those who play poker online but really focuses on three players in particular: Danielle Andersen, Tony Dunst and Martin Bradstreet. Following the lives of these poker players during a time when the game they based their income on was being shut down right in front of them can hit very close to home.
9. Mississippi Grind
IMDB rating: 6.4/10
Rotten Tomatoes score: 91% (Critics rating)
Mississippi Grind (2015) is a casino movie that tells the story of Gerry (Ben Mendelsohn,) a down-and-out poker player, who meets a traveling gambler by the name of Curtis (Ryan Reynolds.) The two quickly become good friends and eventually decide to take a road trip to New Orleans, playing poker along the way to help Gerry pay back his debts.
Curtis, who initially appears to be acting as Gerry's guardian angel, ignores every one of his instincts and pays for Gerry to play his poker games. He knows Gerry is a terrible investment and sees red flags in his character often, but Curtis needs a friend, so he decides to keep Gerry around anyway.
While this film may be classified as a drama, it's hard to imagine any film with Reynolds not having at least a touch of humor. Thankfully, this film does include some funny dialogue, helping offset the film's (sometimes) heavier subject matter.
8. California Split
IMDB rating: 7.2/10
Rotten Tomatoes score: 88% (Critics rating)
Robert Altman's California Split (1974) takes a closer look at the lifestyle that is so often glamorized by poker culture, particularly in movies. The story follows Billy Denny (George Segal,) who hates his job but loves to play poker, and his chance encounter with kindred spirit Charlie Waters (Elliott Gould) in a card room while playing razz, a form of stud poker.
California Split does an amazing job of spotlighting the lifestyle of people who live, eat and breathe gambling. It showcases the fun and free-spirited living and mentality of the characters as they embrace their lives as professional gamblers in 1970s America without glossing over the risks that such a hustling way of life involves. 
7. Maverick
IMDB rating: 7.0/10
Rotten Tomatoes score: 66% (Critics rating)
Do you favor good poker movies that also promise a decent chuckle? This one's for you. Maverick (1994) is a lighthearted action-comedy starring Mel Gibson, Jodie Foster and James Garner. The story follows gambling man Bret Maverick (Gibson,) who is a few thousand dollars shy of paying the entry fee to a winner-takes-all poker tournament. Maverick, now teamed up with Annabelle Bransford (Foster), turns to the only way he knows how to make money: gambling.
To win the money he needs to enter the tournament, Maverick and Bransford end up in some funny and sometimes dangerous situations. And because the film doesn't focus entirely on poker, it's one you can watch and enjoy, regardless of how much you know about the game. Maverick is a summer film in the truest sense, packed with everything you'd want in a two-hour, lighthearted Western comedy.
6. High Roller: The Stu Ungar Story
IMDB rating: 6.1/10
Rotten Tomatoes score: 55% (Audience rating)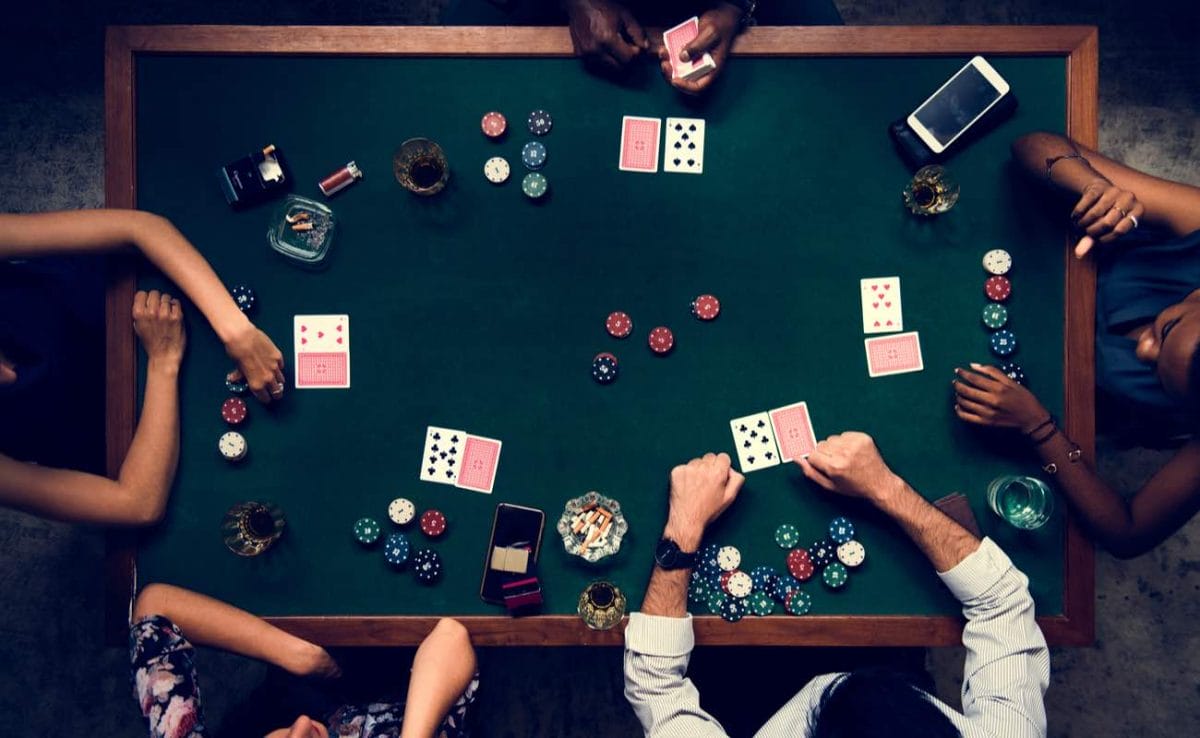 Some of the best movies about gambling are riveting doccies, especially those that unpack the highs (and lows) of the world's most legendary high rollers. High Roller: The Stu Ungar Story (2003) is one of those films, telling the story of Stu "The Kid" Ungar, who is considered by many to have been one of the best poker players to have ever lived. This movie takes us on a journey of the rise and fall of The Kid, going back as far as his early days when he played gin rummy.
While there is plenty of poker in High Roller, the most interesting part of the film is learning about Stu's career and his demons, which brought an abrupt end to this incredible career, as well as his life.
This film, also known as Stuey, may not be everyone's cup of tea, but we certainly enjoyed this peek behind the curtain into the life of Stuey Ungar and hope that you will, too.
5. Shade
IMDB rating: 6.3/10
Rotten Tomatoes score: 67% (Audience rating)
Shade (2003) is a classic movie on poker set in the world of cheaters and martini bars in Las Vegas. The plot centers around Tiffany (Thandiwe Newton,) Miller (Gabriel Byrne,) and Vernon (Stuart Townsend) – con artists who are becoming restless with their work and want to take on increasingly elaborate heists.
The group finds a target in Dean "The Dean" Stevens (Sylvester Stallone) and sets out plans for how to cheat him. The only catch is that if they want to get a chance at taking on The Dean, they have to buy a seat at the table.
This film is perfect for those who like twists within twists, as each hustler tries to outdo the others to walk away with the money and their lives – because those who get on the wrong side of The Dean rarely live to tell the tale.
4. Casino Royale
IMDB rating: 8.0/10</h3>
Rotten Tomatoes score: 94% (Audience rating)
Looking for the best poker movies on Netflix, in particular? While Casino Royale (2006) isn't your typical poker story, it's definitely one of the streaming service's most popular casino movies of all time! This film sees 007 going off on his first mission after being granted a license to kill. Bond (Daniel Craig) is on an assignment to bankrupt a terrorist financier in a high-stakes poker game at the Casino Royale in Montenegro.
Bond's penchant for women lands him in trouble, as he falls for femme fatale Vesper Lynd (Eva Green,) an employee of the British Treasury who's assigned to provide the bankroll he needs to play his games. Casino Royale, and the Bond character, perfectly capture the glamor and class, as well as the volatility, of the game of poker. 
This was also the first film that stepped away from the slightly more "cartoonish" aspects of some of the earlier films, leaning more towards the Bourne series of films, which offer a more realistic take on action thrillers. Thankfully, this shift succeeded, with the film pulling in more than $616 million worldwide to date.
3. The Cincinnati Kid
IMDB rating: 7.3/10
Rotten Tomatoes score: 86% (Critics rating)
You can't miss out on this classic! The Cincinnati Kid (1965) is the oldest film on our list and follows the story of "The Cincinnati Kid" (Steve McQueen,) a poker player in his early career who travels from New Orleans to take on the best poker player in America, known as "The Man" (Edward G Robinson.)
Though "The Man" has been dominating the poker tables for years, he is finally faced with an opponent who has the potential to take him down. The writing in this film is fantastic, though the poker games they play might not be as accurate as people think (with many seasoned poker players debating the final hand of the film.) In the 1930s, games like these were rarely played with table stakes, and the rules were decided by the players at the table.
Still, it's undoubtedly a sobering tale about how life can flip the tables on you at any time.
2. Molly's Game
IMDB rating: 7.4/10
Rotten Tomatoes score: 81% (Critics rating)
Molly's Game (2017) tells the story of Molly Bloom (Jessica Chastain,) an Olympic-class skier who ran the world's most exclusive and private high-stakes poker game for ten years. Frequently seen at the table of one of Molly's games were sports stars, celebrities, entrepreneurs and even members of the Russian mob.
After being arrested for operating illegal poker games, the only person who sticks by Molly is her criminal defense lawyer, who knows something about Molly that the newspapers don't.
Despite its flaws, it's a great film to watch for the performances, as well as the insights it provides into the most exclusive poker games. After all, it's based on the true story of the real Bloom, as well as the book she wrote (with the same title as the film.) 
1. Rounders
IMDB rating: 7.4/10
Rotten Tomatoes score: 64% (Audience rating)
Rounders (1998) is considered by many to be the best poker film of all time, and we agree. If there is one movie that will find its way onto every list of good poker movies, this will likely be near the top spot on every one of them.
With a cast featuring stars such as Matt Damon, Edward Norton, John Malkovich and Gretchen Mol, Rounders was bound to be a great movie and an even better poker movie. The story follows Mike (Damon,) a talented poker player who lacks a few of the basics in gambling, such as bankroll management. After being cleaned out by Teddy KGB (Malkovich,) Mike promises himself and his girlfriend (Mol) that he will stop for good. 
We won't spoil any more of the story for you except to add that he eventually finds himself in a situation where he ends up back at the tables for an adventure filled with the adrenaline and drama for which poker is so well known. Whether you love good movies or are just looking for an exciting movie on poker, be sure to check out this classic!
A few more casino movies for your list
Poker is obviously your game, but we're pretty sure you're quite adaptable at the casino, dabbling in a few other table games and perhaps even spending some time spinning the slots. If so, here are a few quick bonus films to add to your watchlist. While they don't revolve around poker, they're full of casino glitz, glamor and gambling:
Casino (1995): Its title says it all! Directed by Martin Scorsese and starring Robert De Niro and Sharon Stone, Casino is an epic crime film full of thrills, spills and anticipation as you watch Sam "Ace" Rothstein (De Niro) oversee the daily operations of Vegas's Tangiers Casino.
Hard Eight (1996): Another casino crime classic, Hard Eight delves into the lives of two very different men (an experienced gambler and a homeless man) in two very different situations. It was Paul Thomas Anderson's directorial debut and stars Philip Baker Hall and John C. Reilly. A charming film well worth a watch – and although it didn't do very well at the box office, it remains a cult favorite among many crime film fans to this day. 
Casino Jack (2010): This is another casino movie based on a true story, this time revolving around corrupt Washington D.C. lobbyist Jack Abramoff. It's a comedy-drama and definitely one of the funniest movies about gambling released in the 2010s. Casino Jack was directed by George Hickenlooper and stars Kevin Spacey in the main role, for which he was nominated for a Golden Globe Award in the "Best Actor – Motion Picture Musical or Comedy" category.
Put your poker skills to the test at Borgata Online
You're sure to feel inspired to put your own poker skills to the test after watching a few of these epic poker movies! Our online casino has got you covered. If you think you have what it takes to sit at the tables with the whales and sharks, then you might want to try your hand at some casual online poker games, or if you're a more serious player, join our online poker tournaments at Borgata Online. 
If you need a break from the poker table, you can always try our other online casino games, such as online slots, bingo (there are plenty of bingo movies and TV shows to check out, too!) or even our live dealer casino games. And if you're still in the mood for something poker-themed, why not have a go at video poker online? To start your own journey into the world of online poker and beyond, register with Borgata Online.