Big Boom Riches is an exciting online slot that will captivate both new and experienced players. The game takes you on a journey to the goldmines of the mid-1800s, where you try your luck at finding fortune. You're introduced to a lovable character named 'Old Smokey,' who invites you to pick up a shovel and dig into the game.
Big Boom Riches offers a wide betting range, starting at just $0.20 and stopping at $50. Whether you're new to online casino games or a high-rolling jackpot master, Big Boom Riches has something to offer anyone who loves gambling online. With its explosive theme and thrilling gameplay, this slot offers players a chance to strike gold and enjoy hours of entertainment.
Game Overview
Set in the heart of the gold-rush era, this slot game from Just For The Win rolls out in a gold mine filled with opportunities to strike it rich. An interesting fact about slots online is that the average RTP comes in at around 96%. Big Boom Riches sports the standard RTP of 96.06%. The high volatility is a perfect fit — the risk is symbolic of the thrilling Wild West setting. Every spin in this slot game kicks off a dash to uncover gold, gemstones, and hefty slot jackpots.
How To Play
Getting started with Big Boom Riches is a breeze. Simply set your desired bet amount, and spin the reels. This 5-reel game features 20 paylines, giving you plenty of opportunities to land winning combinations. Keep an eye out for special symbols and bonus features when triggering your spins. These symbols boost your gameplay and increase your chances of winning big.
Navigating the game screens will be easy even for beginners at playing slots online. The controls are intuitive and easy to use, allowing you to adjust your bet size and spin the reels with just a few clicks. With its easy-to-use interface, Big Boom Riches guarantees that players at any level of expertise can enjoy the game without any difficulty.
Graphics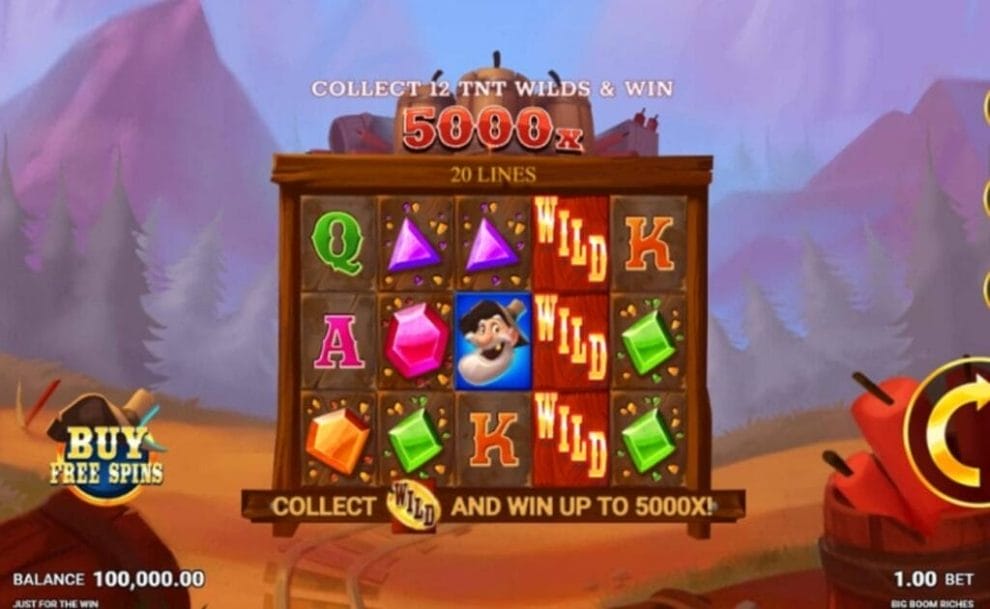 The graphics in Big Boom Riches are impressive and in keeping with contemporary standards, immersing you in a world of explosive fun. The symbols on the reels are beautifully designed and perfectly reflect the game's theme. Every element adds to the excitement and energetic atmosphere, from gold and jewels to dynamite and even 'Old Smokey' featuring on the reels.
The animations are smooth, and the sound effects add an extra layer of immersion, making you feel like you're in the mines when explosions clear the symbols around them. 'Old Smokey' features again, adding to the gaming atmosphere with his cheerful commentary.
Features
Big Boom Riches is feature-rich and comes packed with exciting mechanics that keep the gameplay fresh and engaging. One of the standout features is the Boom Multiplier, which boosts your winnings as you win more spins. With each winning spin, the multiplier grows, increasing your winning potential in this slot. The game also offers a Free Spins feature that can be triggered by landing scatter symbols. In the free spins round, the Boom Multiplier powers up even more.
Keep an eye out for the wild and TNT Wild symbols. They can substitute for other symbols and help create winning combinations. But where Big Boom Riches really comes alive is in the gold-rush moments when TNT Wild symbols explode and kick in the Rolling Reels feature. This feature clears out previous symbols as you fill the reels, allowing new ones to fill their places and create potential winning combinations.
Bonuses and Jackpots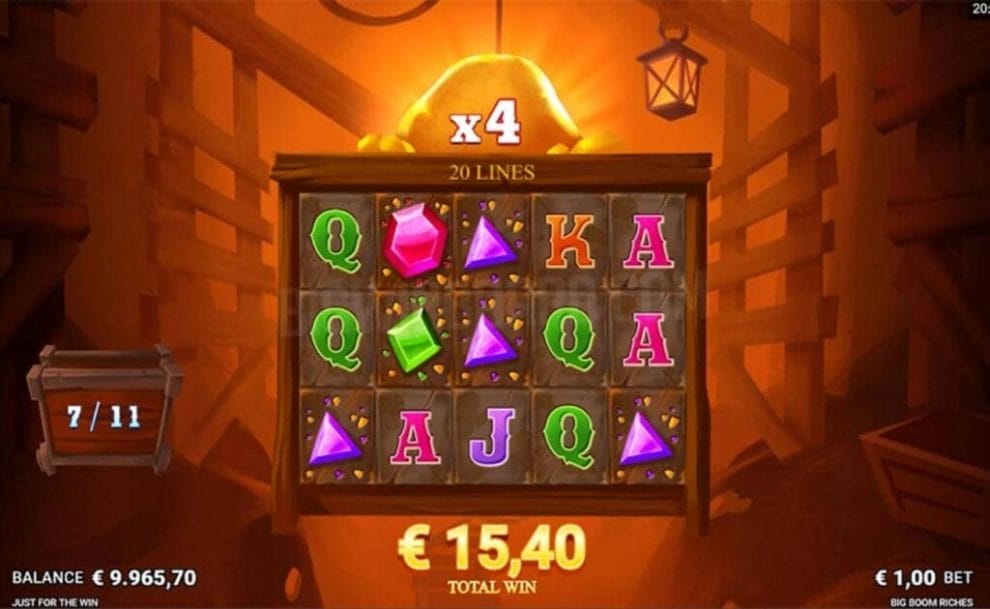 On top of the thrilling gameplay and features, Big Boom Riches offers enticing bonuses and jackpots. Triggering the slots bonus brings a powerful opportunity for any player and could push your max win to 5000x your bet. Slots-savvy players who unlock the slot jackpot feature have the chance to bring in huge hauls, dramatically changing their winning outcomes.
The game features a progressive jackpot, which adds up games from previous players who have yet to hit the jackpot. This gives you the opportunity to hit a life-changing win with a single spin. Big Boom Riches really is the gift that keeps on giving.
Similar Games
If you enjoy the explosive fun of Big Boom Riches, there are other Western-themed online slot games you might like. Some great titles to check out include Dynamite Riches and Bonanza Blast by Megaways, and Lone Star Jackpots by Novomatic — if you like the spicier jackpot slots. These gems offer similar thrills, themes, and gameplay and pack some big winning potential, providing endless entertainment for slot enthusiasts.
Go for Gold With Borgata Online
Big Boom Riches is a must for anyone playing slots online, looking for explosive fun and the chance to win big. Register with Borgata Online and strike gold with Big Boom Riches and a variety of exciting online slots. Join now and start your explosive journey to jackpot winnings.