Multipliers are a great way for game developers to add an extra element of surprise and excitement to their offline and online slots. But if you're new to these games of chance, you may not know what a slot multiplier is and how it affects the game that you play. 
But don't worry. We'll take you through everything you need to know, including what multipliers are, their pros and cons and whether you should choose a slot game with multipliers or not.
What Are Multipliers?
Multipliers are a slot feature that allow you to boost your total winnings. Depending on the slot you play, the game may offer multipliers as low as 2x (your win multiplied by two) or even up to 100x (your win multiplied by 100.)
Different Types of Multipliers
Game developers are constantly looking for ways to provide players with even greater levels of excitement without overwhelming them when they play slots. One way to achieve this is by offering unique twists on popular game mechanics, such as multipliers. Here are some of the different multipliers you may encounter when playing different types of slots:
Avalanche multipliers: These are multipliers that increase every time you land a winning combination of symbols that trigger an avalanche. For example, landing three avalanches in a row might result in the multiplier increasing from 2x to 3x to 4x.
Bonus round multipliers: Some slots only offer multipliers during special bonus rounds, such as free spins or minigames. For example, during free spins, any wins are automatically increased by 5x.
Multiplier wilds: Multiplying wilds work by increasing your total winnings each time you land a win with a multiplying wild. These wilds effectively double as both a multiplier and a wild. For example, if you complete a winning combination with multiplier wild, your total win might be increased by 2x.
Random multipliers: A random multiplier is one that offers a range of increases. For example, a random multiplier might offer you anywhere between a 2x and 6x boost for your final prize.
Standard multiplier symbols: Standard multipliers are multiplier symbols that appear on a reel at random. Land enough of them in a row or in a specific combination to trigger the multiplier.
How Do I Get Multipliers When Playing Slots?
The way you trigger multipliers in an offline or online slot will vary from game to game. Depending on the title, you may get multipliers at random if you land a certain combination of symbols, only during bonus rounds or under various other circumstances.
Multiplier Pros and Cons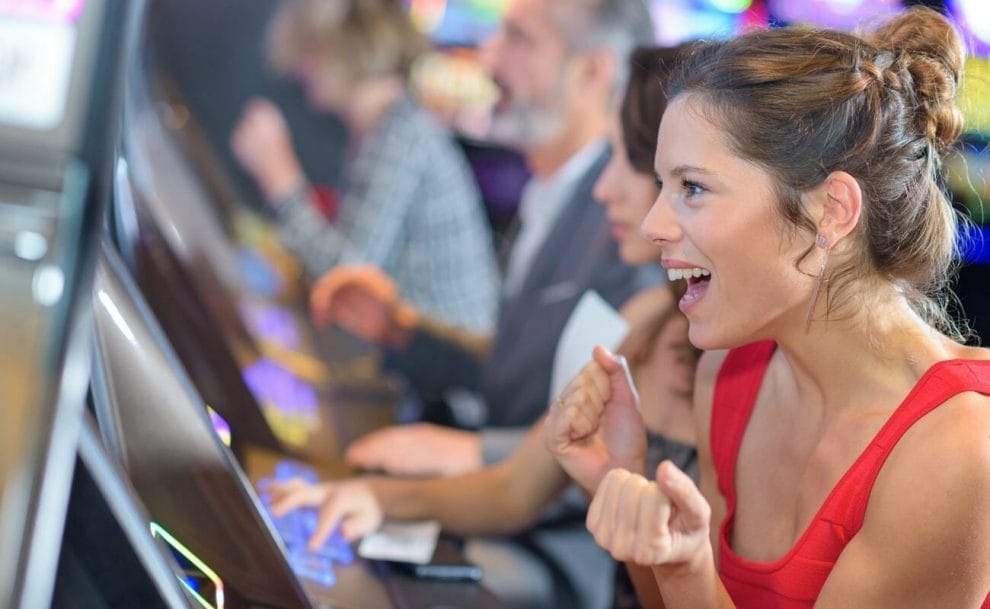 As thrilling as multipliers may sound, there are some downsides to playing slots that offer this exciting feature. Let's take a look at the pros and cons here.
Pros of multiplier slots
The pros of multiplier slots are:
They can be more exciting than slots without multipliers.
They offer potentially bigger wins.
Cons of multiplier slots
The cons of multiplier slots are:
The volatility of the slot may be too high, meaning wins of any kind may be rare.
Wins may be tiny unless you land a multiplier.
Is a Multiplier Slot Right For Me?
If you're looking for really big wins, then you may want to try your luck with a multiplier slot. However, if you'd rather get more consistent wins, even if they aren't quite as large, you should look for a slot that doesn't rely on multipliers to boost your wins. Maybe take a look at some of these money-saving tips when gambling so you can try out different slots and experience each game for yourself.
Some Exciting Slots With Multipliers
If you've decided slots with multipliers are for you, here are some of the exciting games, with excellent multipliers, to try out:
Bonanza Megaways: In this title, players will mine at a quarry hoping to strike it rich! This game has an unlimited multipliers feature that activates during free spins. So, every time you trigger a "reaction" (a winning combination where new symbols fall in from the top of the screen,) the multiplier for the next round will increase! If you keep getting lucky, your multiplier will keep growing and net you some big wins.
Extra Chilli Megaways: Do you like your slots spicy? Then take a bite out of the multipliers in Extra Chilli Megaways. This title features the same unlimited multiplier mechanic as other Megaways titles on this list. On every cascading win, the multiplier will increase and so will your prize money!
Gonzo's Quest: This popular slot from developer NetEnt has you searching ancient ruins in South America for incredible riches. It also features an exciting avalanche multiplier (cascading wins) mechanic. This one isn't unlimited, but it offers players up to a 5x boost if they manage to land four or more avalanches in a row.
Guns N Roses: If you like to rock out when you spin the reels, then this slot featuring the iconic band Guns N' Roses is for you. This slot offers a straightforward multiplier that can reward lucky players with between 4x and 10x their wager if they're lucky enough to land it.
Piggy Riches Megaways: This slot title is packed with multipliers for slots fans to enjoy. Yes, you get the cascading unlimited multiplier like in other Megaways games, but it also has expanding wilds that come with their own multiplier bonuses, giving you even more chances to end up filthy rich.
Try Out All the Exciting Slots We Have at Borgata Online
If you want to enjoy all the best multiplier slots, be sure to see what exciting titles we have at Borgata Online. Our online casino has an incredible library of slots for you to try, including exciting games set in Ancient Egypt, the jungles of South America, fantastical lands and more! These titles offer their own exciting gameplay mechanics, including unique slots systems like Megaways, Link and Win, LuckyTap and other thrilling features.
Register at Borgata Online to give all these exciting slot games with amazing multipliers a go!