People all across the United States (and the world) enjoy spending their time playing casino games, regardless of whether they play online or at a land-based casino. These games of chance come in a variety of different forms, from slot machines, to card games, to lottery games, and more, each offering players a different and exciting experience. 
But which of these games are loved the most by gamblers in the US?
In this article, you'll learn about the seven most popular casino games across America today.
1. Slots
If you're wondering what is the most popular casino game in the US, slot machines and their digital equivalent are undoubtedly the most popular casino game in America. Land-based casinos have halls packed with row upon row of these machines, and their online counterparts are no different. If you log into most digital casinos, you might struggle to choose a game to play, simply because there are so many. But what is it about slot games that keeps people coming back for more?
The main reason is undoubtedly that slots are some of the easiest games to play, with simple strategies for beginners that make them even more enticing. Although there are different betting options for more experienced players, someone who has never played the game can put in some cash, hit or click or tap the spin button, and within a few seconds, know if they've won or not.
Another reason why slots are a popular choice is their low cost. Some slots are called penny slots because they allow you to play for as little as one cent. These games often have very few paylines, but they still give players the chance to try them out with minimal risk and enjoy multiple spins — even if they don't have a large bankroll.
Lots of players keep coming back to online slots simply because there are so many to choose from. Whether you like animals, pirates, ancient adventures, sci-fi journeys, or even specific musicians, there's likely to be a slot game that appeals to your preferences. Some of the best slot games to play include Cleopatra, Gonzo's Quest, Starburst, 88 Fortunes, and Slingo Berserk.
Slots are also very enticing to play. Many of the latest slots offer incredible graphics with sound and music that are designed to grab your attention and keep you playing.
It seems very likely that slots will remain the most popular casino game simply because of these factors, at least until another game comes along that offers a similar experience.
2. Poker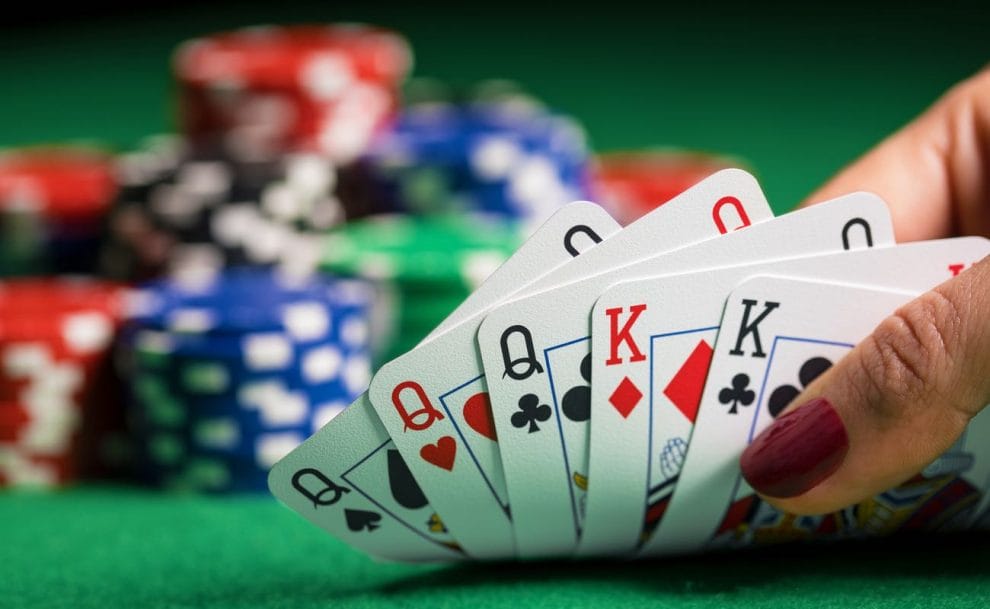 While poker is more difficult to learn than games like slots, it doesn't take long to understand the basics. But if you want to become a great player, the game requires patience and dedication, as well as great concentration. This is why poker is a game that's easy to learn but hard to master. For players who take the time to develop their poker skills, it's entirely possible to go professional and earn a living playing the game, with the best players winning millions of dollars.
Although poker gets a lot of attention today, the game hasn't always been this popular. Film and TV have played an important role in making this game more accessible to the masses. In particular, the invention of the "hole card cam" really changed the way audiences watched the game on TV. Before this device came along, commentators and viewers could only speculate about the cards a player was holding. Now, this technology allows viewers to see the cards, giving them a better understanding and exciting insights into the decisions professional players make.
The ease at which players can also find online poker games is another reason this game has exploded in popularity across America.
3. Blackjack
Blackjack is similar to poker in that it's relatively easy to pick up and play, and players can develop their skills to improve their chances of winning as they gain experience. However, it's also much easier to learn than poker and is one of the casino games with the best odds of winning, which is why it's an incredibly popular game among casino patrons. 
Where poker requires you to learn multiple winning card combinations, blackjack has one simple rule: collect cards to get as close as possible to 21 without going over, and ensure that your cards have a total value higher than the dealer's. While there are extra rules for certain situations, this is pretty much all you need to know to play the game.
As previously mentioned, the great odds the game offers are the other reason players keep on coming back to blackjack. Unlike other games of chance (think slots or roulette,) the house edge is extremely low in blackjack, which means the casino odds are almost even with those of the player. Also, if you get 21 (blackjack,) you automatically win, with +150 payout odds.
4. Roulette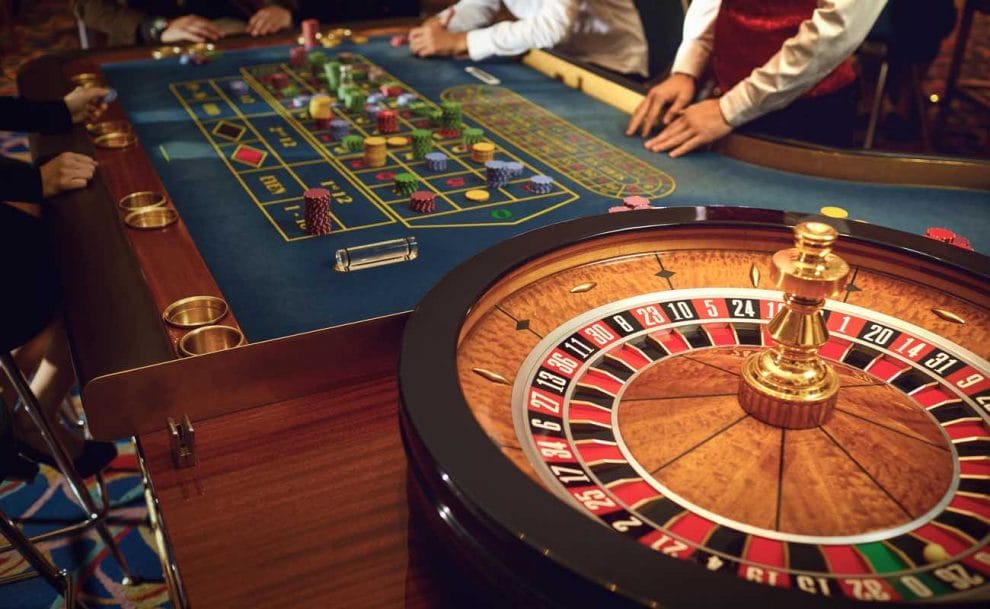 Roulette is an iconic game that easily stands out among the other table games on a casino floor with its whirring wheel and the distinctive sound of the ball bouncing in it. Will the ball land in your favor, or will lady luck spurn you and cost you your wager? The excitement created by this anticipation is certainly one of the reasons this game has remained popular since its invention in 18th-century France.
Even if you're new to the game, it's relatively easy to learn. The only thing you need to take time to understand are the various bets. The wagers vary from straightforward inside bets like the straight or single, where you bet on a single number, to the more complex bets like the snake bet, which is placed on various numbers between 1–34.
As with other games of chance, winning is based on luck. So, whether you're a casino veteran or playing a casino game for the first time online, roulette is an exciting game that eliminates the risk of losing to a player or dealer who is more experienced.
5. Video Poker
When it comes to electronic games, video poker may not have the flashiness of slots, but it's still a game that enjoys a dedicated, although small, following in both land-based and online casinos. It's a simple game where you have two rounds to make the strongest hand possible. Poker players may recognize that video poker is very similar to Five-Card Draw, making it easy for them to understand.
Players are also drawn to video poker because the aim is simpler: the player alone has to get the best hand possible. This eliminates much of the stress that can come from other competitive games, which makes it more appealing to a wider range of players.
Then there's the element of skill. Although cards are dealt randomly, you decide which ones to keep and which ones to get rid of. This means that video poker has an element of strategy that other games like slots simply don't.
If you learn to play using a proper video poker strategy, the game also offers incredibly good odds, with some video poker games offering a return to player (RTP) of 99.54%.
6. Baccarat
Baccarat, once the game of choice for James Bond, is still a mainstay at most American casinos. It has also recently experienced a resurgence across the world, possibly driven by growing interest in Asia.
Baccarat is about as easy to play as many of the other games on this list, so most players can pick it up pretty quickly. If you're wondering how to play baccarat, the main goal is similar to blackjack. However, unlike blackjack, the winner is decided depending on whether the banker or the player's hand gets the closest to 9. Gamblers simply have to place a bet on whether the banker or the player's hand will win. Players also have a third, more rewarding but riskier option, where they can bet on a tie.
7. Craps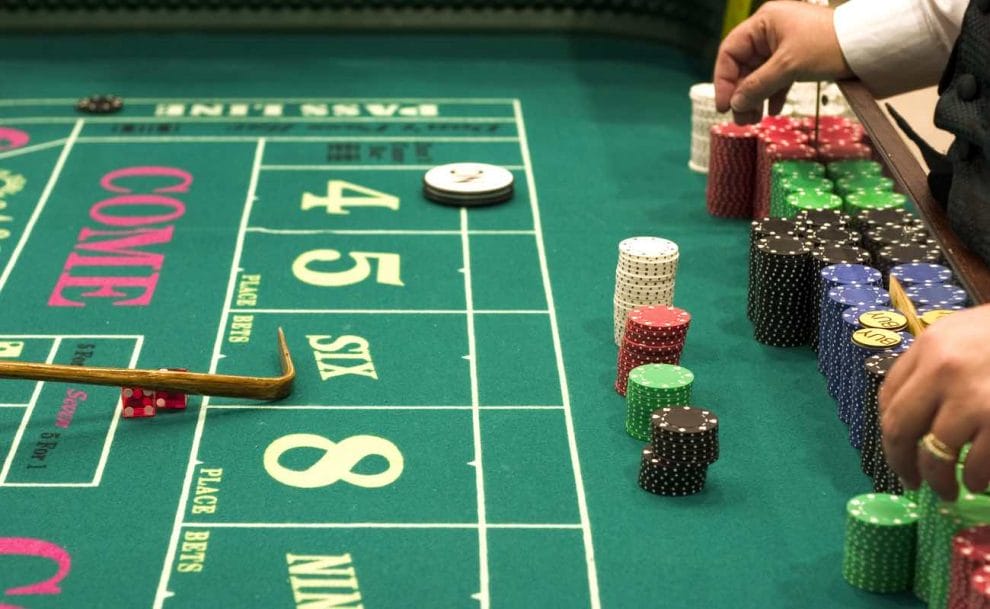 Craps may not be incredibly popular these days, but it's still the most played dice game — and one of the few you'll still see at many casinos. It's enjoyed by players because it's a game of chance that's simple to learn and play, and has a strong social element, with players often cheering on the roller — even if they haven't placed a bet. Spectators can also wager on the results of a game without ever needing to roll the dice themselves. It's also one of the few games where shooters (the player rolling the dice) feel like they have more control since they're the ones rolling the dice.
Play These Games and More at Borgata Online Casino
Are you interested in trying out these popular games for yourself, or are you looking for some new casino games to play? Well, the good news is you can play many of these classics and more at Borgata Online.
Borgata Online is an online casino that offers you the latest and greatest live casino online experience, including digital table games, slots, and much more. Classic casino games like blackjack, craps, roulette, variety games, and other exciting games of chance are available for you to play. You can also play poker online if you prefer gambling games with a greater element of skill.
No matter what online casino games you prefer, join in the excitement and register at Borgata Online.