Whether you're planning a trip to Mexico, gearing up for Cinco de Mayo or simply looking for an appropriate snack to enjoy alongside some Mexican-themed online casino games, join us as we take a look at a few of the country's tastiest dishes that are well worth trying. 
There's a reason certain dishes have become so popular, and our list features some of Mexico's most loved dishes, along with some spicy online slot machines to go with them, which you can play at our casino online!
Chilaquiles
Refried beans? Check. Salsa? Check. Cheese? Check. Well then, it seems chilaquiles truly are the perfect Mexican food, giving you all the more reason to try them (if you haven't already,) or retry them – just to be sure.
Made of lightly fried corn tortillas cut in a triangular shape and topped with salsa, scrambled or fried eggs, pulled chicken and chorizo, this popular breakfast dish is finished off with cheese, cream, coriander and sliced onions, and served alongside a hearty dose of refried beans.
Not a breakfast person? You obviously haven't tried chilaquiles yet!
Burritos
Burritos need no introduction. These perfectly rolled flour tortillas are stuffed with an array of ingredients – most often a combination of some form of meat stew, refried beans and salsa. Popular additions include cheese, guacamole and sour cream. Depending on the chosen ingredients, burritos can be eaten for breakfast, lunch or dinner. Interestingly, while burritos are Mexican-inspired, they're most popular in the US, though you'll still be able to find them in north Mexico in states bordering the US like Baja California, Sonora, Chihuahua, Coahuila, Nuevo León and Tamaulipas.
Tacos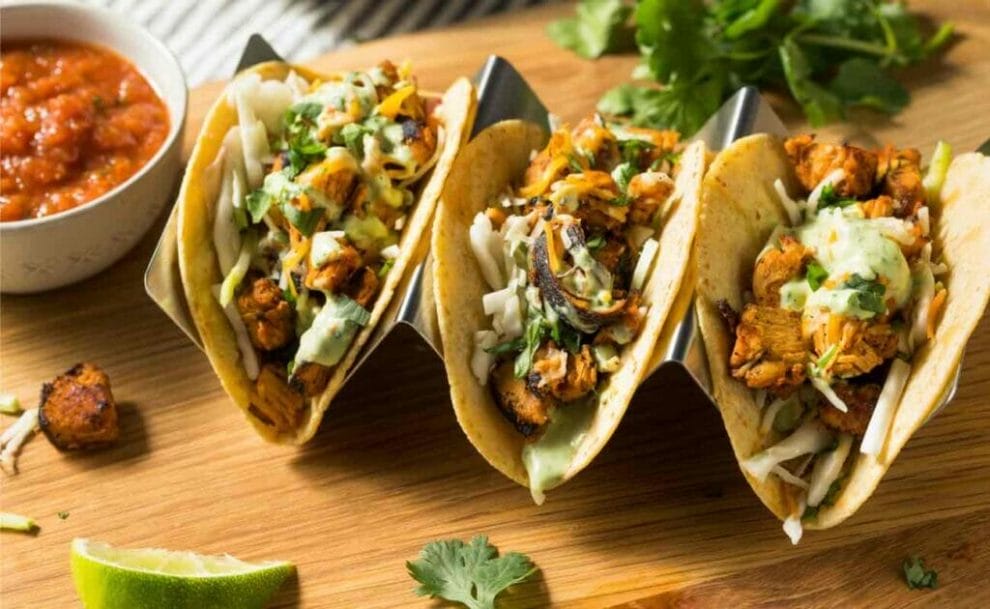 Tacos are as ancient in origin as they are delicious. This dish is a staple meal in many households, providing vital nutrients and energy. Historically, tacos were made of soft corn tortillas and filled with fish and cooked organs. Today, they're filled mostly with ground beef, and the addition of cheese, lettuce, sour cream and tomato is much more recent, as is the name! Thanks to companies like Taco Bell and Chipotle, tacos are now as much a part of American culture as cheeseburgers.
Chile en Nogada
Featuring the three colors of the Mexican flag, chile en nogada consists of a whole roasted poblano pepper stuffed with a mixture of ground meat, fruit and spices known as "Picadillo," and topped with a walnut-based cream sauce (which is the "nogada.") It is then decorated with parsley and pomegranate seeds. It has been said that the dish was first served to Don Agustin de Iturbide, the liberator and subsequent Emperor of Mexico – and it was certainly worthy.
Tostadas
Tostadas refer to flat or bowl-shaped tortillas that have been deep-fried or toasted until crunchy and golden. They can be enjoyed alone or piled with refried beans, ceviche, meat and seafood, and of course, cheese, guacamole and salsa.
So if you have a pack of tortillas going stale, it's time to rescue them and turn them into some delicious tostadas!
Enchiladas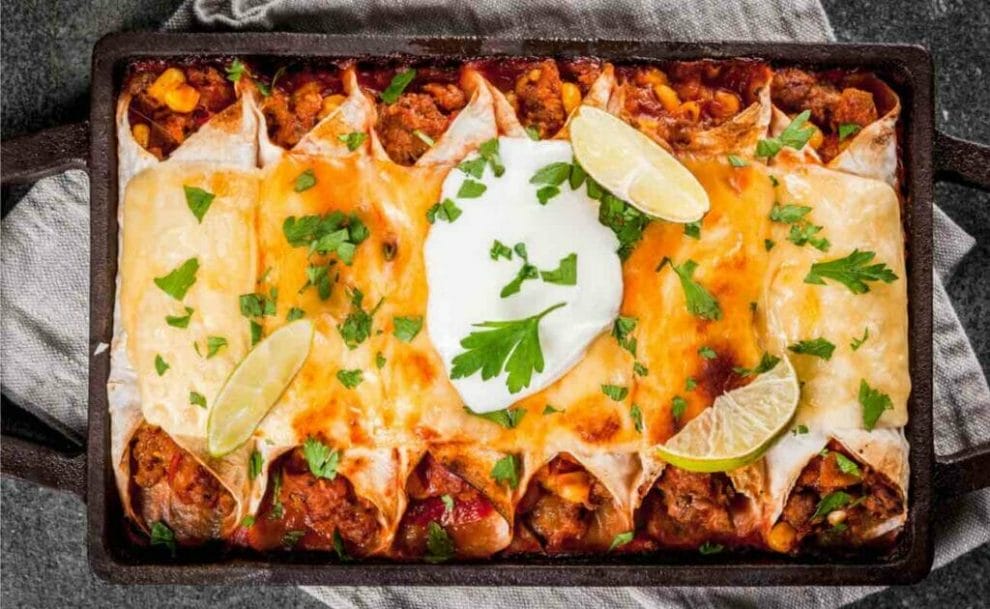 Dating back to Mayan times, enchiladas are corn tortillas filled with various stuffings that have been covered in a spicy sauce before being baked. The combination of meats, beans and chili sauce makes this dish ideal for any time of the day. Classic toppings include sour cream, fresh cheese, onion and celery.
Tamales
An iconic dish in Mexico, tamales are eaten all day every day, especially on the Day of the Candelaria. Coming from pre-Columbian America, tamales consist of a corn or banana leaf wrapping and a stew stuffing. This most commonly includes mole (a special sauce) and shredded pork or chicken, with salsa, peppers, corn and cheese. Tamales are a warm, comforting snack that is said to represent wealth and prosperity.
Quesadillas
Traditionally made with flour tortillas and stuffed predominantly with cheese, this dish can be either deep-fried or grilled. It can be made in a huge variety of ways, with common complementary fillings including bacon or chorizo, lime and cilantro, fried onions and pepper, and corn. Popular spices include chili, dried oregano and paprika. Like many Mexican dishes, quesadillas are best served with homemade guacamole, salsa and sour cream.
Enjoy online slots with a Mexican flair!
The ultimate way to enjoy your burrito? With a side of the best online slots, of course! Here are a few of the fun Mexican-inspired slot titles available at Borgata Online: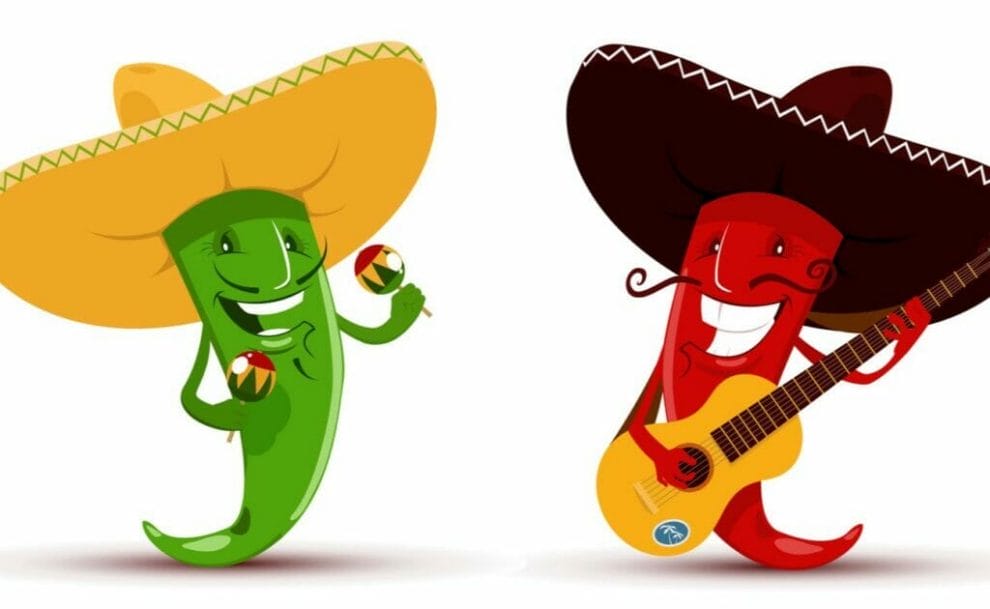 Spiñata Grande – Fancy having a go at some piñatas to unleash some potentially epic wins? Spiñata Grande brings the festivities to your screen in this colorful slot title by NetEnt. Intriguing graphics and adorable animations set the scene while a number of bonus features ensure entertaining gameplay.
Yucatan's Mystery – Explore the lost empire in this adventurous online slot and spin your way to your share of the 4,000x top prize. With stunning visuals and mystery bonus games, Yucatan's Mystery has plenty on offer.
Sweet Chilli – Vivid graphics, sticky wilds and a unique storyline make Sweet Chilli a slot worth spinning. Follow a flaming hot chili (literally, he's on fire!) as you spin your way to some hot wins.
Red Hot Tamales – Grab your sombreros because these tamales are coming in hot! With a maximum-win potential of 5,000x the stake, tamales have never tasted so good. The low volatility and generous RTP in Red Hot Tamales will help you see your way through this unique slot title.
Willy's Hot Chillies – Deep in the Mexican desert, Willy's got some hot chilies and even hotter wins up for grabs. On the reels, you'll find piñatas, tacos and chests of gold coins. Enjoy spinning the reels to the sound of a mariachi band, and be sure to take advantage of the wild reels, multiplier wilds and the spicy bonus game in Willy's Hot Chillies.
Discover the best casino games at Borgata Online
No matter your taste, you'll find an array of great games at our online casino. Scroll through our casino site for a list of casino games in a variety of categories. For slots, table games, live dealer games and more, register with Borgata Online.