Online poker has come a long way since the first real-money hand was dealt on Planet Poker back in 1998. For one thing, the software has become much more powerful and reliable, allowing for safe, secure, real-time live poker play. For another, mobile devices have evolved to the point that you can use your smartphone or tablet to play poker online anywhere you go. This begs the question: Why play on a desktop at all? It turns out that the question is more complex than it seems at first. While mobile poker is obviously more convenient for most poker fans, there are still advantages to playing online poker on a desktop. Let's take a closer look at the pros and cons on both sides.
Mobile poker: Advantages
At the risk of stating the obvious, it's more convenient to play poker on a smartphone or tablet than on a desktop or laptop. Nowadays, the best online poker sites ensure that the poker software they carry is optimized for mobile. In other words, you can access exactly the same live poker games across platforms. The only difference here is the mobility factor. Instead of being anchored to a stationary device at home, you can play cash games on public transport, during work breaks or even at social functions. At the same time, the ability to switch seamlessly from your desktop to your mobile phone means you can still run necessary errands without missing opportunities on the felt. Think of it as adapting the game to your lifestyle rather than the other way around. You can even schedule your MTTs (multi-table tournaments) on a poker app.
Mobile poker: Disadvantages
The strength of mobile poker is also its weakness. It's great to be able to play poker online anywhere there's WiFi or an internet connection, but when the connection stutters, you may time out from a game and blow your chances of winning a big pot. Frustrating, to say the least. This applies especially to online poker tournaments, where you need to stay focused and engaged for lengthy periods of time. The problem with playing on the move is that you don't know how good the internet coverage will be along the way. For best results, it's advisable to play with a steady connection, which means sticking to a fixed location. In that case, you may as well play on a desktop.
A further weakness of mobile devices becomes apparent when multi-tabling, which is the practice of playing multiple poker tables at once. Recreational players do it for fun, professionals to maximize their profits. Either way, the hand-held nature of mobile devices makes it difficult to multi-table well. It's too much hassle to tile or stack multiple tables on a small screen, no matter how powerful your device. And there's simply too much risk of hitting the wrong button when you switch between tables. At best, you can comfortably handle two tables at a time on your smartphone or tablet. For these reasons, serious multi-table players will stick to a desktop.
The case for desktop poker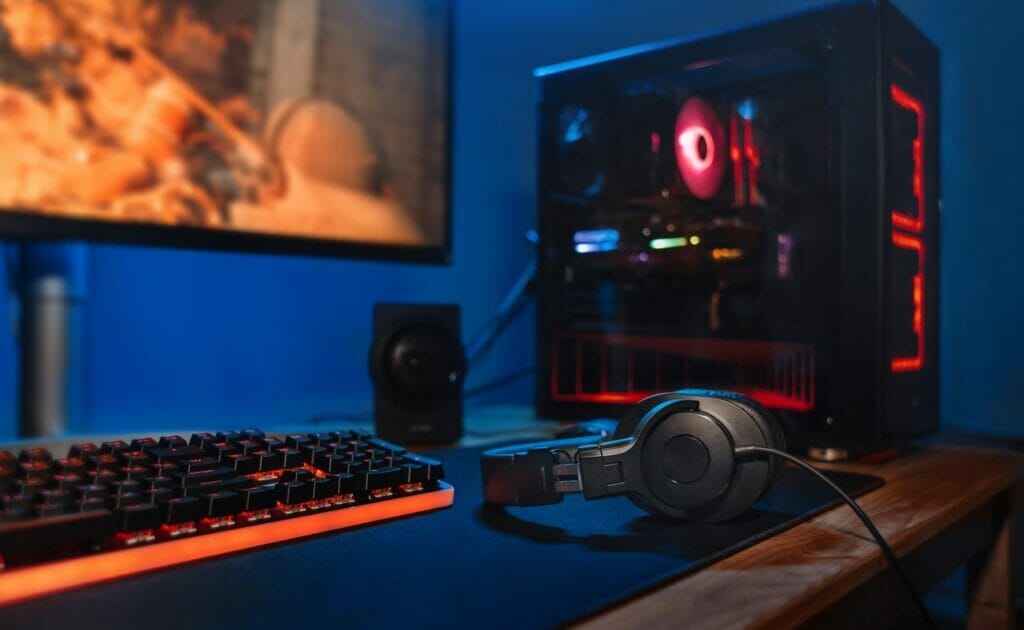 One of the best poker tournament tips you could ever get is to have a proper set-up. These days, serious players are using all kinds of tools to improve their results when they play poker online. Among the most important are HUDs (head up displays). These are computer apps that provide an overlay on your poker table that collects and displays each of your opponents' statistics. Floating panels contain information that shows how they've played in the past, which can make a big difference to your decision to bet, check or fold. Currently, mobile operating systems do not allow HUDs to display over mobile poker clients, preventing mobile poker players from using this valuable tool.
Many professional online poker players' tool-kits also feature poker solvers such as PioSolver, Simple Postflop, Monker Solver and GTO+. Solvers provide GTO (game theory optimal) solutions to strategic situations based on user-entered variables such as preflop ranges, pot size, stack size and bet and raise sizes on the flop, turn and river. These insights are especially useful when it comes to the more analytical variants such as Texas Hold'em poker and Omaha. Poker solvers also include the Nodelock feature, which you can use to calculate the best response to a specific strategy, enabling you to adjust to an opponent's specific weaknesses. The bad news for mobile players is that poker solvers are far too resource-intensive for smartphones and tablets to handle.
In short: If your poker tournament strategy includes training with poker solvers or HUDs, you're better off playing on a good quality desktop computer.
Play online poker your way at Borgata Online
At the end of the day, what really matters is being able to play poker your way. Whether you're interested in quick recreational games or serious online poker tournaments, you'll find the kind of online poker you enjoy when you register at Borgata Online. Cash games, sit and gos and MTTs are all part of the mix. Play on mobile or desktop – the choice is yours. While you're at it, feel free to explore our online casino, with its broad range of video slots and table games such as blackjack, baccarat and roulette.