There's nothing wrong with playing online casino games in your pajamas, but what would you wear to a live casino? The last thing you want to do is to dress as though you're heading to the Oscars, only to find you're the only person in the whole establishment dressed in a full tux. But being too casual can be equally humiliating.  
Luckily for you, we've got your casino apparel covered. In fact, get ready to revamp your closet because we'll be transforming your whole wardrobe with the latest bold and stylish menswear fashion trends!
Understanding casino dress code rules
Before you dress up to start playing blackjack at a casino, go to the casino's website to get a clear understanding of its dress code and rules. There might be strict rules at some casinos and easy-to-follow dress code guidelines at others. However, if a casino's website states it has no dress code, don't get excited and reach for the distressed jeans and trainers just yet.
Even without a dress code, there are general rules you should follow no matter which casino you're visiting. Here are five simple things to keep in mind when you're deciding what to wear to a casino:
1. Avoid flip-flops, crocs and sandals
Basically, if the bouncer or security staff can see your toes, you'll probably be denied entry. Remember, you'll be doing quite a bit of walking and standing while you're on the casino floor, so try to wear shoes that are comfortable as well as respectable.
2. Ditch the streetwear
Even though you can wear smart casual attire to most casinos, trainers and sneakers aren't acceptable evening wear for casinos. What's more, athleisure might be trendy and comfortable, but it's not the right outfit to earn the respect of your gambling peers.
3. Don't wear torn, worn-out or dirty clothing
Although it's true that cut-out shirts have been a big menswear fashion trend for 2022, they won't be accepted in a casino. Of course, in the world of fashion, the lines between punk and classic are always blurred. If your favorite cut-out top goes well with the smart-casual outfit you've put together for your casino visit, just check with the establishment ahead of time to see if it's allowed.
4. Let your dress code match the time, activity and location
What you wear in a Florida casino might seem inappropriate in a New Jersey casino, so think about where you are when selecting your outfit. And the time of day that you're visiting will also affect your decision: For example, what you'd wear for a daytime casino visit to play slots won't necessarily be the ideal outfit for an evening playing table games in the VIP suite.
5. Be yourself and be comfortable
Formal casino attire doesn't mean you have to drown in a stiff suit. It's not a uniform. You can still express your individuality and be comfortable while dressing respectably.
Match elegant clothing with proper etiquette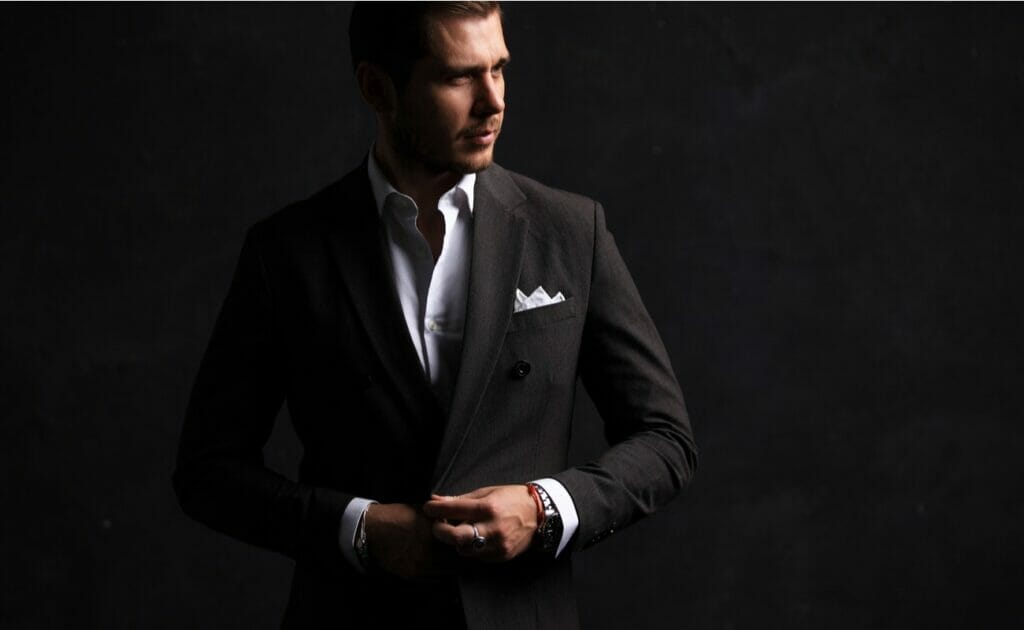 Do you know what looks amazing with the perfect casino ensemble? Respectful etiquette. The following etiquette guidelines will help you look and act like a gentleman.
Even though you might be accustomed to using your phone anytime and anywhere, be sure to put it away during your casino visit or when you play table games.
Do not touch any cards on the table unless you are told to, especially not face-up cards. Don't touch any of the chips you have in play either.
Although Vegas is known for good times, playing table games while intoxicated is frowned upon.
Always be polite. Do not criticize your opponents' strategy or playing style.
Tip your dealers – they deserve it. Waitstaff, keno runners and slots attendants can be tipped too. Tipping might not be compulsory, but it's what separates a true gentleman from a well-dressed penny pincher.
Don't sit at a table if you aren't betting.
Don't ask your dealer for gambling advice; this could cost them their jobs.
Dress for the occasion. But don't worry, we'll help you with this one.
Casino dress codes
White tie
White-tie casino attire is reserved for the most special occasions. It's the most formal dress code and is usually worn at private casino events. Here you'll need to go all out with a black dress coat with matching trousers, a white waistcoat and a coordinating bow tie. Don't forget the black leather shoes, a stiff-front white shirt, cufflinks and studs. White gloves are usually optional.
White-tie fashion trends
Strong and stiff shirt collars for men are a big fashion trend for 2022. This style is easy to incorporate into your white-tie outfit. If you're someone who likes to stand out, opt for a velvet blazer. The shiny and luscious fabric oozes glamor and sophistication.
Black tie
A black-tie dress code is recommended for casino evenings. Even at the most exclusive casino table games, you won't look too casual in this classic formal look. To break down the term, black-tie casino attire consists of a black dinner jacket with matching trousers and an optional waistcoat with a formal white shirt under it. Black dress socks and shoes are essential.
Black-tie fashion trends
Recent years have given boring gray suits the revamp they deserve. For a modern look, feel free to be creative with your suit's tailoring and color. Opt for a breezy shirt jacket instead of a blazer and swap out the stiff fabric for light cotton or linen. Your tried-and-true, well-tailored suit is still fashionable, but why not step outside of your comfort zone? Follow the trends inspired by some of the biggest high-fashion menswear designers and try a baggy retro cut.
Semi-formal or business-casual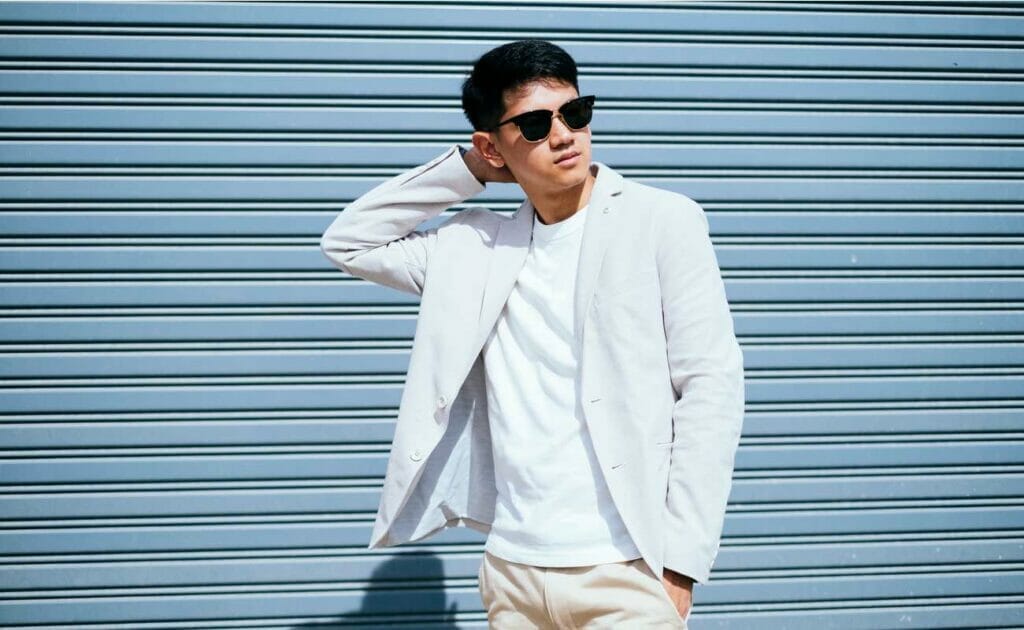 While some might consider black-tie clothing as the only respectable casino attire, we disagree. We believe an elevated business-casual look can be the ultimate casino outfit template. Plus, transitioning your casual daily look to semi-formal or business casual attire is simple.
For a laid back semi-formal look, pair a shirt or a plain, round-neck T-shirt with a smart jacket or a blazer. For a slightly more formal look, put together a business casual outfit. Wear a pair of slacks, khakis or chinos with a dress shirt and a sports coat or a blazer. Shoes can be stylish loafers, and a slim tie is optional.
With semi-formal and business casual attire, it's wise to check ahead to make sure it's acceptable for the casino you'll be visiting. Worst-case scenario, you'll be denied entry and you might have to play online slots at your favorite online casino instead!
Semi-formal and business casual fashion trends
Varsity jackets were a central feature of the autumn/winter 2022 fashion shows in New York, London, Milan and Paris. The most stylish jackets featured bold vintage styles and colors with fun badges and appliqués. For a more casual look, swap your blazer for a vintage varsity jacket. Pick a jacket with leather sleeves and wear it with a button-down shirt for a more sophisticated look.
Embrace the retro vibe of the jacket and pair it with penny shoes. If you'd like to add a little bit of flash to your style, a thick chain is a surprisingly on-trend accessory. This will personalize your outfit and make you stand out against your fellow bettors.
Ditch the dress codes and play casino games with Borgata Online
Casino dress codes are not simply about compliance. They maintain the elegance and esteem of your favorite betting venues. With our fashion trends and tips, it's easy to make a dress code a reflection of your own personal style. But if you prefer to bet in your sweatpants, come to Borgata Online to play our wide selection of slots, table, card and live dealer casino games. Our dress code is no dress code, and we mean it!
So why not leave the makeover for another day and bet online instead? Register with Borgata Online to check out what our premium gaming and sports betting platform has to offer.