Bingo is fun, easy to play and universally loved. But when it comes to making money online, bingo is usually the last game that comes to mind. If you play the game well and use a trusted strategy, you can turn an old carnival game into a profitable one. Let's take a look at how you can level up your strategy and play bingo games to win real money. 
Does bingo pay real money?
Playing bingo for money doesn't require a big investment or buy-in. Bingo tickets usually cost a few cents. However, this doesn't mean bingo prizes are small too. Online bingo jackpots and prizes can range from a hundred dollars to hundreds of thousands and even millions. Many sites offer both high-stakes and low-stakes games as well as special bingo events with bigger prizes. Some websites are introducing progressive bingo jackpots, where more players lead to bigger rewards.
If you want to raise the stakes and potential payout even further, you can also play two games in one with online bingo slots. There are tons of Slingo Originals titles that offer players a slot-bingo hybrid. These games often have an enticing jackpot prize. The popular Slingo Fire & Ice game offers players two exciting jackpots. Now that you know there's some real money to be won in bingo games, let's see how you can use the best strategy and play to win.
How to play bingo and win real money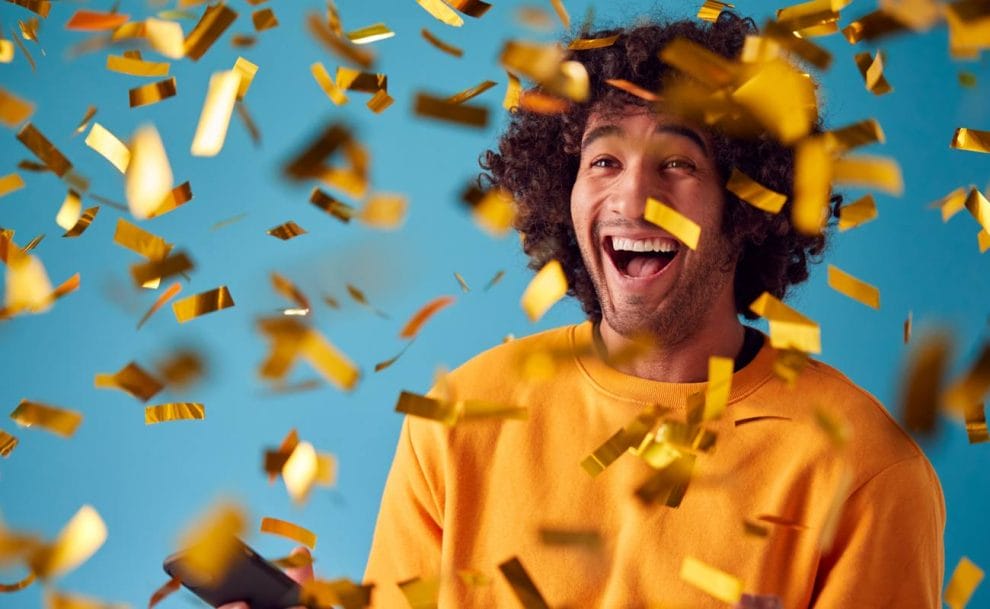 Bingo is incredibly simple to play. You buy tickets, and you mark off numbers to make a pattern. As easy as it may seem, there are still some simple tips serious bingo players use to improve their odds and earn more money. Implement the following bingo strategies to start playing and winning like the pros. 
Choose games with fewer players
The more people there are in a bingo room, the smaller your chance of winning. Choose off-peak hours to play so that rooms aren't crowded. In bingo halls, this is usually during weekends. If you play online bingo, the best times are mornings or late at night. If you can only play during peak hours, try to play games with progressive jackpots so the lower odds are met with a more significant potential win.
Buy multiple bingo cards
Experts suggest you should be playing with around six bingo tickets per game for the best chance at success. When you have more than one card, any number missing from your first card will likely be on one of your other cards. Playing with multiple cards not only makes the game much more fun but also significantly improves your odds. Bingo cards are usually very affordable, so the perks are worth the extra investment.
Hunt for bonuses and promotions
The only thing better than playing bingo is playing with someone else's money. A generous casino bonus or promotion can double your bankroll or extend your playing time without spending more. Playing with bonus money or tickets means you still have a fair chance to win, but you've lowered the stakes and the risk. When you're choosing a bingo site, select one with a welcome bonus or deposit match. This could be free money, free spins, bingo cards and much more. Always read the terms and conditions before you sign up.
At Borgata Online, we roll out the red carpet for new and old players with many exciting promotions and offers. When you sign up and deposit at least $10, we'll top up your account with a $50 bingo bonus. Plus, we're offering bingo players a guaranteed daily prize with the Spin The Wheel Promotion. Visit our promotions page to see even more Borgata Bingo promotions and offers.
Look out for bigger prizes and jackpots
If you're playing bingo for money, you need to be selective with games. Many websites host games with huge jackpots to attract more players. Search your website to find out which games offer lucrative jackpots and prizes instead of playing the first game that pops up. Look at how many players are in the room and the prize amount to see if you have a reasonable chance of winning. Jackpot games are an excellent time to use any bonus funds or tickets a casino may have given you.
If your bingo platform has no jackpot games available, try Slingo. Slingo games offer some of the best Return to Player (RTP) percentages, with exciting bonus rounds and jackpot prizes.
Join a bingo chat game
You need to take advantage of every opportunity to increase your bingo wins. This means looking at the different winning bingo patterns and the bonus prizes they might offer. It also means using the quiet time between rounds in the best way possible. This is where bingo chat games come in. 
Bingo chat games are an excellent way to meet new people and build relationships. But chat games are also an opportunity to win even more extra prizes. Answering a few questions in a chat game might win you free tickets or bonus funds. With the auto-daub marking off your numbers for you online, why not use the free time to put your knowledge to the test and get to know your fellow players?
The verdict: can you make money playing bingo?
Obviously, Lady Luck plays a role and you need to exercise good judgment, but in a nutshell, yes, you can! Does money bingo pay real money? Yes, it does. With cheap tickets, ongoing games and potential jackpot wins, bingo is a lucrative game to play for money. But even if you follow all our expert bingo tips to a T, it means nothing if you don't play on the right platform. To make your online bingo experience seamless and stress-free, always play at a licensed online casino with a good reputation.
Play to win with Borgata Bingo
The Borgata Online casino is licensed and regulated by the New Jersey Division of Gaming Enforcement. All our casino games are tested to ensure they are fair and operate correctly. Borgata Bingo is fully mobile-optimized and hosts bingo games 24/7 to fit into any schedule and lifestyle. Play a wide variety of bingo games, from traditional 90- and 75-ball games to unique variations like No Lose Bingo, Penny Bingo and Speed Bingo. Register with Borgata Bingo today for endless bingo fun.