Fans of cats and slots who are interested in a trip down memory lane are likely to enjoy this gaming experience from IGT. Sink your claws into Kitty Glitter and you might have a chance at winning big!
Game overview
As you no doubt have guessed, Kitty Glitter is part of a niche cat genre of online slots. However, despite not being as prolific as other themes like Ancient Egypt or Greek mythology, the cat genre continues to provide entertainment to slots fans who enjoy their gambling experience with a feline twist.
The game kicks off with a quick jazzy tune to get players in the mood before diving into a simple and easy-to-pick-up slot experience.
If you're someone who doesn't only play on their computer, you'll be happy to know that Kitty Glitter is not only accessible from your desktop but also your mobile devices. This means you can enjoy a few spins from any location where you have internet and can access the casino games app.
How to play
With Kitty Glitter, there are no mini-games or anything else to distract you from the fun and excitement. It has a standard 5×3 reel, with 30 paylines to help you land the max win. 
The game features the standard Ace, King, Queen, Jack, and 10 symbols, and these are the lowest-rated symbols in the game. The highest-rated symbols are naturally four different breeds of cats, and include a white Persian, an orange Tabby, a Calico, and a Siamese, in order from highest to lowest value. 
Graphics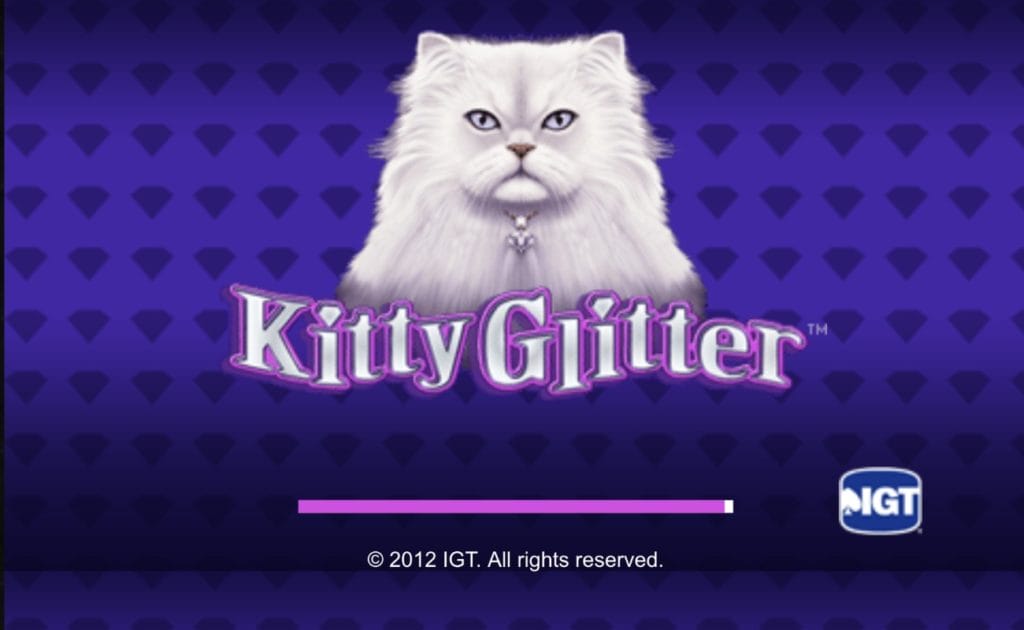 Being a 2012 release, Kitty Glitter doesn't quite have the flash or finish of some newer online casino games, but it definitely retains some nostalgic charm. The game's color scheme relies heavily on bright primary colors, particularly red, to catch your eye. 
While the interface may not be as exciting as some other online slots, the key information is displayed cleanly so you'll never struggle to find anything you may be looking for.
A mobile device may be better suited for this game, as certain elements of the reel haven't been updated to match the high-resolution displays on most computers today. 
Features
As mentioned earlier, Kitty Glitter has no mini-games and also doesn't have expanding, stacks, or tumbling symbols. 
However, a bowl with a diamond serves as the game's scatter symbol, with the wild symbol being the Kitty Glitter logo. The scatter symbol can trigger the free spin bonus round, while the wild symbol triggers the Kitty Wild Rush game.
Bonuses & jackpots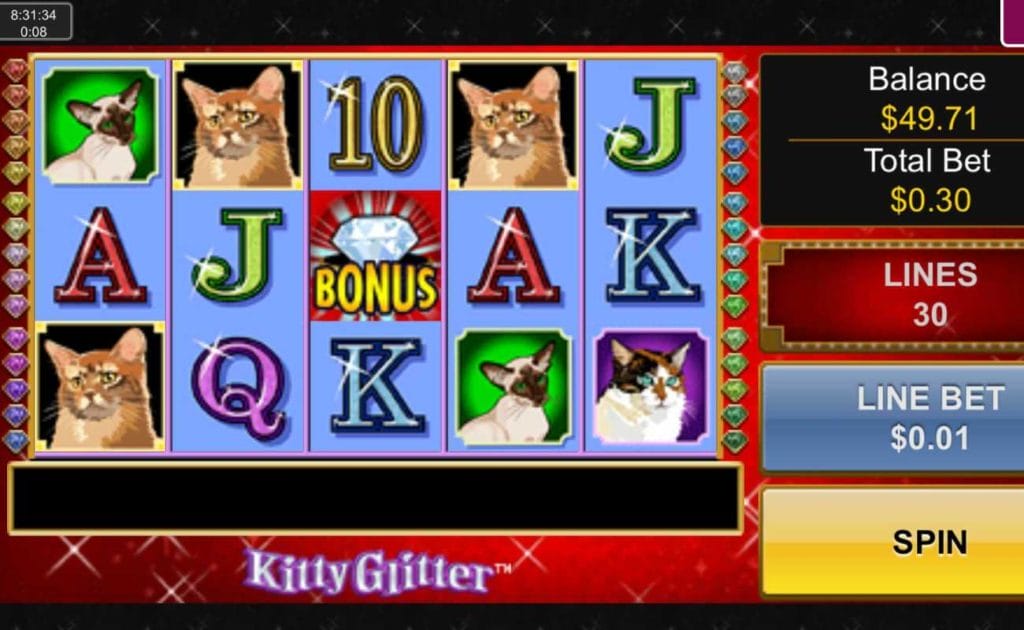 In order to trigger Kitty Glitter's free spins, the player needs to land three diamond symbols on the second, third, and fourth reels. Once it has been triggered, the player is rewarded with 15 free spins. 
During the free spin game, four cats appear at the top of the screen. Next to each of them are three empty diamond slots. As the player lands diamonds during the free spins, each of these slots fills up, starting with the first cat. Once the three diamonds next to each cat are filled, that cat becomes a wild on the reel, allowing you to land some relatively large wins.
During Kitty Wild Rush, the wild symbol can appear on reels two, three, four, and five, replacing all other symbols except for the scatter. This increases your potential number of winning combinations.
For those who enjoy jackpot slots at the casino, you may be disappointed to know that Kitty Glitter does not have a progressive jackpot. It also, unfortunately, doesn't have any multiplier system. The maximum jackpot that you can win is 1000 coins.
If you are experienced with online slot games, you should also know that Kitty Glitter is a medium to high variance game that has an RTP of 94.92%. 
Similar games
Cat lovers may also like to play these online slots, available on Borgata Online:
Interested in New Jersey casinos but prefer playing online? Give Borgata Online Casino a try. 
Building upon our knowledge and reputation as a traditional casino, Borgata Online offers a premium experience for those who enjoy online casino games. Reap the benefits of a professional casino from the comfort of your own home when you play at our online casino. 
If you're looking for new casino games and would like to see what slots are available for you to play at our casino online, be sure to visit our website today!