If you enjoy a mythical experience when you play slots online, you might want to check out King of Babylon. Join us as we take a look at this slot game and determine whether it's worthy of its royal title.
Game overview
King of Babylon is a 5-reel, 20-payline slot from game studio SG Digital. Players who give this game a spin will enjoy a 96.47% RTP (return to player), which is considered good value compared to many other casino slot games. If you enjoy online slot machines with medium volatility that are based on other ancient cultures, such as the Egyptians or Greeks, this game may be perfect for you. Let's find out more about the King of Babylon, whose subtitle is "Action Spins"!
How to play
Unlike some other slots with multiple paylines, King of Babylon is a fixed-payline slot. This means you can't change the number of paylines you're betting on, but only the amount that you're betting. So before you hit the spin button, all you have to do is decide what your total bet value is. You can do this using the "+" and "-" symbols on either side of the total bet field. Once you've decided how much you're happy to bet with, simply click the spin button to get going!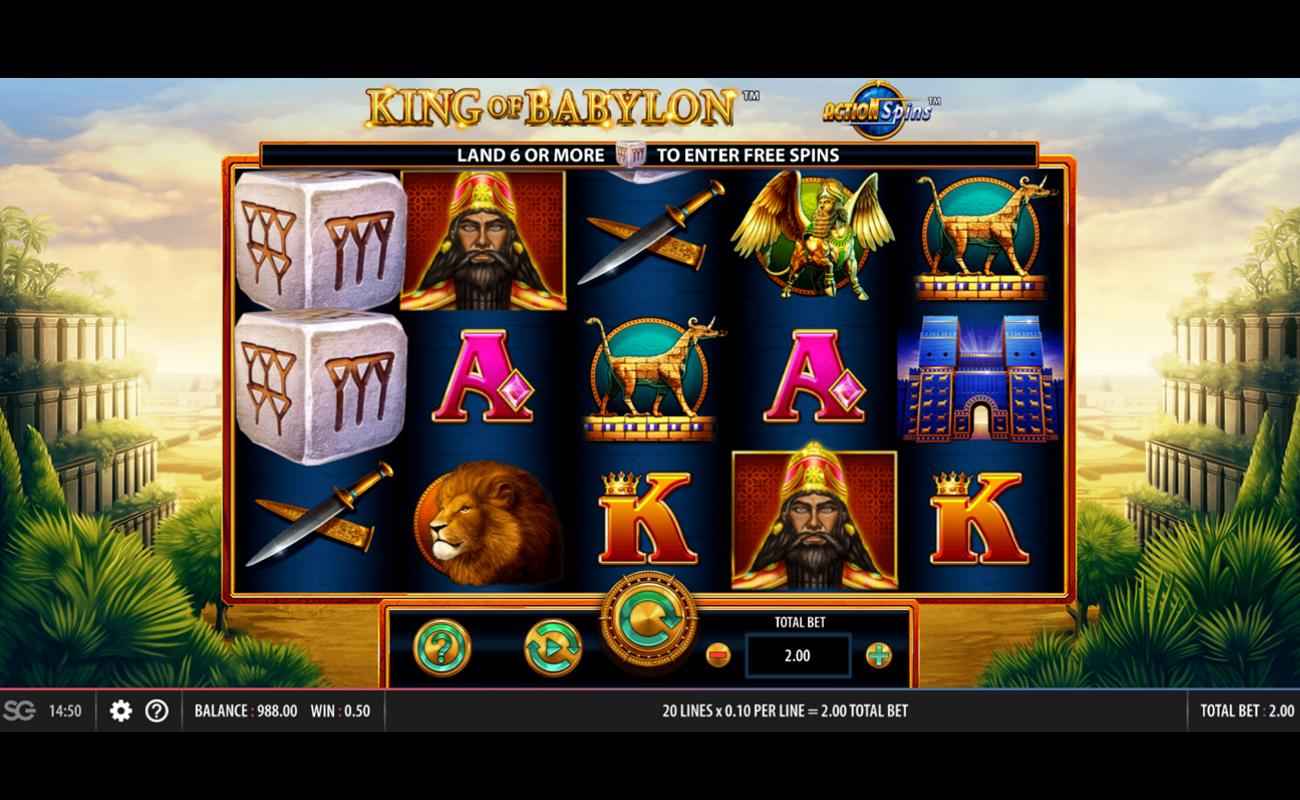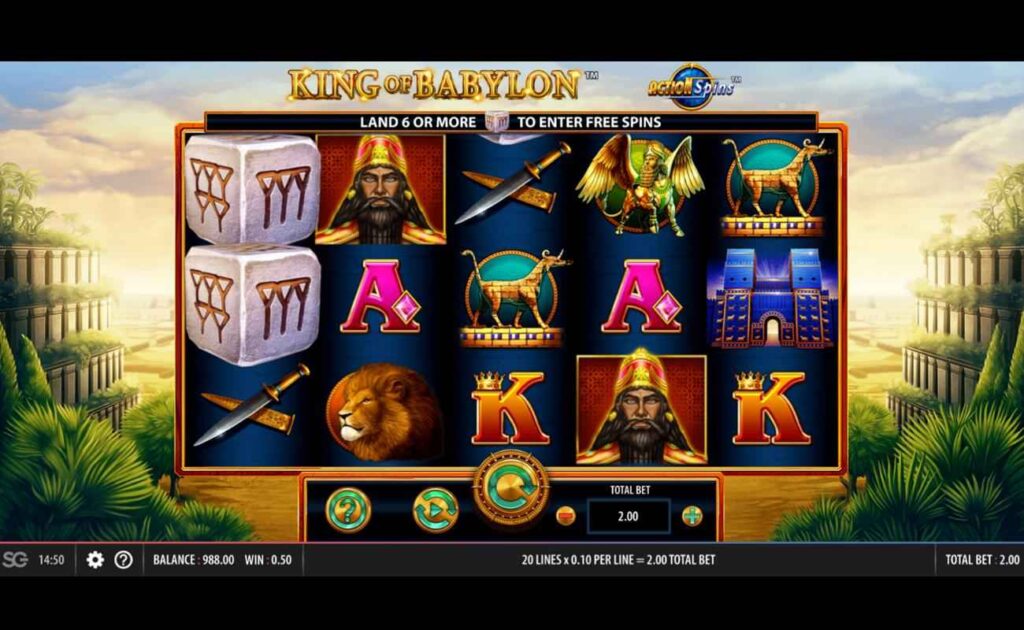 If you're someone who enjoys multiple spins but doesn't want to click each time you want to play, you can get the game to spin for you using the autoplay function. With this, you can set the number of autospins to 10, 50, 100, or 200. If you want to have a bit more control over your wins and losses when using the autoplay function, you can also set a maximum loss or win value. This means the game will stop if you win or lose a certain amount, which can be useful if you want to keep an eye on your money.
The game's symbols include a knife, winged sphinx, building, and statue. The game also has the standard Ace, King, Queen, and Jack playing cards, although these are worth less than the other symbols.
Graphics
The visuals in King of Babylon lack the tiniest bit of polish to make them great but are still definitely better than many other online slots. Players are treated to a color palette that leans into the sort of shades you'd expect to find in a hot country, with yellows and dark greens being used on most of the symbols.
In this game, the reels themselves take up most of the screen, with detailed symbols appearing against their dark blue backdrop. Behind the reels is a relatively simple landscape, with trees and ancient buildings that slowly fade into the bright desert horizon.
The graphics for this interface are clear and to the point, with no unnecessary visual clutter to confuse the player.
When it comes to the sound effects, they're all high-quality, but the game can sometimes feel a bit quiet in between spins and any wins that you achieve when the music dies down.
Features
The game features include the scatter and wild symbols, but also the golden wild. Both the wild and golden wild symbols can expand to fill the whole reel. The golden wild symbols don't only serve the purpose of a wild, but can also trigger the bonus "Action Spins" game of the game's full title, and contribute to the Action Spins Pot (more on this below).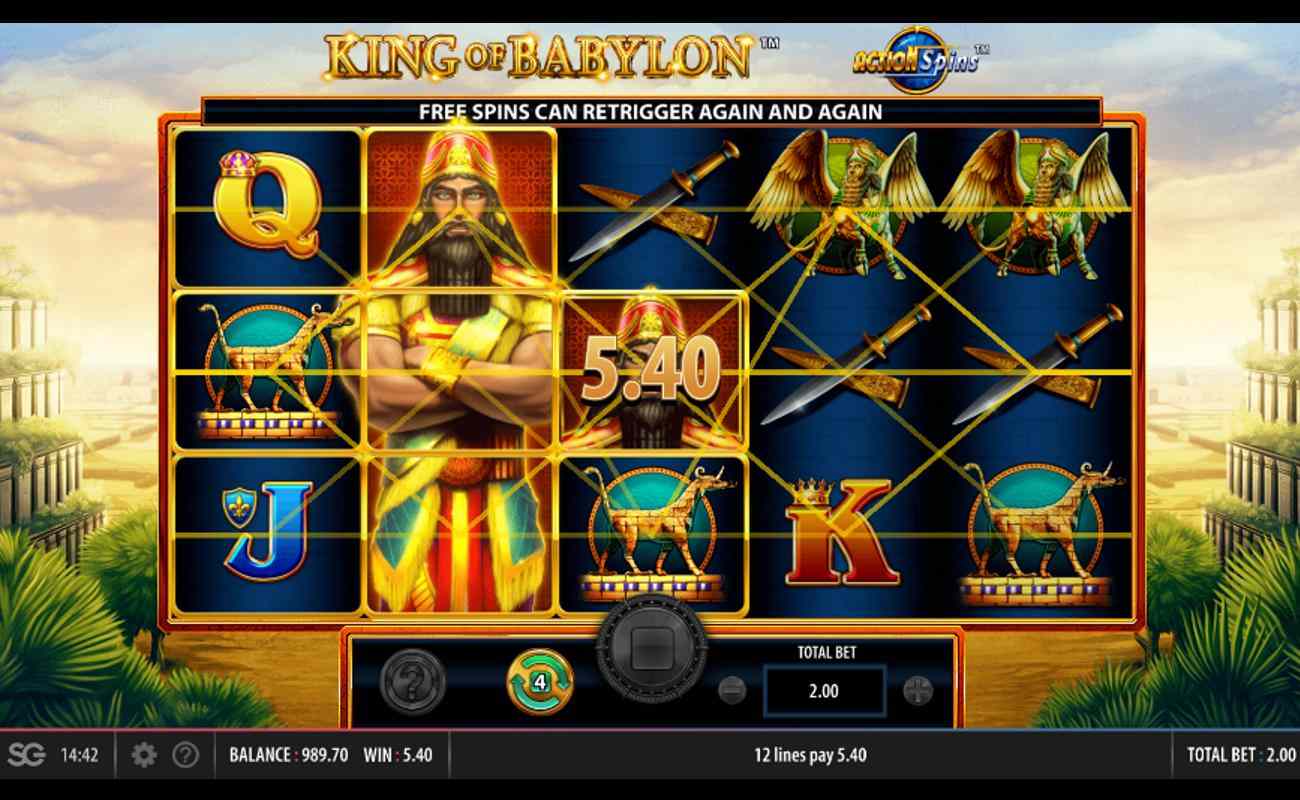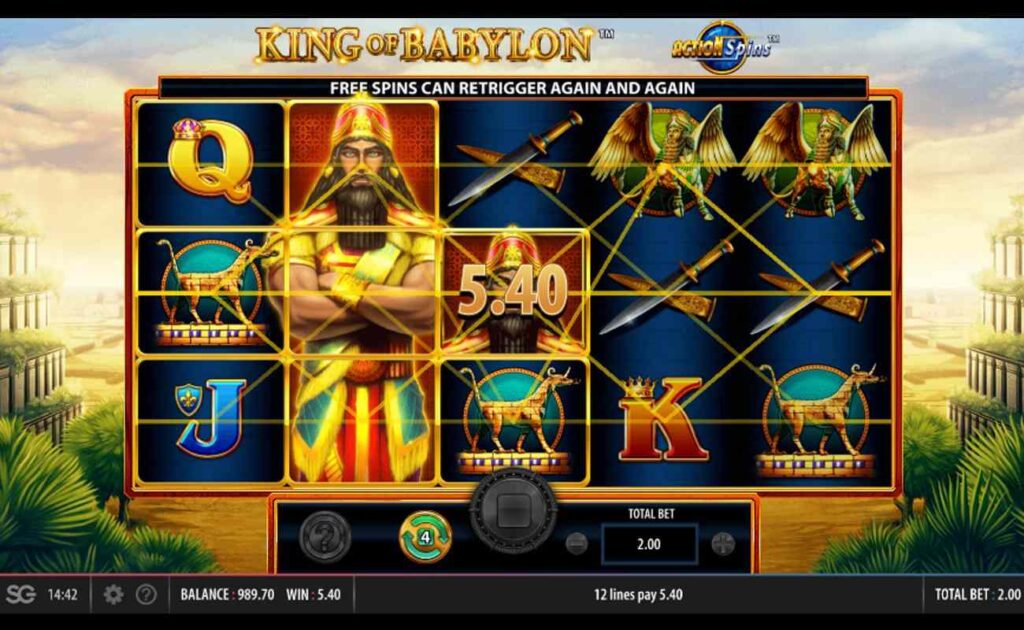 Players can also enjoy free spins if they land six dice symbols. A maximum of three dice symbols can appear on each reel, so you'll need to land six dice across multiple reels to get your free spins. You get one free spin for each dice.
Bonuses and jackpots
As we mentioned earlier, players can enjoy a fun and exciting bonus game called Action Spins. This game appears in the form of a spinning wheel, where players can win multipliers or extra Action Spins, as well as a certain number of Action Spins Pot rewards. The Action Spins rewards are as follows:
Your stake x25 and 1 Action Spins Pot
Your stake x100 and 1 Action Spins Pot
Your stake x250 and 1 Action Spins Pot
Your stake x1,000 and 1 Action Spins Pot
Three extra Action Spins
1 Action Spins Pot
5 Action Spins Pots
The absolute maximum payout for this slot is a juicy 5,500x your wager!
Similar games
If you enjoy this type of slot theme, you may also enjoy playing these online casino slots, which are also based on real or fictional mythological cultures:
Have a time worthy of royalty with Borgata Online
King of Babylon is just one of the best online slots that we have for you to enjoy when you register at Borgata Online. If you like playing a wide range of online slots, we have dozens more titles for you to explore, so you're bound to find something you love.
And if you're more into other kinds of casino games, we also have you covered: we offer live dealer, table and card games, virtual sports games, plus lots of other fun experiences here at Borgata Online!