Game overview
Immortal Romance is another epic installment in Microgaming's vast online slots catalog. This slot tells the story of two vampires, Troy and Mike, and two women, Amber and Sarah, who are destined to fall in love with them. 
What initially draws players into Immortal Romance are the visuals, and what they stay for is the eerie and brilliant soundtrack that fades in and out, the fantastic gameplay and the bonus features. Immortal Romance is easily one of the best online slots available right now, so let's go into a bit more detail about what's to love about this dark and brooding love story.
How to play
When you first open Immortal Romance, you are met with a brief explanation of the rules and some of the features, and the option to continue through to the game. You are then introduced to the stunning reels and atmospheric audio, but before you get too carried away, it's time to set up your bets.
Below the reels are the buttons you'll need to place your bets, as well as some menu options where you can set up different settings, view the paytable and manage the auto-spin feature. The +/- buttons allow you to set the coin size, and the Coins option will set the number of coins you want to use in each bet – these values will both determine your total bet.
The spin button will do exactly what it says on the tin, and get those reels rolling – once you're happy with your betting setup, of course.
Graphics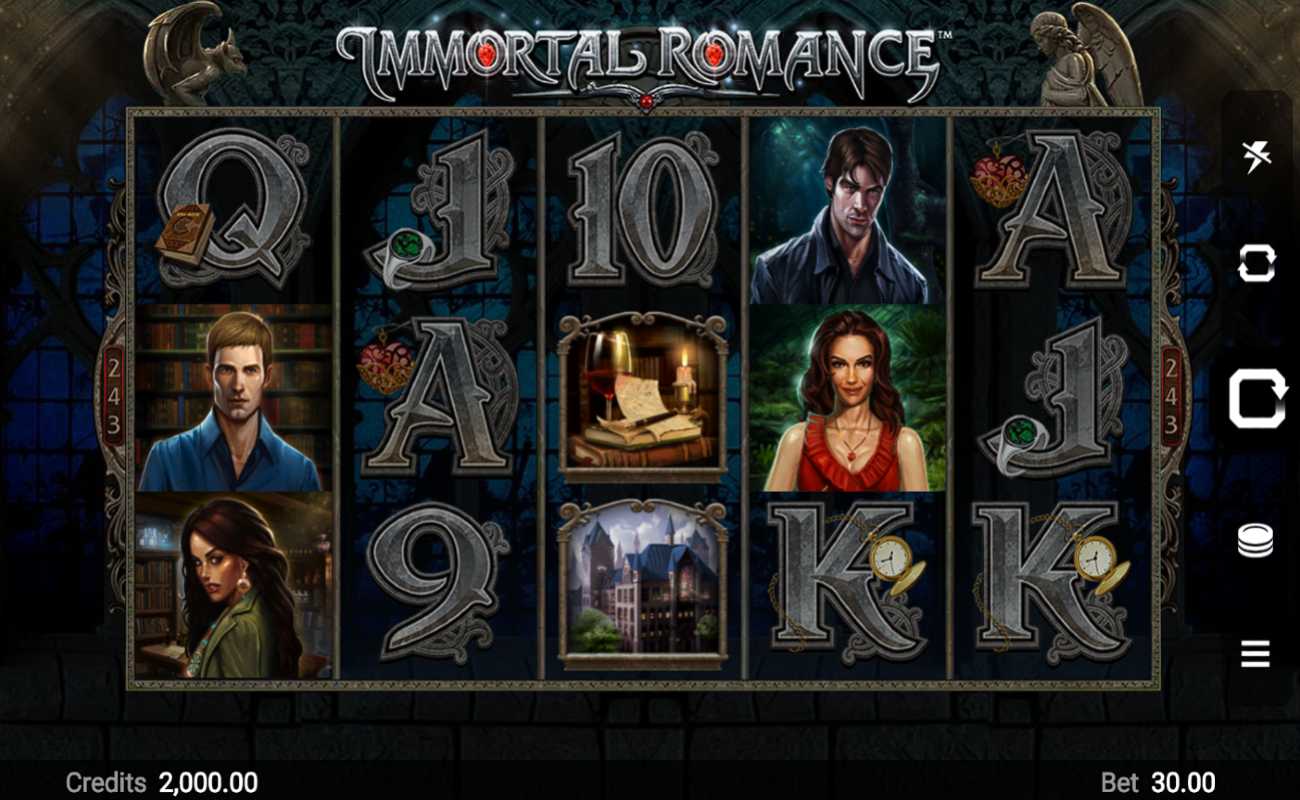 Immortal Romance's setting is much like that of any classic vampire story: dark and moody colors set against a background of a gothic-style church, with subtle beams of light that shine in from the top corners of the game screen. The reels are framed in a border with a stone-like texture, and feature a gargoyle and angel statue on the left and right of the Immortal Romance logo, which shines and sparkles like a Twilight vampire would.
The symbols depict each of the four characters in the story, as well as a symbol of an old gothic castle, a page and quill, and playing card symbols that run from 9 to Ace. The scatter symbol is represented by a gold lion door knocker, and the wild symbol in the base game is the Immortal Romance logo.
Features
If you thought the base game was gripping and intense enough, then just wait until you trigger the Wild Desire bonus feature. This amazing bonus feature can trigger randomly, and when it does the music and atmosphere will let you know. The reels will start to spin, with the chance of entire reels becoming wild reels. You will get one or two wild reels as a standard in this bonus mode, but there is the chance that all five reels could become wild – which would net you 243x – the biggest line win!
In addition to the bonus features and free spins, Immortal Romance rewards you even further for triggering these features by including short videos about the backstory of each of the characters. While this isn't a cash prize or more free spins, it is this attention to detail that makes Immortal Romance stand out from its competitors in the world of online casino games.
Bonuses and jackpots
The symbol you want to see if you're looking for big bonuses and jackpots is the gold lion door knocker symbol, which will activate the Chamber of Spins bonus feature. The Chamber of Spins is the most important feature in the game, and also the best way to hit big wins and experience the story behind this online casino game.
To trigger this bonus feature, you'll need to land 3 or more scatter symbols anywhere on the reels – if you hit all 5, then you'll get the scatter win, which can pay out up to 100x your initial bet up to a maximum in-game win of 60,000 coins.
The Chamber of Spins gives you the opportunity to move through different bonus games based on each of the four characters in the game. As you complete each bonus game successfully, you'll have the option to select which event will repeat itself should you get back there again.
Similar games
If you enjoyed Immortal Romance and are looking for something with a similarly spooky or moody theme, we have all the online casino slots you need at Borgata Online, such as:
Try your luck at Borgata Online
If you're into vampires, or even just amazing online slot machines, then you won't want to miss out on Immortal Romance or any of the other online casino games available at Borgata Online. Register with us today to get access to all our best games and our biggest jackpot slots.