When you are deciding which blackjack table to join, it's important to remember that not all blackjack tables are the same. A table may have its own rules, bet sizes, and payouts, which affect your chances of winning and how the game pays out. This is why it's important to scout around before you decide which table to play at.
Learn what you should keep in mind when scouting around for the best casino blackjack table to ensure that you'll have a good time.
Feel Out the Vibe
Like many other casino table games, one of the main benefits of playing blackjack at a casino is that it's a social experience. The fact that players engage in banter with the dealer and each other is undoubtedly one of the game's most appealing aspects. However, not all tables offer the same social experience. This may be because the dealer runs their table a certain way or a specific person has sat down to play.
For example, a dealer who doesn't engage with you and just plays the game won't offer the same fun experience as someone who smiles, jokes, and makes small talk. Similarly, a drunk player might go from being a barrel of laughs to being sullen and getting angry over the slightest thing. If they're not familiar with live dealer blackjack etiquette, they're likely to have a dramatic effect on your enjoyment of the game.
This is why it's essential to choose a table that offers the kind of playing environment that you like. And if the atmosphere changes because of another player who joined the game, there's no reason why you can't get up and play at another table.
Look at the Blackjack Table and Its Minimum and Maximum Bets
Every blackjack table has its own minimum and maximum bets. If you're interested in having fun while you make the most of your bankroll, it's important to pick a table where you won't go bust quickly if you have a bad run.
In casinos, the bet limits of a table can and do change. You must keep that in mind so that you're not caught off guard when the minimum and maximum bets increase or decrease after a hand has played out. The regularity with which these blackjack table rules change is often determined by how busy a casino is.
A casino may also offer a mix of tables with different minimum and maximum bets. You can ask the dealers or floor staff which tables offer the range of bets you are interested in so that you don't waste any time unnecessarily wandering around looking for a suitable table.
Your experience with the game will also affect the table you choose. If you are a less experienced player and want to practice your blackjack strategy, it's best that you look for tables with low minimums while you learn the ins and outs of the game. Gamblers who've played a lot of blackjack and are confident in their game can seek out tables with higher maximum bets.
Find Out Which Blackjack Table Rules Affect House Edge
While many tables will follow the most common blackjack rules, some tables will have their own, depending on which version of the game they are playing. For example, some tables may have a rule that the dealer must stand on a soft 17 (an ace and a 6), or that the dealer must show both their cards or that you may or may not make side bets on whether or not your first two cards will be identical in value. 
Some of the most popular types of blackjack that offer different rules are:
Classic Blackjack.
European Blackjack.
Face Up 21.
Perfect Pairs Blackjack.
Vegas Strip.
If you're a beginner who's learning about the value of face cards, you might be using a blackjack table chart so that you can learn which choices are optimal when you play. However, depending on the game's rules, you might need to find a blackjack table chart for each specific variant to ensure that you make the best decisions.
Check How Many Decks Are in Play
Before card counting became popular, blackjack was played with a single deck. However, many casino blackjack tables now use multiple decks in one game. This is because more gamblers have learned how to count cards to increase their odds of winning.
However, as you may have already realized, the more decks in play, the higher the house edge. This is why you should look for single-deck tables or play online blackjack, where single decks are the default since card counting isn't an issue.
Know What Type of Card Shuffler Is Being Used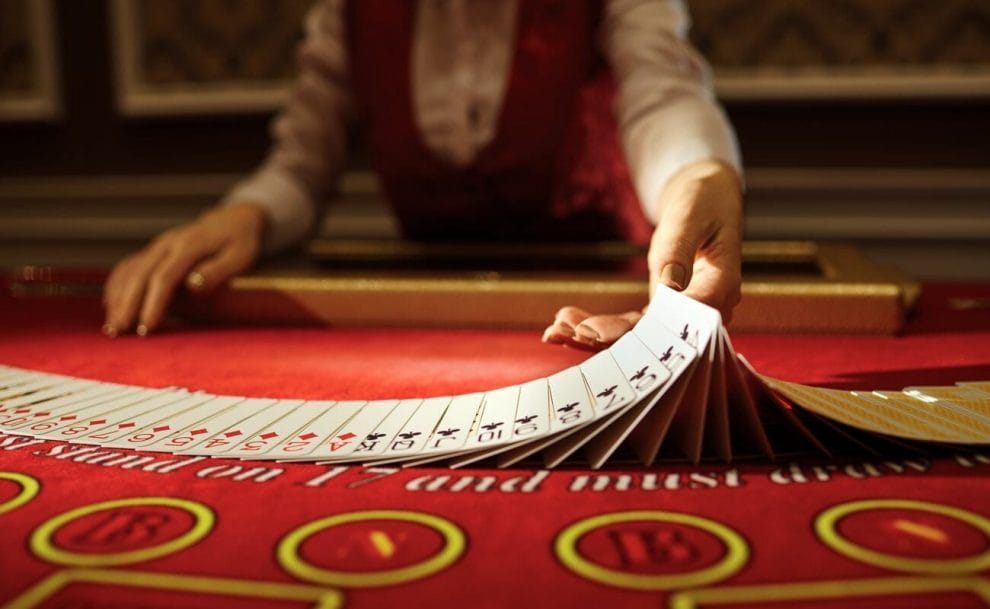 When you first sit down to play a game of blackjack, you may not think that the way in which cards are shuffled matters, but it does.
Here are some common ways of shuffling cards in casino table games.
By Hand
Here, a dealer shuffles a deck of cards by hand, which can be accomplished in various ways, such as riffle shuffling, overhand shuffling and smooshing.
A Manual Shuffler
These are shuffling machines that require you to turn a crank or something similar to shuffle the cards.
A Continuous Shuffler
As the name suggests, a dealer places cards into this machine and the cards are automatically shuffled.
If the casino is using a card shuffler, the type of card shuffler used can have a very real impact on your game. Firstly, an automatic card shuffler will be shuffling multiple decks, making card counting impossible and preventing the dealer from manipulating the cards during the shuffle in order to protect the house. Finally, card shufflers also allow a dealer to get through more games in a set amount of time, further increasing the amount of money the casino earns.
Quick Blackjack Etiquette Tips
To ensure that you and other players have a great time when playing at a blackjack table, take note of some quick etiquette tips:
Place your wager in the betting area.
Don't pick up your blackjack hand.
Don't touch your chips once the dealer states, "no more bets," until the hand is over.
Learn the blackjack hand signals and use them to communicate your actions.
Don't use your phone for too long, and ask if you are allowed to use a blackjack table chart to avoid any problems in case the casino doesn't allow them.
Enjoy Online Blackjack at Borgata Online
Now you know how to find a blackjack table so that you can have a good time. But it's still tricky to find the right online casino with a great selection of blackjack games. Thankfully, if you're looking for some of the best blackjack tables on the internet, you can't go wrong with Borgata Online.
Borgata Online offers exciting blackjack games such as Blackjack Xchange, Blackjack Pro, Infinite Blackjack, and many more exciting titles, each with its own twist on the classic blackjack rules. You can also find a variety of other fun gambling experiences, including roulette, slots, and live dealer games if you want to mix things up with other thrilling gambling games.
Register at Borgata Online to find out what luck has in store for you.