If you like to play bingo in between games at your favorite online casino but want to take a break from playing online bingo games, why don't you have a go at making your own bingo set at home? This creative project may sound like a lot of work (and you may be tempted to rather play bingo online with friends), but it's simpler than you think, and we'll share all the tips you need to make it as easy as possible. Even if it takes longer than expected to make your own free bingo games, you can always play online bingo during your breaks, while you work on your game.
Here's our guide to making and playing your very own version of bingo.
Using an online bingo card generator
The easiest way to make your own cards is to use an online bingo card generator. There are many of these available, and while they each have their own unique features, there are some general steps you can follow so you can easily make your own bingo cards. Here's a step-by-step guide to help you out:
1. Find a bingo card generator
The first thing you'll need to do is find a free online bingo card generator that you like. This can be done easily using Google or another search engine. All you have to do is type the search term "bingo card generator" into the search bar. This should bring up a variety of options for you to choose from.
It's important to note that while many of these may be free, some may have certain features or options locked behind a paywall. If you want to avoid this issue, simply tweak your search to "free bingo card generator" and this should help filter out many of the sites that require you to pay. Some of these sites may still require you to register, but whether you choose to do so is up to you.
2. Configure the bingo card generator
Now that you've found a bingo card generator that looks good and has all the features you want, it's time to set it up so that you can make your cards. Depending on the site, you might have the following options to choose from:
Title – Want to give your customized cards a name? Go ahead and create a title!

Theme – Themes will vary from site to site, but you'll likely be able to choose from great visual themes to fill the space around the grid, like Christmas, Halloween, music and many more.

Grid size – The standard US bingo card is 5×5, but you may want to go as small as 3×3 if you're in the mood for some speedy bingo games.

Words or numbers – That's right, you don't have to stick with numbers when making your own cards. You can even use words to spice up the game!

Number of cards per page – Depending on the size of the grids, you may want to make the most of a single page of paper by making sure there are multiple bingo cards on it.

Free space or number – In US-style bingo, the middle space or number on the grid is usually "free." This means that it's easier to get a win if you manage to mark all of the horizontal or vertical squares on either side of this center square. Bingo card generators let you decide if you want to keep this, which entirely depends on if you want the game to be easier or not.
3. Download and print your cards
Again, this varies from site to site, but some will allow you to download your cards as a generic file format, such as PDF. We recommend you do this if you plan on using them again later. If you don't want to save them, or the website doesn't allow you to, you can just skip ahead and print them out. You can go ahead and get this done on standard sheets of paper, or you can get this done on thicker paper. You can even have the cards laminated so that you can use them many times before you have to throw them away.
Create your own cards from scratch (digitally)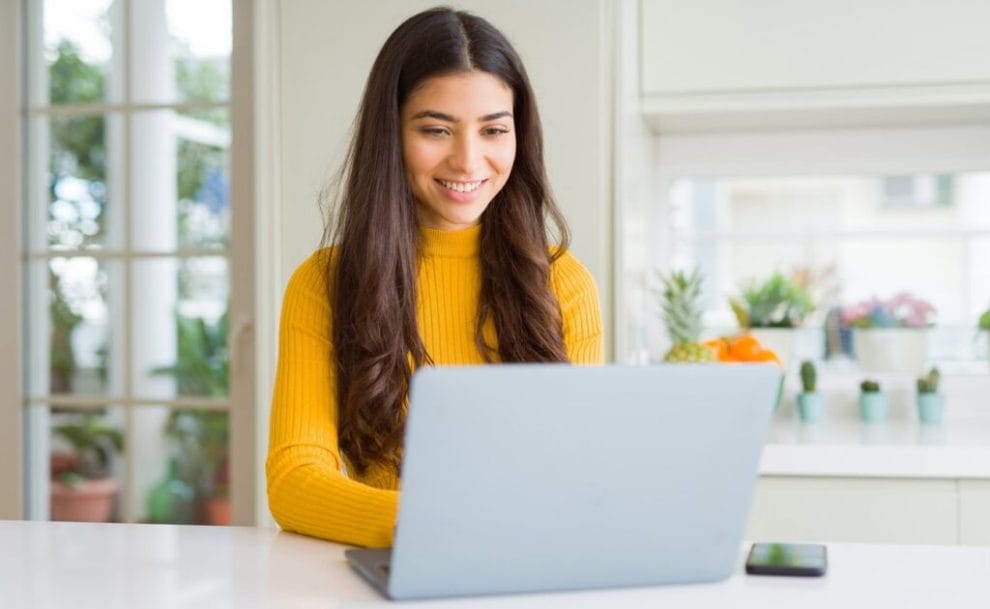 So, you've decided that you want to make your own bingo cards, but you don't like what the card generators offer, or you have your own ideas you'd like to bring to life. No problem! You can use a standard word processor, or even a digital drawing app.
Begin by launching your preferred tool, whether this is a word processor or drawing software. If it's a word processor, it's relatively easy to create a 5×5 grid. All you need to do is create a table with five rows and five columns, adjust the size of each cell in the table, and your simple (but easy) bingo grid will be done. With a drawing app, you may need to manually draw a grid. By manually we mean using the line or square shape tools.
Once your bingo grid is done using either tool, it's simply a case of deciding if you want a free space in the center, adding the numbers, images (yes, you could even make picture-themed bingo) or words for the grid, and if you'd like to spruce the card up with whatever other image or symbol tools the app has.
We can imagine you getting quite creative and making use of symbols or other images that you can add in a word processor, but if you drew your bingo grid in a digital drawing app, you have absolutely no limit to what you can create! You could add unicorns, flags, food – whatever your imagination desires for your truly unique set of bingo cards!
Save and print your cards
As with the bingo card generators, it's a good idea to save your cards so that you can make new copies later, or if you want to update them in the future. Once you've done this you can print them out, again on standard or thicker paper, and again, laminate them if you want to keep them in good condition for future games.
It's time to play
Now that you have your bingo cards ready, it's time to play! Get together with your friends and family, hand out your cards and start playing! You can keep it purely casual, or spice things up a little with some small (or large) prizes for those who are lucky enough to get a winning pattern. No matter what you decide, be sure to remember to have fun!
Play the best online bingo games at Borgata Bingo
At Borgata Bingo, New Jersey residents can try their luck on a range of exciting games, including the classic 75-ball and 90-ball bingo games, as well as jackpot slots, Slingo, and many more exciting titles. See what incredible gameplay is on offer when you play online bingo. Download the app via iOS or Android or register online to join the party at Borgata Bingo.